"Shareware propagation model" – this phrase increasingly heard from major publishers. Increasingly, good ideas and the more well-known franchises are becoming a victim of this system. And it happens that the game is inherently can not be distributed to another system, because it has no plot, no good scenery and no big budget. There is only an interesting concept and nothing more. Just like Mighty Quest for Epic Loot.
It all started with the fact that certain magic kingdom became wider and richer. So rich that every citizen could obtain possession castle. As a result, place on earth quickly ended, and the eyes of knights and mages rushed to heaven. Much free space should not be wasted! So came flying fortress with magical crystals as antigravity engines. That's the story. We are introduced to a local realtor, he, in turn, teaches the rules of the game.
At first glance Mighty Quest for Epic Loot seems unpretentious clone notorious Diablo: walk the halls of the castle, avoid the traps simultaneously cracking down on many small creatures and evil bosses.Naturally, we select various quality armor, swords and staves. But with this simple formula makers failed to understand until the end. Fight monsters bored little skill. One of Torchlight 2 Berserker them more than all the local warriors, mages and archers together. Because of this, the game quickly becomes boring. Types of things a bit much from each other, they do not differ.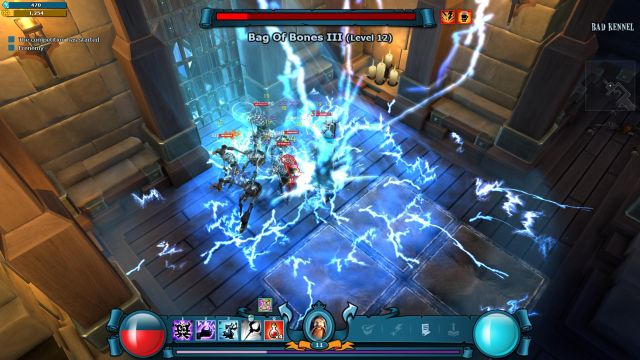 For a change, the authors allowed players to build their own castles using the level editor. In addition, players are arranged monsters and traps satisfied, just like in Dungeon Keeper. This idea is very good, because the characters wander through the maze, constructed not soulless generator, and human beings! Appears sadistic desire to create "impenetrable" maze to then be happy to watch replays with losers.
Treasury for defense must consider various properties monsters properly set traps, so they do not cause damage to the castle guards. In addition, the need to continually improve the fortress that it was becoming more and more capacious. True, it is necessary to return to the most unattractive part of the game – to earn gold, that is to take up the sword and sent to foreign dungeons assault.
Time after time, the hero enters hastily fashioned mazes (few players offer interesting and challenging test). Tedious process accelerated with elevated levels. But if you can doterpet up to this point – a good question to which the answer comes, unfortunately, too fast.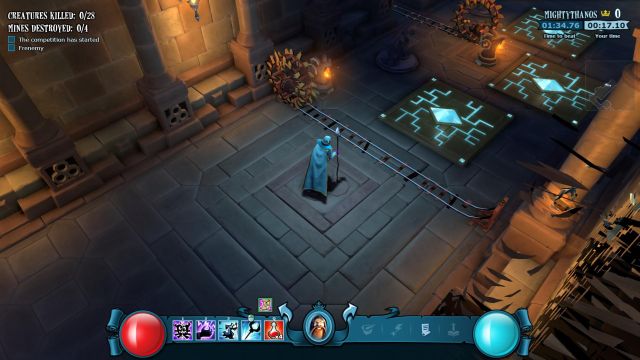 To rid yourself of dull pumping, it is necessary to invest real money. Want to avoid exhausting walks in the same room? Save and build the castle of dreams. Always seen players who have invested their finances in the creation of mazes. They and monsters stronger and deadlier traps, and bosses make up your sleeves and stronger to hold the sword to reach the cherished treasures. For the money, then sold all the way up new heroes. This is especially sad because with a limited set of "free".
Humor does not rescue from yawning. Appearance makes monsters smile and jokes in the dialogues can cause even laughter. But we know what "diabloid": Dialogues skipped to soon break into the thick of battle, and monsters just do not pay attention, trying to mow quickly dashing crowd. The rest of the project is boring. Look particularly bleak scenery. We allow you to decorate your own castle, but do not get something original. Set of "building blocks" very meager.
Music, on the contrary, good. There is spirited melodies with epic motifs, as well as dark and ominous chants. Melodies are not bored voice actors do not cause rejection, except that the voice of the great magician could make more manly.
In Mighty Quest for Epic Loot, as in any other online game, with various activities. Besides making money by raiding other people's castles, you can do "sports robbery" at a time. Content is constantly updated, the balance is corrected, but so far the project is still not enough width.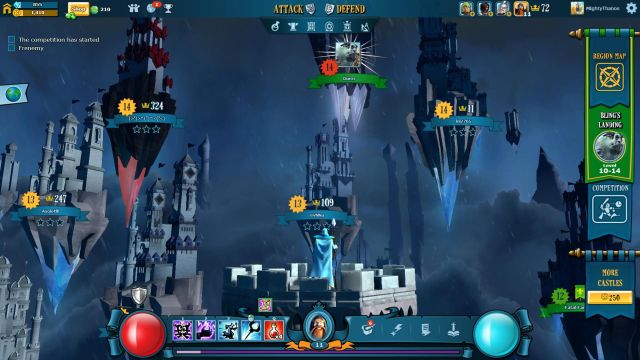 Diagnosis
Trying to cross the upstream developer of Diablo and Dungeon Keeper failed exactly 50 percent. It is interesting to rebuild impenetrable defenses own castle, curious to see how your players avoid traps or use them against the monsters. But the opportunity to fasten himself brave knight armor is not tempted. In most cases you have to run a boring, gray room mazes to earn some gold.
Pro:
Interesting opportunity to create their own mazes
Funny jokes and speech bubbles
Contra:
Explore the labyrinths of others and kill monsters boring
Unsuccessful implementation of the shareware distribution model
Uninteresting characters and their ability to