Great gaming laptop Dell Alienware 15, corporate design, adjustable lights several areas, easy replacement of memory, try to play different games and draw conclusions.
Design, construction Dell Alienware 15
Once upon a time I used the only gaming notebooks and was very pleased with the stories about Toshiba and others can be found on the website. How many wonderful moments spent in gaming! And as it was not very cool moments spent for updating drivers, finding drivers, problem-solving, decision-making – so far I remember, as a shudder. When a gaming notebook, which used two graphics cards, you need to find and install drivers for your video card for desktop, before this driver drove through a special program of self-made – is it allowed to install this software on a laptop. In general, the more experience. Little by little I came to the decision, Playstation plus a MacBook Pro, do not regret. With the PS3 also got fun when bought, expected to play on the same day, brought back and put in the afternoon doing chores in the evening inserted into the drive, and Bad Company realized that the joystick, I cannot cope – just do not get it. It was very disappointing, instead of solving any obstacles. But nothing, learned a couple of months, and now, for many, many years, I do not know the problems. I play now to PS4 in Fallout 4, and wondered what was going on at the front of the gaming notebooks based on Windows. And so I took to review the Dell Alienware 15 – the product once a favorite brand. I note that we did a site about mobile devices, so that hundreds of graphs and tables have to turn to other resources. I will specialize in how the device behaves in real life.
In real life Dell Alienware 15 large. After "macbook" It's really impressive machine, everything is great, a huge area around the keyboard, the keys have a huge (oh yes!) Move, which prevents typing, huge loops, huge grille to cool down a huge power supply, huge frames around the display. It is clear that the more powerful the filling space, the better – to better ventilation occurred. Therefore, there is nothing to swear, if we buy Alienware, you should know what is coming. By the way, in the line there are Alienware 13, Alienware Alienware 17 and even Alienware 18, if I had to choose, I would choose the latter. This is not a laptop and a workstation, drag it to the trip anyway you will not (have to be out of his mind), but get a large display and powerful stuffing, which is very good. Among these machines Dell Alienware 15 is the most appropriate solution, only geeks like me choose Alienware 18, but I've always loved big laptop, ever since the Sony Vaio AW. Bribes, it is easy to move within the framework of the apartment / house and put in another place, with the system unit did not.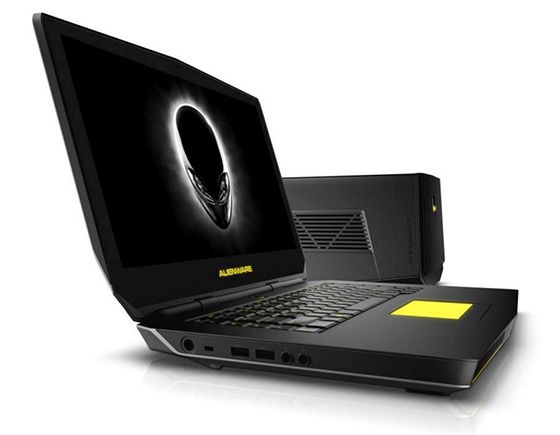 But let us continue. Dell Alienware 15 size – 385.8 x 270.2 x 34 mm, weight – 3.2 kg. Hinges, despite the size, open smoothly, no latch, but the lid is in the closed position sits tightly opens by force. The keys, as I said, a very deep course, which is unusual, to get used to the keyboard. There backlit buttons, yet illuminated power button, touchpad, stripes on the front end, a total of ten areas – alien head, and so on. The highlight color can be changed using the built-in software called AlienFX. This feature for young people, only there is a caveat, young people in Russia can hardly afford a laptop – it is natural, it does not apply to everyone, but are there many people aged 18 to 25 who can put a hundred thousand for a gaming laptop? I think a little bit. But Dell Alienware 15(or rather, from Dell), mainly oriented to the American market, there is its own peculiarities. In general, the lighting is, it is made of high quality. The cover closes the top metal logo inside velvety plastic, collects fingerprints very quickly get rid of them seriously. Despite the huge size of the area below the keyboard, the touchpad is very small, with two buttons – had to get an old mouse, because with the touchpad to work is not very convenient.Of course, where do without labels about Intel Inside, it's a very hot trend, yet there are stickers on bananas and oranges. Here people complain that Apple design has deteriorated, but look at some other solutions, and feel uneasy.
For example, here there is still a power supply. The notebook itself looks aggressive, it's interesting, but if the power supply was stolen in the Chinese factory and at the last minute were packed into a beautiful (do not argue) packaging. It is huge, the plug is easy to break, the benefit is unlikely to have any problems with the replacement. The power supply if not from Alienware, but from Acer – that's a shame.
Connectors strewn with the entire body, the back – HDMI and Mini Display Port, the left – the connectors for microphone and headphone jack, input for the power supply, all four connectors USB 3.0. In addition, the back is Alienware Graphic Port, allowing you to connect a device called Alienware Graphics Amplifier, it is, in turn, improves the quality of graphics. Read about the amazing thing is possible, for example, here, to be honest, I was impressed. The Graphics Amplifier can be set to standard, "desktop" graphics card and get a very different possibilities – however, for such an addition will have to pay about three hundred dollars. Even for the United States is expensive, in fact, users in the United States just about it and write in a review – it's expensive, though interesting. Here's the official description of the accessory: "Alienware 13, 15 and 17 is compatible with the external docking station Alienware Graphics Amplifier, which you can install a video card for the system unit on the basis of AMD or NVIDIA. Docking Station is connected to the laptop using the interface PCI Express. In addition, Alienware Graphics Amplifier is equipped with four USB 3.0 ports for connecting accessories. "
I remember an external graphics card has laptops Sony – if I remember correctly, at the Sony VAIO Z penultimate generation. Some friends even it is not pulled out of the box, I know of two such figures.
Yet there is a card slot for SD, Ethernet – in short, nothing unusual. After the two USB ports on the "MacBook" four slots here seem to present the award.
Below are four massive legs, when you put the laptop on the table, it seems that the legs are now broken, well, when you open the lid, the tube should be roaring, and gaps between the buttons of fire escapes exhaust noise and engine shots, Alienware woke up! By the way, there is nothing there, but the laptop really quickly switched on and off, to sleep and wake. In the test version has been installed Windows 8.1 (I think), constantly be prompted to install Windows 10. Periodically, the system begins to download any updates, try to install them, from Windows, I understand that life does not change.
The sound quality of built-in speakers is quite good, apparently, they are at the front, as if the sound comes from the laptop. You can not call the system too loud, but enough for the games, you can even dispense with external speakers – though who am I kidding, if we play the system 2.1 is a must.
Above the display – the camera lens hole two microphones. Two microphones – is very good.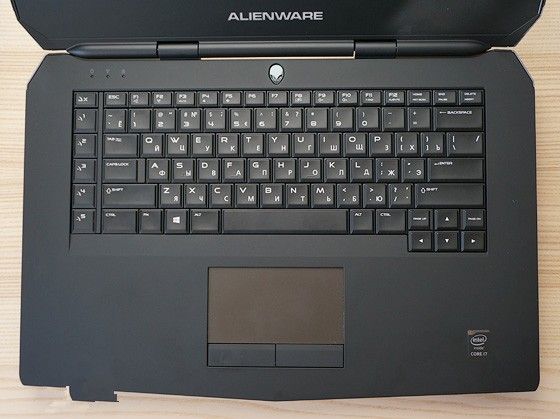 Dell Alienware 15 has always paid much attention to the cooling system, it is associated with it and the size and weight of the device. Even after an hour lower part is not hot, and warm, which positively affects the use of the device for a long time. Let me remind you that the heating for a gaming notebook – the most sensitive issue, we can achieve amazing performance, you can make the backlight to embed interesting speakers, makes the laptop look like a transformer, you can do anything you want, but without cooling it all does not make sense. For example, the Sony avoided talking about the games on the Vaio, because too many people then came to the service: to blame overheating. And I do not know of another company where the problem would be solved as effectively as in the Alienware – it was years ago, so it is now.
How to solve the problem? With special design, however, did not find a photo or video about the structure of the cooling system. But the laptop is never passed out during the game, which is nice. Fans sometimes howling, and it was heard – but perhaps this can not be called a problem. It's a gaming laptop. Top heat felt in the top of the keyboard.
Display Dell Alienware 15
At once, I got a Dell Alienware 15 with a matte display, which is amazing, even in direct sunlight, you can play or work, no glare, beauty. IPS-screen size – 15.6 inches, resolution – 1920 x 1080 pixels, which refers to something that has a display with a resolution of 3840×2160, and even touch, I'd like to see. At matte version lacks illumination, the image appears dark, even if you work in a room without light. Note that the constant use of devices with very bright illumination (this also applies to the iPhone in particular) corrupts users before I would say that Alienware is quite normal screen, but now it really seems kind of strange. The viewing angles are normal. The screen is not touch-sensitive, but I think it is quite normal for a home, not a mobile device. Well, or work – if you decided to play at work, succeed.
Performance Dell Alienware 15
On the test was one of the few versions, the US configurator truly spectacular, in addition, there is already being sold refurbished laptop – looks almost like an old, other fillings, there are other features. I also had a model with a processor Intel Core i7-4720HQ, clock speed – from 2.6 GHz to 3.6 GHz, supports HyperThreading, TurboBoost, with benchmarks can be found here. I must say that the test laptop – is far from being a novelty, but it does not mean that it should be written off. For example, if you're playing CoD on a network, you will easily do it for at least another two years, but on the highest setting you can stop thinking within a year. In quiet mode the graphics card Intel HD Graphics 4600, if you start a game or something "heavy", it takes NVIDIA GeForce GTX 970M (3 GB GDDR5), 16 GB of RAM (DDR3L-1600), with memory for data storage Interestingly, there is a 256 GB SSD and hard drive 1 TB is quite logical and optimal for a gaming notebook. Of course, I would have a large amount of SSD, but how many would have cost the spaceship? If desired, the memory configuration can be changed independently without the service center, and replace and can be hard disk, and SSD.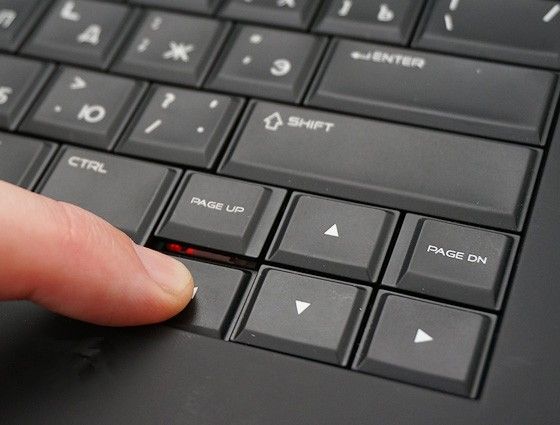 From wireless interfaces have Wi-Fi 802.11 a / b / g / n / ac, Bluetooth 4.0, recall that 4.0 – a good data rate, so that you can fold the data on your smartphone without cable.
I note that in the United States richer variety of configurations, in addition to Nvidia, there are options and AMD Radeon, as I recall, with the latter has always been easier to plan, drivers. If the situation has changed, tell us how it is happening now, in the comments.
Dell Alienware 15 in games
Of course, I'm very sad that Fallout 4 looks better on screen laptop with Windows, than on the TV screen with the PS4, but I cease to be sad, when the light begins braking, delays and all the other things, familiar from the past. Therefore, many queries in Google, how to overcome problems in Fallout game on PC – yes, PS4, may not be seen every blade of grass, but no problems with speed. And what about beauty zalezesh somewhere, and a beautiful and terrible at the same time view of the destroyed world.
Then I played in the World of Warships. If it did not have to work day and night to sit, because the sea theme – one of the favorite themes. Here, with maximum settings the game itself is fine, smooth, fast, beautiful, generally without any problems. As far as I can judge, with World of Tanks, too, there will be no questions.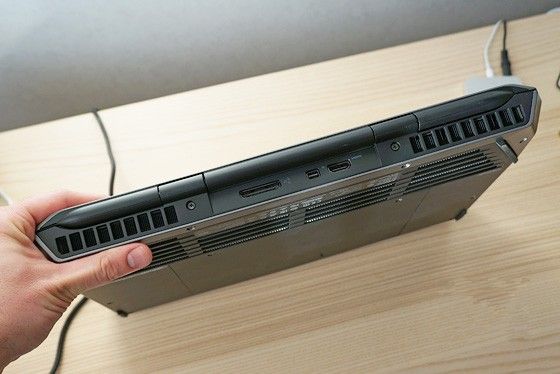 After trying a couple of games, I can say that Alienware 15 is perfect for those who want to replace your gaming computer for something more compact and modern, but is not going to move to consoles – I think there is still worthwhile to experiment with connecting to a TV, using joystick, but it somehow then. Perfect laptop and fans of online games, as a rule, there is a secondary schedule, and therefore there are no special hardware requirements – even in the case of CoD is not quite true. In general, the active gaming machine network. And for all time it is not overheated, which is surprising.
Conclusions
As I said, today came out the next generation of Dell Alienware 15, with updated features, so you first need to decide whether to spend money on Dell Alienware 15 first-generation or second – especially considering the fact that we do not ship to all configurations of the notebook. Prices in Russia interesting for this version are asked to average 115,000 rubles – I would not talk about competition, because Alienware has always stood apart because of the unique design, and because of the unique technical findings (again remember about cooling). What we liked:
The design as a whole and all sorts of stuff like lighting, nice, you can even spend half an hour on setting
Good performance for the money – let them have the next generation of processors, Alienware considered 15 it is possible to recommend a fairly wide range of customers
A good display, a godsend for those who miss the matte screen
Four USB 3.0 ports
The ability to easily modify an independent memory, useful for the future
Very well-made cooling system
Ability to upgrade to Windows 10 (it's probably a plus)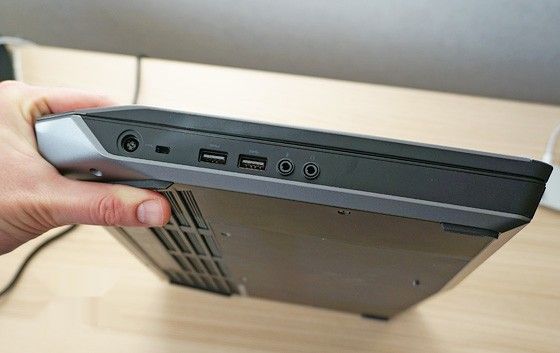 Minuses:
Subjective opinion – on the keyboard is not very convenient to fill text. On the other hand, a colleague said that she is very comfortable and better than he has not seen. I recommend to try before you buy. A number of key-figures on the left should be removed, it seems to me, it interferes with touch typing
Now it is a laptop from the past – alas, equipment is aging rapidly
Hardly suitable for those who are important "grafon"
I found it interesting device – at the same time wanted to remind you that there is such a great brand. We are waiting for the updated Dell Alienware 15, very interesting to try for a TV set-top boxes.