The HP held an hour-long presentation, which told us that for the smartphone they represent and to whom it is aimed, therefore, before we proceed directly to its description, let me briefly summarize the content of the presentation.
The company drew journalists' attention to the fact that now use the internet gradually shifted from PCs and laptops to smartphones and PHABLET side. In this small screen is not as compact devices are well suited for creating content only for its consumption. Part of the problem was solved by cloud storage, but HP believes that it is much better to deal with it least one device on which to store all your data.
HP Elite x3 aims to solve this problem by Continuum features available in Windows 10 Mobile. The next part of the presentation was devoted to the use of different scenarios the Continuum, a company spokesperson told how useful it can be their smartphone for people who do most of the work "on the fly" and thus should be able to get quick access to all the data. The device is aimed at the corporate segment and it is on these "mobile" people. Here's talk about what he has to have this opportunity.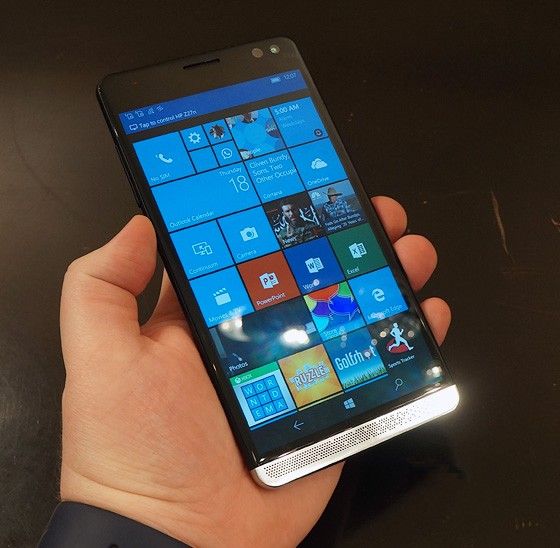 Exterior dimensions HP Elite x3
Diagonal smartphone HP Elite x3 – as much as 6.1 inches, it could not but affect its dimensions, it is just great! Despite the fact that hold the device with one hand, you can still, how to manage it only with your thumb, and speech can not go.
The back cover is made of plastic with a soft-touch coating, the edges – made of aluminum, by the way, the HP Elite x3 does not slide in hands. Behind the commercial samples will also be installed a fingerprint reader, just in our hands was an engineering sample.
Screen HP Elite x3
Display size HP Elite x3 – 6.1 inches, resolution – QHD, matrix type was not specified, I understand that it is IPS, the screen is covered with protective glass. On first impressions, the screen is very good, but a few minutes of dating is difficult to draw conclusions about its quality.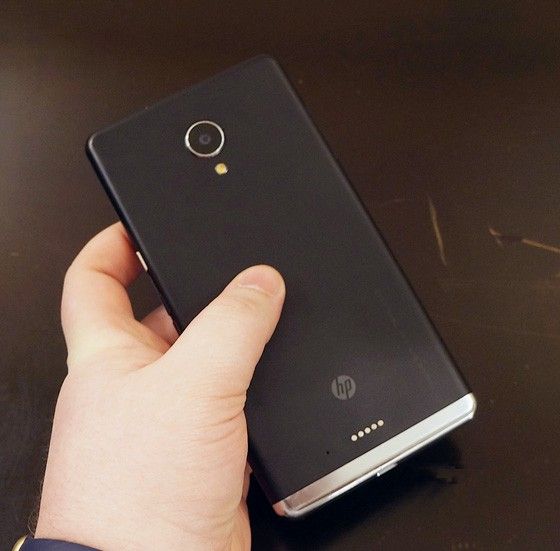 Features Dock HP Elite x3
Optionally available are two docking device. The first is a small cradle that connects to a monitor. In this mode the smartphone acts as a base for the computer, is one of the features Windows Continuum. On the rear side there are two ports USB-A, USB-C port, DisplayPort to connect a monitor, and even Ethernet for wired Internet. This dock, despite its compact size, quite heavy, so is not designed to carry, it is rather a base station, constantly standing next to the monitor at home or at work.
The second dock is much more interesting. It is a conventional 12.5-inch laptop, but with a battery inside, chipset, memory, and other modules available. And here the reader should be immediately recall similar solutions from Motorola and Asus, if not one "but." Smartphone does not fit into the dock, and is connected to it via a wireless connection (according to preliminary information, use Wi-Fi). I prefer this option as to work just enough to get the laptop and open it rather than inserting pull-smartphone, it's also more convenient in terms of calls. Unfortunately, the laptop dock only shown on the slides, so "live" pictures I have.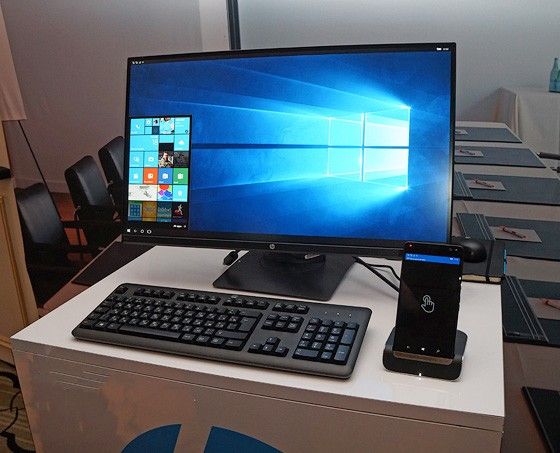 Conclusion HP Elite x3
At the presentation of the company's representative emphasized several times that HP Elite x3 is not just a smartphone, a multi-function device designed to replace a laptop, desktop and phone one gadget. He even added: "And if you still see in front of a smartphone on Windows 10 Mobile, I do not seem to donёs his idea." To be honest, I see it is a smartphone with some interesting features, but no more.
It is worth adding that the estimated cost of HP Elite x3 will be $ 600, about $ 250 will have to pay for docking a laptop, as a result of the price obtained quite unaffordable for the ordinary buyer. On the other hand, the HP once said that are oriented to the corporate segment, and then I had already difficult to assess the prospects of this device.