Huawei Honor device 7 has a classic design modern smartphone: rectangular shape, rounded corners, and a large screen, which occupies almost the entire area of​the front panel (76.7%), and so on. A brief remark. Evening decided to expand the table several test devices including personal. It so happened that they were all so much alike that even I have not the first time defined the Honor 7. It says only that it is currently almost all manufacturers greater chasing specifications rather than coming up with original exterior devices. Apple has and does one design a two-year, however, sales are not particularly fall.
In any case, Honor 7 looks good completion, there are no distracting elements on the front side: signs, decorative inserts. Even the "self" and the off-camera flash to make it the same size and placed at the same distance from the speaker.
Dimensions, as for me, the most successful – 143x71h8.5 mm relatively compact device (in this case, I mean among modern compact 5.5-inch monsters), not very thin, but not thick, the weight is also OK – 157 grams. In his hand is good, it does not slip. However, if they are wet, the probability that the gadget will be on the floor is quite large.
The front side is protected by Corning Gorilla Glass 3. I am sure that the glass does not need an introduction. For a couple of weeks of it there was not a big scratch, well, small anyway will gradually emerge. Oleophobic coating is, it is effective: fingerprints remain, but are cleared quickly and easily. The finger glides easily over the surface. For these two points clear plus.
The thin edge of the perimeter is made of glossy plastic. The back side, not all, is made of metal (aluminum). Material scrubbed, polished corners. The manufacturer claims that the lid is applied ceramic coating.
Top and bottom back side, there are two plastic inserts. The antennas are arranged to solve the problem of signal lock arm. In case of deterioration of the signal switches to smart antenna that provides the best reception. It does not spend additional energy to strengthen the signal.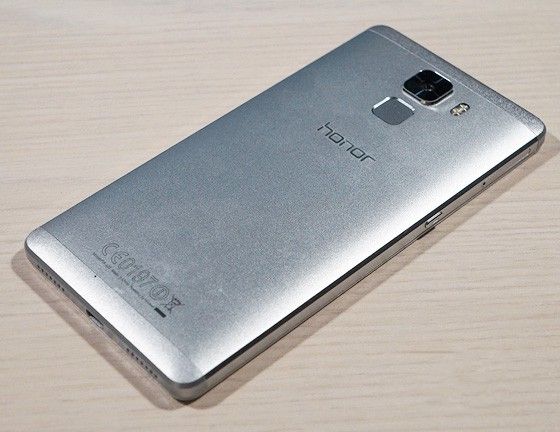 The inserts have a raised pattern. No offense Huawei will be said, but I figure resembles a nail file. Fortunately, relief is not so pronounced, to deal with a manicure using Honor 7. Hmm, perhaps we should release the device in pink and make inserting larger?
The case, as you know, does not understand, a built-in battery. Build excellent. For me it was important that the insert does not play and did not have a sharp transition from metal to plastic, as it failed, in my view, have done in the Meizu MX5 and Pro 5 – wide and long groove top and bottom.
In general, the ergonomic design, the look, the quality of materials in the Huawei Honor 7 okay.
Above the center of the front part of the speech is the speaker. Its volume is high, the clarity is excellent, the interlocutor is heard clearly. Pleasant timbre: audible and high and low frequencies.
To the left of the speaker – proximity sensors and lighting, front camera. Right – single-section LED Flashlight (flash can not tell, because it lights up and does not flash) to highlight the face while shooting "self." Also there is an indicator of missed events.
Neither the lower end: Right – holes where the microphone is located on the left – the same kind of holes, but there is a speaker, and the center – microUSB.
Top – IR transmitter, 3.5 mm audio jack, a second microphone. Key-rocker volume control and power button – on the right. Power button I personally would have shortened a bit, it seems to me that it sticks out from the body more than you need. Her stroke average, pressing a relatively soft characteristic sound "clicks" no.
On the left edge is another mechanical button. It is a little flatter than the power button. Used for running various applications. It fulfills a short, long or double tap. In some cases, it is convenient, but I did not use it, obviously, need to get used to.
Slightly above – the metal slot two nano-sim-cards or a nano-sim-cards and memory cards microSD. Strange way of thinking from the manufacturers who make the connectors in this way: that you, or use a card or insert two sim-cards. No, I want and microSD, and two slots for "Sims"!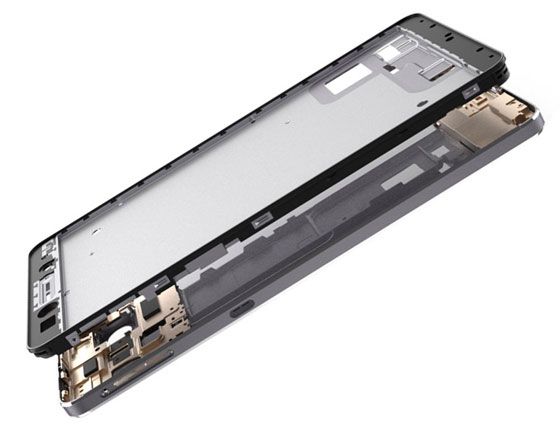 On the reverse side, large eye of the camera (by the way, is protected by a sapphire crystal), retractable above the body about a couple of millimeters, dual LED flash and a fingerprint scanner, which has a square shape with gently curved corners. Yet there is an inscription «Honor», it is convex.
A few words about the fingerprint sensor on the official website:
Cutting edge technology:a sensor detects a fingerprint, applied at any angle, and the lowest rate of release of the smartphone – 0.5 seconds.
Self-learning algorithm:The more you unlock the smartphone, the faster the detection is triggered the next time.
Touch Control:use the fingerprint scanner as an additional control: Move your finger down to open the notifications panel, double-tap will remove the extra notification. The sensor can be a button for shooting photos, receive a call or turn off the alarm.
Close the information from prying eyes:3 levels of protection: normal, "guest" and protected by all.
I can only add that the sensor really lightning, but during testing does not always work: sometimes simply refuse to "understand" the finger had to enter a password. What's the problem – I do not know, probably I got a sample.
Screen Huawei Honor 7
Huawei Honor 7 uses the screen diagonal is 5.2 inches. The physical size – 65h115 mm Frame top – 12.5 mm, bottom – 15 mm, right and left – approximately 3.5 mm. There is anti-reflective coating, fairly effective.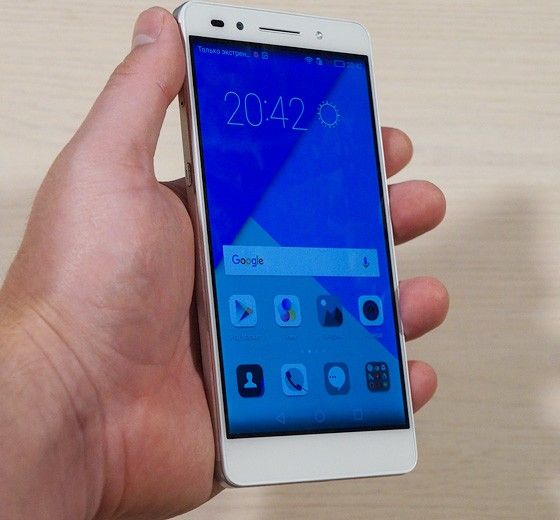 Display Resolution of Huawei Honor 7 – FullHD, ie 1080×1920 pixels, aspect ratio – 16: 9, the density – 424 pixels per inch. IPS panel with no air gap.
Settings Huawei Honor 7
There are different gestures and movements: to turn, to take, to bring to the ear, shake, tilt. There are even double tap to activate the backlight, you can draw a letter to run a particular application. There is a control function smartphone with one hand: the entire interface is reduced to 4-inch size and / or the keyboard, you can move left / right.
Battery Huawei Honor 7
Huawei Honor 7 uses a non-removable lithium-ion (Li-Ion) battery capacity of 3100 mAh. The manufacturer claims that the gadget can operate for about 30 hours in the "loaded" and up to 60 hours "light".
In my terms Honor 7 "lived" about a day: for the time of about an hour of talk, 7-8 hours of 3G / 4G, 10:00 Wi-Fi, camera – for 20 minutes, about an hour listening to music, 2.5 hours of screen glow. In a more sparing mode, the machine operates a couple of days without any problems.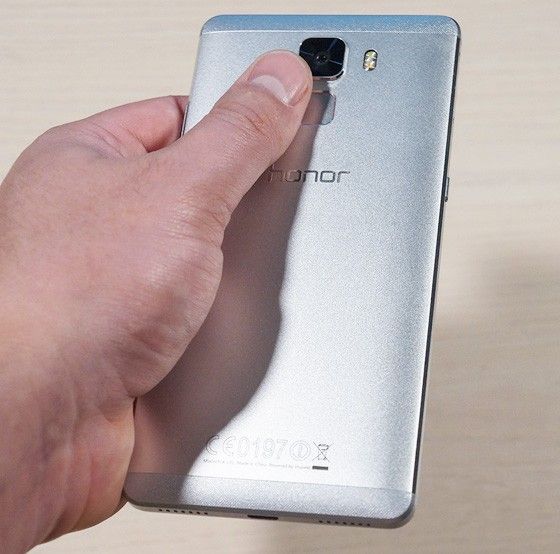 A few words from an official source:
The smartphone is equipped with a 3100 mAh battery with a record high density of 600 Wh / l.
SmartPower 3.0 technology saves up to 30% of energy through the hardware and software optimization.
The smartphone automatically pauses unused but running applications, saving energy and increasing performance.
Special super-fast charger for charging the phone (sold separately).
There are several power saving modes:
Productive
Clever
Energy saving. Working time is increased by about three times compared to the "Performance" mode
Connectivity Huawei Honor 7
Huawei Honor 7 operates not only in networks 2G / 3G (GSM 850/900/1800/1900 MHz, WCDMA 850/900/1900/2100 MHz), but also in 4G CAT 6 300 Mbit / s (FDD: Band 1, 3, 6, 7, 8, 20).
NFC chip, but there are IR transmitter. It is necessary to highlight the Wi-Fi standard ac (2.4 GHz / 5 GHz), Bluetooth 4.1 BLE, USB 2.0 with support for OTG. In the presence of GPS and GLONASS.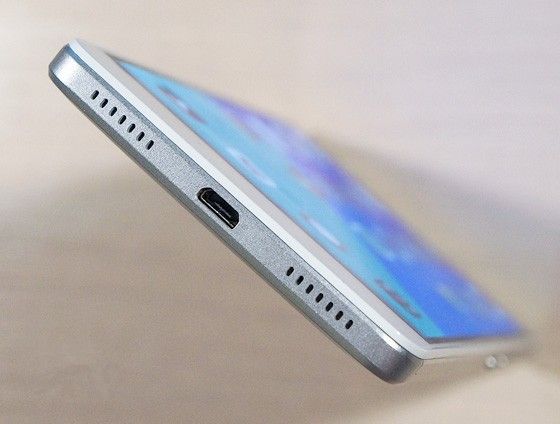 Memory and memory card Huawei Honor 7
It uses 3 GB of RAM. Built-in Flash-memory 16 GB, for installing applications and data storage is allocated about 10 GB.
Cameras Huawei Honor 7
Traditionally, there are two modules of cameras: 20 megapixel Sony IMX230 (6 lenses, aperture F2.0, viewing angle 27 mm) and an 8 MP (aperture F2.4, viewing angle 26 mm). There are two flash – cold and warm glow.
Focusing is very quick and accurate, despite the fact that this machine is not a laser autofocus. Optical image stabilization is also there, but sorry.
Shoots Huawei Honor 7 in any conditions quite cool by day fine detail, virtually no blurring at the edges of the frame, the white balance is not "lying." I liked the beautiful background blur (bokeh), you can make artistic photos. Pleased and dynamic range, in the shadows of the image does not lose detail.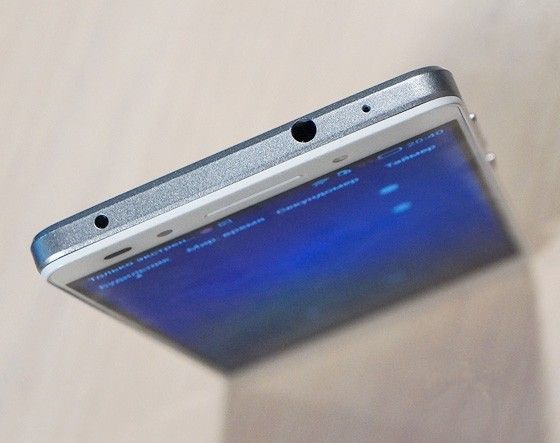 In poor conditions the camera copes well. Even at ISO 2500 about the photograph practically no loud noises.
After focusing tap you can set the exposure by dragging the icon of the sun.
The front camera with the "self" to cope with a bang: highly detailed, accurate color, a relatively wide angle that does not distort the face.  The intensity of the glow varies in two bands: low and medium. Frankly, the backlight is almost useless. To somehow illuminate themselves, have to keep smartphone distance of at least 20-30 cm. In this case, the frame gets only his face.
The most successful implementation of the backlight "self" from LG and Apple iPhone 6S. In the first case, the screen is filled with white color and brightness is set to maximum value, and in the center of a miniature you see yourself. In the second case for a short time the screen flashes white.
Video unit wrote in FullHD resolution at 30 frames per second, regardless of the level of lighting. The quality is so-so, it was possible to 4K "gash".
Among the effects are such funny things like "Light of the Lantern," "light graffiti", "Water", "Stars". Without a tripod to make such images is useless. There are chips: a change of focus, food photography, HDR, panorama.
Performance Huawei Honor 7
Gadget Huawei Honor 7 runs under its own chip HiSilicon Kirin 935: 28 nm process technology, 8 cores ARM Cortex-A53 (4 1.5GHz and 4 cores at a frequency of 2.2 GHz) with the architecture of ARM big.LITTLE. As the graphs serves Mali-T628 MP4.
Regarding the heating housing official source says the following:
The back cover is made of aluminum alloy – heat dissipates significantly better compared to plastic casings.
L-architecture: internal components are arranged around the battery, which leads to a uniform distribution of the heating elements and contributes to the rapid cooling.
Processing of the internal components of the smartphone special gel improves thermal conduction and reduces power consumption by 15%.
Achieved a decrease in heating by 40% during the games.
From my own experience is that the body is still heated (only under heavy loads like playing games), and even can be localized area – the lower part of the rear surface. Heating weak, but you feel it.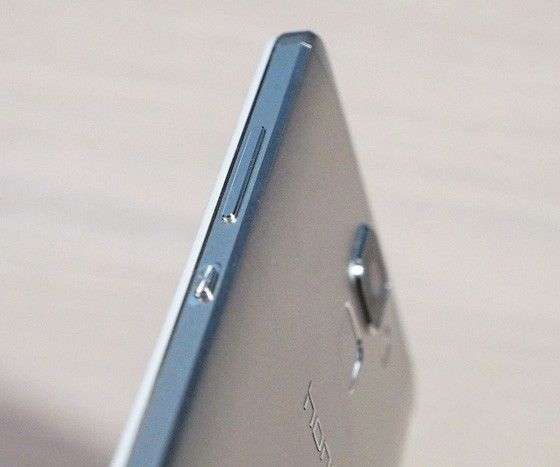 The machine is fast, brake and no interface is functioning smoothly. With games there is no problem: there are all the "Gama" at maximum chart.
Software Platform Huawei Honor 7
This model runs on Google Android operating system version 5.0, as well as the shell uses a proprietary interface EMUI 3.1. Here – only screenshots of UI, because the differences from previous versions is extremely small.
Multimedia Huawei Honor 7
The music player is standard for Huawei. The headphone volume is very high, the quality is excellent, I liked it.
Here again I cite information from the developer:
Hi-Fi and pure sound: the unique design of the speaker, Smart PA of the second generation and DTS give the purest sound during a call.
Additional volume: volume increase by another 58% from Huawei Voice.
Hi-Fi record: two high-sensitivity microphone supports recording Hi-Fi level at a distance of 5 m or more. Great for recording meetings, interviews and concerts.
Reducing noise at a distance of up to 3 m when using the speakerphone.
But, however, it's all words. I had to check the audio recording in a real situation. The recorder has several modes (screenshot below). All of them really work. For example, "meeting" – noise reduction, gain votes, "concert" – the device is trying to cope with loud noises and that it manages to 100%.
The volume of the polyphonic speaker is very high. Speaker handles all frequencies without wheezing. The sound is clear and even bass.
The device has a radio. Smartphone understands many formats of audio and video codecs, no problem "cool" 1080p with bit rates of 50 Mbit / s.
Conclusion Huawei Honor 7
The quality of communication have no complaints, during the period of testing the device lost network, Wi-Fi is not "falling off" with GPS no problem – the device always confidently led to the goal, and the path was arduous (deviations in navigation did not occur).
In terms of price and quality, I think he is breaking records, especially in the current currency situation.
Pros
Sturdy metal housing
High performance
Cool Camera
Excellent quality IPS-matrix (saturated colors, contrast)
Loud speaker
Decent sound through the headphones
High-quality recording on tape
Dual SIM
Not a bad time
Nice shell, smooth and functional
Fast fingerprint sensor
LTE
Cost
Other indicator of missed events by double-awakening "tapas", "smart" button, single-handed control, work gloves.
Minuses
Light flashlight on the front panel
Not always exactly triggered fingerprint sensor (sin on a particular sample)