The unusual design of the headband, sensitive microphone on a long stalk, the ability to connect to the PC and consoles, speakers 50 mm with neodymium magnets – all HyperX Cloud Revolver, excellent modern headset.
Design, construction HyperX Cloud Revolver
Before the headset in my arsenal, I was not familiar with the HyperX products, began to study, discovered a whole world of interesting devices, and there is the SSD and flash drives, and memory, and, of course, a headset. Memory here is no accident, because HyperX is a division of Kingston, Kingston well and everyone knows who has ever wrung computer – I have done a long time ago, but I remember about Kingston. It would seem, what does the headset? The fact that the players and the playing area is very relevant, and the peak of interest, sales peak is still far ahead – people moving to consoles, the grown youth begins to play on the PC, quietly pulled the army "poppies" owners, all of them need a variety of gaming accessories from mice to headsets. For example, why is it suddenly so active in the Plantronics headsets are engaged? Yes, because the demand is huge, and the tendency is visible not only in the US-type countries (there are almost all the tendencies), but also in Russia, too. Quality sound is needed for all of us – even if you have a large apartment, pets sleep in the night, and play sound is unlikely to succeed. And then on gambling addiction help just come to things like the product in question – in advance, I note that the HyperX Cloud Revolver this fits perfectly.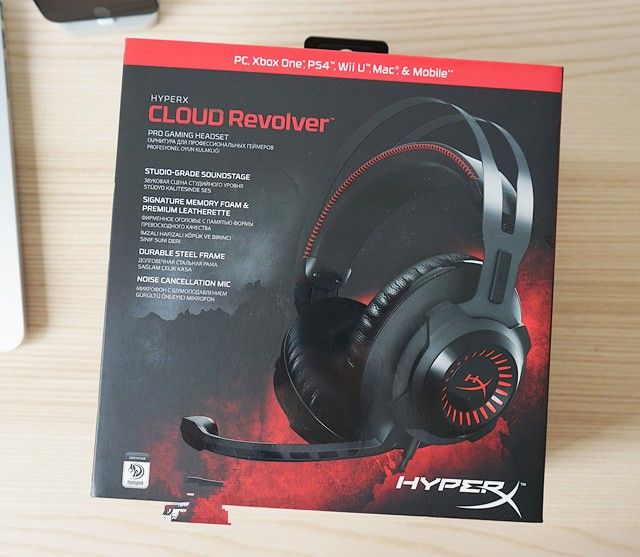 Among the headset is positioned as a kind of uber-solution, the king of gaming accessories, the best that money can buy. Let's see if they are. Note that I tested the product with the PS4, connect it to the console is only one way, with the help of a cable. Probably, from the PC you will have some different feeling due to the possibility of fine sound settings in the menu of the game (or PC settings), on PS4 also hear it as it is, and then very quickly you can see if sound good headphones, whether good sit. After all, the same The Division did not you come to play for an hour, but two or three at least, and a good fit means a lot.
It stated that the headset developed in Germany, was tested a lot of prototypes before chosen here such a form factor. Actually, what is this? And this is here that the headband cut from metal, fixed, cup attached thereto and second headband can be called gentle, since it is so. Made of eco-leather, stitched with red thread, very good, that there are only two colors, black and red. Soft headband easily moves upwards, depending on the size of your head, it extends the cable connecting the cup. Well, a cup made large and completely cover the ears, which provides excellent passive noise isolation. As a result, a massive headset on your head becomes invisible, it can be worn for hours without the slightest inconvenience.
A microphone on a flexible stem is attached to the left cup, then leg with memory, well, very sensitive and the microphone, you can speak in a whisper, you will hear. Although PS4 were glitches, when I did not hear at all, had to leave and re-enter in the crowd – but it's more likely to claim on prefix.
To assemble the device no complaints, all strong, reliable, used matte plastic on the rim glossy – fingerprints still not very noticeable. The specification states that the foam ear pads with memory here, as I said, wearing a headset is really comfortable.
At the headset has a built-thick cable with fabric braid 1 meter, plus there is an area two meters in length with a remote control (mute and volume control) with two connectors, audio and microphone. With built-in cable, you can connect the headset to the joystick consoles PS4, but what a long cable is useful for PCs. Curiously, the pinout used the CTIA, like Apple devices (and Sony), so that the headset can be used with a smartphone or tablet.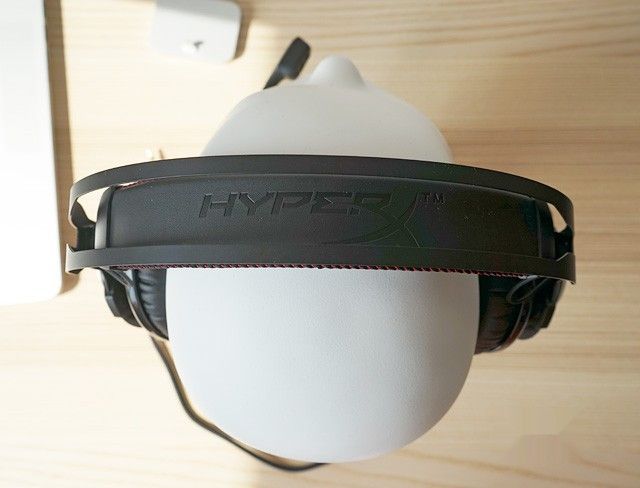 Instructions in Russian can be found here, all of a sudden you would be interested to get acquainted with the product closely. It is good that in the instructions all chewed as much detail about the connection to the PC and consoles Xbox, PS4 and other devices.
Sound HyperX Cloud Revolver
As I said, use a headset with the PS4, my main game now – it's Tom Clancy's The Division, and I go there alone, and with friends (if someone wants to run, please, Zavackiy nickname, but I have yet low level of TK). If we talk about the action in the group, all praise headset microphone, speak, hear well, natural voice. The description contains the TeamSpeak Certification is a tool for communication; It states that during the tests under TeamSpeak voice distortion, and background noise echo has been detected.
Surprisingly different, I'm talking about HyperX headset did not know anything, but it turned out that my friends are well aware, in particular, one friend Cloud, the other Cloud Core. That's what I was told about the choice of Cloud Core: «I was looking for a headset within 5000-6000 rubles, I stopped this from the reviews. Plus bribed stuffing from Beyerdynamic. Do not mistake) Oh, and spices was not looking for bluetooth connection. Average wired connection was a priority item in the selection. " Note, you can hear perfectly.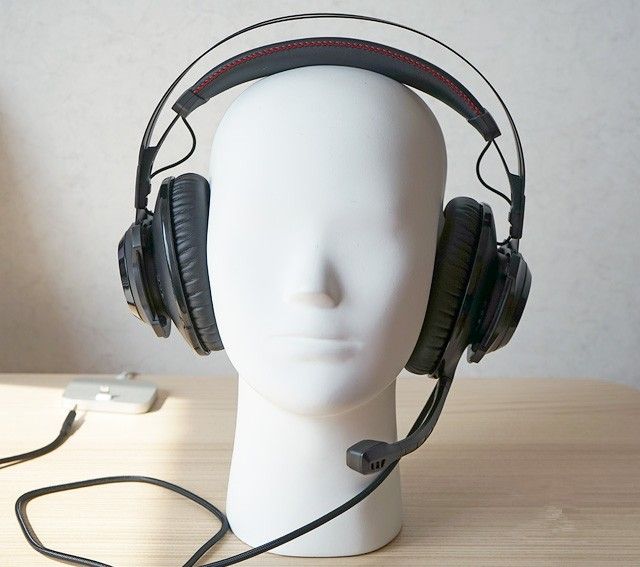 Sounds of shots, explosions, effects, music (and music here, though infrequent, but just straight starts nostalgia for the first Splinter Cell), all this juicy, hard, volume and so any better than using the TV speakers. Moreover, after the HyperX Cloud Revolver see how much these same dynamics passed.
When using the headset type CoD or Battlefield games, you get the benefit of the players without headphones, as better hear the sound of footsteps. In principle, this applies to any headset, but c HyperX hear even better – still, still there large speakers, and each dish is really its own sound environment.
With the clang of caterpillars WoT sets a fighting mood, completely different sound than calls from the TV speakers.
In short, one long delight. Compared to many gaming headsets have a palpable difference in the detail – and to understand why HyperX is good, you need to connect to the joystick or PC, go to your favorite game, and to release all or do any similar action. So you will understand immediately that the purchase was made knowingly.
Conclusions HyperX Cloud Revolver
The presentation was announced RRP 13,990 rubles, sales will begin on May 10 but now in some places there is a discount, so that the headset is worth 11 990 rubles. I advise to look. For gamers this is a great gift, it is very good that the headset is positioned as a universal solution for all gaming platforms – and it is good that there is no Bluetooth. No Bluetooth – no need for charging.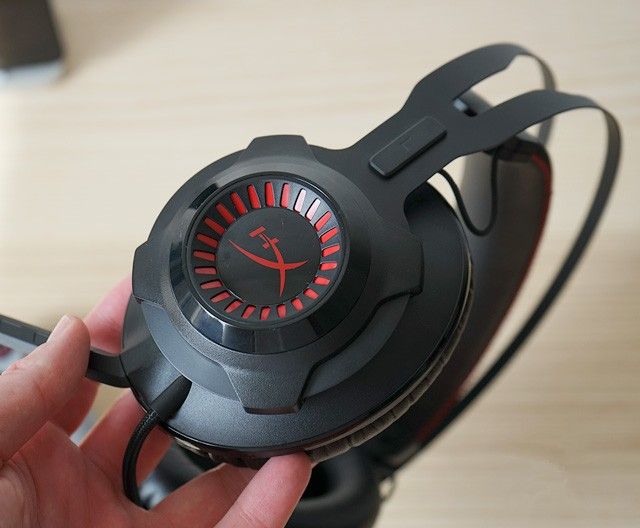 Wear comfortable, play nice. Actually, this is the best praise. So much money is asked just for comfort, reliability, sound quality – this also applies to the speakers, and microphone. It's all very well, something to complain about, I have not found.
If you can afford such a purchase, highly recommend. Especially I recommend consoles owners, those who frequently play online with your friends, use the chat. If you play one, then you do not need and headset, you can use any headphones (although sound of HyperX Cloud Revolver is commendable).