The new iPhone 6 makes me only positive emotions, but to deceive either himself or you, I will not, this is not the iPhone, which had been before. Sometimes one needs to use both hands because it is compact and does not smell …
Package Includes:
Smartphone

Headset EarPods

Power Supply

USB-cable

Device for extracting SIM-card

Documentation
Design, construction
Changed the packaging, now it's a white box with vyshtampovka top, side, written only one – iPhone. And all is clear. Done perfectly, discarded after the purchase is not desirable. Package Includes standard, all to you immediately started to use a smartphone, restoring it from a backup Mirandas to iTunes or iCloud – download music, connect EarPods, and forward. The device is charged and once out of the box, equipped with everything you need, I'm talking about a set of basic programs.
Three colors: dark gray, silver and gold. All look very cool, not boring, I wished I had chosen a dark gray model, silver great fit laptops and computers Apple. On the other hand, it will clearly be the unit for girls, as well as gold version. Body of a single piece of aluminum on the back and side stripes visible antennas, someone does not like it – well, everyone has their own tastes. The camera protrudes slightly, and most likely in the iPhone 6S will hide her flush. The device is not slippery, easy to pick up from the table, the edges are rounded, and the slim body is easy to pick up. With glass all done very well, a feeling of one piece, like a metal and glass soldered transition barely noticeable. Note here any thin frame side, all in the spirit of the latest trends. Probably a couple of years at Apple will find a way to get rid of frames – well, or from the scope of the side and top. Below the display – button Home, it is sensor Touch ID. Above the screen – lens front camera, earpiece – it's loud and clear, the voices sound natural interlocutors. Smooth glass is very nice to keep the ear, there is oleophobic coating, so that the machine is easy to clean – the gray metal invisible prints, well, glass is easy to wipe. As practice shows, for the year using the device will not lose the charm – look at the iPhone 5S, I think there seems to be covering (the iPhone 5 black paint peeled off at the ends).
Dimensions are 138.1 x 67 x 6.9 mm, weight – 129 grams, do not want to invent anything – the device most convenient to use both hands.And this is the usual six, not six plus. Yes, smart phone tried to make the most compact, yes, he is excellent in hand, yes, it is light and thin, but when you type text in the right thumb, iPhone tries to fall forward. If iPhone 5S I could reach with your thumb to any corner of the display, with the iPhone 6 this thing will not work. So, everything is very similar to smartphones with Android, reminds HTC, Sony and Samsung.
Especially hard have girls specifically asked two friends to try to do something on the iPhone 6, open instagram and something else – like the device itself, but the use is not as convenient as the iPhone 5S. But both it does not bother, you can quickly be retrained.
The new iPhone 6 makes me only positive emotions, but to deceive either himself or you, I will not, this is not the iPhone, which had been before.Sometimes one needs to use both hands because it is compact and does not smell …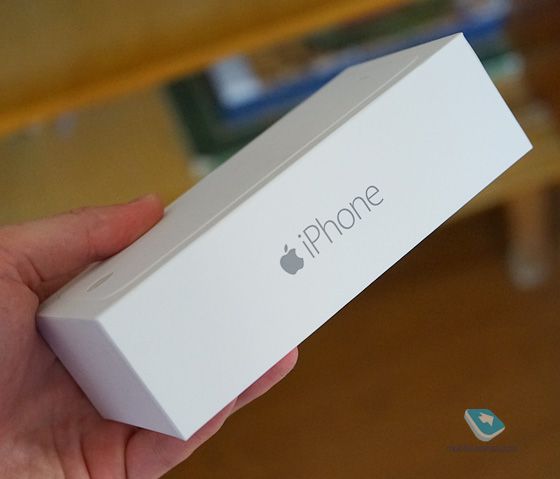 We'll have to get used to the location of the off button, finger reaches the top, but it right. Excellent snaps, falls in right-handers right thumb, not big and not small, not thin and not thick. Such as it should. Left – lever mute, volume control buttons, all in their places. Below – microphone connector Lightning, 3.5 mm jack, pinout old. Map nanoSIM, the slot on the right.
Of course, the assembly has no complaints, monolith, a pleasure to hold in your hands. Opinion people like that, the machine is called a space, incredible – at Apple are able to do great things that cause positive emotions. It's nice and that's what makes people stand in line for many kilometers of novelty. In Munich, I again saw a picture.
And this time again on two machines in one hand, instead of the voucher – an electronic record, the excitement, and the iPhone 6 Plus ended in five minutes. By the way, the "plus" is very hard to come by in Moscow for any device with a capacity of resellers are asking about 130 000, and want to pay a lot. All, as I said in the article about the announcement, no surprises. About the "plus" will be released later article, I will mention only one, the device looks in the pictures anymore, but here is accurate two-handed smartphone for those who are important to the quality of the photos and the work – the gadget is extremely interesting, and it is waiting for a great destiny in the market. It has already been proved.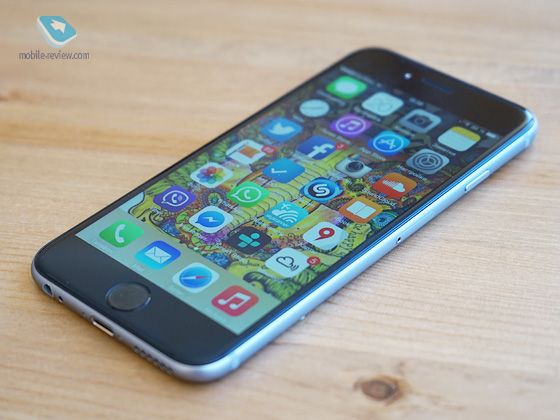 I do not understand crying and criticism of some people, they say, have succumbed to the Apple / gave up and made a shovel? Do not like the iPhone 6 / 6Plus – great buy and driven almost to the ideal iPhone 5S, it is still a few years will be relevant, for sure Apple will support it at least three or four years (it is about a software update). Great compact smartphone not gone anywhere, so that criticism is misplaced.Well, with the trend – people like large displays. Apple has released two devices with large displays. Excellent. That's all.
Some useful information about the conditions of use, usually people forget about it, and I've not seen, as the iPhone is overheating.
Operating temperature: from 0 to 35 ° C

Storage temperature: -20 to 45 ° C

Relative humidity: 5 to 95% non-condensing

Operating Altitude: tested up to 3000 m
Display
Diagonal IPS-display – 4.7 inches, resolution – 1334 x 750 pixels, LED backlight, Apple's screen is called HD-display Retina. In the settings you see "View" (located in the sub-menu "screen and brightness", then you can choose a standard or an enlarged view of the operating system as a whole, if you have problems with your vision, and you can play with the font size, and with a view to achieve the ideal .
The screen has excellent viewing angles, brightness, elegant black and white colors. On the desktop, fits four icons that allows you to not rewind desktops – more shortcuts at your fingertips. Compared with the iPhone 5S is much easier to look sites, videos, read, work with e-mail – in short, all the benefits of a large smartphone. Well, about retribution I said, sometimes you have to use another hand. But smaller scale in Safari.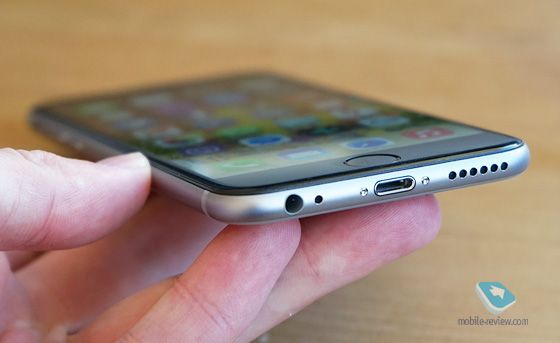 Touch ID
I'll describe in detail in the review of iPhone 5S, here only repeat what has been said. After the first start, and various formalities such as entering Apple ID, you are requested to specify the fingerprint for the right-hander is most likely right thumb. You put your finger on the sensor, the picture shows how the system detects image: apply, release, apply again, and then offered to make no cushion, and the tip of the finger, with a slight twist. Imagine the movement while pressing the button, that's it so. Then, the system remembers your imprint is prompted to enter the password in case the mark will not be recognized. Naturally, you can save the prints of all other fingers for greater comfort. Sensor settings are on the menu "Basic / Password and fingerprint" to work with the menu, you must enter your password (paranoia). You can turn off the sensor, change the password, choose a simple or complex password, add or remove print. And at the time of purchase in iTunes / App Store also possible to use fingerprints, though here that enter my password, what to put your finger on time, plus or minus the same.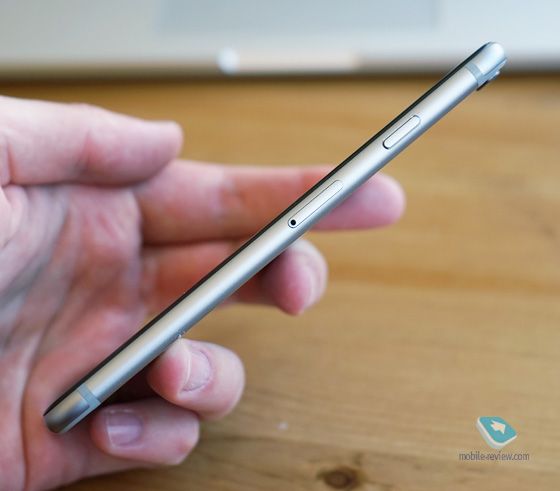 The main question that I get asked – how fast the scan? See the device is locked, you press the button with your thumb, release occurs unlock and go to the home screen. Without Slide to unlock. I do not advocate the protection, I have nothing to hide, but this thing runs very cool and saves time – no need to press the power button, no need to move your finger across the display once again. By the way, in the locked position, you can switch tracks in the player, start the camera – it is all available without a password, but when you want to go to the home screen, will appear on the lock screen, you need to enter a password or fingerprint scan. That is, you can give someone the unit to shoot, listen to music, use the calculator or flashlight, but then people will not be able to go.
I think the Touch ID we will see in other products of the company, reporting to Apple device – is largely a test platform, this also applies to the fingerprint sensor, and processor A7. In this case, Touch ID may well get not only iPad (it probably will happen), but also in laptops.Apparently, the company headed for the comprehensive protection of user data, you know, there is one more sight – in corporations will be very happy in such opportunities, and it is high time to get rid of Blackberry.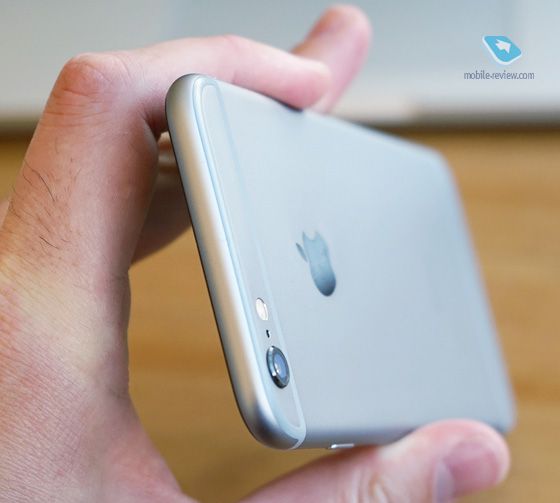 Many say that all this is not new, it was all but history repeats itself, as with many other notions of Apple. All because remember FaceTime and howling of some particular part of the Internet community about the lack of innovation. Apple has just made the usual or existing technology is more convenient, easier and more necessary (keyword) for the common people, and not for the mythical special agents – in fact, many such associations when talking about the fingerprint scan. In the iPhone 5S it takes a fraction of a second, allows you to instantly unlock the machine, saves time, well, and gives you a completely unique level of data protection – without having to come up with strong passwords, draw graphics keys, unlock the smartphone using the front camera and so on.
Modifications and performance
At this time, Apple is very detailed descriptions react to specific models, so before you buy, you can check which networks created your unit. Just in case, bring characteristics here.
Model A1549 (GSM)
Model A1522 (GSM)
UMTS / HSPA + / DC-HSDPA (850, 900, 1700/2100, 1900, 2100 MHz)

GSM / EDGE (850, 900, 1800, 1900 MHz)

LTE (bands 1, 2, 3, 4, 5, 7, 8, 13, 17, 18, 19, 20, 25, 26, 28, 29)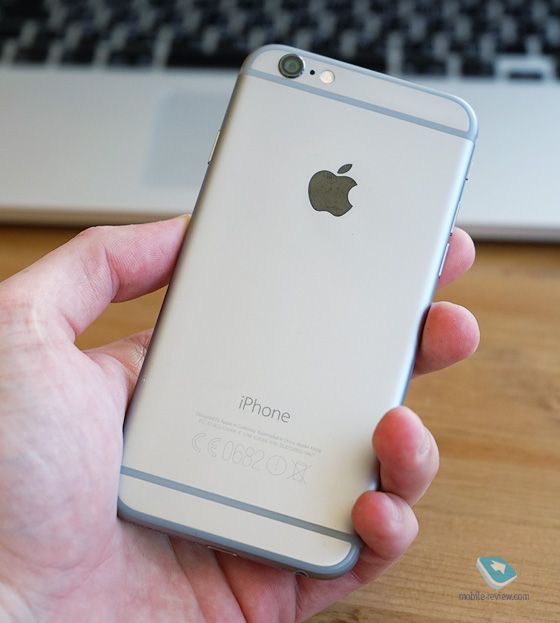 Model A1549 (CDMA)
Model A1522 (CDMA)
CDMA EV-DO Rev.

A and Rev.

B (800, 1700/2100, 1900, 2100 MHz)

UMTS / HSPA + / DC-HSDPA (850, 900, 1700/2100, 1900, 2100 MHz)

GSM / EDGE (850, 900, 1800, 1900 MHz)

LTE (bands 1, 2, 3, 4, 5, 7, 8, 13, 17, 18, 19, 20, 25, 26, 28, 29)
Model A1586 (GSM)
Model A1524 (GSM)
UMTS / HSPA + / DC-HSDPA (850, 900, 1700/2100, 1900, 2100 MHz)

TD-SCDMA 1900 (F), 2000 (A)

GSM / EDGE (850, 900, 1800, 1900 MHz)

FDD-LTE (bands 1, 2, 3, 4, 5, 7, 8, 13, 17, 18, 19, 20, 25, 26, 28, 29)

TD-LTE (bands 38, 39, 40, 41)
Model A1586 (CDMA)
Model A1524 (CDMA)
CDMA EV-DO Rev.

A and Rev.

B (800, 1700/2100, 1900, 2100 MHz)

UMTS / HSPA + / DC-HSDPA (850, 900, 1700/2100, 1900, 2100 MHz)

TD-SCDMA 1900 (F), 2000 (A)

GSM / EDGE (850, 900, 1800, 1900 MHz)

FDD-LTE (bands 1, 2, 3, 4, 5, 7, 8, 13, 17, 18, 19, 20, 25, 26, 28, 29)

TD-LTE (bands 38, 39, 40, 41)
All models have support for Wi-Fi 802.11a / b / g / n / ac, Bluetooth 4.0 (I think there is aptX) and NFC. Officially supports formats: AAC (8 to 320 kbit / s), Protected AAC (files from iTunes Store), HE-AAC, MP3 (8 to 320 kbit / s), MP3 VBR, Audible (formats 2, 3, 4, Audible Enhanced Audio, AAX and AAX +), Apple Lossless, AIFF and WAV. I have a lot of files in ALAC, think of you, too, there are people – bearing in mind that the line now have a model with 128 GB, you can carry quite a few albums of excellent quality.
Used A8 processor with 64-bit architecture, and so-called "co-processor traffic» M8, iOS device with 8 works smartly, about the main features of the new operating system can read at the first sight, a full review will appear in a few days.
Compared with 8 on iOS iPhone 5S no braking in many programs, there is no malfunction if Instagram, when the picture after shooting a little biased, do not take off many of the programs – a common occurrence. So it was last year with the iPhone 5 and iPhone 5S, a new Operating System better get accustomed to the new device.
Use 1 GB of RAM, as you know, in many devices based on Android is already 3 GB, but the iPhone 6 is enough and that for smooth and stable operation. Moving between segments desktop instant, programs open quickly, a couple of days or failures glitches noticed. A program using a different, from the browser to navigate, from the camera to any internet radio.
There is also a barometer, just not clear with what software to use it. I will understand.
Luggage
About the camera in great detail, I will write in the operating experience, there are very few pictures, maybe add some pictures here.iPhone 6 – main unit, taking pictures all the time, so that will be something to see.
8 MP camera, changed the software and optics, five lenses, can be, and therefore were not able to remove the entire group into the body.On top of them covers the sapphire, is the mode of Auto HDR (works well). The new focusing system is good, but some objects can not catch a look at the photo of the ash. Famously caught invoice sheet, but the berry is not in focus. Well, it's me or just yanked his hand, here it is better to use a physical button, not a virtual one. You can download a couple of examples of the video.
Advance to say that the iPhone 6 for photographic opportunities one of the best smartphones on the market today, it is easy to replace you a bar of soap for everyday shooting.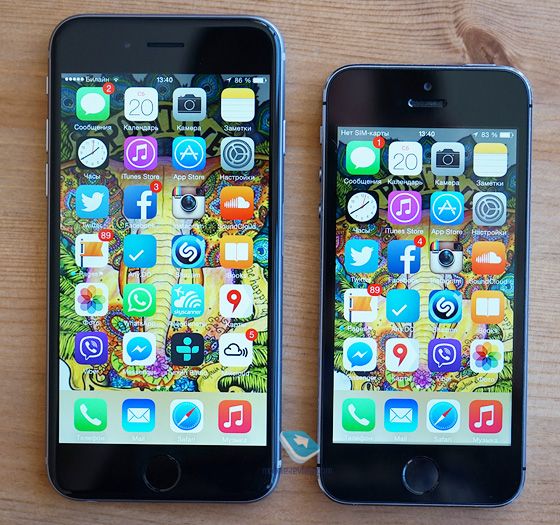 Food
Claimed battery life is about 14 hours of talk time on the network 3G, in standby mode the unit operates about 10 days to 11 hours of video playback (just have to fly to New York, I'll try), 50 hours of music playback. I think the work as a whole is better than the iPhone 5S, I am very active user, and I have lived quietly apparatus day. Let's see how it will go on. Operating experience about the iPhone 6, I also prepared.
Accessories
Very, very much just released now, I must say very nice covers Ozaki «pasta" made of silicone, look funny, there are cases of the original eco-leather or silicone, myself chose green, but fasten the hand is not raised, the metal looks great.
Handy and stand WoodFrame, and charging in the car from the iPhone 5S, and holders, and acoustics – with the installation of some docks may have problems, but in general there are no problems for producers. Especially for those who produce accessories with Bluetooth or Wi-Fi. Already there are films and protective glasses, and other things, everything will tell soon.
Memory
Three versions, 16, 64 and 128 GB, in my opinion, the version with 32 GB removed in vain, it's better to take away a 16 GB model, now it is not relevant. But happy with the appearance of the model 128 GB of memory, the first thing loaded on the iPhone 6 almost all music purchased in iTunes, and still left a bunch of places, it's very nice. If you're shooting a lot of photos and video, then do not even think, take the model with 128 GB – girl you this is especially true.
Conclusions
The quality of reception have no complaints, loud speaker there, plus or minus like iPhone 5S, so you can use it in the bathroom without any columns. You heard right. Video about removing and adding features to our YouTube channel in October.
In Russia, the device will be available on September 26 in some other countries have already started selling gray market perked up, everything is as usual. The official Apple store price on the iPhone 6 are 31,990 for 16 GB, 36 990 rubles for 64 GB, 41 990 rubles for 128 GB. It is inexpensive, and the price is justified, because the iPhone 6 – is a good thing, and competitors in the market too much no. Only Apple makes smartphones based on iOS. And to compare this unit with something from the camp of Android just does not make sense – other OS, different audience, this audience of other needs and aspirations of others. And there you may say, but the iPhone 6 will disperse millions of copies, and even a crisis that is not an obstacle, people in Moscow are ready to give the last one hundred thousand, just to get a new product already this weekend.
This is the first two-handed smartphone Apple, and he was quite successful. Find fault with me to nothing, use with pleasure, before buying advise to look alive colors, silver is very classy, ​​and later show live pictures.
PS Should I change iPhone 5S on the iPhone 6? If you do not mind the size – of course. Due to the increased display size then it is more convenient to do many things, do not have to squint, stare, zoom, twirl machine.