Introduction
In a review of the Acer monoblock asked our readers not only affect segment masthead monoblocks, but budget. Just at this time, to my test came AT2102N – budget monoblock from company 3Q. Up to this point I have not dealt with their candy bar, but tested a lot of other equipment from 3Q: tablets, nettops, netbooks, media players, therefore, among other things, was wondering how successful was the company's entry into a new segment.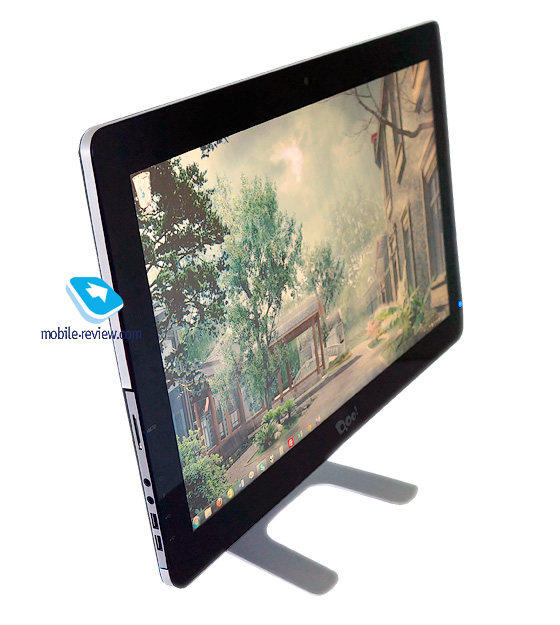 Options
Monoblock
Removable leg
Network cable and power supply
Instruction
CD with drivers
Included with the monoblock put the driver disk, so you do not need to search for them on the site, it's quite convenient. On the other hand, it would be possible to put the stick instead of the slow disk.
Appearance, design, controls, assembly
Design AT2102N almost completely copied from the iMac. Judge for yourself: the same metal leg, the same position of the screen, even a hole in the leg, they repeated exactly.
However, this impression only if you have not dealt with computers from Apple. By happy coincidence, a couple of weeks after testing AT2102N came to me ordered iMac, and I could now compare their appearance. Yes, of course, some features reminiscent AT2102N iMac, but on closer inspection it is clear that these two very different monoblock: this applies to the thickness and arrangement of elements, and weight.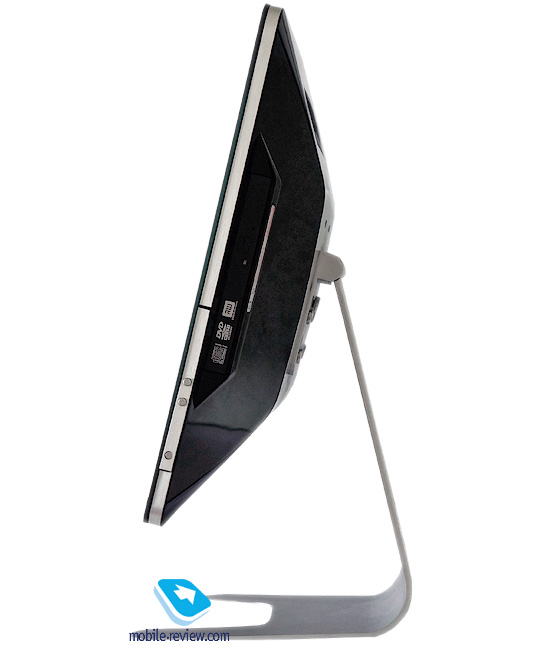 Metal leg initially disconnected from the candy bar, it should be independently connected to it, it is quite simple. Downside legs partially made of rubberized material, it is made to a candy bar does not slide on the table. By the way, if you remove the leg, you can hang a candy bar to the wall using VESA-mount.
Back monoblock made of glossy black plastic. I would like to look into the eyes of those responsible for this decision. Black gloss – it's completely impractical material quickly soiled covers and fingerprints and scratches. Why not make the aluminum back – is unclear.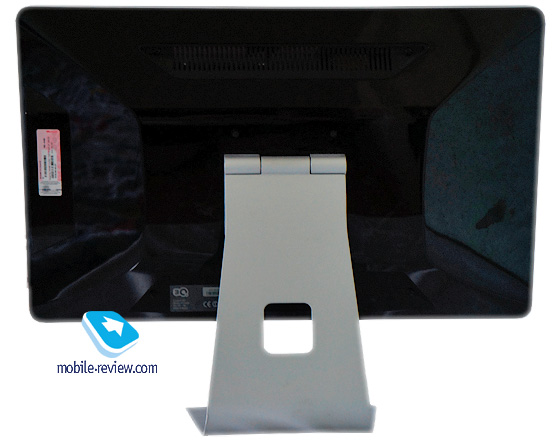 Initially it seemed inconvenient location of the connectors on the back, as they "looked down" and it was difficult to grope blindly. However, you can easily take advantage of them if put up a screen monoblock 45 degrees upward. Now, regarding the ports themselves. From left to right the following connectors: a hole to connect a network cable, HDMI-port, VGA-connector, 2 x USB 3.0, Ethernet-port, 2 USB 2.0, headphone and microphone and audio output S / PDIF.
To the right are the drive, power button and the brightness keys. The latter are very relevant, with their help, you can completely turn off the brightness in a monoblock.
The left you can see duplicate headphone and microphone jacks, two USB 2.0 ports and built-in card reader. Location USB-port side has a positive effect on the convenience (no need to go anywhere to stretch), but it is unclear why not install USB 3.0 ports instead of the usual, because it is often removable media need support 3.0.
Top you can see the speaker grille. Speakers themselves have a mediocre sound. It is flat, you can hear that even a person who does not understand the sound.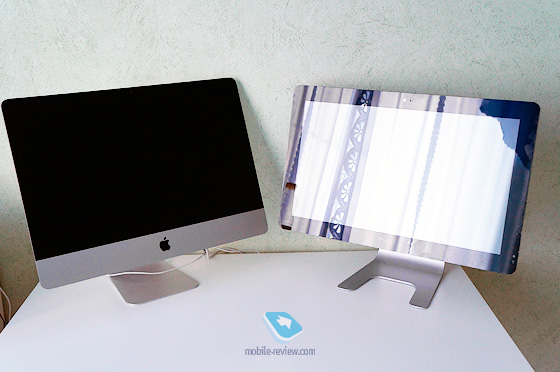 I am unhappy with monoblock assembly. He seems somehow crudely assembled. For example, look at how crooked set of the metal rim. In addition, one of them also departed. I do not know if I were not so lucky with the sample, whether it is a massive problem, in any case, buying are advised to check the assembly.
Screen
Diagonal – 21.5", resolution – 1920×1080 pixels, matrix type, apparently, TN (unfortunately, I can not say definitely, in performance it is not listed on the official site too), the screen is glossy.
I still have mixed feelings on this display. On the one hand, it is pretty decent, the picture is bright and clear, natural color.
On the other hand, the screen is glossy, and in bright sunlight you can see his face, gazing sadly at the monitor. In addition, the monoblock poor viewing angles, although in the case of the home PC is not so critical.
In general, screen AT2102N be called "normal", it is not the most impressive brightness, contrast, or other parameters, but for them to work comfortably or read. The only significant drawback – gloss finish.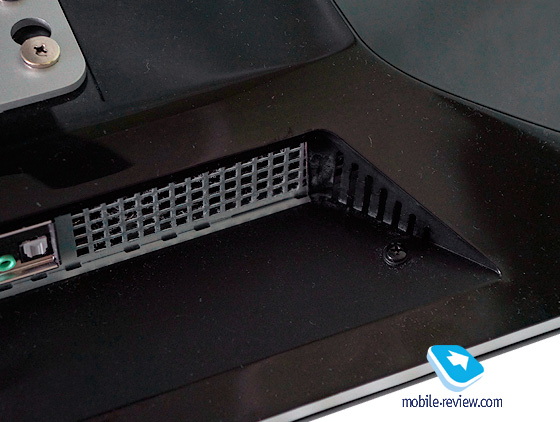 By the way, due to the physical buttons adjust the brightness, you can always "tweak" it to the desired setting.
Operating system
Monoblock preinstalled on Windows 7 Home Premium. Also on sale will be the version with Windows 7 Starter / Home Basic, MS-DOS or Linux. What is there to add? After Windows 8 "Seven" feels like a breath of fresh air, everything is in place, no horrible tiles and other confusing options. In 3Q did not pre-install any software, so before we pristine system, enough to install the drivers from the disk and the system is ready for operation.
Separately, I note that in the tested model of smoothing off horrible Windows 7. I do not know why it did, but I was very happy, because personally I do not like anti-aliasing fonts in "seven" and each time was forced to turn off anti-aliasing manually (via the registry), but here everything is done for me.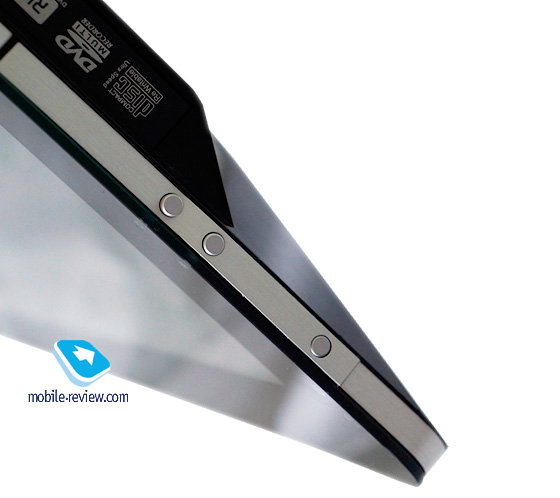 Performance and noise
The model is built on the platform Intel H61 Express, as the quad-core processor Intel Core i5 (Sandy Bridge), RAM – 8 GB hard disk capacity – 1 TB.Responsible for the graphics Intel HD 2000 (although for some reason he was determined benchmarks as Intel HD 1000).
To begin with it is worth noting that the sale will be various modifications monoblock:
Processor: Intel Core i3/i5/i7
Memory: up to 16 GB
Video adapter: Intel HD 2000/3000
Hard Drive: 320 GB to 1 TB, 2,5" HDD
As you can see, we have on test was one of the top configurations, so it will be lower than it is about her.
Monoblock power is enough for everyday use: e-mail, browser, work with text, music and video viewing (up to FullHD inclusive). With all these operations monoblock cope without problems. But something more complicated already given him harder. For example, when you open a gallery with lots of pictures in-One PC takes time to draw all their miniatures. About the game and say no, unless it is not something the level of Heroes of Might and Magic III.
I'm used to the lack of noise – a natural advantage candy bars, and was unpleasantly surprised that periodically AT2102N started to make noise and buzz, and it was unclear why. Like, just open a browser, and coolers have already started working. Just as suddenly they stopped working.
Work Wi-Fi
Module supports standards (b / g / n). Its range is small, after one wall reception quality drops to 25%, and sometimes (rarely, but there are situations) monoblock and did lose a network signal.
Front camera and sound quality built-in microphone
In monoblock installed 1.3-megapixel camera. Works fine in Skype. Quality of pictures – at the level of other candy bars and laptops.
But the built-in microphone I was genuinely upset interlocutors complained of low volume and "deafness" to vote.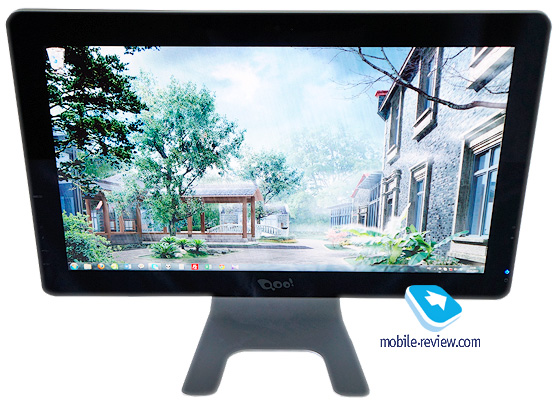 Conclusion
The cost of the younger version (Core i3, 2 GB RAM, 320 GB hard drive, MS-DOS) starts from 18 000 rubles. Version with Core i5, 4GB of "RAM" and hard drive to 500 GB and preloaded with Windows 7/8 will cost you 24 thousand rubles. Version with 1TB HDD and 8 GB of RAM on sale I could not find, so its price tag will not be shown.
Major competitors of this model – Z-series from Acer and monoblock Asus ET2220. Prices for both models with Core i3 version starts at 26,000 rubles and above. However, unlike AT2102N, these models have a touch screen and keyboard are included with the mouse, and the ET2220, among other things, comes with remote control A / W.
If we evaluate these AT2102N competitors purely on performance, he wins them the price for the same performance characteristics. However, there are many subjective factors: the quality of the screen assembly, work microphone and speakers.
Below I will describe the advantages and disadvantages 3Q AT2102N, and readers choose their candy, weigh them and offer self-assess whether they are ready to put up with him for the sake of saving 4-5 thousand rubles (version with 2 GB of RAM, I do not even consider working with memory so corny uncomfortable).
Pros:
Aluminum leg
Decent screen
Price
Availability versions preloaded with Windows 7
Initial lack of smoothing in OS
Disadvantages:
Flat sound speakers and microphone
Assembly
Noise coolers
Glossy back
Lack of a keyboard and mouse included
Small radius of receiving Wi-Fi
To summarize: it is a good candy bar for the corporate segment, which does not need Wi-Fi, quite noisy, so do not hear the noise coolers and practicality in materials and workmanship does not really matter. But for the private user AT2102N preparing many surprises. You should start with the fact that you have to buy separate speakers and microphone, and it is only one candy bar deprives its advantages as a single cable (unless, of course, you're not listening to music and communicating via Skype, in this case, these actions can be omitted) . Next – glossy back, which are prints, bad assembly and noise coolers, which deprives his second monoblock plus – quietness. In general, a normal user, I would recommend a closer look at the competitors, because a candy bar – this is the thing we buy for a long time (at least 2 years), and that would be a shame to bite your elbows, lamenting the shortcomings of the device.
Technical characteristics
Operating system
Windows 7 Starter / Home Basic / Home Premium, MS-DOS or Linux *
Processor
Intel Core i3, i5 or i7 *
Platform
Intel H61 Express
Screen
Glossy 21.5" (1920 x 1080, 16:9) LED-backlit
Random access memory
Up to 16 GB DDR3 1333/1066 MHz
Video adapter
Built-in accelerator Intel HD Graphics 2000 or HD Graphics 3000 *
Drive
From 320 GB to 1 TB, 2,5 "SATA HDD (9,5 mm) *
Optical drive
Thin (12.7 mm) DVD ± RW, SATA interface
Camera
Front, 1.3 megapixel
Audio
Jacks for headphones and microphone jack (3.5mm) audio output S / PDIF
Data interfaces (ports)
USB 3.0 (2 pcs.), USB 2.0 (2 pcs.), LAN 1 Gbit / s (RJ45), video output VGA (D-sub) and HDMI
Weight
9.1
Dimensions in mm
338 x 541 x 61
Color
Black