Player for sport – is protection from water, after three minutes of charging, the player can work one hour for perfect fit, you can listen to the tracks in a row or turn Shuffle. Good sports equipment? Yes!

Design, construction
W Series Walkman lineup appeared several years ago, and during this time of serious changes have occurred. Table stand for charging became mobile, players no longer afraid of the water, the body has become less headphones – but with no memory of metamorphosis did not happen, and the management too. Probably, it's good. After all, there are no competitors W especially if you need the gym for something compact, with long work without any problems, then you can safely buy this thing. The device is a niche, but in fact that is what we love Sony. Are going to the pool and want to listen to music there – feel free to take W. And no competitors, because the player can swim and not be afraid for the safety of the gadget. Well, now let's look at a 2014 model-year.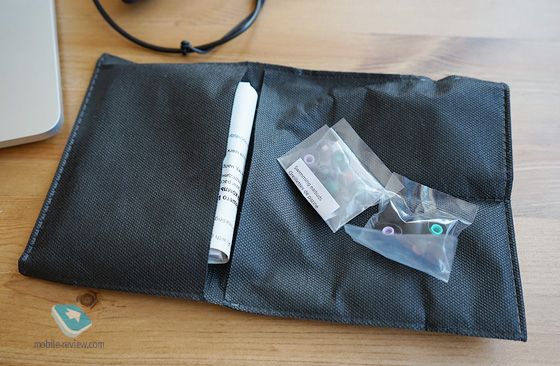 Package Includes:
Player

Device for charging

Interchangeable attachments

Documentation
The player comes in a cardboard box, all the things supplied hidden in a sack of tissue, it's nice – no blisters, no plastic. Supplied is minimal: Charging, nozzles, in a separate pouch are packing for swimming, do not forget about them, if you are going to the pool. Player itself has not changed, this earphone connected thick tube of rubber, it also forms a zaushiny. Back have elastic for better fixation, heads are on the podium. On the right earpiece – group contacts for the charger. The player weighs 29 grams, in fact, as the usual sports headphones only W273S – a thing in itself and can help you listen to music without the sound source.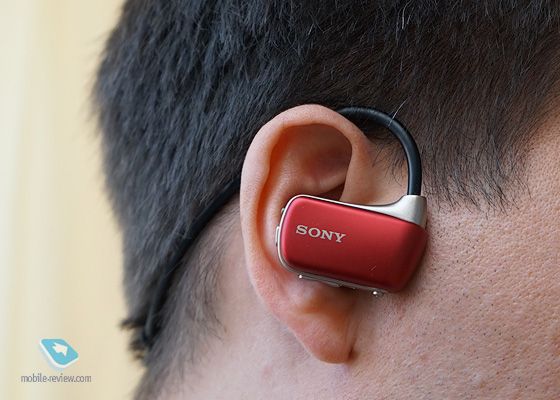 This model is a very interesting color combination of red with gold, looks interesting. There is also a black version.
Headphones very comfortable sitting, though I would recommend to try before you buy, the ears are different. The fact that the player podium speakers of plastic, and that he can deliver some people uncomfortable.
Housing materials are great, red plastic smooth again praise the choice of color. Golden grungy, looks great.
Protection against water
Decided to allocate this function separately, this sports player is not afraid of water, on the official website write on the protection to a depth of 2 meters. Naturally, we are about the pool, after the salt water rinse recommend player in fresh water – and in general, it is better in the sea for a long time not to swim, salt corrodes the material quickly.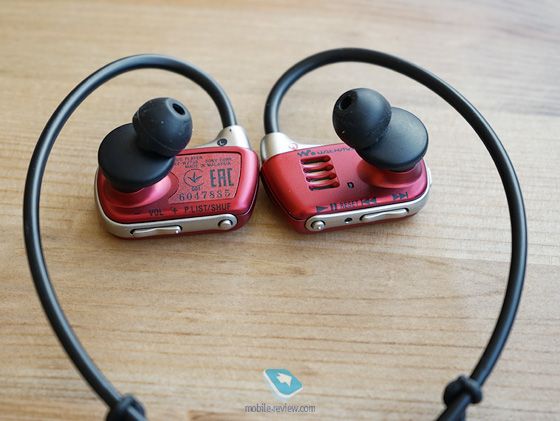 Management
On the right earpiece – a small indicator light and all the buttons for playback immediately – a small lever, locking all controls. Left – the volume buttons and select button playlists or activation mode Shuffle. There is a hidden button reset, to me it was not useful. Tugovat button, and sometimes it is not clear, there was a depression or not – especially housing structures here because there is protection from water.
Memory
This model is equipped with 4 GB of memory, there is a model W274 with 8 GB of memory.
Additional Features
Keep in mind, this is just a player, it is best to work with him in this mode – download your favorite tracks, activate Shuffle, and all. There is the opportunity to work with playlists from iTunes, there is support for the function Zappin – play a small piece of the track and go to the next, when you hear the right, you can stop and go to the Zappin composition.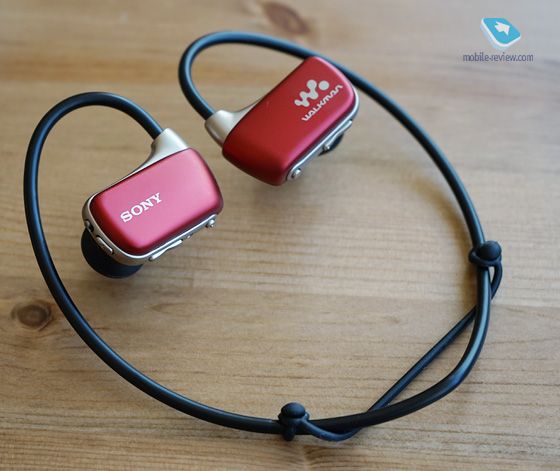 Working time
Claimed battery life – about 8 hours full charge – 1.5 hours, is a function of fast charge – for three minutes, one hour of work. That's not bad. The main complaint – non-standard memory, it's time to move on already microUSB, to charge your player from any cable.
Sound quality
I always liked the sound quality of player Walkman, series W – is no exception. Here, all on an emotional level, the player is quite versatile, and any music is good enough, no obvious failures, the sound is not flat, interesting. I am writing these lines, and listen W273S – after all, in his own style Walkman is immediately reminded of my old model series A. How was messing around with EQ settings and compiling playlists, but it is well justified, because listening to music with the Walkman was cool. And even sports Walkman – still Walkman. Do not pay attention to the color of the case and plastic, when you start listening immediately recall other players Sony – of course, if they were you.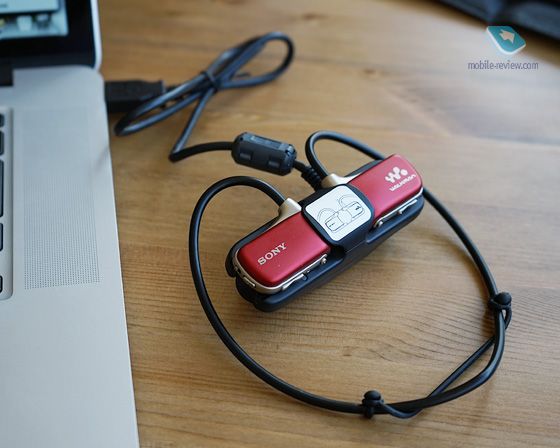 Conclusions
This model costs about 4000 rubles, in my opinion, this is a great compromise between sports headphones and the player for the gym, you can safely leave the phone for an hour in the locker room, take only W273S and go to the gym. Perfect landing (but individually) and design, protection from water, which is useful for the pool, for a long time (for the player), fast charge, in which case you can quickly charge your player before training. Everything is thought out. Complaints also have: a special connector for charging, only 4 GB of memory, hard buttons (they are tight because of protection, but still I can not say about it).
Whether or not to buy? Niche model, but if you exercise often swim in the pool, little choice. Among the sports instruments Sony Walkman NWZ-W273S – a great choice.