The company recently introduced the technology Huawei Huawei Ultrastick, which will equip most of the tablets in the Chinese market , support 3G.
Many companies took up the production of devices with support for Ultra Stick, but the Russian market yet officially presented the only model from the company Ross & Moor.
Product Features
Screen: 9.7 " , 288 dpi 2048×1536
Processor: Quad- based RockChip RK3188 ARM Corex A9, 1,6 GHz
Video Accelerator : Mali 400
Operating System : Android 4.2.2 (Jelly Bean)
RAM: 2 GB
User Memory : 8 GB
Camera: Front – 0.3MP , Rear -2 Mn
Battery: 9500 mAh
Extras : Wi-Fi, Bluetooth, accelerometer, gyroscope , light , 3G Huawei ULtra Stick
Modem settings Huawei UltraStick 3G:
HSPA / WCDMA: 900/2100 MHz
EDGE: 900/1800 MHz
Data transfer rate : HSDPA 14.4 Mbps, HSUPA: 5.76 Mbps
Weight modem < 30 grams
Connector size : 65 x 35 x 3.3 mm .
Options
Grade device is quite standard for tablets :
Cable to connect to a computer format microUSB-USB
Charger 2.5 A/5V with USB output
Cable for recharging device
OTG cable for connecting external drives
Cable to connect the modem to the computer Ultra Stick
Ultra Stick Modem
doily
headphones

Appearance
Externally, the device comes with a standard 10 -inch tablet design that is difficult to distinguish from Ipad even with less than 3 meters.
Rear panel metal golden. In the top of the tablet is a plastic insert which has a slot for the Ultra Stick.
And at the bottom is 2 speakers and a 2 megapixel camera on . The very location of the speakers is very questionable , since sometimes when watching movies hand , closes the dynamics and you have to turn the device .
Charging jack , micro USB and headphone jack grouped at the end of the tablet in his left side , next to the power button , a microphone and a slot for a memory card.
On the front is a 0.3 megapixel camera and a light sensor . The frame around the screen is white and rather broad.
Screen
Tablet Ross & Moor RMD- 997 got 10 touches display High Definition 2048×1536 .
The Ballad of viewing angles and color richness leave for marketers.
Of special note is the ability to switch the screen resolution through the settings . So if you want a lower resolution, but for the same money , you simply open the display settings and switch the resolution on 1600×1200.
Much difference I noticed , though the same thing I said when I compared screens Ipad and Ipad 3 . So, I think , for some difference will be noticeable.
Software
On the tablet running the latest version of Android 4.2.
This "naked » Android with a standard set of programs. Just further preinstalled ES Explorer to access files on your tablet and MX player that supports playback of virtually all known video formats.
The system runs for 40 seconds. System default language Russian . Of the advantages worth noting the possibility to make calls through the speakerphone
To work the system no complaints. Apparently four cores and 2GB of RAM make themselves known .
There is one gripe , which is most likely related to the resolution of the screen – not all applications support it , so they can not be set . But this phenomenon is most likely temporary .
Platform and Performance
Tablet Ross & Moor RM- 997 is built on one of the last quad ARM- chips from the company Rockchip. Thanks to 2GB of RAM tablet easily copes even with demanding games .
Here's a quick comparison of quad-core processors .
Detailed specifications RK3188
4 -core Cortex-A9, 28 nm process technology HGKM, frequency of 1.6 GHz
GPU Mali-400MP4 clocked at 600 MHz , support for OpenGL ES 1.1/2.0 and OpenVG 1.1
Specialized processor 2D
Memory support , including DDR3, DDR3L and LPDDR2
Video decoding 1080p / 60 frames per second
Video encoding 1080p / 30fps in H.264 and VP8
60 -bit ECC for MLC NAND, bus width of 16 bits
Booting from NAND Flash, INAND Flash, SD / MMC
Dual display with a maximum resolution of 2048 × 1536
One USB 2.0 OTG ( Host ) , one USB 2.0
High-speed connector High-Speed ​​Inter Chips
RMII Ethernet
Built-in memory is only 8Gb. Pretty strange decision to release a tablet with such a small amount of memory , but this problem can be solved by acquiring a MicroSD memory card to 32GB . Cost benefit them in the market does not exceed $ 1000. Speed ​​Reading 10.6 MB built-in memory / s, while recording 11.2 .
Memory itself is distributed in a standard way for devices based on Android. For example under the application allocated 1.6 GB , and the user is available just over 4 GB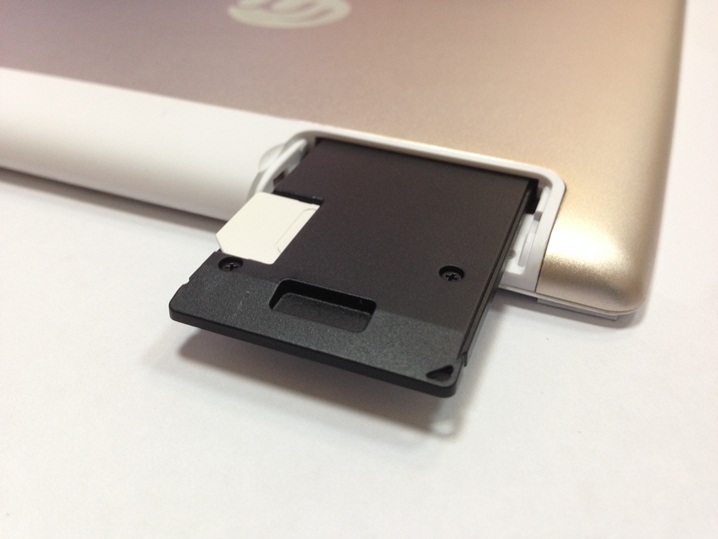 Multimedia
Tablet Ross & Moor RM- 997 without problems reproduced via standard player all popular formats mkv, avi, mp4, wmv
But for the video format 2K and 4K had to use MX player.
Operation time
Time the tablet appeared impressive. The device is discharged from 97% to 16% , play videos in MP4 1080P, 8 hours and 15 minutes . That is, the battery should last for 9-10 hours of video playback .
Huawei UltraStick
Modem installed on the tablet HUAWEI E122- 2 , made by technology UltraStick. This technology was introduced on August 26 by HUAWEI.
According to the company in the future we can expect Ultrastick with support 4G. So it will be enough to purchase an additional modem, not a complete change of the tablet . How will it be implemented at the program level is not entirely clear , because the chip RK3188 has no hardware support for 4G LTE
Incidentally modems is not the only way to use this technology. In the future, the device shall complete RAM , GPS receiver or two simkarty example .
Overall experience
Rumor has it that the system Android, finally ceased to slow only 4 cores. Verify this helped me this tablet .
The main highlight of the tablet Ross & Moor RM- 997 was the technology Ultrastick, which only began to appear on the market , but it is a pleasant experience . And if Ultrastick technology development will continue to develop , in the future we will find a lot of original solutions .
By the way the price per unit will be about 9-10000 rubles.