Recently manufacturers release really big monitors. We don't talk about 27 inches, we mean 45 inches and more! The price of components significantly decreased, so the huge monitor can be bought for a thousand dollars.
Some days ago Samsung released its new monitor Samsung C49HG90. We like its design and features. Also, in this article we'll talk about specifications, but most devices on the market are practically the same.
Before you buy Samsung C49HG90, you should decide why you need 49-inch monitor with a completely strange aspect ratio, cumbersome design and an unrealistic diagonal. Yes, if you want to get something really fantastic, then definitely like this monitor. And, of course, it costs not so much, so many people can afford it.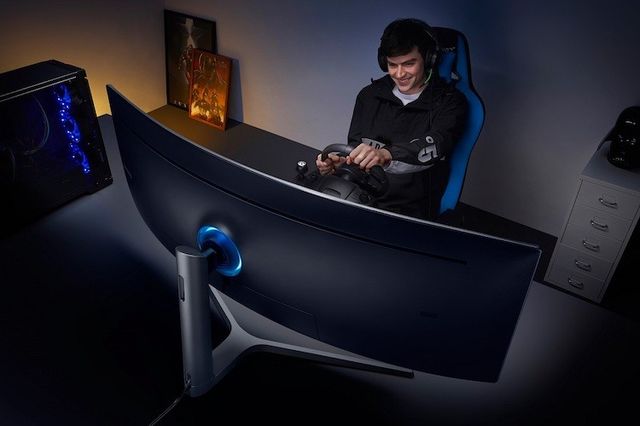 Samsung C49HG90: Specifications
Let's start with the main thing – the diagonal of Samsung C49HG90 display is 49 inches. There is no rounding, the diagonal is "honest" and thanks to the width of the display, the monitor looks quite good on the desktop.
The display resolution is 3840×1080 pixels. It is not 4K, but a stretched FullHD and although the picture looks attractive, the pixels are not visible, of course, but it's too far to 4K. The decision not to put 4K is reasonable – the manufacturer understands that your computer can work with Full HD, but with higher resolution may be a problem.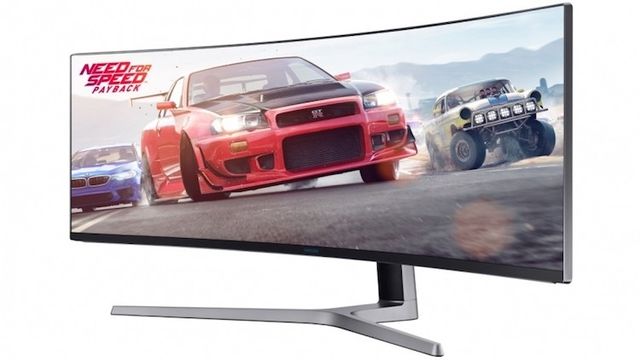 Now about the great feature of Samsung C49HG90 for gamers – the monitor works at a frequency of 144 Hz. It means that frame change is suitable even for shooters or eSports, and the response time is 1ms. This is a main feature for those who want to play not just single games, but also in multi-player games feel comfortable.
Samsung C49HG90 monitor is built using QLED Quantum Dot technology. It has a bend in 1800R, this is the standard for curved monitors, though the impression of a larger bend is due to the width of the monitor. The panel provides you with a 125 percent coverage of sRGB color palette, a 95 percent coverage of DCI-P3, and Flicker Free technology, which does not flicker.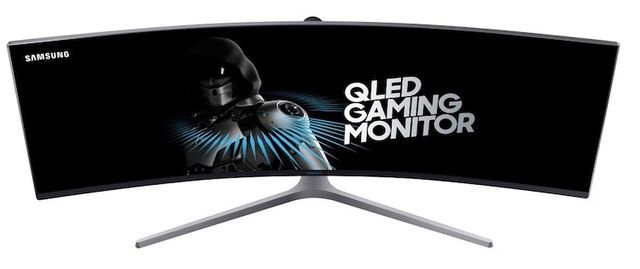 You can connect monitor to a computer or laptop with DisplayPort port, two HDMI, USB 3.0 hub and headphone output. Nothing unusual, but manufacturer used everything you need here.
Samsung C49HG90: Design
Samsung Designers decided not to leave their corporate style and presented a completely recognizable design. We have a large enough V-shaped stand, which only looks refined, but in fact takes up a lot of space and does not allow the monitor to wobble or fall.
The leg is also stable, though it allows you to change only the angle of the tilt and rotate the monitor by 90 degrees, why – no one knows. The frames around Samsung C49HG90 display are minimum, and on the back side there is a LED light, where the foot enters the monitor case. Looks stylish, no doubt.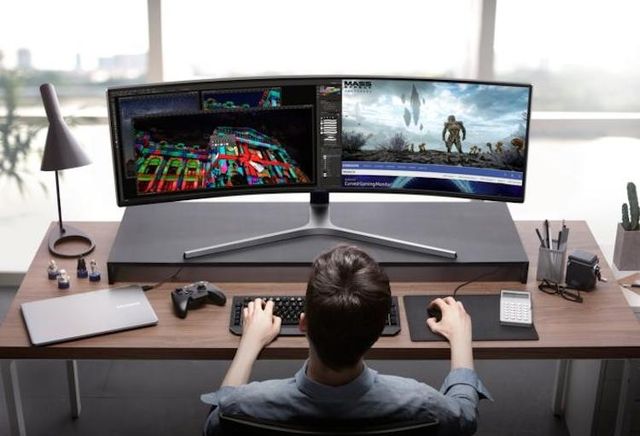 Samsung C49HG90: Conclusion
Let's start with the most important thing – the price Samsung C49HG90 is $1500. It is really an expensive monitor. But you should understand that the diagonal is huge. Also the monitor is designed for gamers, but most games on such a diagonal look strange.
Samsung C49HG90 looks interesting and exactly remembered, but who will buy it, even for that kind of money.
Source: samsung
Samsung C49HG90 Video