The Samsung is almost completely abandoned the budget segment. Release range J, they are partially negate the disadvantage of such devices. But in terms of price / performance, these models are far from ideal, rather, they are intended for those users that do not understand the market and at the same time want to buy a unit from a major manufacturer. Fee for the brand, in this case is excessive, as similar solutions of other companies are at least 1.5-2 times less and operator models look even more attractive. If in the normal J1 used SuperAMOLED screen, which may be at least some distinctive feature, but an even greater price leveled, the Samsung J1 Mini 2016 is nothing like the Mini. This is, to say the very, very, low-end solution for its filling and very expensive solution based on the price. However, let's look at it closely.
Design, size, controls Samsung J1 Mini 2016
The model comes in three colors – white, black and gold. Oddly enough, the buyers often choose gold color, probably due to its perception of the target audience.
The phone's dimensions – 121.6h63.1h10.8 mm, weight – 123 grams. It is small, but a little bit thick, it looks compared to other models is unusual, especially since there a small by modern standards, the battery. The hand model is good, the build quality is excellent. This is, perhaps, a few advantages of this device.
On the right side is the on / off button on the left side – the volume rocker. At the top end – 3.5 mm jack for headphones, on the bottom – microUSB-socket.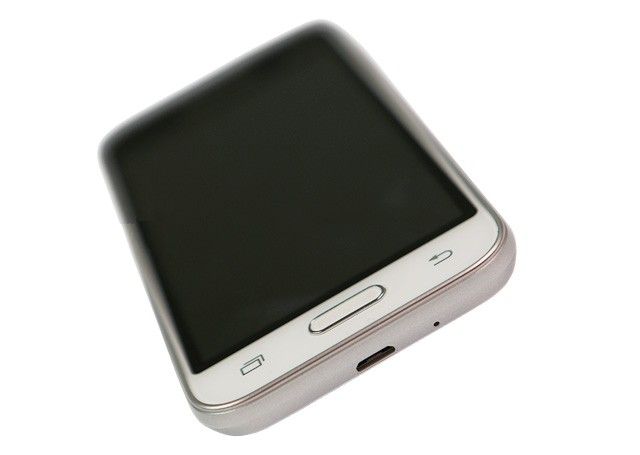 The back cover can be removed within a removable battery, two slots for microSIM card and a memory card.
Display Samsung J1 Mini 2016
Display 4-inch, 480×800 pixels, TFT, there is no automatic brightness adjustment. The screen is not very bright, the sun is difficult to see because of their size. This is a budget solution, which also plays as an analogy in its price group, and cheaper solutions. You can talk about the fact that such screens are already perceived as outdated.
Battery Samsung J1 Mini 2016
Battery Li-Ion 1500 mAh, it provides, according to the manufacturer, up to 7 hours on the internet (3G or Wi-Fi), up to 8 hours of talk time, up to 29 hours of music playback. In real terms the unit operates day with very heavy load, ordinary consumers will receive about two full days. This is a good result, which was made possible thanks to a screen, and not so hastily processor.
The phone has a maximum power-saving mode, it turns off all but the basic functions, the work increases. Given that the TFT screen is normal, it does not provide some kind of huge growth in operating time as compared with a similar function in the company's flagship.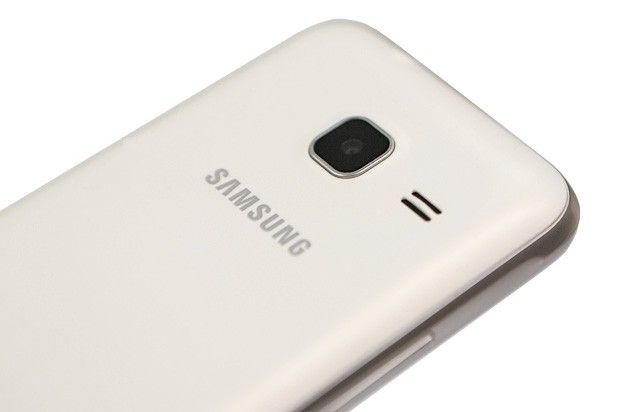 Processor, memory, performance Samsung J1 Mini 2016
The phone 768 MB of RAM, this is very little, most budget decisions has 1 GB of memory. Chip Spreadtrum SC8830, four cores at up to 1.2 GHz – this extra-and very cheap solution. Result? No synthetic test, which has three-dimensional tests on this device can not pass through – they just take off. Productivity is low, much lower than most budget devices.
In practice this means that the interface is slow, and not very jumpy eye comfort. This happens in a very inexpensive models last year, in the current state employees interface works much faster.
Memory cards can be placed up to 128 GB, but who will do it in such an inexpensive unit? The main thing is that the internal memory of 8 GB, which is available from a little more than 4 GB for your needs.
Communications Samsung J1 Mini 2016
Normal and customary set, there is synchronization with PC (USB 2.0, KIES), Wi-Fi 802.11 b / g / n, BT 4.0, not the NFC, but there is a GPS / GLONASS support. positioning operation speed is low not because of the quality of the antenna, but rather because of the general brake system.
Camera Samsung J1 Mini 2016
A VGA front facing camera! What can I say? Nothing. The main camera has a resolution of 5 megapixels, but it does not have autofocus, which makes most of the photos blurred, it is good to take pictures. With examples of photos and video you can see below.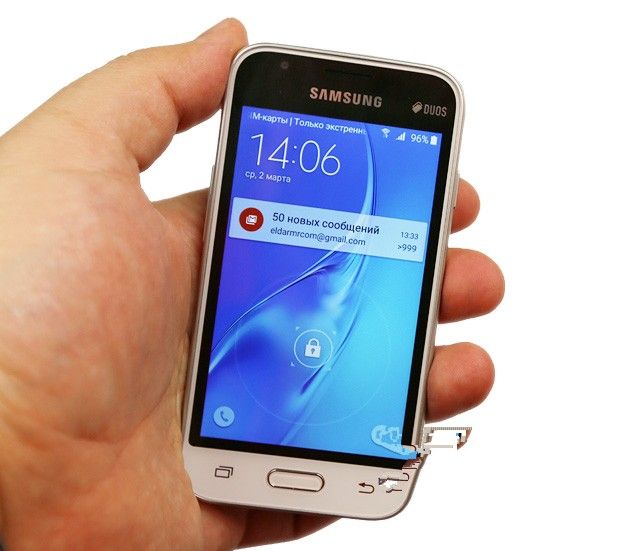 Software features Samsung J1 Mini 2016
Inside Android 5.1.1, no upgrade to 6-ki may be, its chipset does not support. Describe the functionality of the standard will not only note that has FM-radio, it works with the headset, there is a record of the ether. Notes, calculator, voice recorder – all traditionally for the Samsung, you can see the screenshots below.
Impression
The connection quality is normal, microphone, true one, so in noisy environments caller will hear you badly. Vibrating alert is average, a normal call is above average, is visible.
What to say about Samsung models cost? They are very expensive. Too expensive for the market. So, Samsung J1 Mini 2016 price is 5490 rubles, for the money you can buy devices with a diagonal of 4.5-5 inches, and with a higher resolution screen, a better battery. And these devices are not one or two, there are several dozen. You can poke at random in the model $ 5 000 and to find out that it is better from all points of view, than this model. And the operator of telephones and cheaper. In short, I believe that this device can be bought by accident, informed purchase Samsung J1 Mini 2016 meaningless.