Introduction
This summer, the Chinese company Huawei began selling in Russia, extra-model smartphone Ascend Y330, the value of which does not exceed 3 000. Novelty equipped, given the price, relatively large screen – 4 inches – with adequate resolution of 480×800 pixels. Inside the "works" dual Taiwanese chipset MT6572. Your machine has a 3-megapixel camera, two slots for simkarty standards and micro mini, one of them is able to operate in the third generation network.
Features:
Class: smartphone

Housing: Plastic

Operating system: Google Android 4.2 + Emotion UI 2.0 Lite

Processor: dual-core, 1300 MHz, MediaTek MT6572

RAM: 512 MB

Data Memory: 4 GB (2.14 GB available)

Connectivity: Wi-Fi (b / g / n /), Bluetooth 4.0, connector microUSB (USB 2.0), 3.5 mm headset jack, microSD

Screen: capacitive, LCD TN 4 inches with a resolution of 480×800 pixels

Extras: accelerometer, GPS, 3G, two sim-cards

Battery: removable, Lithium Ion (Li-Ion) 1500 mAh

Dimensions: mm 122.1h63.5h11.3

Weight: 126 g
Package Includes:
Smartphone

Battery

Headset

Charger

Safety Information

USB cable

Quick Start Guide
Design, size, controls
Very briefly to the external form rectangular shape of the body, compact size, the abundance of glossy plastic, rather thick. In principle, this can be and finish 🙂
Dimensions – 122.1h63.5h11.3 mm and weighs 126 grams. Due to the miniature size and sloping faces Y330 is excellent in hand.
The front panel is protected with plastic as the surface is exposed to scratches. Or glue the film, or take particular care with your phone. During the tests, the display will show two deep scratches. More likely to have an oleophobic coating as fingerprints almost gone. On plastic (screen) finger glides freely.
Thin frame around the perimeter, slightly above the casing is made of glossy black plastic.Backplane – glossy white plastic. There are two versions of the gadget: white and black colors. In the latter case the material is opaque, with irregularities.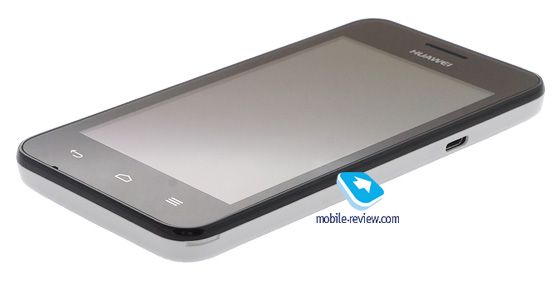 Assembled unit perfectly: the cover does not creak, do not play, do not be pressed to the battery. When compressing the body is not crispy.
Voice speaker (aka handsfree speaker) located on the front of the gadget. Its volume is slightly above average, the interlocutor can hear clearly and legibly, mostly tapped mids.Echo and other extraneous sounds are absent. For the budget unit speaker, I thought, pretty good.
Here you will not find a light sensor or proximity sensor. The backlight turns off after a while, but it is better to lock the screen, although for the time being accidentally pressed his cheek against the use of the button to cancel the call did not happen.
Beneath the screen are touch the "Back", "Home" and "Menu". They are marked with silver paint on the body, no backlight.
The microphone is located under the "Back" button. You hear good sound relatively clean.
On the right side – micro-USB, on the left – a key-volume rocker. Made of white plastic protruding from the housing, well fingers groped. Above – a standard 3.5 mm plug and chrome power button (it – lock screen, backlight activation). Its course a little, holding down the middle.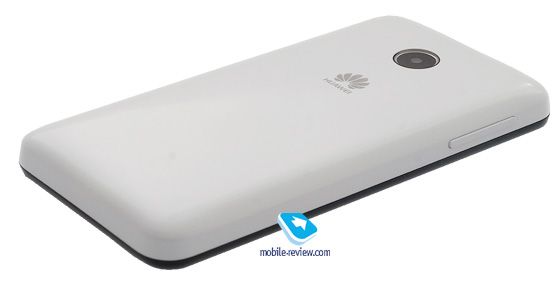 Close the eye chamber, slightly recessed in the cover, located on the reverse side of the device.
To remove the socket, it is necessary to pry the recess on the bottom left corner. Over a removable battery – microSIM (only works in network GSM) and miniSIM (works in GSM and WCDMA). Above left – connector for microSD memory cards.
Display
This smartphone uses a screen diagonal is only 4 inches. The physical size – 52h87 mm, resolution is typically low – 480×800 pixels (density – 233 pixels per inch). Matrix display Huawey Y330 performed not by IPS technology, so the viewing angles are very small, mediocre color rendition.
On tilting the device from a color display are reversed itself – has deteriorated sharply contrast. Backlight brightness matrix screen slightly above average: the image is visible in the afternoon, but the sun all fades. Between the cover glass and the matrix layer of air is present.
Battery
In Ascend Y330 installed a removable lithium-ion battery is only 1500 mAh (5.6 Wh).
The average operating time Y330 – about 7 hours. Here I include the operation of the device in 3G, infrequent calls, a couple of dozen photos on the camera and some other not very important activity. If you use the machine as a video player, you expect about 3 hours, with an average brightness and listening to the sound through the headphones.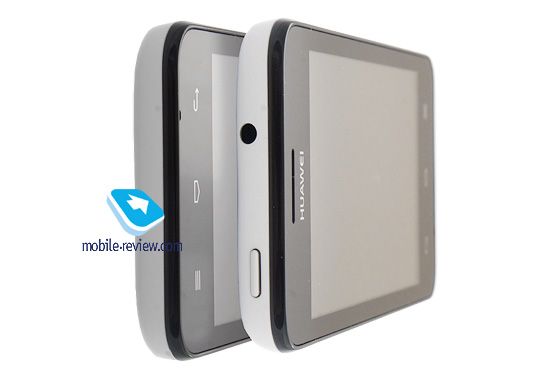 Charging the battery from the regular AC adapter or USB is about 2.5 hours.
Communication features
In this section, all typical of any of Android-smartphone budget category. The device operates in cellular networks 2G (GSM / GPRS / EDGE, 850/900/1800 MHz) and 3G (900/2100 MHz).
Available Bluetooth version 4.0 for file transfer and speech. There is a wireless Wi-Fi IEEE 802.11 b / g / n. The apparatus may naturally be employed as an access point (Wi-Fi Hotspot) or modem. «USB On The Go» does not work!
There is a GPS. Its sensitivity is quite good: the "cold" mode for 20 seconds is up to 3 satellites in a room near the window for 10 seconds – up to 5 satellites, an open space for the same time – up to 8.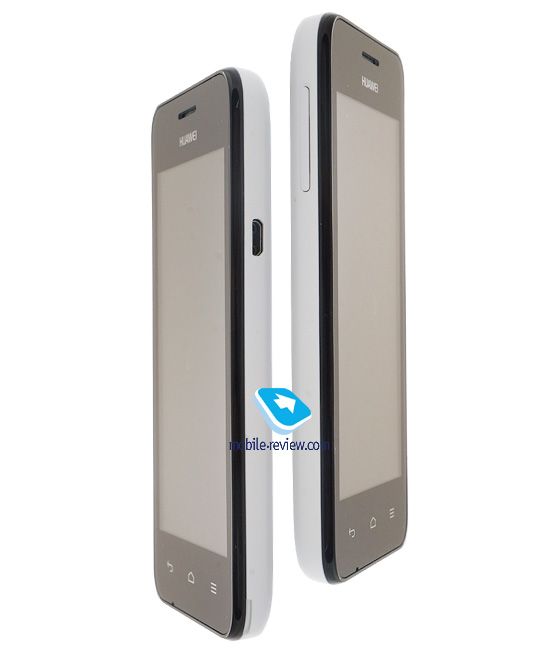 Memory and memory card
As with most similar devices, Ascend equipped with 512 MB of RAM. Average freely just over 100 MB. Flash memory of 4 GB, but is available, as always, is much smaller: 2.14 GB to install applications and data storage.
There is a slot for memory cards microSD. Its maximum volume can be 32 GB.
Luggage
The camera module is one – to 3.2 MP. Autofocus is not available, aperture F2.8, 35mm angle. No flash.
Quality corresponds to the number of megapixels and price – that is mediocre. Video unit removes at 640×480 pixels at 30 frames / second. Module is weak, therefore describe in detail the meaning can not see.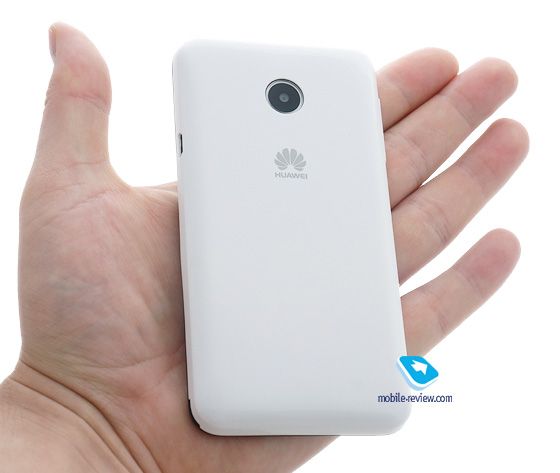 Feature video:
File Format: 3GP

Video Codec: MPEG-4, 6 Mbit / s

Resolution: 640 x 480, 30 frames / second

Audio Codec: AAC, 128 kbit / s

Channels: 1 channel, 48 kHz
Performance and software platform
Of course, it is worth the chipset from the Taiwanese manufacturer MediaTek. Chip called MT6572 – are two core ARM Cortex-A7 (28 nm process technology) to 1 GHz. The graphics core – Mali-400 (500 MHz).
Phone no load behaves relatively briskly, but as soon as you try to load something, even banal download the application from the Play Market, a smart phone begins to slow down: animation freezes, the problem is almost not switch and so on.
Toys are almost all, but of course, you should not rely on heavy "Gama" with full graphics.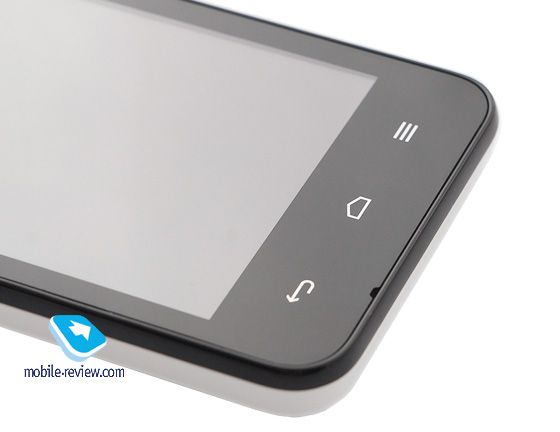 Brief information and performance tests (Quadrant Standart, Antutu Benchmark):
The smartphone runs on Google Android operating system version 4.2.2. As the shell – proprietary interface Emotion UI 2.0 Lite.
Multimedia
Uses standard music player Huawei. The headphone volume is average: in the subway or on the street be heard bad. I liked the sound quality.
Volume of the main speakers (it is also spoken) is low, at some frequencies wheezing. If the hole is closed, then the volume will be reduced by 50%.
Radio too familiar – 87.5 – 108 MHz.
Conclusion
Once again, that Huawei Ascend Y330 refers to extra-smartphones. To date, it will cost a little less than 3 000. Its value is fully justified in spite of the unsightly appearance and the presence of only one speaker, in the Y330 has two slots for sim-cards, the device operates on 3G, the camera shoots normally, the screen has a minimum resolution of standard-modern phones.