Introduction
I usually start with a brief review of devices chapeau, but now it is not required. The site already has materials about OnePlus One, after reading that, you can see where all undertook this project and what expectations he had in the first hours after the announcement.
Looking ahead a bit, I would say that the work done within the company PR work paid off – about OnePlus One today the whole world knows. And sometimes even people who are not closely tracking the market of smartphones. Previews and reviews on all major platforms, as well as heated discussions – all indicator of popularity. Pete Lau, founder of the project, or "start-up", also known as OnePlus One, along with his team worked perfectly at run time, and prior to this event months, and initial sales by invitation only fueled interest in the device. Perhaps in another situation such steps, in contrast, would alienate people from your smartphone is not enough that he Chinese, but still can not buy just because. But in favor OnePlus One played two factors combined together – very low cost at great characteristics. Hence the name "killer flagships."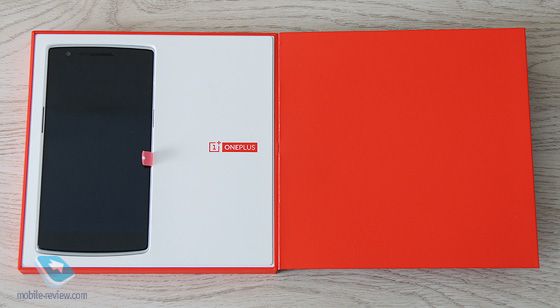 In this review I will try to explain all the features of the new smartphone, noting its strengths and weaknesses and still share my subjective opinion about the new product. From time to time I will call smartphone abbreviated – OPO (OnePlus One).Come on.
Supplied
Just note that if you buy a Chinese version of the smartphone, the kit will see two boxes – the main, with the device and accessories, and more, with charging unit. Difference between international and Chinese version, at first glance, no.Although initially the Chinese version comes with ColorOS on board in Russia it is sold, as a rule, with CyanogenMod 11. At least, the online store where I took smartphone test samples already patched, in fact, we obtain the same international version with CM.
So, an additional box – it's the only thing where we can find fault in the package. Yes, there are no headphones, but today manufacturers are less likely to put them in the set of top-end smartphones, so personally I do not consider this point disadvantage.
The smartphone comes in a chic white box within which – the second box red one "enters" in another.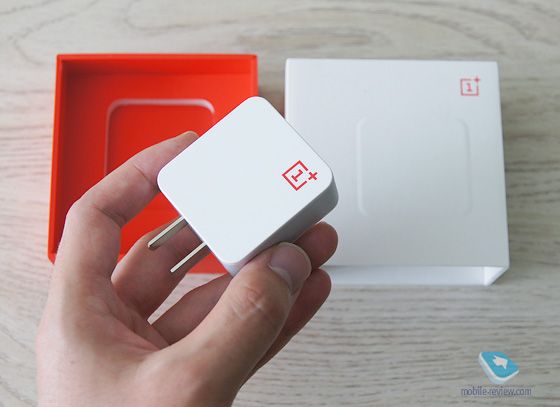 The device is in the red box, just like the main complete accessories. Making your own boxes and accessories – above all praise. If you sometimes order something from China, you probably caught yourself thinking that opening a box of crumpled colorless simple cardboard difficult to expect a good device inside, even if you already know that it's really good. There are exceptions, this packaging companies such as Oppo, Meizu and Xiaomi, where everything is made simple and tasteful, but the packaging OnePlus One – a completely different level.
Each element of the box, every accessory inside literally screaming about how a quality product in their hands. I say is serious, if the rule applies to smartphones' meeting on registration of packaging and decoration accessories supplied », OnePlus One would have been among the leaders.
Inside, in addition to the smartphone you will find:
Charging unit (in a separate box)

Set of paper instructions

Flat Cable USB-microUSB

Clip for seizures SIM-cards (rubber boots)
Each element of the careful attention to detail and features as well. Paper instructions hidden in a neat red envelope.
Clip to squeeze chute with microSIM-cards packed in a neat rubber cheholchik red, so it will not lose as simple as a paper clip in any other unit.
USB-microUSB cable is thin, so it will not be twisted, and it can quickly be twisted together into a small "sausage" on the right there is a small cable homutok for easy fixing it in a twisted state.
About a single cardboard box with charging unit I said above. Framed as the box itself, and the charger for five points.
Personally for me OnePlus One – one of the first smartphones, a positive experience which begins to form before switching the device itself, just a cursory acquaintance with the packaging. And this despite the fact that there is a separate box for the charger and headphones not included.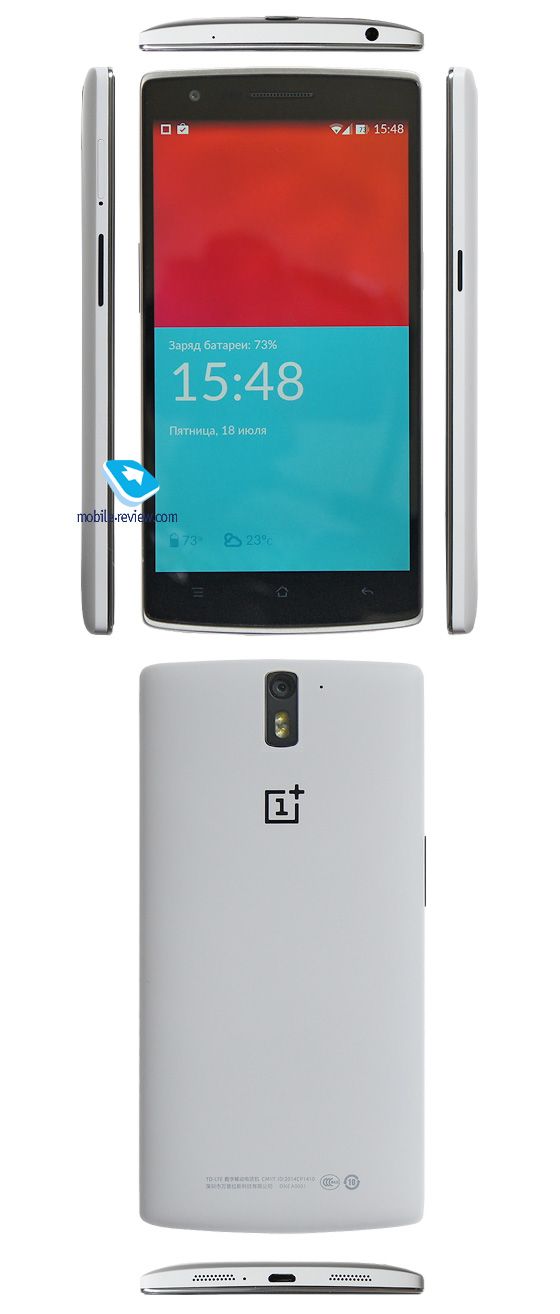 Design
Describe the appearance OnePlus One can short phrase – simple and unpretentious. If even shorter – laconic. There are no original solutions, except, perhaps, a small recess between the protective glass screen and metal frame around it. The photo shows this feature is difficult, but I tried to find the angle:
Hull shape is simple, with a barely noticeable bend the upper and lower ends, the back is also a bit bent, but the convenience of the grip is not affected.
I can not say that I look OnePlus One is something like "wow", not just decent, not scary smart appearance. I think most users will be similar opinion – OnePlus One can not be called a freak or ugly, rather it just does not cause any emotions, and even someone like because of its brevity in design.
Body Materials
Smartphone made of plastic. More precisely, in the magnesium alloy used (something like a chassis on which an item is located), but a large part of the visible body – plastic. Also there is a safety glass and thin metal frame around.
Plastic white OnePlus One smooth, matte, pleasant to the touch and practical – and traces of fingerprints on it invisible, scratch, even if there will be, too, will not be evident. Black OnePlus One is made of rough to the touch plastic, but the rest of the material is also practical, so choose between colors is worth thoughtfully cover texture will be different.
Assembly
Smartphone felt monolithic, although in practice the cap is removed, even at home, but it is assumed that just because the user will not do it, and how to cover removable. Of mobile elements here only keys and tray microSIM-cards. To build quality no complaints – all at a high level, there is no gap between the elements, buttons fit tightly, no squeaks.
Dimensions
A year ago OnePlus One can be attributed to the marginal category of so-called "fabletov" (very bad word), but today, a smartphone with a screen diagonal of 5.5"-normal, some like it or not. I personally until recently could not quite take the trend of increasing diagonals, but now, perhaps, resigned. Anyway, OnePlus One – one of the largest smartphones on the market.
OPO comparable dimensions and some other large vehicles:
Apple iPhone 5S – 123.8 x 58.6 x 7.6 mm, 112 grams
HTC One (M8) (5") – 146.4 x 70.6 x 9.4 mm, 160 grams
LG G3 (5.5") – 146.3 x 74.6 x 8.9 mm, 149 grams
Nokia Lumia 930 (5") – 137 x 71 x 9.8 mm, 167 grams
Samsung Galaxy S5 (5.1") – 142 x 72.5 x 8.1 mm, 145 grams
Sony Xperia Z2 (5.2") – 146.8 x 73.3 x 8.2 mm, 163 grams
OnePlus One (5.5") – 153 x 76 x 9 mm, 162 grams
When you take your hands OnePlus One after any other smartphone, it seems huge. There is no sense to invent something or smooth – huge dimensions of the device are seen as "on paper", and in reality. Even LG G3, the machine with the same screen size 5.5", is markedly smaller than OnePlus One.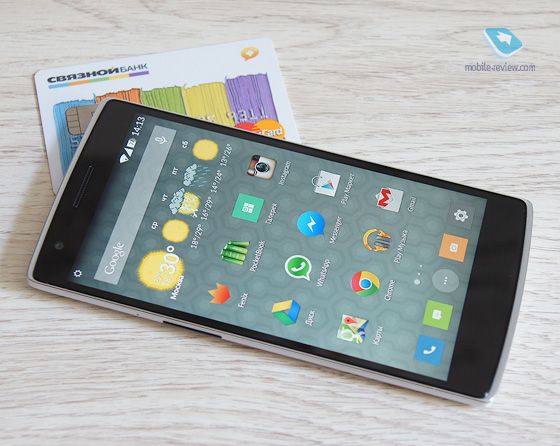 In his hand is a smartphone, respectively, so convenient, how big you are or how you're hands are accustomed to dimensional devices. In the pocket of his trousers and jeans fit, but in the summer wearing shorts OnePlus One will not be so convenient.
Dimensions – one of the main shortcomings and few OnePlus One. If you have never previously enjoyed smartphones with large displays, before selecting OPO worth hold it in your hands in the store (if you live in Moscow, you can do it, even if you buy the machine gray), or hold the same LG G3, Samsung Galaxy Note 3. So you have at least some representatives dimensions OnePlus One.
Controls
Controls at least – short volume key on the left side, the power button on the right block and touch buttons below the screen.
Hardware volume buttons and power are not the most comfortable, because thin and small. Moreover, the keys protrude slightly above the surface of the housing. However, you quickly get used to them, and the power button and not used – a smartphone can unlock double tap of the screen.
On the left edge is also a slot for microSIM-cards. To remove the tray card, you must use the complete clip.
At the top end – additional microphone ("denoising") and 3.5 mm mini jack for headphones. At the bottom – the lattice stereo speakers and microUSB-socket, as well as the main microphone.
Buttons below the display are illuminated by a light blue from left to right here are the keys Menu, Home, Back. Backlight can be set for the duration of the work, from 1 to 30 seconds, or mode, "Do not stop." For Home and Menu keys, you can specify additional actions to longer retention button or double-clicking. Accordingly, we obtain the two keys of the six operations, three each. However, the choice of actions designated small, it can be action from the following list: launch the application menu, launch manager of public programs, search, voice search, search applications and camera activation.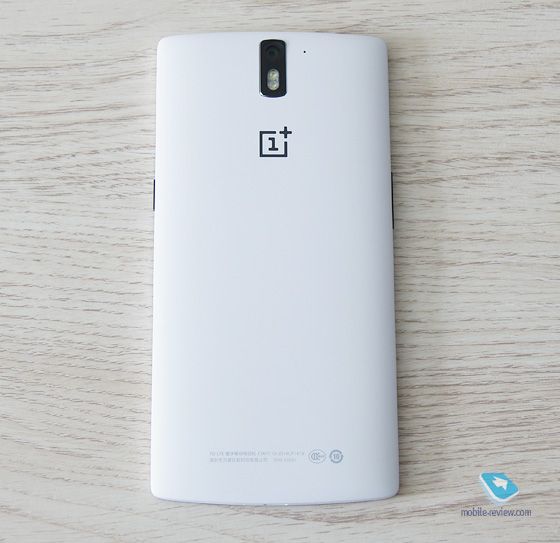 For the volume button when the tap is turned off, you can activate the music controls when long press the up or down keys to switch tracks. In the settings you can enable onscreen buttons (suddenly come in handy?).
On the front side, above the screen, located earpiece, light sensors and proximity, as well as 5-megapixel front camera (autofocus is not) and the light.
On indicator light to talk in more detail. The fact that today are less often used this method of notification of new developments in smartphones, but it does not OnePlus One just realized, but it is implemented on a powerful level. In the settings you can set a base indication for missed calls and voice mail, as well as add an indication for any installed application. This means that you can set the flashing LED when you receive new messages, mail, notifications Twitter, Instagram, and other calendar events. At the same time separately for each application, you can choose the color of the flashing LED, and the duration and rate of blinking.
Screen
In OnePlus One uses LTPS LCD screen technology TOL (glass and sensor without air gap). Display size 5.5", resolution 1920×1080 pixels, density of 401 ppi. Screen covered with protective glass Gorilla Glass 3. According to the main characteristics of brightness, viewing angles, color reproduction display can be called good. Maximum viewing angles, brightness stock is above average, close to the natural color rendition, there is no obvious bias in too warm or too cold tone.
However, if the base color rendition OnePlus One you do not like, you can change all the settings of its display. There are two available modes, normal and bright, as well as user mode with manual override on four scales: hue, saturation, contrast and intensity. If you choose bright mode, warm tone will prevail, I personally use during its OPO to write a review used the standard mode.
Online discussions have problems yellowing screens in some individual samples smartphone while someone yellowness seen clearly, someone, on the contrary, almost not visible. I tried to find this flaw in the sample, for which he wrote the review, there downloading application Display Tester and expelling pictures of different flowers. To be honest, I do not know, I found the problem in the end or not, after reading the first couple of dozen pages discussing the problem, and then run on a smartphone image in black and looking at her a couple of minutes involuntarily begin to see in some areas yellowness. Or do not start, I do not know. I want to say that if you turn on your smartphone, went into the menu, settings, changed a couple of times and the desktop image returned to him after all these manipulations do not see any obvious yellow spots, probably, with the sample still okay as in my case.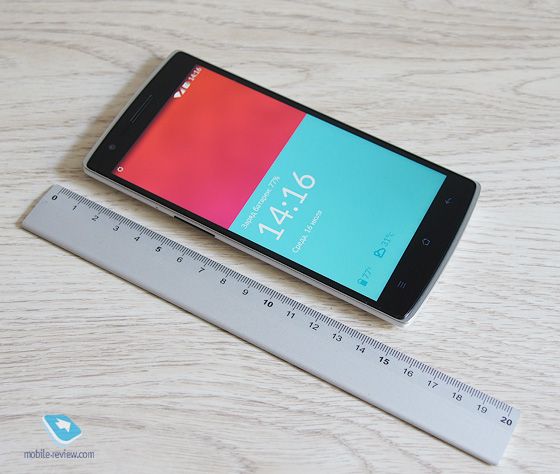 I decided to compare the display OnePlus One (right / top) screen LG G3. It is clear that the comparison is not entirely correct, yet G3 higher resolution, but both display the same diagonal, so that it is appropriate to compare.
If judged by the eye color, then the screen shots LG G3 seems preferable, calm, in reality OnePlus One bit nicer to the eye due to a small shift to warm tones, while the image on the LG G3 seems a bit cold and therefore less saturated, but the difference this is barely noticeable.
In general, the display OnePlus One, in my opinion, very good. Here, the most suitable for the diagonal resolution (I believe the transition to more than Quad HD), the maximum angles Obora, stock brightness, manual setting.
Camera
Main camera OnePlus One – 13-megapixel sensor Sony Exmor IMX 214, six lenses, aperture f/2.0. Maximum image resolution – 4208×3120 pixels.
Located near the main camera dual LED flash, which can be used as a flashlight.
Settings are collected in three tabs: camera, video, shared. In the camera selects the resolution, image quality, focus mode, the value of ISO, metering type and a few other parameters. In the video resolution, video and audio codecs (MPEG-4 are available, H.263, H.264 video and AAC, AMR-NB audio), as well as accelerated survey, 60 or 120 frames per second. In the "General" tab you can enable shooting button volume control volume keys zoom, mode and left-hander to all keys in the viewfinder located on the left of the center of the screen rather than on the right.
The quality of images, in my opinion, above average, although when compared with machine LG G3, in which the camera is one of the best, the lag can be seen. When comparing cameras OPO with Sony and HTC smartphones such you will not notice the difference, and certainly in OnePlus One camera can not be called typical for the Chinese smartphone device for image quality comparable to other flagships, though not all.
The smartphone has a built-in photo editor standard system Android. It can be made automatic enhancement of the image and change it manually. Among other things available cropping, image rotation, and a plurality of filters. You can also change the brightness, contrast, saturation, shadows, the color temperature of the entire image or selected areas. Moreover, in the frame can be any number of individual sections of the chosen radius, for each of which you are free to select the individual settings. You can still change the sharpness of the frame and add to it one of the effects: vintage, drama, black and white, the effect of HDR, retrolux, frame shift and tilt. Within each effect available dozens of options and settings for each of them.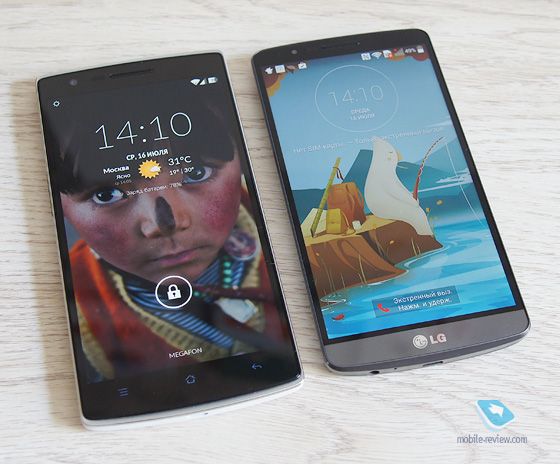 Video. Maximum recording quality – 4K DCI (4096 by 2160 pixels), the standard – FullHD (1920×1080), has video recording modes at 60 and 120 frames per second. Tracking AF in the current firmware versions on the OPO is not provided, just plain, which can be changed tap of the screen. Video quality is generally good, in my opinion, but you can evaluate it yourself.
Front camera with a resolution of 5 megapixels smartphone without autofocus very ordinary. You can take pictures of a loved one, or use it for video calls on Skype, for example. As typical for the front camera, more than usual, the resolution does not matter.
Autonomy
The smartphone is set Li-Pol battery capacity of 3100 mAh. The average charge is enough for the whole day, even with active use smartphone with many hours of listening to music and taking pictures on digital camera unit does not sit in the middle of the day, which often happened with the flagship of different companies for two or three years ago.
With my usage scenarios OnePlus One survives to 20-21 hours, being removed from the charging 9-10 am. Load is roughly as follows: 1 hour of talks, 10-20 text messages, gmail, 3-4 hours of music playback, 1-2 hours of active use of mobile Internet (Instagram, Twitter, Facebook, browser), constant throughout the day in correspondence WhatsApp and Facebook messenger (not total less than an hour), shooting on a built-in camera (in about 50 shots per day). I think the work of the unit in this mode until the evening – a good indicator.
Platform, memory
The smartphone is based on the latest Qualcomm Snapdragon platform 801 with a quad-core 2.5 GHz, the graphics subsystem (GPU) – Adreno 330 processor with a frequency of 578 MHz. The unit 3 GB of RAM and 16/64 GB of internal memory. MicroSD card slot is provided, so you need to determine in advance (if you decide to take the smartphone), enough to your 16 GB or worth watching aside 64 GB version. In the 16 GB model is available for user data storage about 12 GB, this point must also be considered in the 64 GB version will be available for a little less than 60 GB.
Performance tests
To speed OnePlus One two weeks smartphone usage I have not had a single criticism. Interface running smoothly and without lag, switching between programs is fast, clear and without jerks, smartphone is not particularly strongly heated, even if you use it very actively.
Software features and software
One of the chips OnePlus One – CyanogenMod. This is one of the "assemblies» Android with advanced features for short. In OPO used CyanogenMod 11S with shell Trebuchet 1.0. In terms of basic capabilities CM11 – this is the same Android 4.4 with all of its functionality, but beyond that, CyanogenMod offers the user a lot more chips.
You can modify the format that displays the current battery level and network reception: a circle, stick with interest, without, the options are many. You can remove the search bar on the desktop and icon label icons themselves can be oversized. In the status bar, you can hide the clock display. Themes can be combined with each other by choosing, for example, desktop wallpapers and fonts of the same themes, styles and icons sockets from another, and animations and sounds – from the third.
Music player originally OnePlus One is used as a base for Android – Google Play. Yet there is a utility sound settings for headphones and speakers, equalizer presets, and more.
For OnePlus One promised removable cover of atypical smartphone materials – wood of different breeds and texture jeans of several colors, Kevlar and others. Details have not been announced, but if the opportunity (book cover and change it yourself) will appear, and without an excellent device will become even more attractive.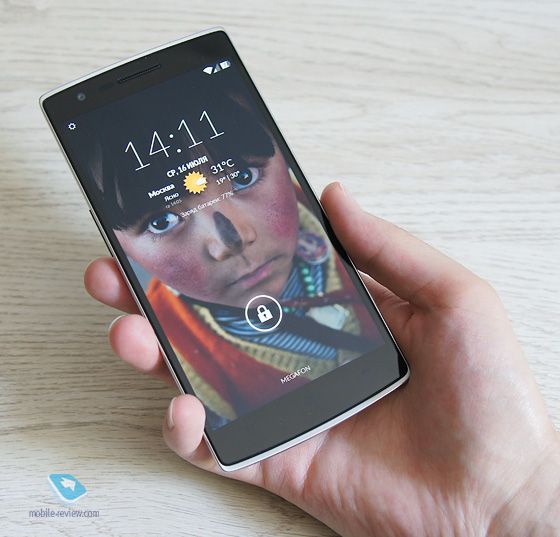 Conclusion
The quality of reception for the two weeks of use OnePlus One I have not had any complaints. Volume ring dynamics slightly above average in most situations it is well heard. The speaker volume is also at a good level, there is little margin for conversations in noisy environments. Vibrating alert is average. Also, the smartphone has a few handy "bell" options. Can vibrate in response to your call (when you call, do not need to listen to the beeps as soon as the person answers, the machine vibrates), similarly adjusted for vibration reject calls, and can be set to vibrate for 45 seconds of each minute.
Official rates OnePlus One – $ 300 for the 16GB version (currently sold only white model) and $ 350 for the 64GB version (only black). Problem one – buy a smart phone for the money is very difficult to get an invitation, and only after that you will be available for buying. As for the invitation and how to get? This, according to the creators of the project, each user needs to understand himself. In Russia OnePlus One 16GB sold an average of 14 000-16 000, senior, 64 GB version can be found in 18 000, but the average for her asking about 20,000.
If you look at prices similar to OnePlus One characteristics of devices, we obtain an average price tag in the region of twenty-odd thousand. The most recent examples – LG G3 with the official price of 30 000 rubles, Sony Xperia Z2 (30,000), Samsung Galaxy S5 (30,000), HTC One M8 (30,000). In this OnePlus One loses some of these models and the lack of quality of the camera memory card slot, the rest – all the same, but for less money twice. Even if you compare prices only on the gray deliveries, including those listed flagship, the price difference between the OPO and any competitor from the list will still be impressive 5 000-10 000.
Therefore visible to competitors OnePlus One can call cheaper Xiaomi Mi3 (smaller screen, less memory, no 4G) and more expensive Oppo Find 7, which, incidentally, is the basis for OnePlus One. However, this now remembered less and blame in this situation, in a good sense, it is a team OnePlus One, managed to promote, in fact, similar to Find 7 smartphone so quickly and efficiently that it eclipsed the original.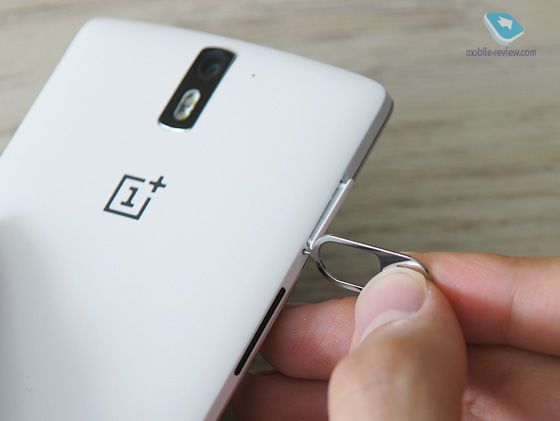 As a result, we can say the following – even if you close your eyes to the very complicated procedure of buying a smartphone at a stated price and take it from the online store 50 percent more expensive, OnePlus One is still incredibly attractive option, if you choose a new leader. This is the rare case when a catchy headline and even insolent «Flagship Killer» in an advertising company OnePlus One and almost all the promises of its founders were true.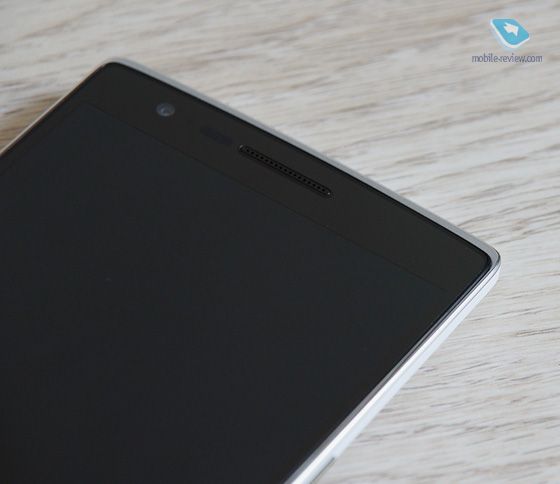 The author expresses his gratitude to the online store pixelphone.ru for the provided test smartphone OnePlus One.
Features:
Operating system: Android 4.4 (CyanogenMod 11S)
Network: GSM, HSDPA, LTE (microSIM)
Processor: Quad, 2.5 GHz Qualcomm Snapdragon platform 801
Graphic subsystem: Adreno 330
Memory: 3 GB
Data Memory: 16/64 GB
Card Slot: no
Connectivity: Wi-Fi (b / g / n / ac) Dual-Band, Bluetooth 4.0 (A2DP), microUSB (USB 2.0, MHL, OTG) for charging / synchronization, 3.5 mm headset jack
Display: LTPS LCD, diagonal 5.5 ", 1920×1080 pixels, density 401 ppi, automatic backlight adjustment
Camera: 13 MP with autofocus, dual LED flash, video recording is in 4k, 1080p, front-facing camera 5 MP
Navigation: GPS (Support A-GPS), Glonass
Extras: accelerometer, light sensor, proximity sensor
Battery: Li-Pol 3100 mAh capacity
Dimensions: 153 x 76 x 9 mm
Weight: 162 grams