Inexpensive fablet by Sony, now you can find almost 12 000. Compared with the Sony Xperia Z Ultra there is no protection from water and glass panels, but there is support for two SIM-cards and camera better.

Sony Xperia T2 Ultra – Design, construction
I really liked and like Sony Xperia Z Ultra, a very interesting fablet interesting and now – the price became lower, but the unique characteristics have not gone away. This is a great design and display, support for LTE, slim body, but in the end, the thing is just a pleasure to hold in hand. Z Ultra, as the T2 Ultra, – the device to travel. Fit into the smallest bag you can comfortably watch TV shows, movies, or just read. Already in any case better than reading or watching something on the iPhone.
Package Includes:
Smartphone

USB-cable

Power Supply

Documentation
Each have their own cockroaches in my head, and then I was no longer certain love taking on a flight pack, try to place all the things in a suitcase and a cabin in not taking or nothing at all, or only a small bag. And in my small bag will not fit even iPad Air – mini fit, but to buy another "aypad" I do not want. And here comes to help T2 Ultra Dual, if you wish it can be removed altogether in your pocket and go light. Can be put into the SIM-card to the main room and add a second, for use in roaming. Here you can put the memory card 64 GB and the whole goal of content – but you can turn down the brightness and read books. I am saying this to the fact that fablet – the device is very versatile, and usage scenarios you can think of a lot of.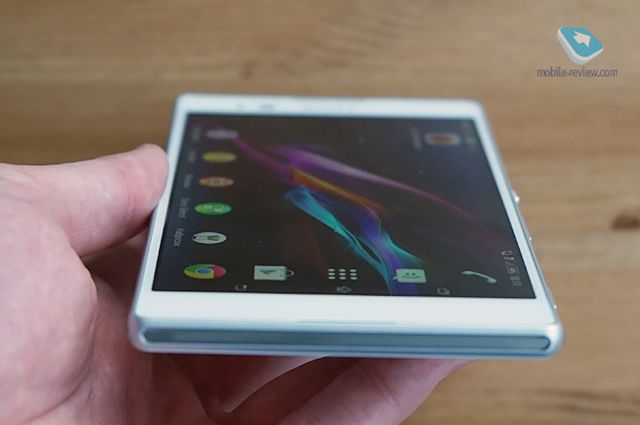 But let's get to business. Dimensions of the product – 165.2 x 93.8 x 7.65 mm, weight – 171.8 grams, as I said, you can wear in your pocket, though, when I sit down, I feel a little noise. But you can get used. The smartphone is available in three colors: white, black, and purple. Plastic housing, design recognizable from the first Sony Xperia Z smartphones company has its own face, and it's great.
Silver inserts on the sides and is a familiar button on the right, the strip – the volume buttons and camera. Above the display – front camera, ambient light sensors and proximity, the earpiece is covered with perforated metal strip. Such a strip – the bottom and the back of the housing. 3.5mm – right, he is an ordinary, advanced accessories not support. On the back of – the camera lens, flash, microphone, region NFC. I long to use the machine on a smooth plastic gets scratched, they are visible only when viewed at an angle to peer.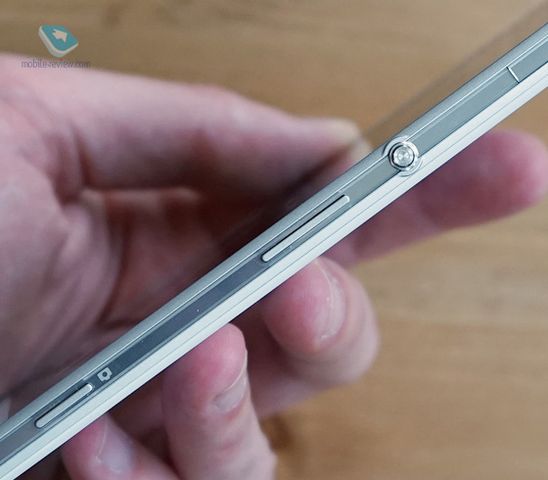 Under a flap on the right conceals two slots for SIM-cards, cards usual, microSIM. Left – Card slot microSD, supports cards of any capacity.Since before us is not a flagship device, the magnetic connector as a conventional Ultra, not here. I think in Las Vegas or even earlier in the show of Sony Xperia Z Ultra 2, it would be logical – for sure improvements will affect the camera, add new pyatipinovy ​​connector, reduce weight, add metal. Really looking forward to the next fablet literally look.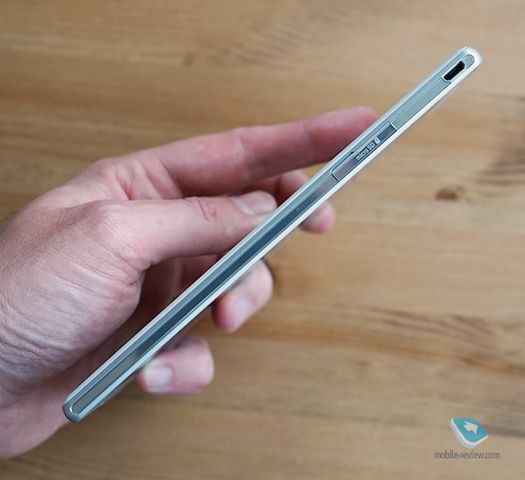 Yes, note moisture protection at Sony Xperia T2 Ultra Dual not, without the microUSB plug. No, and the usual devices for senior slot for a strap. Small indicator light, charging lamp lights red. For the convenience of one-handed added option of quick access notifications, you need to touch twice icon Home.
Keep in mind, with SIM-cards story is – LTE device supports only one SIM-card.
SIM 1: UMTS HSPA + 850 (Band V), 900 (Band VIII), 1900 (Band II), 2100 (Band I) MHz, GSM GPRS / EDGE 850, 900, 1800, 1900 MHz
SIM 2: GSM GPRS / EDGE 850, 900, 1800, 1900 MHz
In new Sony support LTE space for two SIM-cards at once, for example, Sony Xperia Z3.
Sony Xperia T2 Ultra – 
Display
Is it a big difference between the display five inches and six inches? In my opinion, is very high. Look at the HTC One and Sony Xperia T2 Ultra Dual. Do you think a screen is more suitable for watching movies? Naturally, the advantage for T2. Display size – 6 inches, the screen is made by technology TFT, the difference with IPS, of course. Resolution – 1280 x 720 pixels (HD), supported by the technology of Mobile BRAVIA Engine 2 – her work can be seen when you watch the video. It can be seen, but I did not succeed. The screen has good viewing angles, but that's a little yellow white here, it is noticeable when viewing websites. I think the brightness a bit lacking, I want to add, but longer.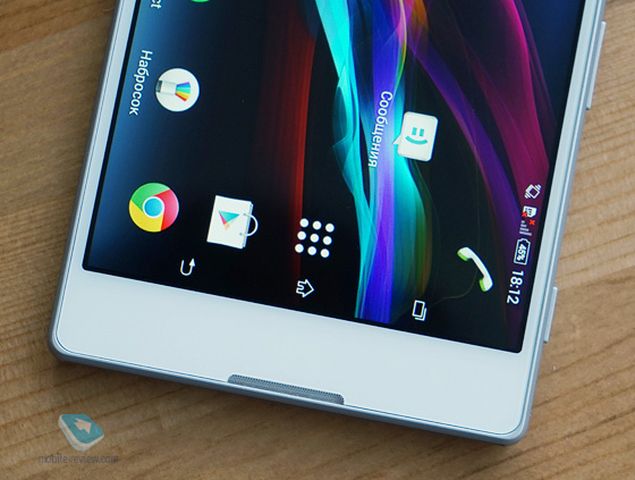 Sony Xperia T2 Ultra – 

Performance

Used quad-core processor Qualcomm MSM8228, 1.4 GHz, for the video meets Adreno 305 in AnTuTu unit shows this.

One gigabyte of RAM – I do not know whether it is enough for the machine with such a display. Or Sony wanted to make the device as cheaply as possible. Available fablet, not a bad idea. Let's see whether there will be continued – is always an indicator of whether or not progenitor successful. Installed 8 GB of memory for storing data can be expanded with cards microSD. Operating system Android 4.3 (initially) with a number of proprietary additives, is its icons, player, some of the programs. For example, Sony Select – best apps for Xperia, in XperiaLounge can find various promotions and discounts for owners of Xperia, Office Suite – a package for working with documents, pre-installed Evernote, a radio, did not go anywhere TrackID, a program for determining the musical compositions.

You've got to give almost a traditional conclusion, the machine is fast, braked when running programs installed, I have not encountered.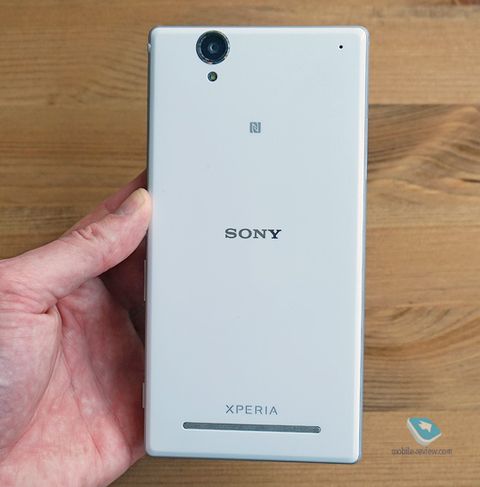 Here you have one of the examples that are added from Sony, will take at least a player. This surround sound Sony Surround Sound Technology, supported AptX, so with headsets that support the technology, the sound is gorgeous, technology ClearAudio +, Clear Bass, Clear Phaze, Clear Stereo to improve sound. There is a dynamic normalizer (evens volume) and channels SensMe. It seems to be little things, but accumulates a lot of little things – of course, all this affects the use of the device for the better, to listen to music on Xperia T2 nice.
A little more about Bluetooth, 4.0 profile, supported profile Ant + to work with sports gadgets, Wi-Fi – IEEE 802.11a / b / g / n, there is support for DLNA.
Important addition, not so long ago there was an update for the smartphone, is now used Android 4.4.2, it seems to me, the device is now even faster.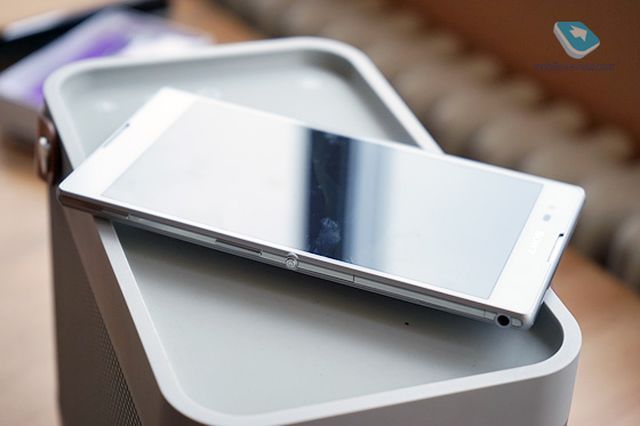 Sony Xperia T2 Ultra – 

Luggage

The main difference from the usual Z – using the camera 13 MP, there is an outbreak. Frames are better, there is a separate button shooting, various effects, including augmented reality. In my view, with the camera all bad, it can be used safely every day – but if you look closely to the pictures on the computer, it can be concluded that the iPhone 5S shoots better. At Sony Xperia T2 Ultra lacks detail, the colors look strange. But again, this is in any case better than the usual Ultra, if you are looking for Sony fablet with normal camera, it is still only one option.

Video recording in HD, the quality is decent, but nothing more.
Sony Xperia T2 Ultra – Battery
Claimed battery life is about 16 hours of talk time, 89 hours of music (!), 11 hours of video playback. Battery capacity – 3000 mAh battery, the device works like any other device based on Android, – it all depends on what you do with it. In flight, T2 Ultra quietly endured several episodes of the series and was still "on the bottom."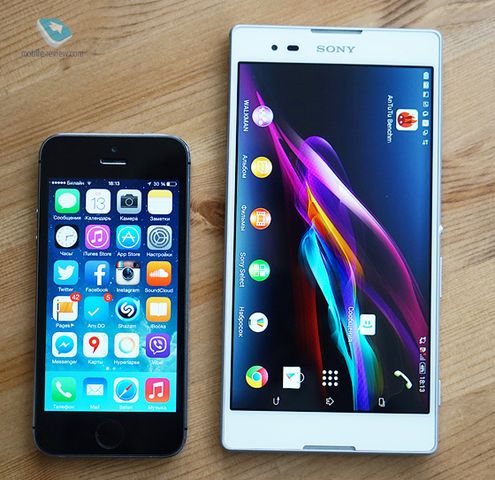 Sony Xperia T2 Ultra – 

Conclusions

In retail, this unit can now be found in 11 000, a great price for the Sony device with a large screen, proprietary additives in the interface, two SIM-cards, good design and display. Moreover, this gadget can be found for less money, well, about the secondary market, I generally keep quiet for Sony Xperia T2 Ultra dual in perfect condition asking eight thousand (looking at Avito). Talk about how good can be long, but in this case it is all about price – and the price of everything is in order. Yes, the materials here are not as good as a conventional Ultra, but then the white plastic looks good? And even a scratch is not particularly noticeable. The screen is not IPS, but you can watch the movie without wincing, the quality is quite normal. The speed of the acceptable, handsfree speaker, talking quite comfortably – with the earpiece all right. Niche device – still not fit in every pocket – but the consumer is sure to find.

Well, I'll wait for Sony Xperia Ultra 2. very interesting that the company has come up with for the new fableta.