Smart watches Cogito Classic work with iOS and Android – right on the dial there are various notifications from the ordinary watch battery gadget works for about a year, several colors, nice design.
Design
Our channel has a video about this model have a look.
Package Includes:
Watches

Documentation

Card International warranty of
Watches are available in six colors, it is a green, orange, purple (as in the review), black, white and gray. All of them are quite interesting, look cool, purple recommend girls. Unisex size gadget to suit everyone. Frightened abundance of buttons do not need to, everything is just below tell management.
Immediately I will say that the model has a basic protection against water, is not afraid of the rain shower, but his dive with Cogito Classic is not necessary.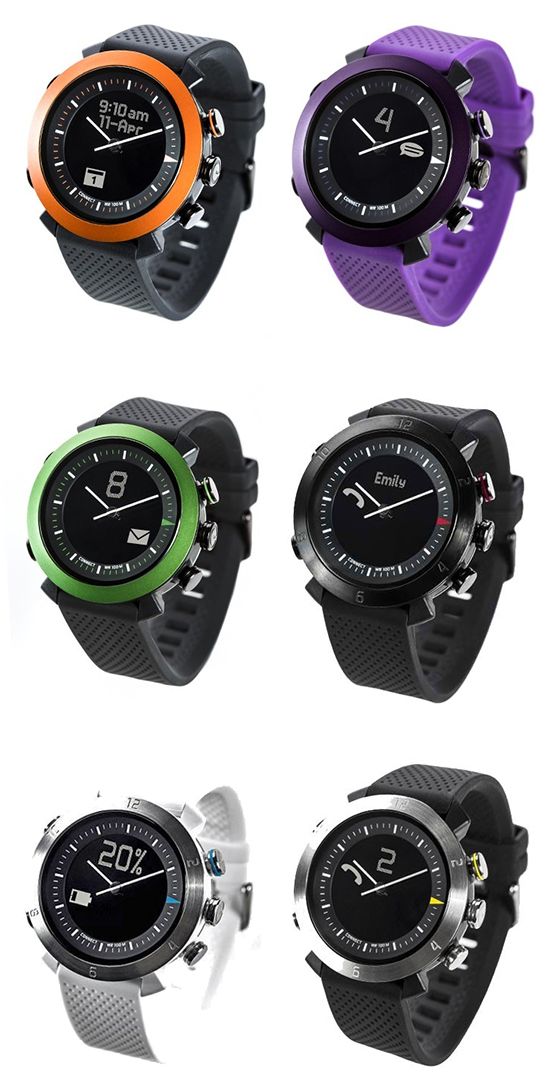 Body of metal, matte coating, pleasant. The strap is made of rubber, round face, the hands can be seen perfectly. The clock is not perceived as a toy, as a whole, look good, though each of us their ideas about beauty. Note that in black, this model looks better – but this is only my subjective opinion.
Management
Clock works with devices based on iOS and Android, let's talk about the app below, now let the notifications. It's all very simple, tested the model with the iPhone 5S, to connect, press and hold both buttons to the left and right, then go to settings and find the Bluetooth there Cogito. Push email works fine, if you are away from the machine hours, then return, they quickly find the device. The following types of notifications:
New Post

New email

A calendar event

Alarm clock / timer

Call (missed call)

Something happened on the social networks, it is mentioned in the Facebook, Twitter, other programs

Information that the battery is discharged

There is a small display that shows the caller's name or phone number when you call (only Latin) if dropped mail, shows the number of messages, if an appointment appears Meeting and indicator.

A model of Pop display no, I personally most of the contacts in Russian, so a special wing of the display is not.

Interesting just to be notified of the call when the smartphone was in another room, in a jacket pocket, so in that sense, there is the use of the clock
After hours and make a sound vibrated, and you do not read the letter or not checked Twitter, indicator for a while blinking. On the hand it attracts attention, but for me personally it is excessive concern.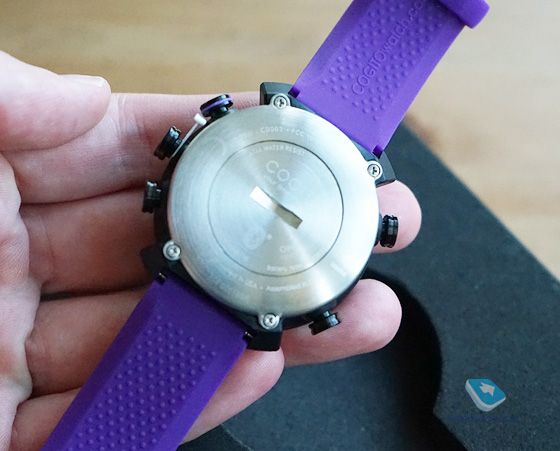 In addition, when you use the core player, press the top button works as a Play / Pause, if you press and hold it for about three seconds – the transition to the next track. The camera can press to take a photo. I liked the "Find a smartphone," only works with iOS. If you press and hold the button for three seconds, the music starts, and the truth is easy to find the unit.
The top button on the left is responsible for the off hours, that is, all the extra features – arrows keep going. There is the opportunity to Reset. In general, it works, no problems with the iPhone has not arisen.
Here in this video to tell you about all the good opportunities hours, I recommend to look before you buy.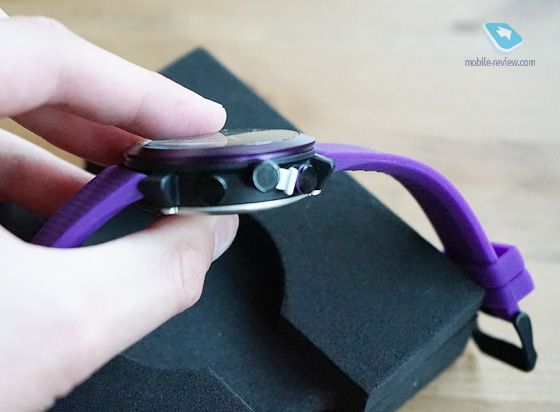 For example, it is a good way to make a self, a smartphone can be put on the end, go away, and then click on the clock.
Appendix
The program is called Connected Watch, it looks like you can see in the screenshots. You can disable some notifications, view the schedule, as you notify Cogito dates, have your camera, but it does not work very well, after the first shot fail to respond button. But here I will not even scold developers, the program you are unlikely to need – and with a regular camera button works as expected.
I quite forgot to say after installing requested to register: name, e-mail, password. Apparently, it is necessary to use different clocks.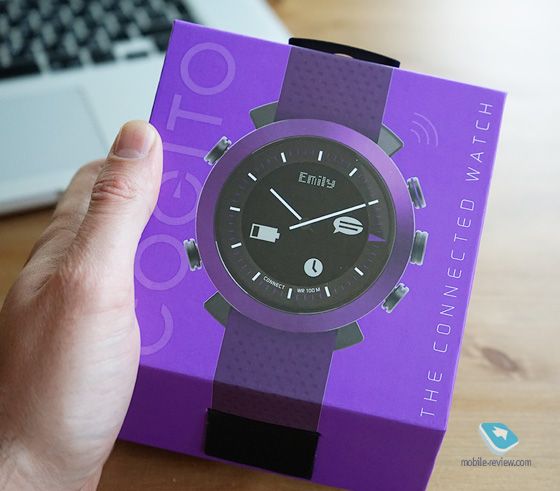 Battery
I love that clock runs from the ordinary watch battery (CR2032) one year, they do not need to charge it once a week or more often, it's great. I am the way, so enjoy and Casio watches with Bluetooth, the functionality is limited, but you will not tire accessory constant requests to find an outlet. Change the battery at any workshop, or on their own, with a special screwdriver.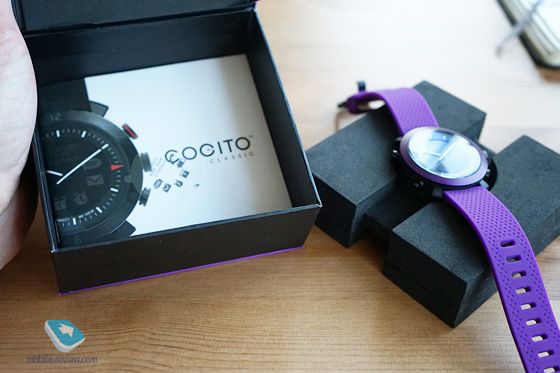 Conclusions
In retail these watches cost about 7000 rubles, you can find a cheaper and more expensive. I think this is a good compromise between the possibilities of very smart hours (Pebble) and very simple models (Casio G-Shock c Bluetooth). At Cogito Classic I liked the design, it is very easy to connect and control, you can select color of your choice for a long time from a battery. Good gadget, I recommend you to pay attention to the Cogito Classic, if you often miss phone calls.