Sony Xperia X Performance is a version of flagship Sony Xperia X with a number of changes – a cover of aluminum looks different (different texture), using a processor. Prices of Sony Xperia X and Sony Xperia X the Performance, obviously, will vary greatly, so that a hundred times an occasion to think about what to choose a smartphone.
Design, construction Sony Xperia X Performance
When you first look at the Sony Xperia X Performance I thought on what kind of device it is similar. The similarity is definitely felt, but could not remember what it was. And then it hit me, where I saw a similar texture of the metal, is Sony Ericsson W995. Remember this phone?
Slider with dedicated buttons to control the player, good camera, a metal battery cover. Long walk to the W995, then handed over to his father, he and his beat, and dropping, but could not destroy – Now W995 lies somewhere in the table, along with other older phones. But pick up, flip the slider, it is nice press button.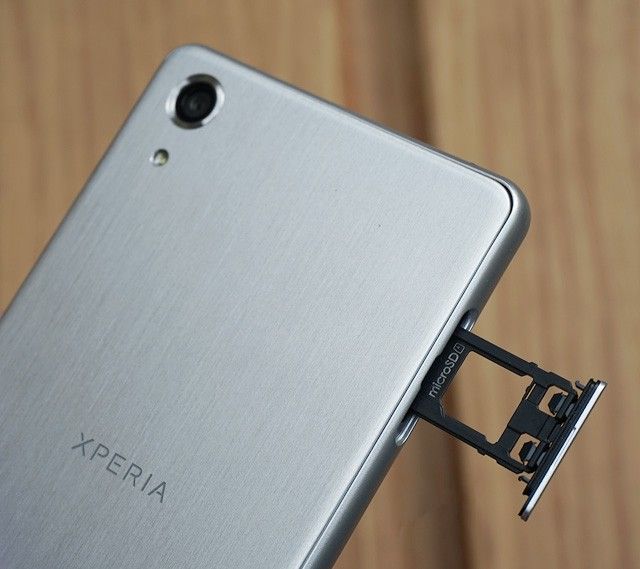 At one time the W995 was a rather strange device – appeared in 2009, when other manufacturers have already started to explore touch screens, so that there has long been the iPhone in sales, I worked the app store. The Sony Ericsson also made an interesting device in terms of design, music capabilities, but it seems that the engineers, designers, and management of the company as if frozen, not knowing where to go.
Frankly, the impression is now. It was possible to develop the Z range, the new X model could well be called Z6, Z6 Performance and still somehow. But the company decided to start a fresh start, to start from scratch, but in fact was once Sony Xperia X1. Actually, with him and began sub-brand Xperia. It was a strange device.
But attractive when it comes to design, the tactile sensations. And here again we were met with an interesting black metal texture!
And so it could not be repaired by any firmware, hardware trouble was. Entertaining X10 mini could hide in the smallest pocket, but that ends well.
Do you remember all of this, my friends? I hope that you remember.
I'm typing this, and right of the notebook is silver Sony Xperia X Performance. It has long been a thing of the past console Ericsson. Ask yourself the question, whether the actual in 2016, this smartphone. Do as good as it should be. If you look at performance, we see here a discrepancy, gap between other devices on the market. No I do not think so.
The only thing that there is similar to the W995 or X1, a black or silver aluminum cover. Here are just polishing is much more elegant. And much more interesting colors: matte black, silver looks great next to Apple laptops, pink like a girl, golden lime – dandies. Housing Sony Xperia X Performance is small in size, no effort to use the gadget, it is not necessary to apply. Dimensions – 143.7 x 70.4 x 8.7 mm thickness X of the device of protection against water. Weight – about 165 grams, as they say, a smartphone in hand feels very good. The frame is also made of aluminum, layout like X, memory card slot and SIM-cards hybrid in DualSIM version you can use either one, and nanosim the microSD, or two nanoSIM. The camera button is on the ground, the power button is hidden capacitive fingerprint sensor.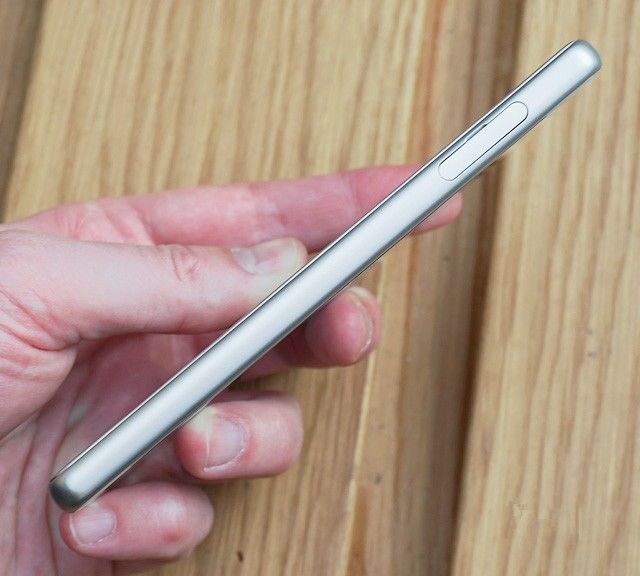 I will say a few words about simple accessory for the Sony Xperia X Performance and Sony Xperia X, but just about covers – made very good, expensive, futuristic look. For example, here's Style Cover Touch with a transparent front cover, the color is suitable for smartphones, you can use the touch screen through the transparent panel, again, it looks great.
What else like Sony Xperia X Performance? The fact that devices of all colors matte display fingerprints is not too visible. Silver smartphone photos are not clean, and it went through the hands of dozens of journalists – as can be seen, ready for various testing and purity of feeling is not lost.
Metal texture, moisture protection – is, by and large, all the differences of two buildings flagship devices. I would have chosen for themselves Sony Xperia X Performance – a great reminder right before your eyes, what path did the company.
Display
Display size – 5-inch FullHD resolution, the screen looks good, but you should understand that such a brightness, like some other devices (eg, Samsung), you will not achieve. Adaptive lights there, the control mode in the gloves, too, can change the white balance. Overall, just remember the Sony Xperia Z5 display.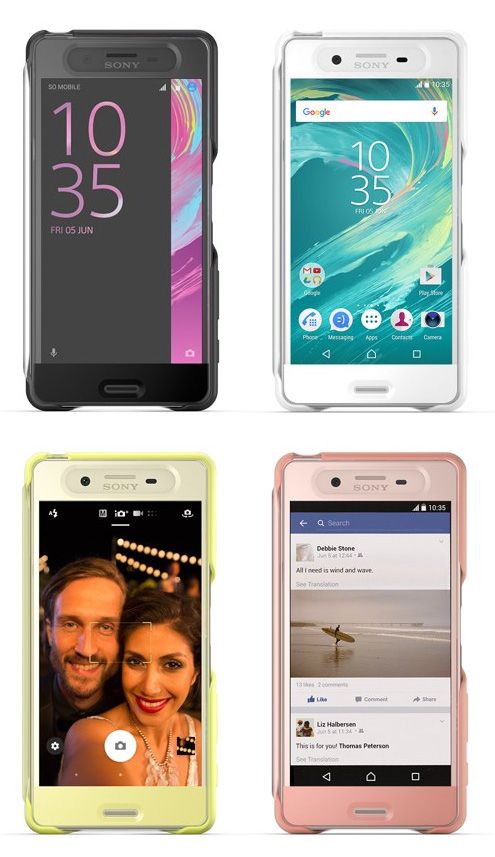 Fingerprint Scanner Sony Xperia X Performance
X and Y have Sony Xperia X Performance capacitive fingerprint sensor operates in the same manner as in Z5. In the menu "Security" appears appropriate section, where you can link to the sensor up to five prints. The process itself is simple: apply the finger a few times until the scale is full, all similar to other similar systems. Then you specify that it will make the sensor well and start using. I like that unlocking takes fractions of a second, puts his finger and immediately find yourself on the desktop, without graphic keys and stuff. I note that not even need to press a button, simply swipe your finger is enough. False positives almost was not – if they were, the more my fault.
Note that the placement of the button in the sensor seems to me the most logical. The finger goes here itself (if you are left handed, the button will be the index finger of the left hand), elementary setting, work does not cause problems. I do not like the fingerprint scanner? Use an ordinary password – but only have to spend time on it every time you want to do something with your smartphone.
All new smartphones Xperia Tips will be installed the system, in a nutshell, is the assistant prompts based on how you use your smartphone. If you have a lot of unanswered calls, you will be prompted to activate the answering machine if you go outside in the winter, will be offered to activate the operating mode with the screen while wearing gloves. Holders of Z5 and other smartphones Xperia will also be able to use the Xperia Tips, when there will be an upgrade to Android 6.0.
Note that all new smartphones will come with Android 6.0. According to the company, in the interface of two hundred different changes, additions, simplifying life – in the camera menu you can quickly skip to the front camera, it is convenient to search, and so on, go through changes when the samples arrive.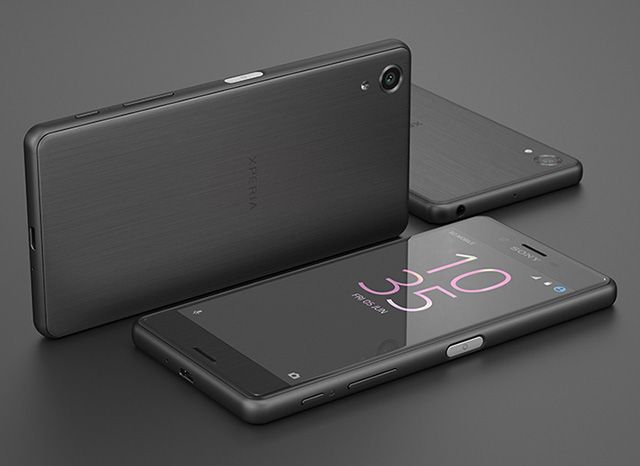 Music and other entertainment Sony Xperia X Performance
Smartphones Sony Xperia X supports HiRes Music, meaning you can download FLAC files and other similar formats to listen to using the basic player, some of these tracks HR icon. 3.5mm pyatipinovy ​​supports headset with noise-canceling microphones and a number of other accessories. Smartphones can connect to the PS4 and used as an additional or main screen – that is, either to play games directly on the machine by connecting the joystick, or Xperia acts as a secondary display. For example, the map is displayed in MGS4 on the smartphone.
Supported Bluetooth-LDAC codec, if you have a Sony headphones with the support of this codec FLAC can be transferred almost original quality, which is very good.
All of these things to someone may not seem important, but in reality use the headset with a noise-canceling or listen to FLAC without installing third-party players are very, very nice.
Camera Sony Xperia X Performance
The main camera is 23 MP, from the most interesting note autofocus, capable of real-time monitor the object. In the demos, it looks interesting. As in the Z5, the camera starts quickly, quickly switch modes, AF is also nimble. Shooting in 4K supported. It is possible shooting in low light conditions (ISO12800), if we use the five-time zoom, you can get the normal frames. At least talking about it in the company.
Wide-angle front camera, the resolution – 13 MP, has auto focus, different modes.
Performance and operating time Sony Xperia X Performance
Used Qualcomm Snapdragon 820 processor, you can read more here, this is another difference from the Xperia X. Everything else seems to 3 GB of RAM, 32 GB of memory in a model with a SIM-card and 64 GB models with two SIM-cards. NFC module is transferred to the front part, it is located above the display. It supports memory cards with a capacity up to 200 GB. It is encouraging that at Sony stubbornly stick to their line of memory cards and do not give up.
Use a battery capacity of 2700 mAh, stated time for two days, of course, it is highly dependent on a variety of factors. The Sony started cooperation with Qnovo, more info you can read here, the technology used in a series of X (v in an XA included), called Qnovo Adaptive Charging technology, as I understand it, it will help extend the battery life at the expense of a more flexible process control charging. Solution software, installed the driver can recognize, put you to charge your smartphone for the night or for an hour. There are fast-charge mode, after connecting on 10 minutes the machine can work about 5.5 hours – of course, about the running time have reservations, perhaps, not 5.5 hours, but it will last a few hours. This can be very useful in some situations.
Note that some things are the same in Sony Xperia X Performance, so do not be surprised repetitions in articles.
Conclusions Sony Xperia X Performance
It is clear that at this price in the unit have strong competitors, it is the iPhone 6S, and Samsung smartphones, and others. It seems to me, on the side of Sony Xperia X Performance are design and a list of any proprietary features and functions. Love Sony – by not pass.