Exterior materials, controls, assembly
I should note that almost all the eight-inch tablet, which I tested, somehow similar to the iPad Mini, one size, one design, and A1 is no exception. White front side, rear aluminum – it's all very reminiscent of the famous iPad. However, unlike Mini, A1 in the back cover is not smooth but slightly rough, but otherwise the two are very similar to the tablet.
Options
Tablet

Charger

Cable for connection to a PC (also part of the charger)

Documentation
Also note the thin glossy bezel polished metal at the end, it shimmers beautifully in the light.
Most of the front side of an eight-inch display takes over him peephole located in the front of the camera.
On the left is a slot for memory cards microSD, volume rocker and power button. Traditionally for Acer both hard buttons short course snaps. Both keys have a noticeable protrusion, making them easy to grope in the dark, and in general, easy to use buttons.
At the top end, you can see a small white plastic box, the haptics is a bit like the back cover HTC One X. It boasts a 3.5 mm jack for headphones, microUSB-port and built-in microphone hole.
The tablet is equipped with stereo speakers, located on the back of the device. They have a good supply on the volume, but the sound at maximum volume is not very high quality, and breaks on wheezing.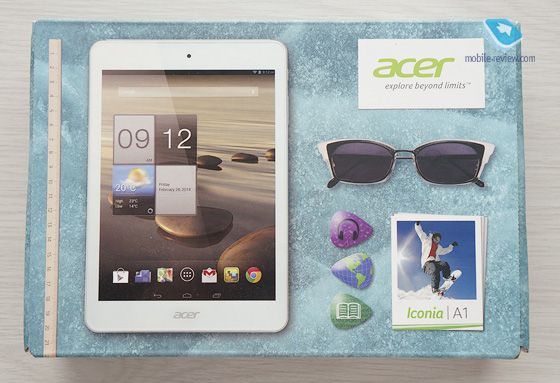 As for the assembly, then it has no claims, the device perfectly assembled, no backlash, no creaks.
Dimensions
In Acer gradually moving away from the role of the brand with the most severe tablets, the company trying to make their devices thinner and lighter. While it is not very good, but progress is definitely there. However, let's look at the comparison chart.
| | | | | |
| --- | --- | --- | --- | --- |
| | Length (mm) | Width (mm) | Thickness (mm) | Weight (g) |
| Acer A1-830 | 203 | 137 | 8 | 380 |
| Acer A1-810 | 209 | 146 | 11 | 410 |
| Apple iPad Mini | 200 | 135 | 7 | 308 |
| Samsung Galaxy Tab 8.0 3 | 210 | 124 | 7 | 310 |
As you can see, A1-830 really was better than its predecessor in size, but it is still inferior to the two compact tablets from Samsung and Apple. And do not say that it's leaders, and these models are more expensive. The Chinese have long learned to make tablets with similar dimensions, I'm sure, and it may be in the Acer.
The device is comfortable to hold both one and two hands. He, of course, there is thicker and heavier than the same iPad Mini, but not much, the difference is not critical from the point of view of sensations.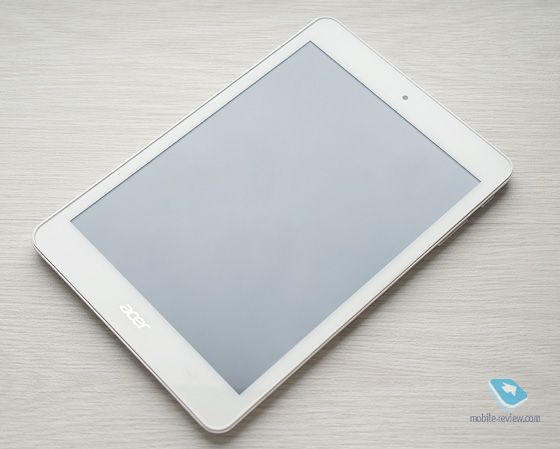 Screen
Display size – eight inches, resolution – 1024×768 pixels, type of matrix – IPS, oleophobic coating is missing, as well as automatic brightness control
Frankly, in this screen tablet on the "C grade". Yes, it uses IPS-matrix, but, apparently, is cheap. Angles of the image dims. On the whole, the display gives the same Chinese tablet. When reading small text pixelation is striking. The maximum brightness is very good, but sometimes you want to make a minimum even less.
To summarize: you can of course no problem to use the tablet with a similar display, but keep in mind that it is not the best. I was particularly upset savings oleophobic coating.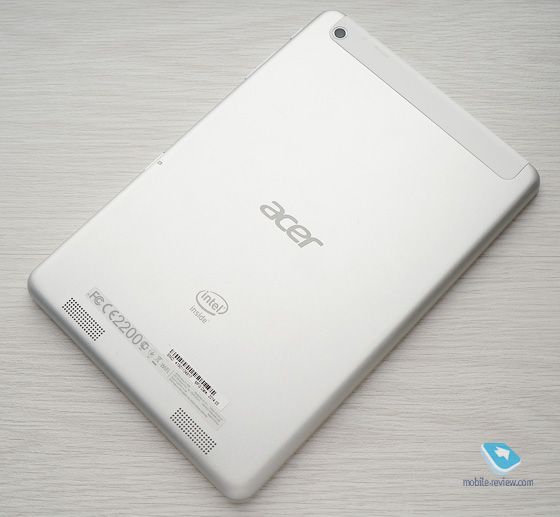 Operating System
Tablet running Android 4.2.2 with a few additions by Acer. Rumored to be planning to upgrade the device to Android 4.4 in early autumn.
The manufacturer has added their own beautiful widgets clock and weather and has arranged some of their applications (music, videos, documents and file manager), but otherwise, we have the standard Android 4.2.2.
In general, I liked that Acer did not change the proprietary interface Android, and just added a couple of his additions. I do not cease to praise the company for the move ever since the A510.
By the way, this tablet is preinstalled Dropbox, and Acer give you 30 GB of storage for six months. This, of course, not 50 GB for two years, like Samsung, but also a nice bonus, especially as we face a budget tablet.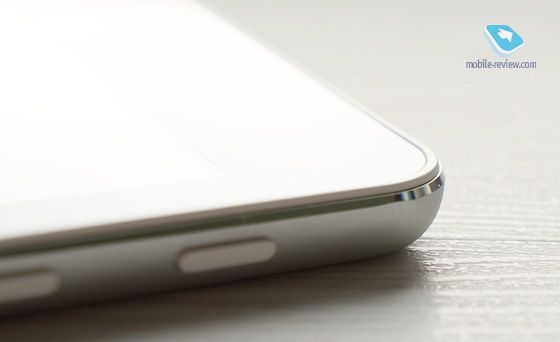 Performance
As decided to use the chipset Intel Atom Z2560 with a dual-core processor, clocked at 1.6 GHz. As the accelerator is used PowerVR SGX544, the amount of RAM – 1 GB of internal storage capacity – 16GB, has a memory card slot, supports cards up to 64 GB volume.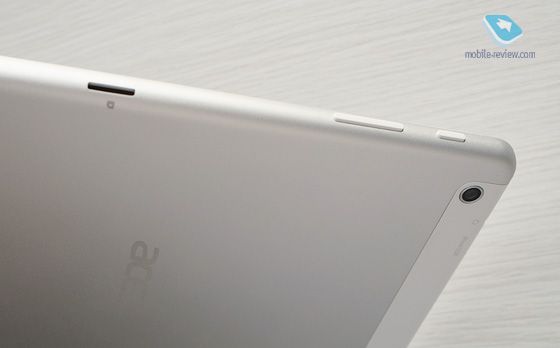 To speed the tablet has no complaints. Desktops are scrolled without slowdown, the browser is fast and smoothly, most toys are excellent. Problems will be only with the latest powerful games.
Autonomy
In the tablet has a removable battery with 4000 mAh.
When viewing HD-video at maximum brightness A1 lasted nearly 5 hours.
Read mode (brightness 30% + mode "on the plane") discharged him for 11 hours.
With daily use (about an hour screen activity) charge the tablet is enough for 3-4 days depending on the brightness.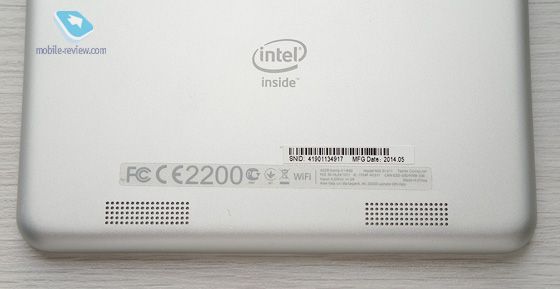 Wireless interfaces
Wi-Fi (b / g / n) – the work of the module has no complaints.
Bluetooth 3.0 – supported by most standards.
GPS – cold start takes about fifteen minutes, apparently, the benefits of this parameter before MediaTek not.
Conclusion
The average price of Acer Iconia Tab A1-830 of 6 300-6 900 rubles. For the money you get a beautiful plate in an aluminum casing with a mediocre screen and decent chipset from Intel. At first glance it looks good, but let's look at the competition.
Samsung Galaxy Tab 8.0 3. Formidable competitor from Samsung, in which almost everything is better: the screen is brighter, sharper, colorful, has an oleophobic coating on the size it is thinner and lighter, and the aspect ratio is better for watching videos. However, he stands at 1 000-1 500 rubles more. However, the co-payment, in my opinion, justified, so I'd rather looked away Tab 3 8.0. Still, its main advantage over the Acer – it's a much better display. On the same side of the Iconia Tab A1 are great aluminum body and appearance.
Masses of Chinese. As Tab 3 8.0, they win the Acer on the display, but can also boast a lower price, with the availability of 3G. In comparison with them on the side of Acer are just proud name of A-brand and reliability.
As you can see, A1-830 was in the grip of a such competitors. On top of him pressing Tab 3 8.0, and bottom – a lot of Chinese tablets with similar characteristics, but at a lower rate, 3G support and better display.
In general, A1-830 left the impression of a decent tablet, but competition in the budget segment is such that you can not just be good to have you bought, you have to be one of the best.
For 5 000 A1-830 would be a good proposal, and 6 300-6 900 rubles – still expensive for him.
Features:
Class: tablet

Housing: aluminum with plastic insert

Operating System: Android 4.2.2

Network: no

Processor: Dual Core 1.6 GHz, the platform Intel Atom Z2560

Graphics: PowerVR SGX544 MP

Memory: 1 GB

Data Memory: 16 GB memory card slot microSD (up to 64GB)

Connectivity: Wi-Fi (a / b / g / n), Bluetooth 3.0, connector microUSB (USB 2.0, support USB-OTG) for charging / synchronization, 3.5 mm headset jack

Screen: capacitive, IPS-matrix diagonal 8 ', resolution 1024×768 pixels (162 ppi), it automatically adjusts the level of illumination is absent

Main Camera: 5 MP with autofocus

Front camera: 2 megapixel camera without autofocus

Navigation: GPS, A-GPS

Extras: accelerometer,

Battery: Non-removable battery capacity of 4000 mAh

Dimensions: 203 x 138.4 x 8.2 mm

Weight: 380 grams