In today's world standard laptops already out of fashion, so how to use it was not so convenient. Carry with them the heavy laptop on a business trip or trips – is inconvenient, it takes a lot of space and energy transportation. At home, the laptop also plays a hybrid or tablet with a keyboard, in fact lie in bed with a laptop you get to work, while the tablet is in this respect more flexible. China has recently revealed a completely new device called Teclast X3 Pro, which allows you to replace a laptop, while delivering all the advantages of a tablet. For users with an active lifestyle and weak hands, this gadget will be a real discovery. It can be put in a bag with papers and a lose because of the small thickness, you can detach the keyboard and play casual games. In general, there are a lot of advantages – let us all in detail.
Specifications Teclast X3 Pro
At the core of the tablet Teclast X3 Pro performance is the processor Intel Core M3-6Y30. This new model, which has been shown in the third quarter of 2015 year. Works on two CPU computing cores clocked at 2.2 GHz, is built on a 14 nanometer tehnoprotsesse and virtually not heated, even at high loads. To maintain the performance of the tablet will be the RAM of 8 gigabytes – it is enough to work with any application on Windows 10, for casual games, other forms of entertainment, movies, and web browser. That is, the tablet is easy to cope with all the tasks of primary and secondary level. Working with professional applications, of course, you can not. Keep your personal content you provide on the internal drive to 128 gigabytes. Other configuration options the manufacturer has no plans.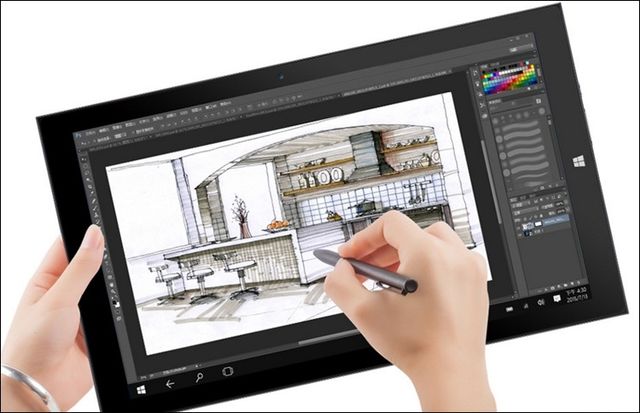 Design Teclast X3 Pro
The tablet Teclast X3 Pro is made in a fairly standard form for Windows 10 – the corners of the plate straight, rather than curved, it seems like and stylish solution, but usually in these corners and washable paint in the first place. The front panel display is only placed, a webcam with a set of sensors, Windows logo. Product looks pretty well, although it is not made of the most expensive materials. To the product, you can buy a keyboard that is attached to the magnetic clasp, it is also made in black with keyboard island type and rigid hull.
Bonuses Teclast X3 Pro
Display Teclast X3 Pro size of this tablet is 11.6 inches with a resolution FullHD. Grit on the display you will not notice, except under a magnifying glass, picture perfect color reproduction, because the matrix is ​​IPS, the viewing angles are gorgeous. On this plate, you can show and presentations, and movies in a small company look. It is worth noting that on the side of the tablet are two ports USB 3.0, a full-size HDMI to connect a monitor or projector, as well as a headphone jack. The entire set of peripherals can be connected. Powered plate on the battery capacity of 9000 mAh, which should be enough for a long time, use of the product.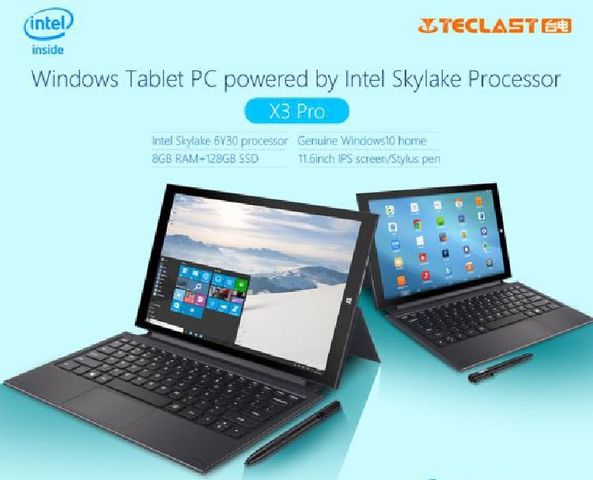 Result Teclast X3 Pro
The cost of tablet Teclast X3 Pro is $ 600, so call it affordable, we do not dare. Of course, filling notebooks with similar cost more, but they have better body materials, and features all the same anymore. In addition, the keyboard to the tablet is not attached and you need to buy it separately – for $ 50. That is, in order to get a good gadget, we need to give all the same $ 650. This is significantly cheaper MacBook 12, but you and the performance of these products do not compare – completely different classes.