Action cameras have become very popular lately. If earlier only sportsmen used action cameras, now almost anyone can take action camera for video blogging, travel shooting, or DVR.
What was required from action camera earlier? Reliability and durability. Now the action camera needs to shoot in high resolution and offer wide settings. The new Thieye T5e camera is exactly for that. It shoots in 4K resolution; it comes with great packaging, for example, a protective case, mounts, etc., and offers a lot of photo and video settings.
As you understand, today we have a review Thieye T5e action camera. Thanks to our partner GearBest online store for providing this camera for review.
[su_button url="http://www.gearbest.com/action-cameras/pp_575345.html?lkid=11047430″ target="blank" style="flat" background="#e50e08″ size="8″ center="yes"]ThiEye T5E action camera – Check Price and Buy[/su_button]
Packaging
Thieye T5e comes in a large enough black box. On the front panel we see Thieye logo, while on the rear panel are main specifications.
Inside the box is an action camera Thieye T5e in a waterproof case. On the right you will see one more box with other useful things. Full package on the photo below:
Multi-language User Manual,
Wiper
2 x 1100mAh Battery
USB Cable
Pack of Accessories
Thieye T5e
Waterproof Case
The big advantage of packaging Thieye T5e is in two batteries. If one of them is discharged, you can always insert another one.
The user manual offers several languages, including English, Russian and others.
The waterproof case has a convenient latch, so you will not break your fingers by opening it. We make a waterproof test. You can watch the video below.
The rest things in packaging are different mounts for helmets, tripods and other.
Design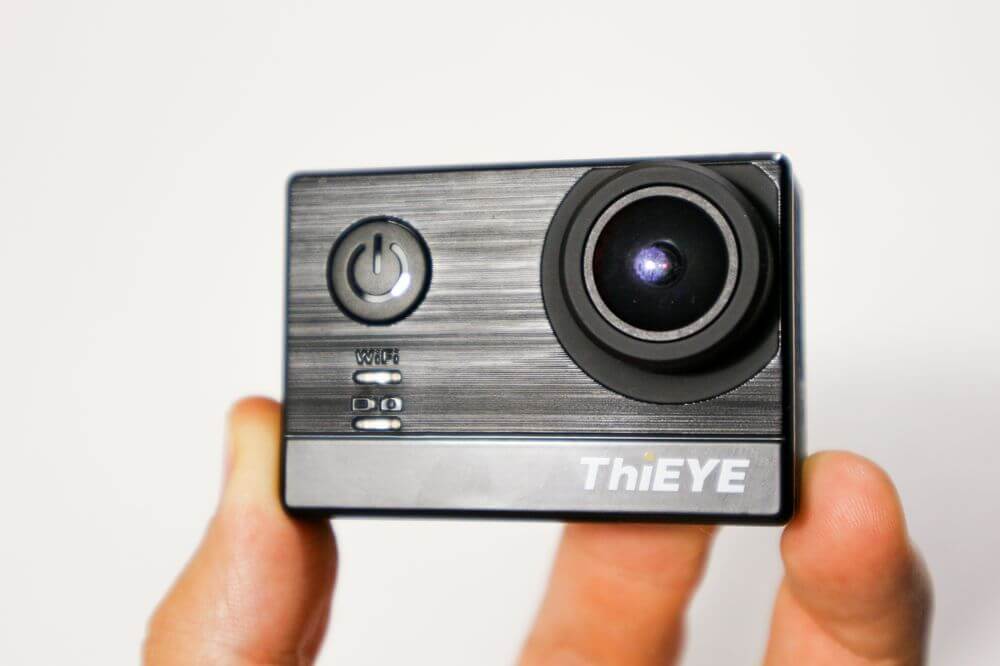 Front panel Thieye T5e looks as aluminum, but in fact it is made of plastic. The rest body of action camera is made of another material – soft plastic touch.
The dimensions of action camera are 60x41x22 mm. The outer diameter of the lens is 23 mm.
On the front panel you can see one round switch, and two indicators. Two more control buttons are on the right side of the device.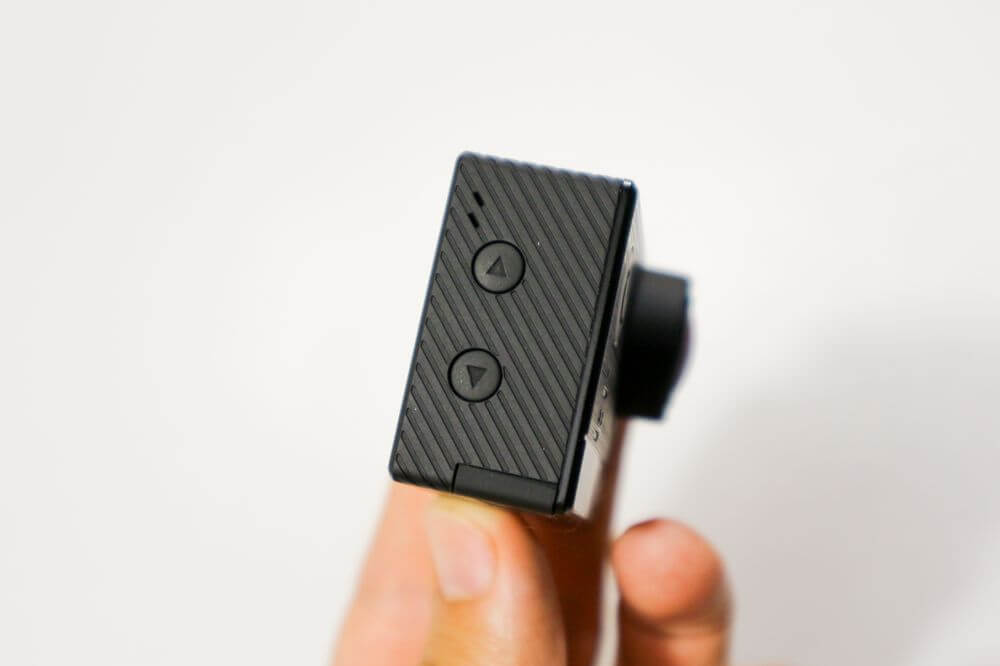 On the left side you can see the following connectors: Micro-USB, micro HDMI and micro SD up to 64 GB.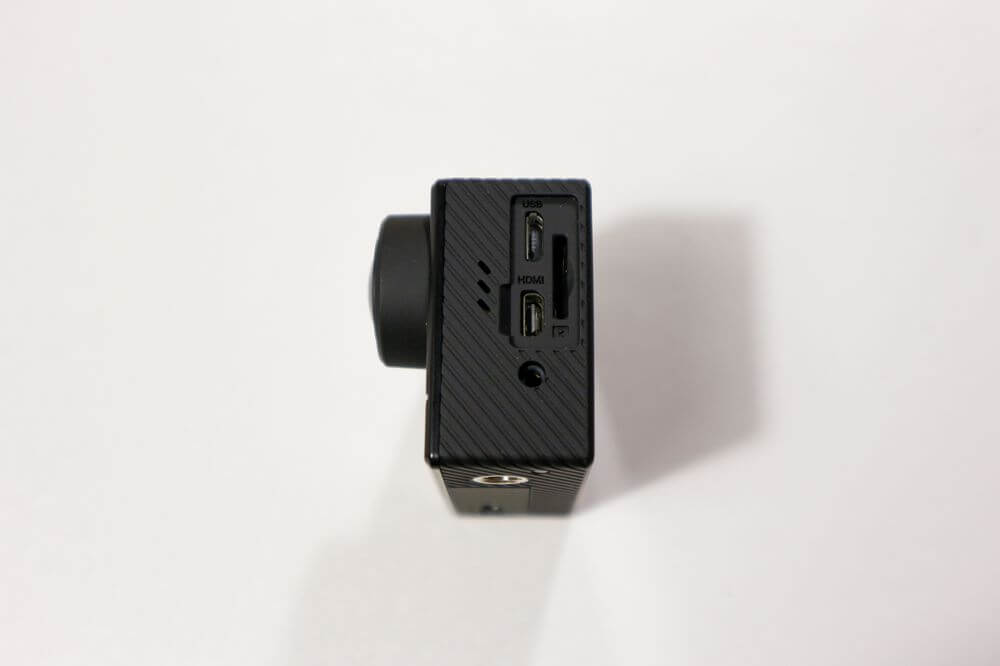 At the bottom is the standard thread for tripod. In addition, there is a battery compartment.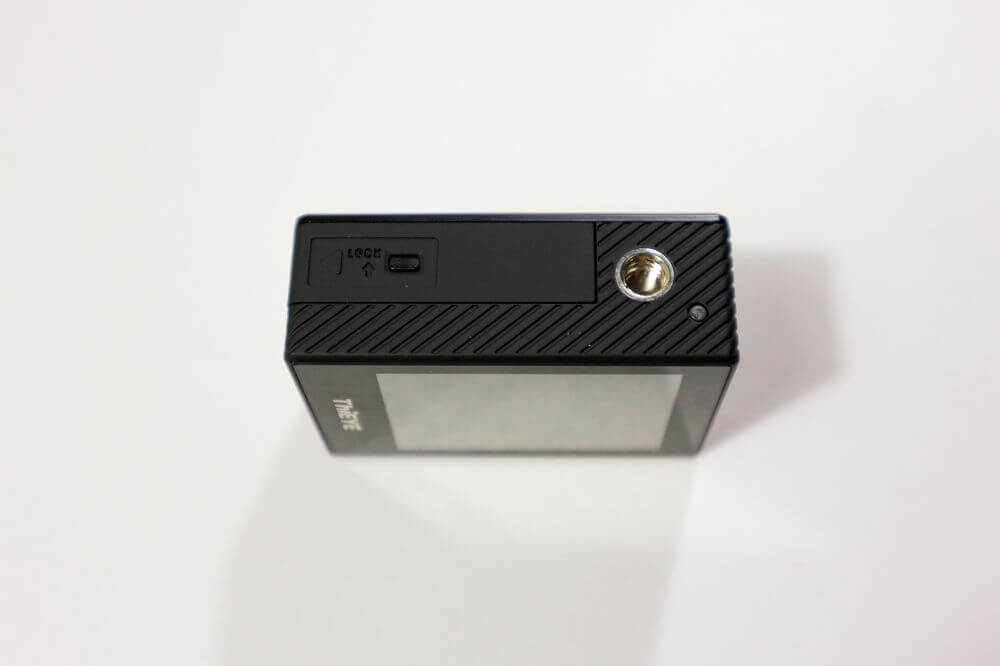 In general, the camera has a nice design and high-quality assembly.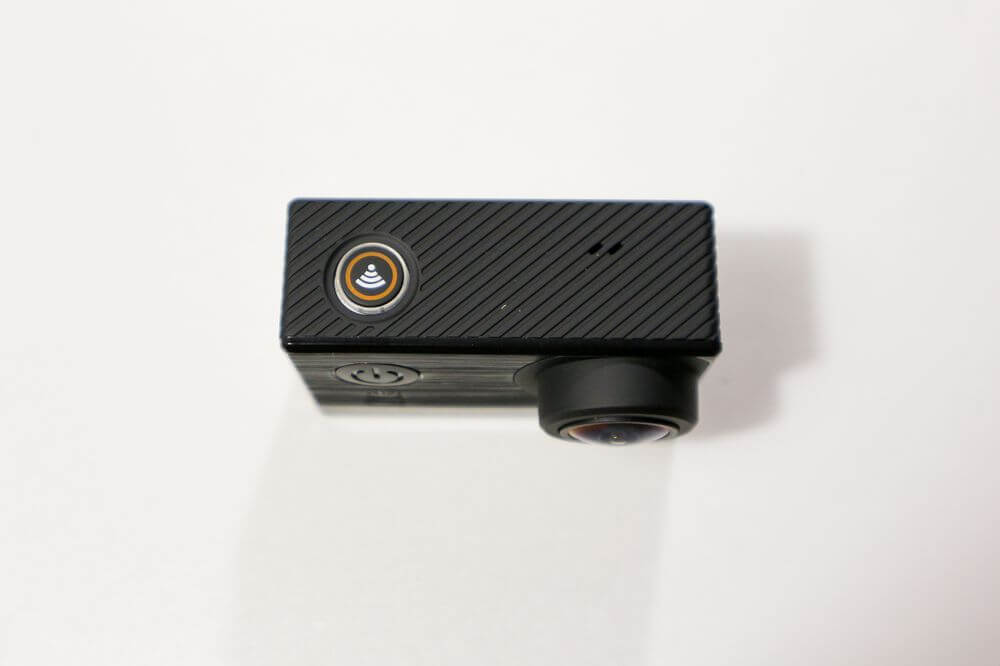 Using
Thieye T5e action camera turns on with the button on the top. Modes are switched through the button on the front panel. You can choose the mode of video, photo, gallery and settings.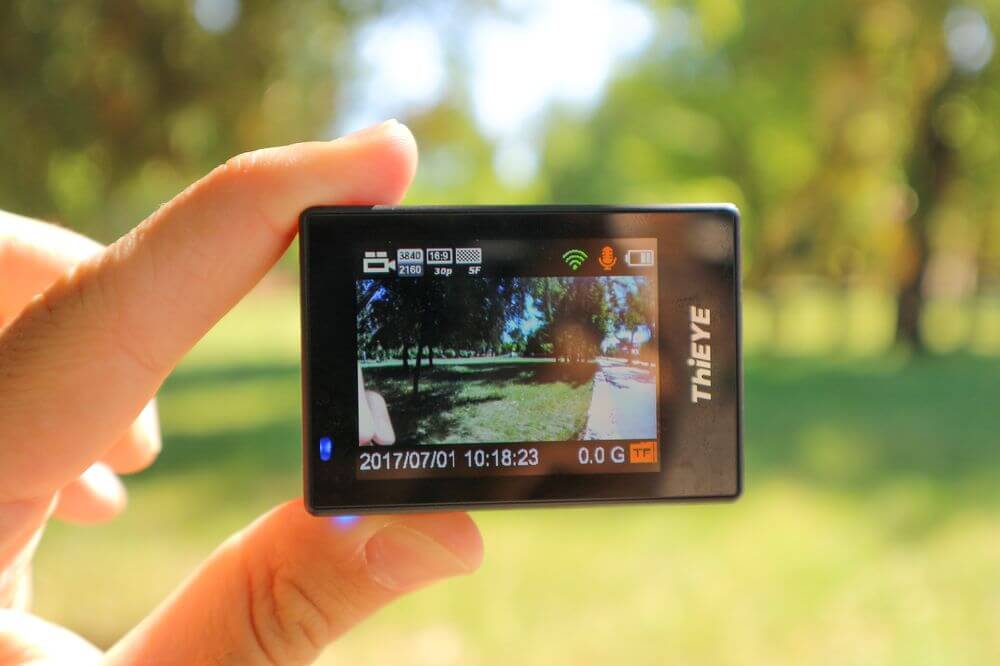 The screen in video mode offers several useful icons in the upper left corner, such as video resolution and frame rate. In the right corner you can see the battery level and microphone.
Below is the date, time and free memory on TF memory card.
The screen in photo mode offers similar icons, but instead of video resolution, the photo resolution is displayed.
The settings screen offers a huge number of different parameters. You can see all the photos below.
By the way, if you do not know meaning of some settings, you can read the details in user's manual.
The camera offers many options for both shooting regular video, and active shooting or DVR.
Application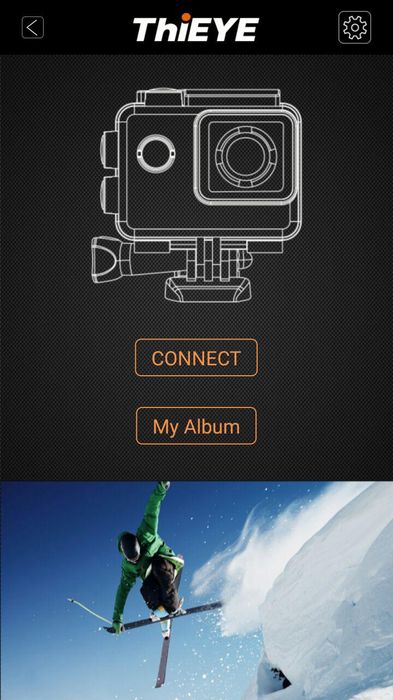 Also Thieye T5e camera is synchronized with smartphone. It is not necessary, because the camera can shoot independently, but the application allows you to switch modes, resolution and other settings faster and more conveniently.
You can download the application using QR code in user manual, or find ThiEYE App on Google Play Store.
Connection is quite simple. Make sure that the camera has Wi-Fi turned on. Next, connect to a new Wi-Fi network on your smartphone, which the camera has created. Password to Wi-Fi network by default is 1234567890.
After that, you will see the main screen of application and the video from camera. Click the round red button to start recording the video, or take a photo. Here you can change the video/photo modes, as well as the resolution of video or photo.
The application offers all settings that are available on the camera screen. You can see all settings below.
Sample video and photo
Now we offer you to watch our sample videos and photo.
All original videos and photos you can download from this link.
Conclusion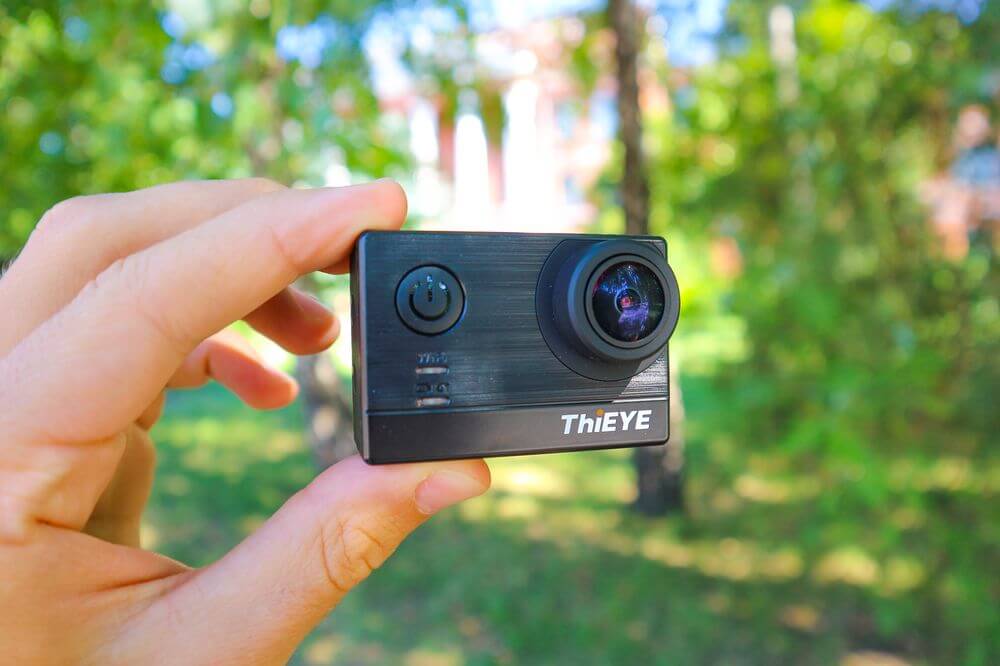 Thieye T5e is really good 4K action camera. Of course, it does not have additional settings, for example, touch screen or voice control, but it is a reasonable solution from the manufacturer. The camera offers basic functions for shooting high-quality video in 4K (or 1080p at 120fps), and a photo with a resolution of 16 MP.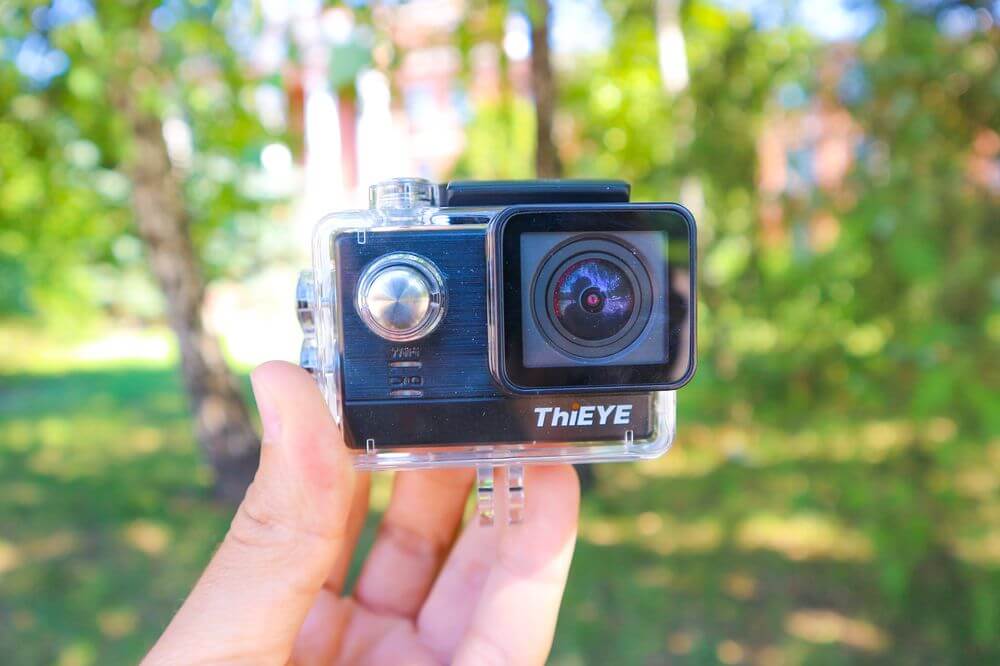 We should note that Thieye t5e action camera uses a sensor that is equipped in Hero4 black.
We really liked that Thieye t5e shoots quality videos, comes with two batteries, and offers many settings. Among the disadvantages, we can note only screen control. Sometimes switching or changing the settings takes a long time. We think that it can be solved by updating the firmware.
In general, Thieye t5e is the best 4K action camera, which we have tested. After all, what is most important from an action camera? Video quality, and Thieye t5e guarantees it.
[su_button url="http://www.gearbest.com/action-cameras/pp_575345.html?lkid=11047430″ target="blank" style="flat" background="#e50e08″ size="8″ center="yes"]ThiEye T5E action camera – Check Price and Buy[/su_button]