Not so long ago we reviewed smart watch No.1 G6. It is a really useful device with a lot of different functions and stylish design. In addition, the price is very attractive.
Today we received another wearable device called X9 Plus from our partner GearBest. Although it looks like smart watch, in fact X9 Plus is Smart Wristband. In this review we look at its design, features and price.
[su_button url="http://www.gearbest.com/smart-watches/pp_608902.html?lkid=10382179″ target="blank" style="flat" background="#e50810″ size="8″ center="yes"]Check price and buy X9 Plus BLE 4.0 Smart Wristband[/su_button]
Just want to draw your attention that X9 Plus Smart Wristband allows you to measure the blood pressure and blood oxygenation. Also you should not forget about a standard set of smart wristbands functions, namely a pedometer, sleep tracking, calories burned, anti-lost, etc.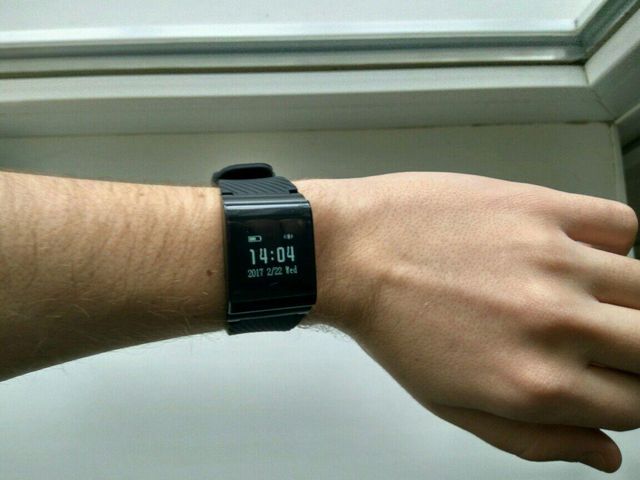 X9 Plus has a water resistance (IP67). Unlike smartwatch No.1 G6 with battery life about 1-2 days, the smart wristband offers more than 1 week on a single charge.
X9 Plus is a quite small, handy and lightweight smart wristband, which is comfortable to wear on arm. In addition, it has a metal case that looks good and is quite durable.
Now let's make a detailed review X9 Plus smart wristband.
Packaging and content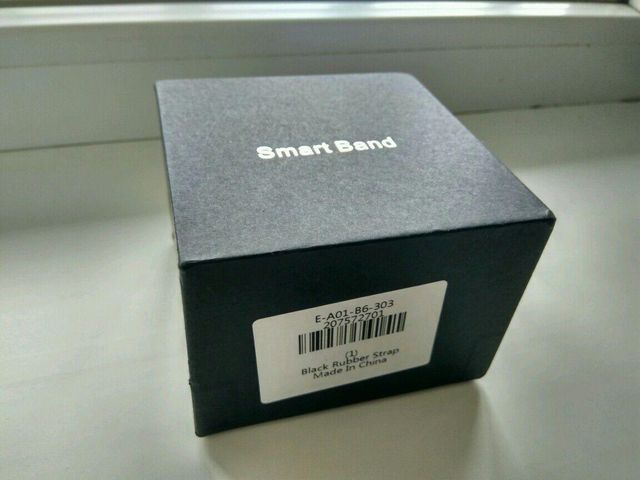 The packaging is very simple and minimalistic. On top of the box we see "Smart Band", and on the side is a small label with the technical specifications.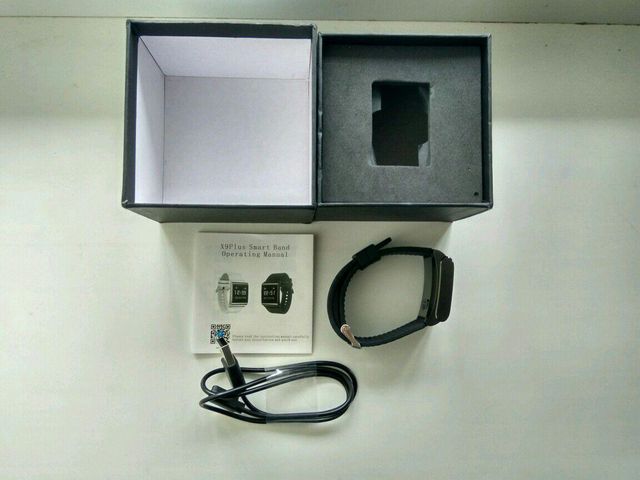 Inside the box we found wristband itself, manual and charging cable. By the way, the charging cable uses a magnetic mount, rather than a simple microUSB port. You just need to connect the end of the cable to the rear panel of X9 Plus to start charging.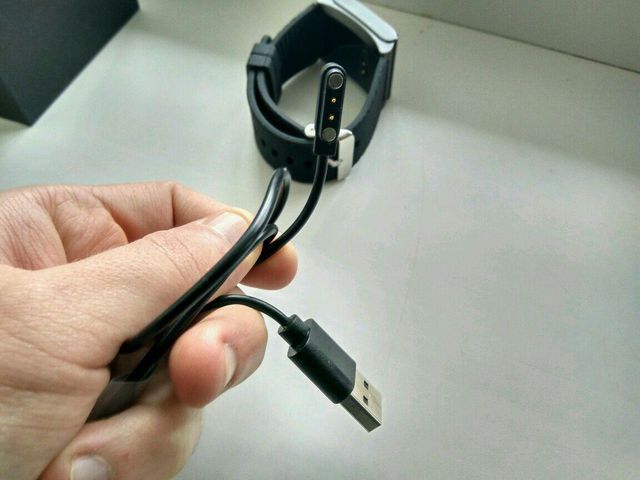 The manual is in English and Chinese. Here you will find QRCode to download iWear app for Android and iOS. By the way, the app is not compulsory, but useful. We will talk about it a little later.
Design
As we said, X9 Plus looks like a smartwatch. However, the set of features suggests that it is a smart wristband.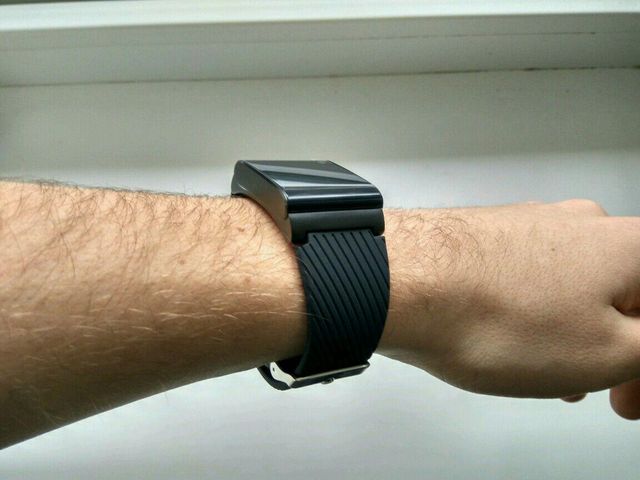 X9 Plus has a small square screen. We have got a device with a black rubber strap, which looks very stylish. Moreover, X9 Plus size is so compact that it is more suited to girls than boys. But it is only a matter of taste. Device body does not have any buttons or slots.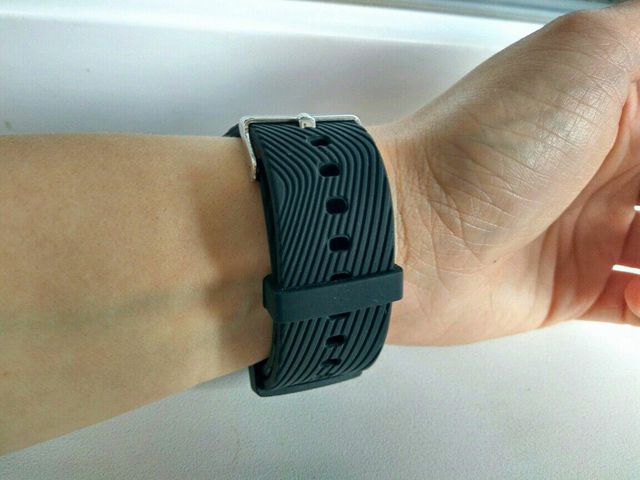 There is just magnetic pin for charging on the rear panel and cardio optical sensor.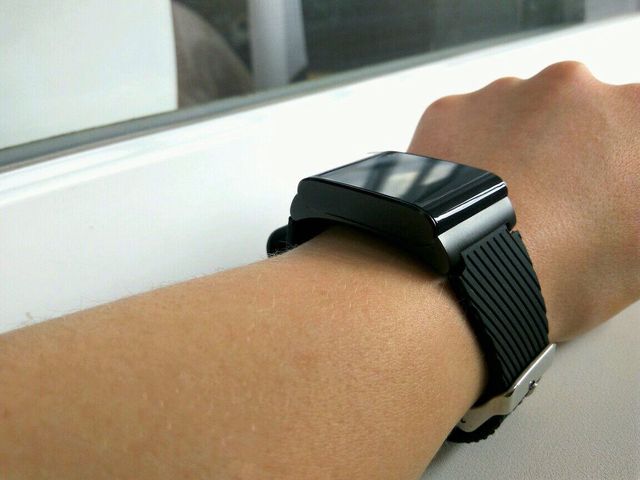 Display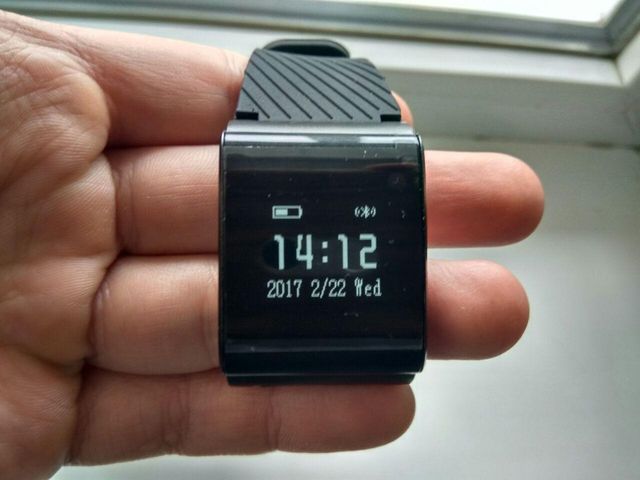 X9 Plus smart wristband has a relatively small 0.95-inch OLED display with a resolution of 128×64 pixels. It is activated by pressing the lower part of the screen. The main display shows the battery level, Bluetooth connection status, time and date. The display can be clearly seen for almost all lighting conditions, but not in direct sunlight. As you can see in the image below, the display in a bright sunny day is quite dull and poor visibility.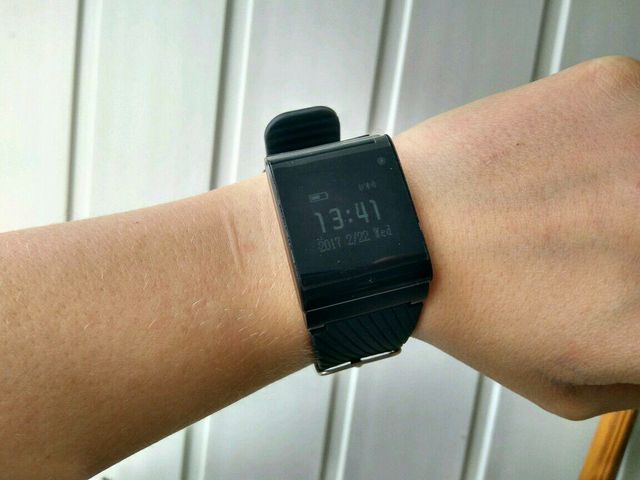 Battery
The battery is one of the main features of X9 Plus. We were really impressed by the autonomy of wristband. When we got the bracelet, we will fully charge it (it tooks about 1 hour), and then used for 4 days. During this time the battery level has dropped to 68%. This is an excellent result. Of course, Xiaomi Mi Band has about one month of battery life, but you should not forget that X9 Plus has a useful display. You can safely rely on the two-week battery life.
In addition, X9 Plus smart wristband does not require connection to a smartphone, unlike Xiaomi Mi Band. Our today's hero can show the time, date, steps, pulse and blood pressure. However, the app offers measurements history, as well as several additional functions, for example, set the alarms, anti-lost, new notifications on your mobile device.
Smart wristband interface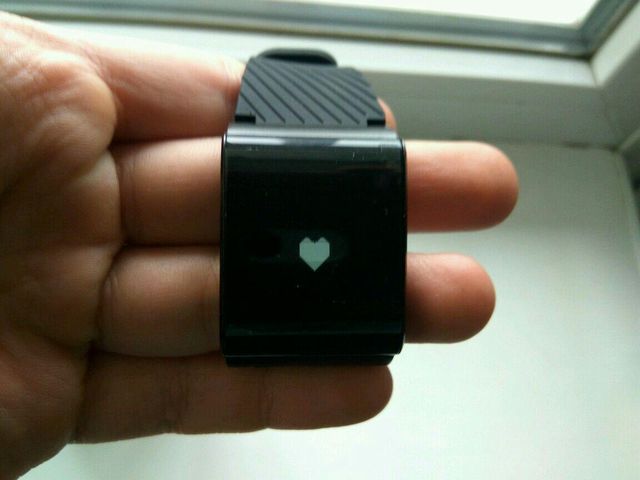 X9 Plus has a minimalist interface. On the main screen we can see the time, date, Bluetooth connection status and battery level. You can also switch between 8 different screens by pressing the lower part of the display. The screen shows the number of steps, calories burned, sleep time, alarm, heart rate measurement, etc. Below you can see all the available screens.
Application interface
X9 Plus smart wristband works in tandem with iWear application. You can download the app by this link. The application offers advanced features and history, such as the number of steps for a week, measure heart rate, pressure, etc.
In the settings you can set up personal data such as weight, height, age.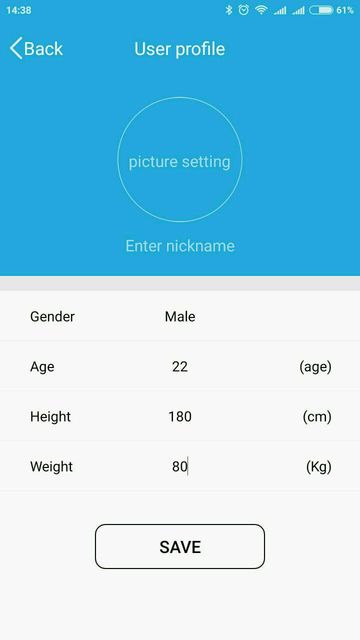 X9 Plus is easily pairing with the smartphone. You need to turn on the Bluetooth on your mobile device, and then choose a smart wristband in the list of available devices. Click on "Pair Device" button. That's all!
iWear allows you to set different goals, such as the required number of steps per day or the number of daily sleep.
In application settings you can enable Incoming Call, Incoming SMS, Missing reminder, Find Device and set three alarm clocks. By the way, Missing Reminder is an interesting feature. If you have moved away from a paired device (in our case it is Android smartphone) for more than 10 meters from X9 PLus, you will be notified. Thus, you will never forget your smartphone in public places.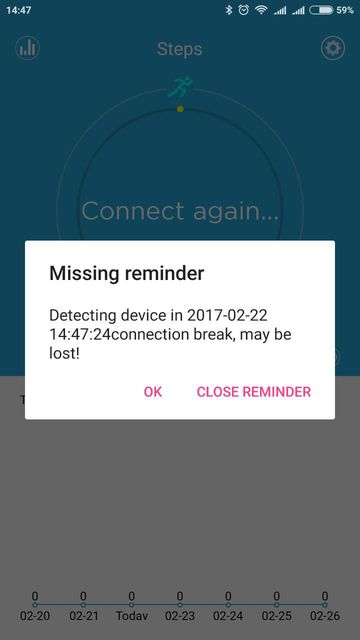 As for the accuracy of measurement, we had some questions. I did some exercises to increase heart rate. Nevertheless, X9 Plus showed that heart rate remained the same as I was in a calm state – about 80 BPM. You can see this in the time period from 15:36 to 15:44.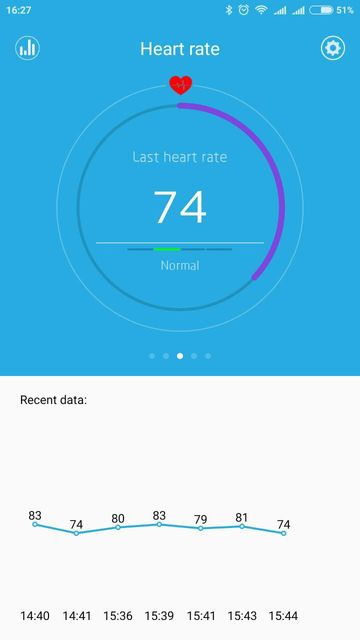 For comparison, I measured the heart rate via Xiaomi Mi Band 1 Pulse. It immediately showed the result of 127 BPM. Draw your own conclusions.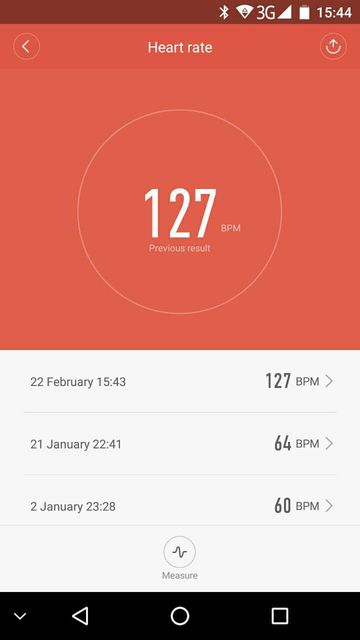 Important Note: The application has limited language support. If your language is not in the list of supported devices, the application will be in Chinese. If you want to get iWear app in English, so you need to set English as the system language of your device.
Conclusion
X9 Plus smart wristband is very nice and comfortable. Moreover, it looks more attractive in life than photos in the store, which is extremely rare.
On the other hand, heart rate monitor and pedometer shows inaccurate results. But given the price of $20, we do not expect to receive the most accurate sensors.
Among other advantages X9 Plus is the battery life, a lot of features, support of Android and iOS, metal and rubber straps in different colors and the most important – low price.
Price and where to buy
You can buy X9 Plus with metal strap for $22.39, and X9 Plus with the rubber strap for $19.99 at GearBest. It is one of the best deals in the market.
[su_button url="http://www.gearbest.com/smart-watches/pp_608902.html?lkid=10382179″ target="blank" style="flat" background="#e50810″ size="8″ center="yes"]Check price and buy X9 Plus BLE 4.0 Smart Wristband[/su_button]
Also you can visit our page with coupons to buy X9 Plus at the best price.