You may know Xiaomi for good Android smartphones. However, Chinese manufacturer produces many different devices. Not so long ago we reviewed Xiaomi Small Square Smart WiFi camera, now we want to draw your attention to earphones Xiaomi In-ear Hybrid Earphones Pro.
Our constant partner GearBest has provided us an example of Xiaomi earphones. You can visit this online store to buy Xiaomi In-ear Hybrid Earphones Pro at attractive price.
So, let's look at the basic features, packaging, specifications and check the sound quality.
Specifications
Cable length: 1.25m
Connection Type: 3.5mm
Power: 5mW
Resistance: 32 Ω
Sensitivity: 98 dB
Frequency range: 20-20,000Hz
Driver Hybrid: 2 dynamic driver and 1 reinforcing
Packaging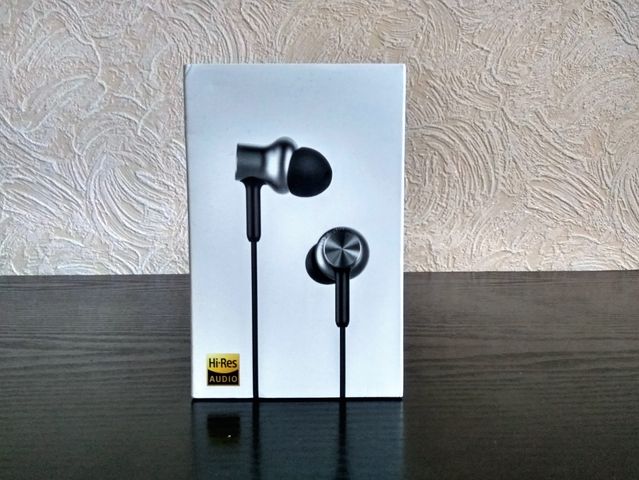 If you are already familiar with the products from Xiaomi, then you know that all the devices have excellent quality and packaging. When I received the package, I opened it and found a small white box with earphone image on the front and specification on the back side.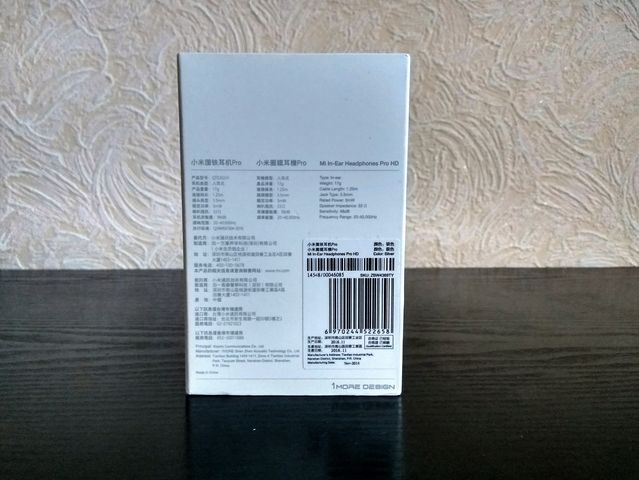 Equipment:
Earphones
4 x Paired Replacement Ear Caps
Cloth bag
Plastic box
English manual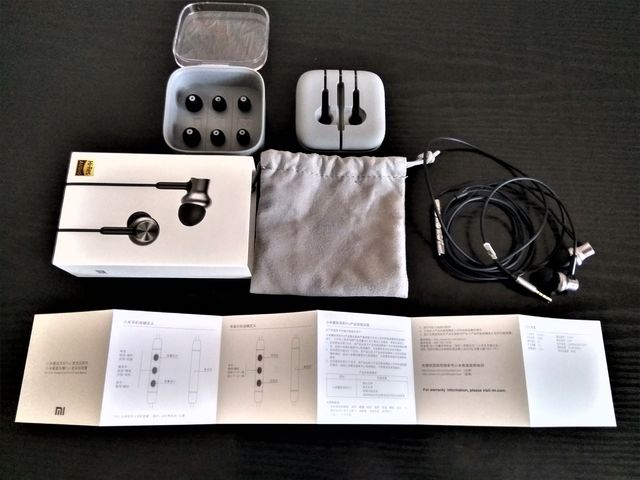 Box is opened by a simple sliding downwards. Then you see earphones in plastic container and white box on top. Inside the paper white box is pleasant cloth bag, thanks to which you can carry around with Xiaomi In-ear Hybrid Earphones Pro at any time and in any place.
Under the plastic container with earphones you can find user manual in English and Chinese.
Design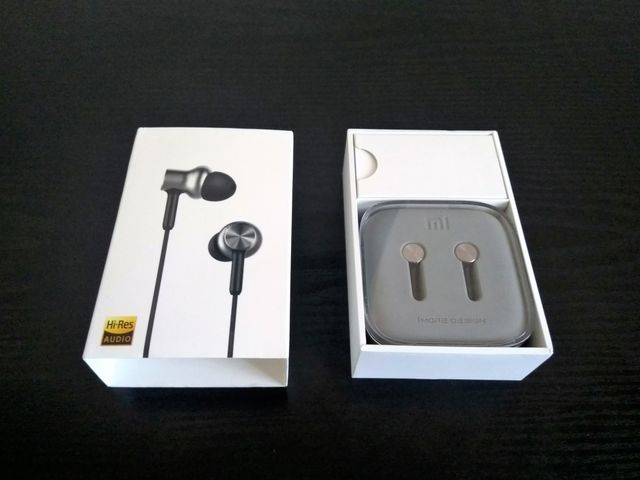 Just want to note that studio 1 More Design is responsible for design of Xiaomi In-ear Hybrid Earphones Pro. That's why its logo located on the plastic container.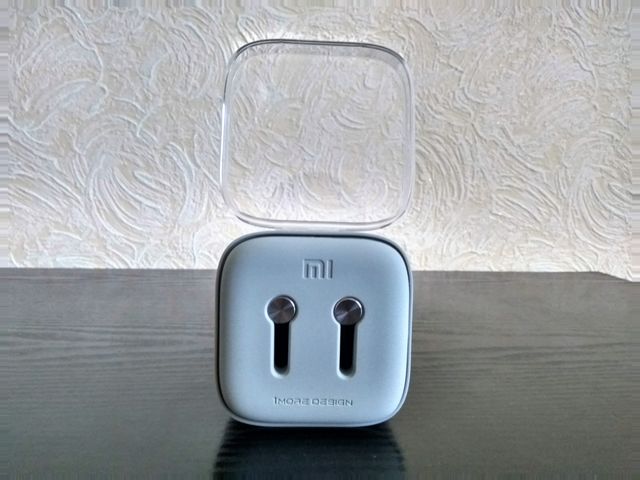 Replacement Ear Caps size M are already on earphones, while others (XS, S and L) are fixed in plastic box. We think that you won't always carry a plastic container. Most people once chosen the right ear caps, and the rest is stored in a secluded corner of their house.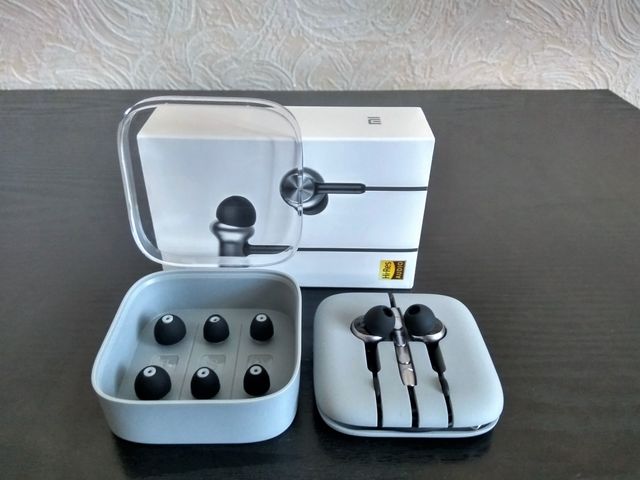 Xiaomi In-ear Hybrid Earphones Pro are stacked and re-tighten them will be quite difficult. They are made qualitatively, metal case with plastic inserts. Looks very strong.
Inscriptions HD Audio tells us about the direction for audiophile headphones, though they, of course, home for casual listening.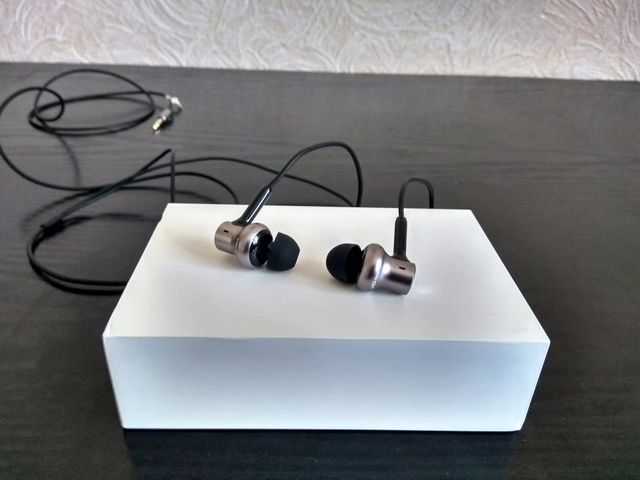 Xiaomi In-ear Hybrid Earphones Pro have a remote that finally made convenient, if someone has Xiaomo Piston 3 they will understand me. The buttons are pressed very well. The quality of the microphone is also good.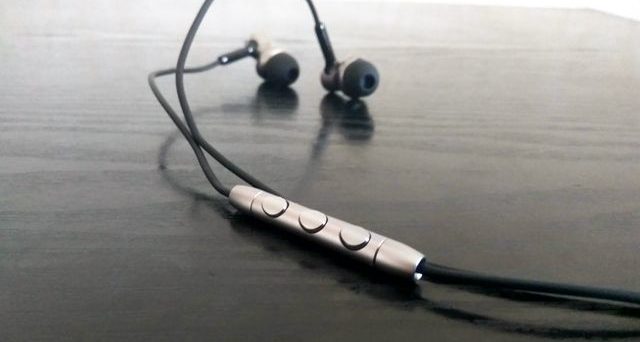 Earphone is made of metal and the wire is silicone. Jack is compact and gold-plated.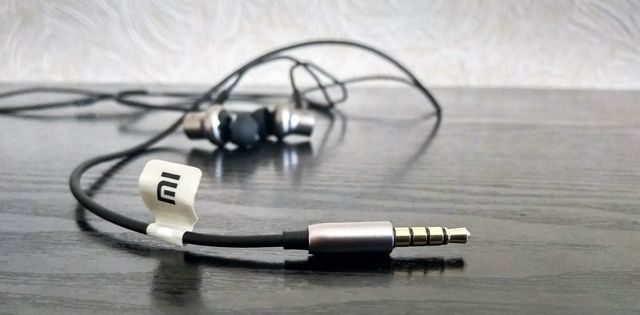 Sound
The hardest part of earphones review is to describe sound quality through the text.
Xiaomi In-ear Hybrid Earphones Pro are inexpensive, so I decide to test them with usual smartphone. We listened to music in format MP3 320 and application AIMP.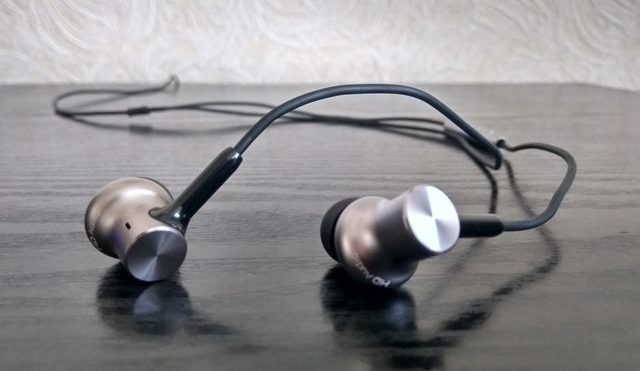 The first thing you notice when listening to music with Xiaomi In-ear Hybrid Earphones Pro is the bass. Clean, powerful, neat, like it penetrates deep into the brain. A feeling that I was in the cinema with high-class sound system. I experienced a similar feeling when listening to music with more expensive Sennheiser CX300.
I really liked the fact that the sound was more collected, it disappeared accented transparency, which Xiaomi In-Ear Pro severely hampered when listening to songs. At the same time, there is no sense of a kind of "toughness" inherent dynamic headphones.
In general, the sound is very good for listening to rock, metal or electronic music. It is bright and recognizable.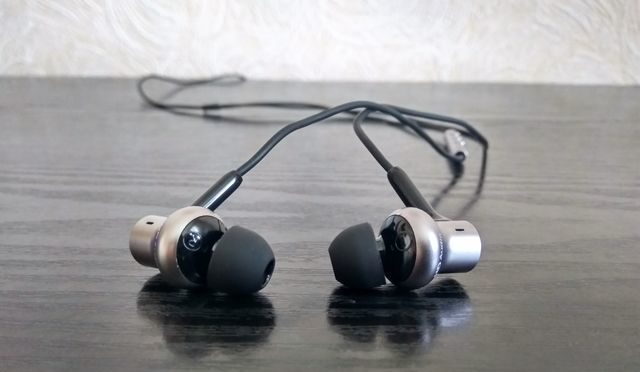 Bass
Low frequencies are at an optimum level. There is an overabundance. Bass is clear and smooth. But Xiaomi In-ear Hybrid Earphones Pro may be weak for really fans of electronic bass music.
Midrange
Midrange is very clear, singing is heard very clearly and in detail.
High frequencies
High frequencies are very much. Although I do not particularly like it, my colleagues noted that it sounds very cool. It's a matter of taste.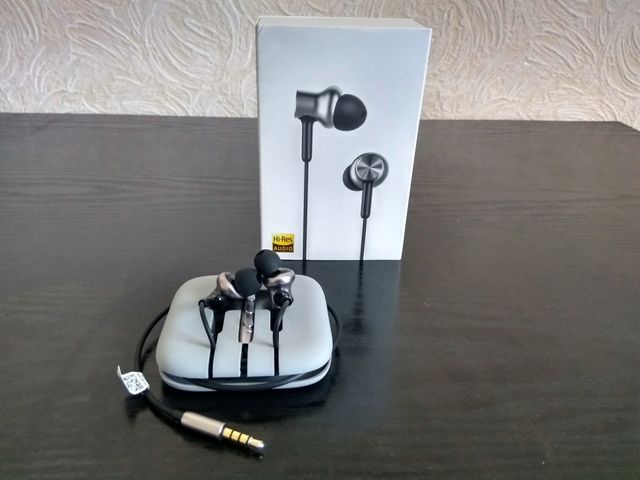 Conclusion
Xiaomi In-ear Hybrid Earphones Pro have a good quality, an attractive price and bright sound. Also they are powerful and beautiful. If you need a good pair of earphones for listening to music daily, you do not need to spend $100+ for higher-class products. Xiaomi In-ear Hybrid Earphones Pro are excellent for your purposes.
Advantages
Packaging
Remote Control
Cable
Cloth bag
Minuses
Price and where to buy
The price of Xiaomi In-ear Hybrid Earphones Pro is about $25. You can buy earphones in most online stores, but we recommend GearBest. They offer a good price and fast shipping.
BUY Xiaomi In-ear Hybrid Earphones Pro at GearBest for $24.99