This year, ZTE is very active, releasing new devices with small intervals in time. In March, the subbrand Nubia announced just three interesting smartphone with different price tags: Nubia M2, Nubia M2 Lite and Nubia N2  After that Chinese manufacturer released the device Nubia Z17 Mini on Snapdragon 652 processor and flagship model Nubia Z17 with Snapdragon 835 chipset.
The latter smartphone was released the first day of summer, and demonstrated impressive specs at an affordable price.The device received a dual camera with modules Sony IMX362 at 23MP and Sony IMX318 at 12MP. In benchmark tests, smartphone gets about 175 000 scores in Antutu.
However, ZTE continues to surprise us with leaks of upcoming presentation. This time, the Chinese brand prepared a budget smartphone called Nubia M2 Play. The smartphone is made in the style of Nubia M2 line, and it differs from the March devices in only few things. Nubia M2 Play will be equipped with one camera and HD display. But the device promises to be the most beautiful smartphone in the budget line among competitors.
ZTE Nubia M2 Play: Design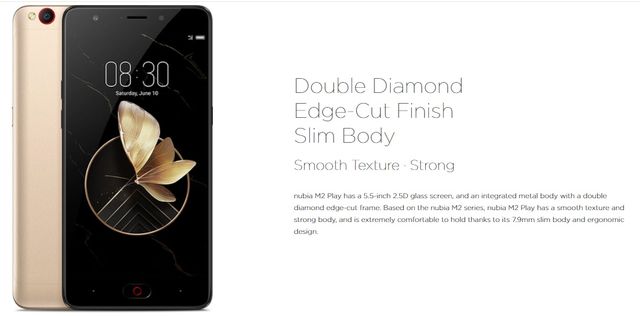 Well, ZTE Nubia M2 Play will receive very modest specs and camera, but what it can offer interesting? The body of smartphone will be made of glass, plastic and metal. All according to the standard for the budget segment. However, unlike the same Nubia M2, Nubia M2 Lite and Nubia N2 or competitors, Nubia M2 Play will not have plastic inserts for antennas. They will be made from metal.
ZTE Nubia M2 Play: Performance
There is nothing unusual about hardware. Qualcomm Snapdragon 435 will perform as a processor, which perfectly copes with Android system. Also it allows you to play all the games, including very heavy ones on medium-low graphics settings.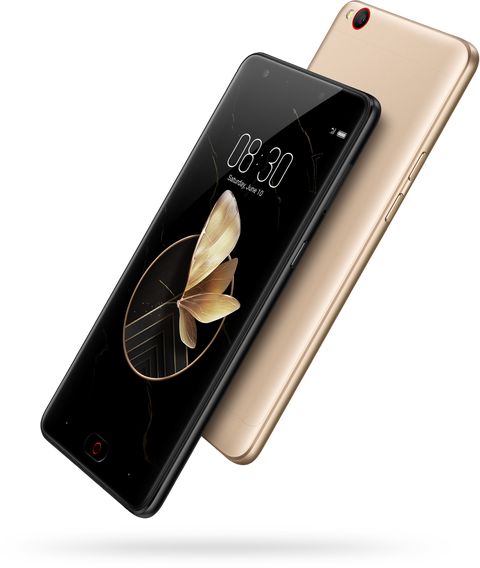 ZTE decided to use only 3 GB of RAM and 32 GB of internal memory.  As for display, ZTE Nubia M2 Play will have 5.5 inches and resolution of 1280×720 pixels. This provides pixel density of 267 ppi.
As the main camera will be used a sensor from Sony at 13MP, but the camera model is not named. Most likely, the photomodule will be represented by a sensor either IMX258 or IMX278. According to the specifications, they are completely identical, except that IMX258 can separately shoot even in monochrome mode. The aperture of lens will be f/2.2, while we promise an improved noise reduction function in the absence of light.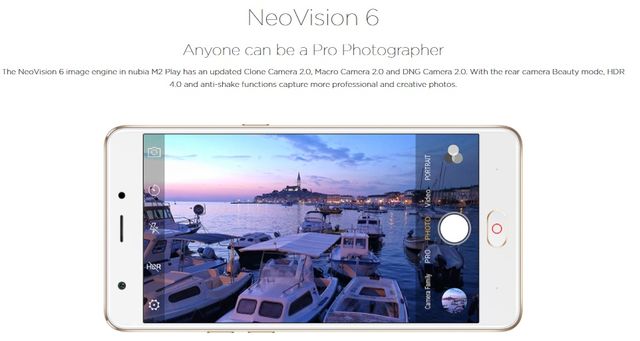 Nubia M2 Play will have 5MP front camera with aperture f/2.4. It is budget option, we have not anything to say. The other specifications parameters are listed below.

Body colors: golden and black;
Materials: metal, tempered glass and plastic inserts;
Display: matrix IPS, diagonal 5.5 inches, resolution 1280×720 pixels, density 267 ppi, coverage 65% of the color space NTSC;
Processor: Qualcomm Snapdragon 435, eight cores Cortex-A53, 4 cores with frequency up to 1.4 GHz and four more with a frequency of up to 1.1 GHz, 64-bit, technical process 28 nm;
Graphics Accelerator: Adreno 505 with a frequency of up to 650 MHz;
RAM: 3 GB LPDDR3, one channel with a frequency of 800 MHz;
Storage: 32 GB of eMMC5.1 standard + support for microSD cards up to 128 GB;
Camera: 13 Mp from Sony with aperture f / 2.2, flash, hybrid autofocus, 5 lenses, video recording in 4K at 30 fps;
Front camera: 5 MP with aperture f / 2.4, wide angle 84 degrees;
Fingerprint scanner, USB Type-C 2.0;
Sound: DTS Surround Sound, 3.5 mm headphone jack;
GPS, GLONASS, Bluetooth 4.1, Wi-Fi (802.11a / b / g / n / ac) 2.4 / 5 GHz, WCDMA, LTE Cat 6 – download up to 300 Mbit / s;
OS: Android 7.0 Nougat and the Nubia UI 5.0 shell;
Battery: 3000 mAh + quick charge NeoCharge;
Dimensions: 155.7 x 76.7 x 7.9 mm;
Weight: 164 g;
Anututu: 43 000 scores;
Price: Unknown.
Nubia M2 Play vs ZTE Blade V8: compare
There are only few devices on mobile market with Snapdragon 435 processor, although the chipset itself is very, very attractive. The cheapest device with this processor is Xiaomi Redmi 4X. With its low price and features, smartphone is very well balanced. It is quite beautiful, has a metal body and good 13 megapixel camera from Samsung. The main advantage of Xiaomi Redmi 4X is its 4000 mAh battery. Thanks to it, the smartphone works for 2 days with active use.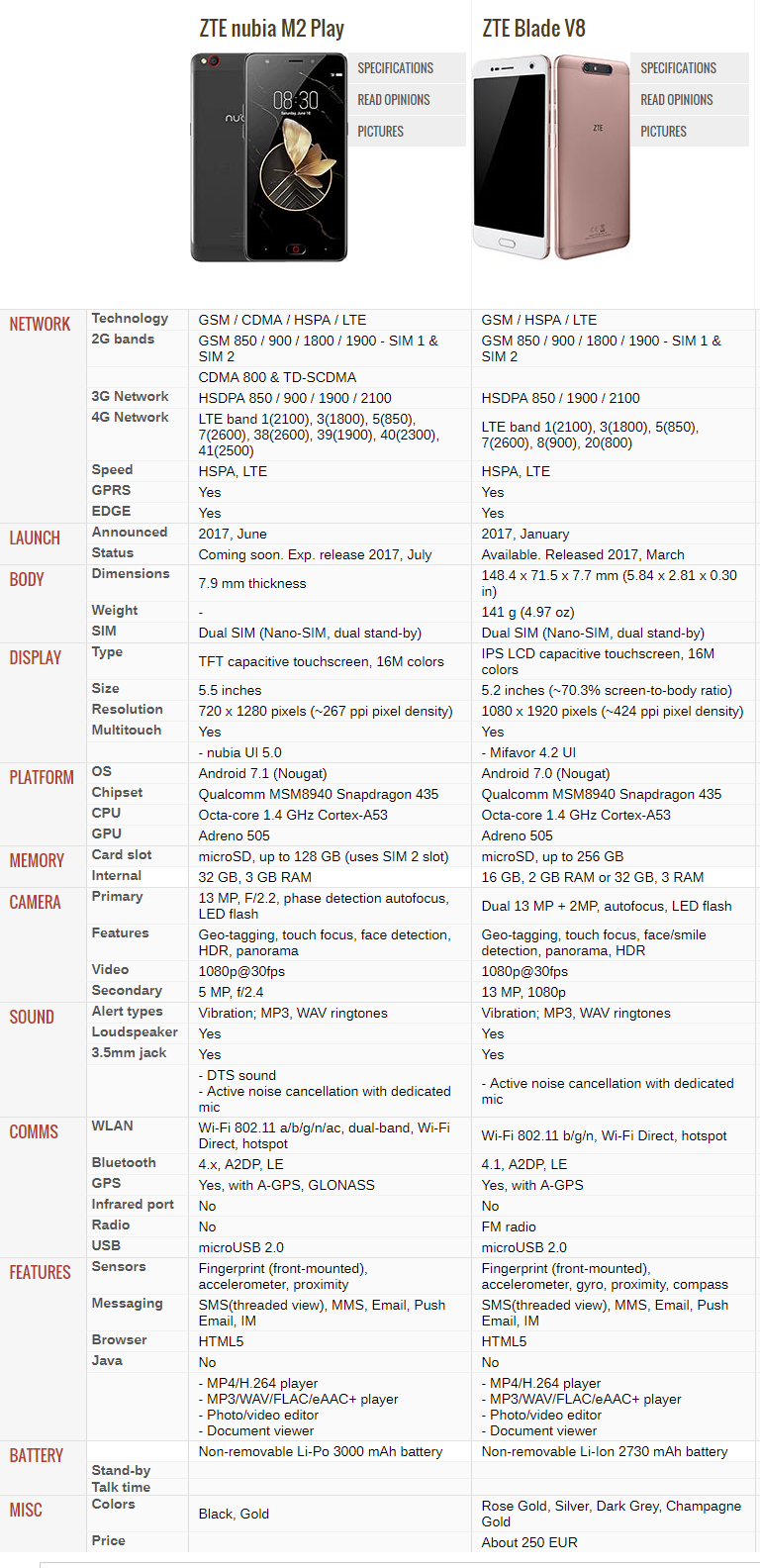 However, the upcoming Nubia M2 Play will be compared with ZTE Blade V8, since it is exactly the same as Nubia M2 Play. Internal competition is also useful. After comparing you can decide for yourself, should you wait for Nubia M2 Play or you can buy ZTE Blade V8 now.
In general, the specifications show that ZTE Blade V8 is smaller than Nubia M2 Play, since it has a smaller display, but at the same time its resolution is higher. Also, ZTE Blade V8 is more suitable for selfies with its 13 MP front camera. Meanwhile, Nubia M2 Play has an additional 2MP for main camera and steeper aperture. It means that front and rear cameras can make photos in 10 times lighter.
As for disadvantages, we should say about lack of USB Type-C and a smaller battery capacity in Blade V8. However, it is not critical.
If you close your eyes to all of the above, then give preference to Nubia Blade V8. What I can say, Nubia M2 Play looks nicer and more modern due to minimalism, although the opponent can not be called ugly.
Although the price Nubia M2 Play has not yet been announced. It is expected that smartphone will receive a price tag of about ​​$220. If you are not critical for design Blade V8, then you can safely buy it instead of Nubia. At the same time, if the processor manufacturer is not important, then today you can buy Nubia M2 Lite, which is based on Mediatek Helio P10. The smartphone is almost completely similar to M2 Play with design, while it lacks plastic inserts.
ZTE Nubia M2 Play: release date, price, buy
The company is not in a hurry to talk about release date and price ZTE Nubia M2 Play. Most likely, the smartphone will be released in July, and its cost should not exceed $220.
Source: nubia