In terms of range saturation Samsung Group can be considered a leader as well as in terms of sales. Despite the fact that the image of the company create a premium device like the Galaxy S7, in the segment of low-cost handsets it also has something to show. New smartphone of this level become Samsung Galaxy J5 Prime, announced in September and released in October 2016. You can buy Samsung Galaxy J5 Prime for about $200.
Despite the fact that new smartphone has J5 name – it is not just an improved predecessor version and some other device. The screen, design, chipset – the main differences in the models. In our review you will learn about other features of Samsung Galaxy J5 Prime, its pros and cons.
Features Samsung Galaxy J5 Prime
In terms of Samsung Galaxy J5 Prime specifications this smartphone is located on the border of the budget and the medium price segment.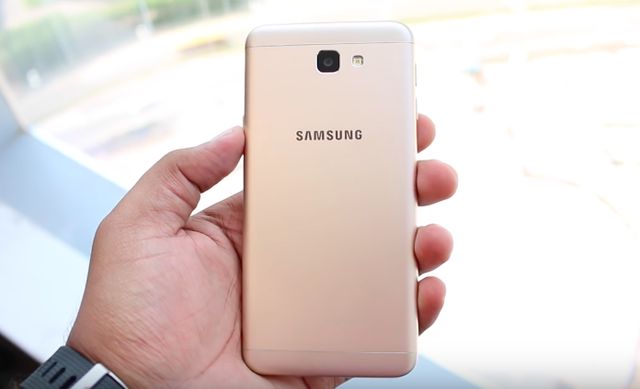 Samsung Galaxy J5 Prime: Design, body materials, dimensions and weight
The smartphone Samsung Galaxy J5 Prime is significantly different in appearance from the simple Galaxy J5 in 2016: it is made of a different material, it is smaller and looks more expensive than its predecessor. Dimensions Samsung Galaxy J5 Prime are 141×69 mm, thickness – 8.1 mm, and it weighs 143 grams. It is more than the typical 5-inch size of the device.
The front panel of Samsung Galaxy J5 Prime is made of glass with rounded edges that for budget J-Series is new. Rounding good, it makes the appearance of the machine is more interesting than was its predecessor. Tactile sensations are increased. Below the display are the usual oval button Home, on either side of it – touch the back button back and a menu of running applications, they are without light.Above the display – mesh speaker, camera, LED-light and eye proximity sensor.
The rear panel Samsung Galaxy J5 Prime is made of metal, but the top and bottom are insert plastic masking antenna. The camera lens is inscribed in an almost square box to the right of it – the flash window, the same shape but smaller in size. Nothing else (except logos and Samsung Duos) on the back of the smartphone is not.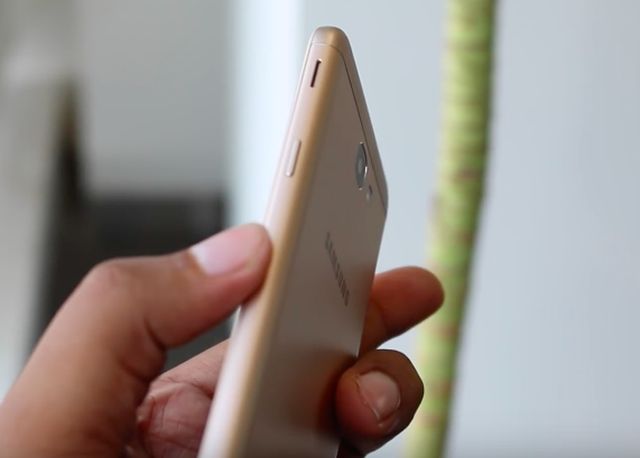 The side frame has no distinct borders and smoothly into the rear panel (or rear panel enters the frame – there is a look). The layout of the elements is not quite normal, but it's the Samsung, it is not the first time. Power / Lock button takes its place on the right, but above it instead of the swing volume control – a slit for the speaker.The left side is quite loaded elements: there are two sound buttons, and separate slots for simok and stick. In the upper part there is nothing apparatus.
A lower end of the busy port MicroUSB and holes microphone, headphone jacks.
Samsung Galaxy J5 Prime: CPU
Samsung Galaxy J5 Prime is the first smartphone based on the new chipset Exynos 7570. This chip, created by the process technology of 14 nm, comprises 4 core Cortex A53 with a frequency of 1.43 GHz. For graphics processing meets Mali T720. This CPU and GPU tandem quite a budget for 2016, and does not cause delight. However, his power base problems enough.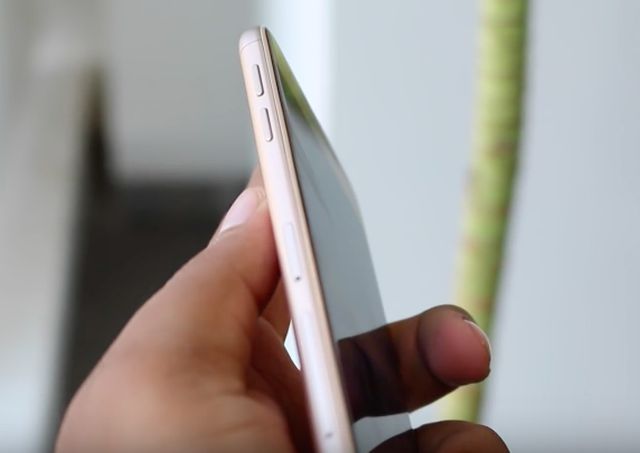 What pleases the new chip – a processor core: their least 4, but the difference with some eight-MT6750 or MT6753 is no special. With graphics all ambiguous, the possibilities for 3D machining plan minimally acceptable for 2016. Of course, to play out, but you can not dream of high settings. A AnTuTu chipset provides 35 thousand points, and only about 3 thousand of them – drawing credit (for comparison, the Adreno 506, picking up 12 thousand, and Mali T860 MP2 – 7000).
Samsung Galaxy J5 Prime: Memory
RAM is 2 GB, recruited its chips LPDDR3. At the start of the OS system consumes about 1 GB, which is typical of modern phones. Memory is enough to keep a few tasks, without having to worry about the departures.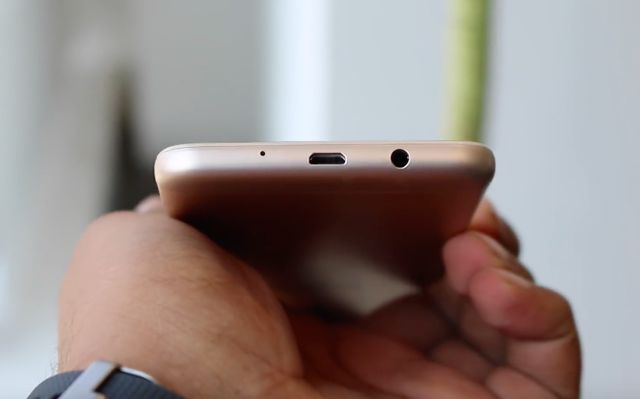 The internal memory of 16 GB, of which about 9 available. Pleases slot for flash – it separate. If last year we have attributed to the disadvantages combined slot, but now it is perceived as something normal, but a separate connector seems a plus. Pleases also support USB OTG drives.
Samsung Galaxy J5 Prime: Battery
The battery capacity Samsung Galaxy J5 Prime is 2400 mAh, which is 700 mAh less than the J5 2016. However, due to energy-efficient processor – blame smartphone for autonomy reasons not. If you turn the video from memory – you can count on 10 hours, about the same number will be able to surf the Internet. With two hours of active screen in a day, you can count on 3 days. This is – a good performance, comparable to Xiaomi Redmi 3, equipped with a battery of 4100 mAh.
Samsung Galaxy J5 Prime: Cameras
The smartphone installed size Camera 1/3″ with a resolution of 13 MP, apparently the same as that of J5 and J7 2016. It is equipped with lenses with aperture f / 1,9 and LED flash. In daylight smartphone does fit the pictures with a good level of detail, a wide (though not maximum) dynamic range, natural colors. The room is also all well (better than the Xiaomi redmi Note 3). Lettings camera only in the evening, in the twilight of it nothing good is not allocated.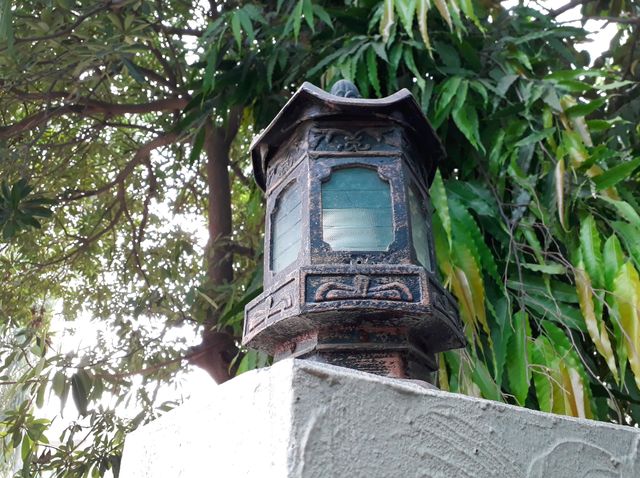 Front mounted camera of 5 MP, its aperture is f / 2,2 (at J5 was f / 1,9). Second deterioration – frontal flash: for the first time in J5 series do not. But both cameras are able to shoot video tolerable quality resolution FullHD, at 30 FPS frame.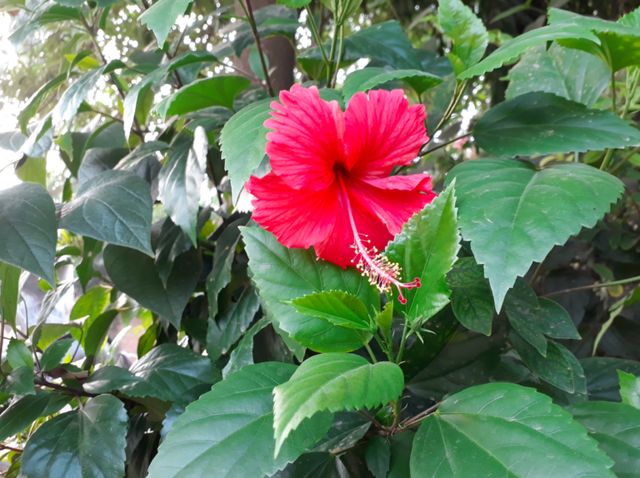 Samsung Galaxy J5 Prime: Screen
Display Samsung Galaxy J5 Prime has a mixed experience. It has a size of 5 inches, a resolution of 1280×720, and in this regard is quite standard. The interesting thing is that the matrix created by technology is not AMOLED, or IPS, and PLS. This is – a compromise, an intermediate solution between IPS and TN.
The picture quality is comparable with cheap panels IPS, and better than that of a good TN. For a smartphone in this price category matrix is quite good (IPS at all sorts Doogee and Oukitel looks no better), moreover, has a good stock of brightness (slightly more than 400 cd / m2). The display Samsung Galaxy J5 Prime is covered with glass Gorilla Glass unknown generation (probably the third), with rounded edges and oleophobic coated medium quality.
Samsung Galaxy J5 Prime: Communications
The smartphone is equipped with two slots nanoSIM, and they are independent. It supports all GSM and UMTS / HSPA, there are no problems with LTE. Built-in modem corresponds to LTE standard Cat. 4. Wi-Fi works in networks 802.11 b / g / n. It is a pity that the frequency of 5 GHz is not supported. Navigator works with GPS and GLONASS satellites, and runs fast. Infrared port, NFC and other chips more expensive smart phones at the device there.
Samsung Galaxy J5 Prime: Sensors
Samsung Galaxy J5 Prime equipped with a fingerprint scanner for the first time in the J-series. However, other sensors smartphone obviously cheated, and it is – typical Samsung problem. In the apparatus has a proximity sensor, accelerometer and sensor orientation. No compass or gyroscope or magnetometer in the smartphone there. Yes, that really there: even banal light sensor Samsung J5 Prime cheated.
Samsung Galaxy J5 Prime: Sound
Speaker smartphone unusually located on the left side edge. This solution good enough, because the hand does not cover it. The sound moderately loud, not squeaky, in general, typical of a normal smartphone. The headphones can listen to music, without having to fear that the ears povyanut: bass there, the top not bullies. The device is equipped with FM-radio.
Samsung Galaxy J5 Prime: Operating system
Samsung Galaxy J5 Prime running Android OS 6 with a proprietary graphical user interface TouchWiz. Compared with the flagship – some features trimmed shell. However, it is the same Samsung, with a familiar appearance, refined curtain and support for interchangeable themes. The system is working properly, obvious glitches she had not been found.
Samsung Galaxy J5 Prime: Features
For J-series smartphone has become innovative in many ways: there was a fingerprint scanner, metal body. On the ground remains a key advantage in the form of a single slot. But the rejection of the front flashes (chips of the line) a little upset selfie lovers.
Advantages and disadvantages Samsung Galaxy J5 Prime:
Advantages:
good design and materials;
excellent energy optimization;
nimble processor cores;
good camera;
fingerprint reader;
separate MicroSD slot.
Disadvantages:
No light sensor and the auto-brightness;
no Wi-Fi support 5 GHz;
weak schedule.
To fit the smartphone
Samsung Galaxy J5 Prime will suit fans of Samsung looking for an inexpensive and compact smartphone with a good autonomy. If the figures in the characteristics of fade into the background, and need a workhorse – the device will fit perfectly. Cute body makes the smartphone attractive appearance that enhances the audience. Also noteworthy is the camera for those who like quick photo it will be enough.
Our review Samsung Galaxy J5 Prime
Samsung Galaxy J5 Prime not succeeded J5 model (2016), but is a good alternative to it. Review Hero has economical iron shows good endurance and has an attractive appearance. It is equipped with a fingerprint scanner that plus and good photographs.Disappointing only the absence of light sensor and weak GPU.
Competitor Samsung Galaxy J5 Prime is the Xiaomi Mi 3S. It compares favorably with the price of iron powerful, 3/32 GB of memory, similar indicators of autonomy, but inferior to the camera plane, and has a combined slot a second SIM cards / USB drive. Much the same can be said about the Meizu M3S. Sony Xperia E5 has about the same camera, the screen, but does not have such a decent rate of autonomy. In general, for the money the unit is adequate, given under brand origin.
Source: samsung