Android 8.1 Oreo with its many improvements and features starts using on Android TV boxes. Today we want to talk about new model called SCISHION AI ONE. It is powered by Rockchip RK3328 SoC. However, I have a question – why it has AI in its name?
FLASH SALE
SCISHION AI ONE TV Box
Price: $79.99 | 4GB RAM + 32GB ROM | Android 8.1 | 2.4G WiFi USB3.0 BT4.0 Voice Control
Price: $79.99 | 4GB RAM + 32GB ROM | Android 8.1 | 2.4G WiFi USB3.0 BT4.0 Voice Control
Less
SCISHION AI ONE: Hardware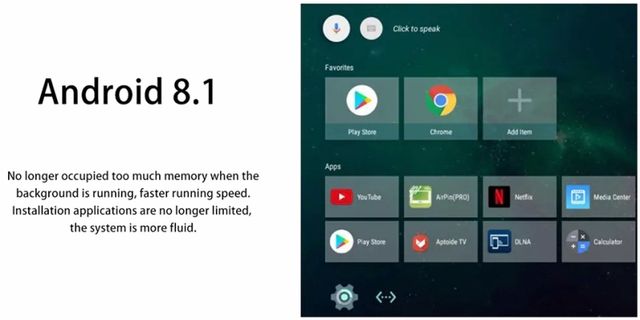 SCISHION AI ONE is the first Smart TV set-top box running the new Android 8.1 Oreo operating system.
It comes on sale in two versions – Silver and Glacial Blue Ice. They differ from each other not only in color, because silver version is positioned as the older version and it has 4GB of RAM and 32GB of storage. The younger model Glacial Blue Ice is equipped with only 2GB of RAM and 16GB of internal memory. The CPU and graphics chip in both versions are the same – it is Rockchip RK3328 and Mali-450.
SCISHION AI ONE: Design
SCISHION AI ONE is a compact TV box with metal body. On the front panel is located LED display for time display. On the top panel of TV box we can see the company logo SCISHION.

SCISHION AI ONE: Connectors and ports
The TV Box is ​​equipped with all necessary interfaces, including high-speed USB 3.0 port, two USB 2.0, HDMI 2.0 for high-quality video and audio output to TV, SPDIF for connecting to external audio components, AV-out for transmitting analog signal to old TV models, microSD card slot up to 32GB, and LAN port for connecting to a wired LAN and Internet. Wireless connection can be done via Wi-Fi standard b/g/n or Bluetooth 4.0.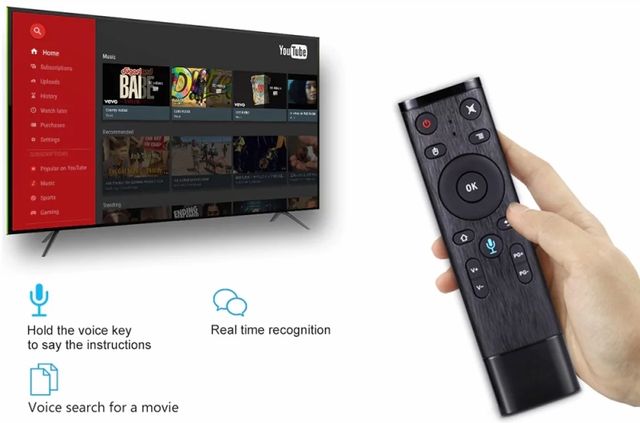 SCISHION AI ONE comes with Bluetooth remote control, an HDMI cable, 5V/2A power adapter and user manual. The Bluetooth remote control works in all directions without having to direct it to the console.
SCISHION AI ONE has native support for voice control, which can be used through a complete control panel. This function is especially useful for devices such as TV boxes and allows to significantly simplify many aspects of their operation, for example, text input or search queries.
SCISHION AI ONE: Specifications
Operating system: Android 8.1
Processor: Rockchip 3328 1.5 GHz (4 cores)
Graphics: Mali-450
Memory: 2 – 4 GB DDR3
Internal Memory: 16 – 32 GB eMMC
Interfaces: WiFi 802.11 b / g / n (2.4 GHz), LAN 100 Mbit / s, 1xUSB 3.0, 2xUSB 2.0, HDMI 2.0 output, AV-out, Bluetooth 4.0, slot for MicroSD, SPDIF

SCISHION AI ONE: Price
From April 26 to May 6, 2018, new TV Box from SCISHION is sold exclusive on Gearbest online store. You can buy SCISHION AI ONE only by preorder at a price of $62.99 for Glacial Blue Ice version and $86.99 for Silver version.
FLASH SALE
SCISHION AI ONE TV Box
Price: $79.99 | 4GB RAM + 32GB ROM | Android 8.1 | 2.4G WiFi USB3.0 BT4.0 Voice Control
Price: $79.99 | 4GB RAM + 32GB ROM | Android 8.1 | 2.4G WiFi USB3.0 BT4.0 Voice Control
Less