Today we turn our attention to the manufacturer of gaming peripherals, previously unjustly forgotten in our toolkit – U.S. company Steelseries. Familiarity with the brand starts with uninteresting keyboard Apex [RAW].
Options
In the box with the keyboard, we also found the user manual, sticker and a couple of extra rubber feet.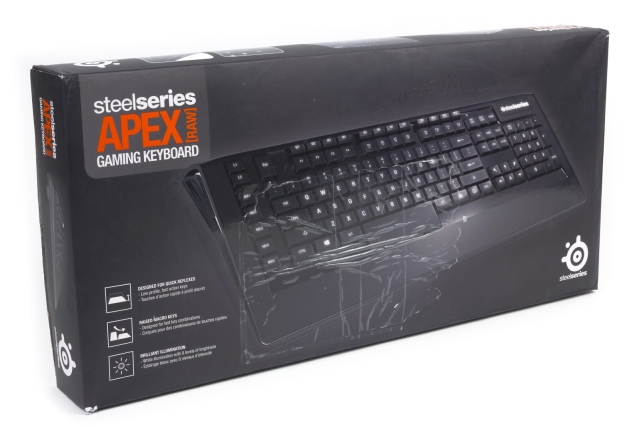 Design
Apex [RAW] performed in strict black-and-white palette, with a minimum of frills design.
Keyboard case has a classic rectangular shape and only slightly rounded at the top corners. Fairly narrow band of rough plastic under the buttons assigned to the wrists; themselves controls framed glossy insert.
The buttons have a smooth surface, but the sensations it is not soft touch. Deepening them barely visible, but they are able to significantly improve the confidence of taps. The key travel is small; principle work they relate to the membrane. Symbols are used to denote not stickers and engraving that should have a positive impact on the durability of the notation.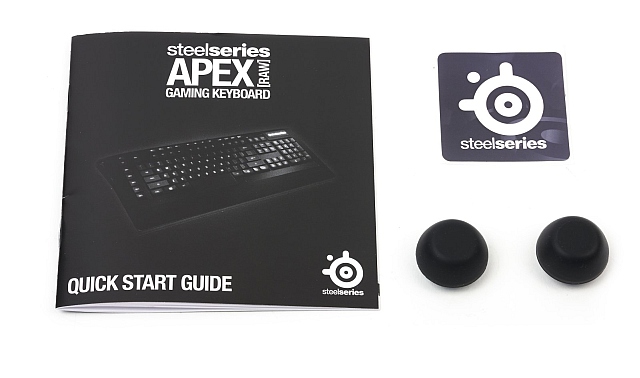 The most notable side Apex [RAW] is the key layout. Catches the eye enlarged two-story space. Similarly configured and Esc. It stretches so as to occupy just two rows of buttons instead of one. The second row is formed macro keys – M1-M12. For your convenience, they are set considerably higher function keys.
In addition, the macro buttons and still constitute a vertical row on the left. Five complements MX series of seventeen M, and L1-L2 are used to select modes. In total, the user is available 34 additional slots for teams.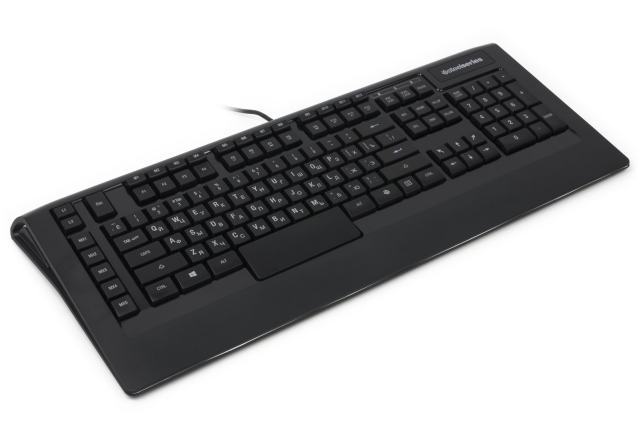 Additional keys are available and right. Instead of the four arrow keys in the keyboard are six: an extra pair is responsible for the upper diagonal.
By default, the keyboard has a slight inclination, which may increase. For this purpose not folding legs, which now and then broken and solid rubber "column."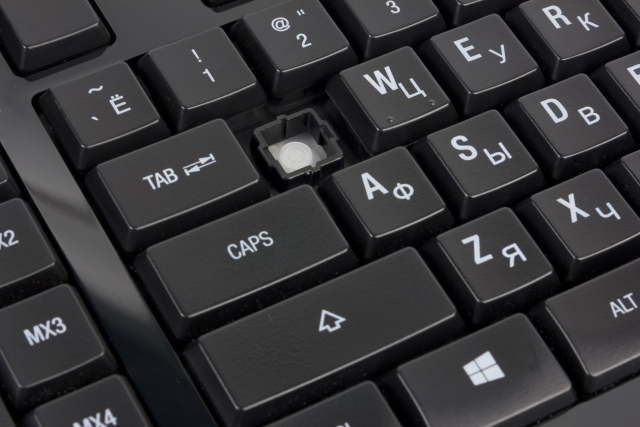 Rubber feet, but non-removable, and available on the underside of the keyboard. Through this engagement with the table is on a different level, and move the Apex [RAW] is possible only with an effort.
Software
For all its products the company has developed a single utility. It is possible to configure the team not only on the M and MX, but also to all others except for L1, L2 and press Steelseries. Profiles are stored as files on your hard disk; keyboard itself has no memory.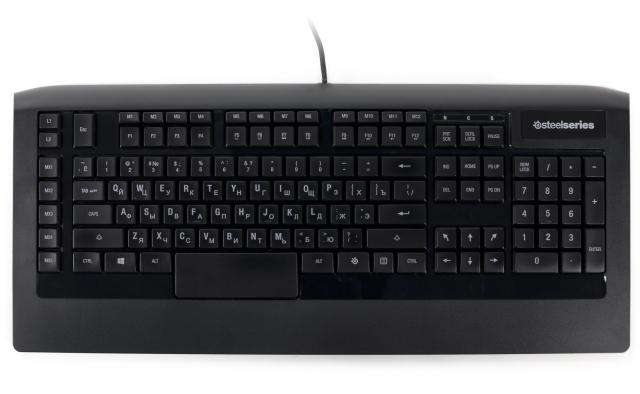 In the Settings tab adjusts the frequency of polling and brightness, selectable pre-layout region. On the third page, you can specify the application to which the predetermined profile.

The final tab collects statistics on that which keys are pressed for a specified period more records and presents it in a convenient color scheme.
Use
Steelseries Apex [RAW] was used for a couple weeks as the main keyboard and proved to be very convenient in different scenarios work. Small key travel coupled with membrane mechanism did very responsive keyboard that came in handy in dynamic games, and even more so when you print.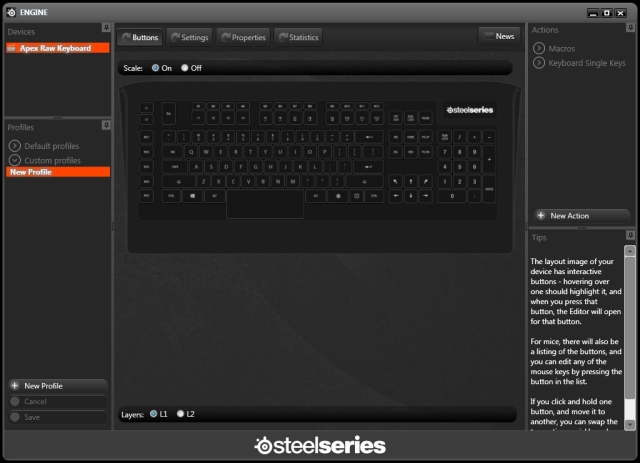 Fans of classic keyboards times PS/2-interfeysa Apex [RAW], most likely will not have to like because almost flat surface buttons. However, any inconvenience that may arise in connection with this, come to naught due to a successful coating keys.
The keyboard layout also does not cause unpleasant emotions. Except Enter'a floor, all the frequently used buttons in games have a standard size or even increased. Advanced gap appeared noticeably more comfortable thumb compared to conventional, and Esc to get easier.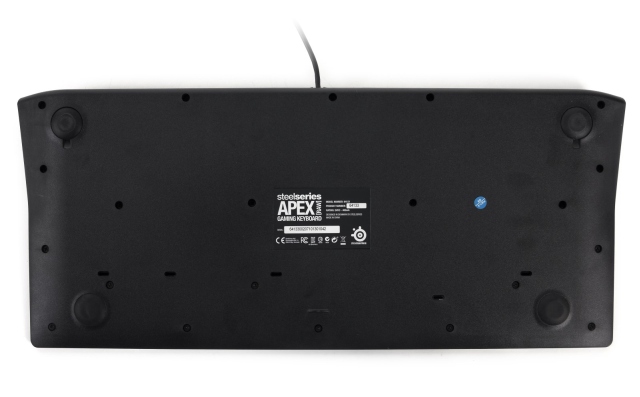 Accommodation macro keys left mixed impressions. On the one hand, most of them raised over function and has a different shape – thoughtful decision. On the other hand, manufacturers still hold extra buttons and the left edge of the keyboard, have to get used to anything.
Multimedia keys brought to the functional unit. They need to be pressed in combination with the Steelseries, occupying the place where conventional keyboards present right key Win. Lock Win carried her while pressing with mouse Steelseries.
Regulated in the same way even white backlit keyboard. Its brightness can be described as average. Checking Apex [RAW] using Microsoft Keyboard Ghosting Demonstration showed that the keyboard support simultaneous keystrokes 5-6, depending on the particular keys.
Diagnosis
Steelseries Apex [RAW] – a simplified version of the keyboard Apex, devoid of colorful lighting, USB-port and a dozen other auxiliary buttons. Functionality is not its advantage, but the usability is on a very good level. The subject of our review of the universal: in most cases, it is equally well suited for games and for everyday work, and the elegant design of the "no-frills" will install it in any interior.
Unfortunately, the average amount of three thousand rubles, which will have to pay for Apex [RAW], looks too big for the "just good universal keyboard." Whatever you say, and the appetites of North American manufacturers of gaming peripherals more than their Asian counterparts. How justified is the difference? Leave this question for infinite forumnyh transshipments.