The new mega sale on GearBest called Super Sept Sales Party 2019. There are many activities, so it is very easy to get confused. We decided to tell you about the main activities of the new GearBest sale, and how to get the most out of it.
In addition to the deals and low prices, you can get coupons for $5, $10, $15, $50 and even win OnePlus 7 Pro smartphone. Are you interested? Read on.
[affcoups template="list" id="39531″]
Let's start with timeline. The heat-up of Super Sept Sales Party 2019 will start today – August 27, and lasts until September 2. The main part of the sale will be September 3 – September 9.
I recommend you to forget about heat-up and main period, and check the page of the sale every day. Perhaps you will buy a product in heat-up even better than in main period.
How to Get $15?

The page of Super Sept Sales Party is already available, so we can see the main activities and the other things we are expecting during the sale.
The first one is the chance to get $15 coupon code. You just need to sign in every day for 5 days to get $5 coupon, and for 8 days to get $15. It's very simple, isn't it? Just press the button every day and get the coupon. We love these games.
Daily Half-Price Zone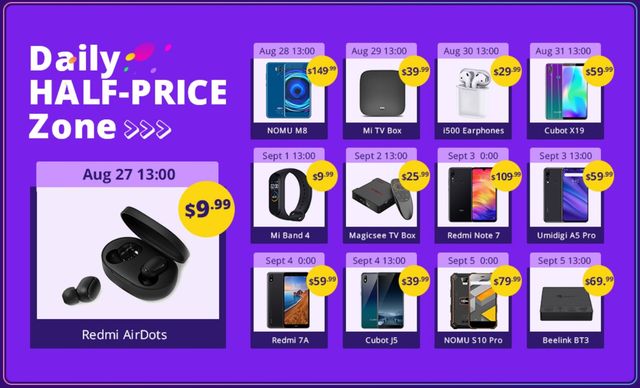 The next activity is 1/2 Price Daily Deals. As you understand from the title, there are products with 50% discount. For example, the price of Redmi AirDots is $25.55, but you can buy them for only $9.99! It is even more than half-price.
Also, there is 360 T1 Electric Toothbrush $19.99 instead of full price $29.99.
The deals are updated every day, so check the page of Super Sept Sales Party, and look for the product you like.
How to Get OnePlus 7 Pro for free?

Then I see a roulette on Super Sept Sales Party page. I think you know what this is. You can only spin it once a day, but the prizes are very cool! Electric scooter, OnePlus 7 Pro, TV Box and drone. I will definitely try, and advise you to do the same! Wish me luck!
Ready for Coupon Rain?

This is another game with chance to get coupons. In total, there are $1.000.000 of coupons. Can you imagine this? The rules are very simple. Click on "Ready to go" and catch coupons on the screen of your smartphone or laptop.
Grab SUPER Coupon at Limited Time

You know, that's not even all! If you still don't have enough coupons, then this is for you. Daily 13:00 from August 27 until September 2, the coupon code on $50 and $20 will be available. You should hurry up, because there will be one every day.
Big Surprises for Order over $50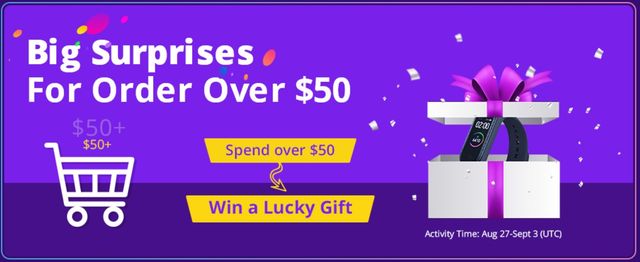 I want to finish the article with this activity because you will definitely buy something, but you can still get a gift. When you buy something over $50, you will get a lucky gift. Looking at banner, it could be Xiaomi Mi Band 4. A very good gift, don't you agree?

Of course, there will be many activities and pages during Super Sept Sales Party on GearBest, and below I will leave the links to them.
Don't miss the sale and start autumn with a gift for yourself!
[affcoups template="list" id="39531″]