Many people want to buy rugged Chinese smartphones at affordable price. It's a pity, but it is almost impossible to find rugged smartphone with good features and specs for budget price in 2018. However, we found this smartphone, and it is called Uhans K5000. Right now you can buy it for only $89.99! More details by the link below.
UHANS K5000 is powered by MediaTek MTK6753 chipset, 3/64GB memory, 5000mAh battery and waterproof IP68 rating. It sounds very good, doesn't it? Let's start our review Uhans K5000 with package content.
[su_button url="https://www.gearbest.com/promotion-uhans-k5000-special-2173.html?lkid=13369292″ target="blank" style="flat" background="#e50e08″ size="8″ center="yes"]The chance to get UHANS K5000 for only $89.99[/su_button]
UHANS K5000: Unboxing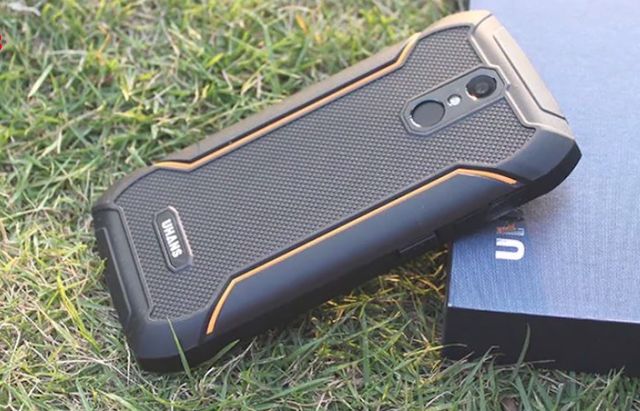 UHANS K5000 comes in a black box. There is company logo on the front side, and specifications are on the back. Inside the box you can find user manual, a charging cable with microUSB and power adapter.
Design
Unlike many other rugged phones, the main feature of UHANS K5000 are strips of different colors. The smartphone comes in the rubberized body with the maximum degree of protection. On the back panel you can find fingerprint reader, and texture back panel. The front side has effective oleophobic coating with 5-inch OGS-panel.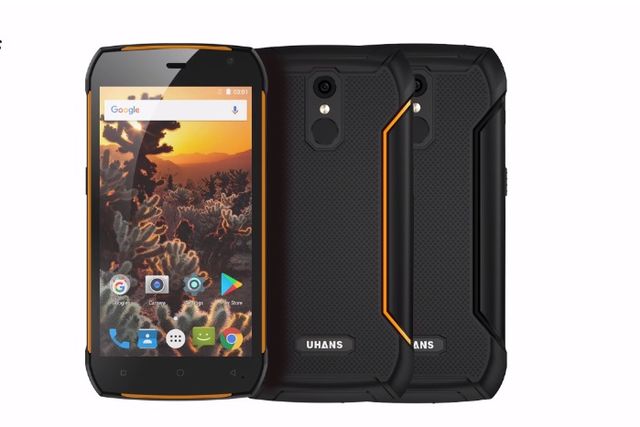 UHANS K5000 is equipped with 5 inch screen. Above the screen there is front camera, earpiece, sensors and LED notification indicator. Under the screen are navigation keys of the menu. At the bottom is a hole for a talking microphone and speaker.
On the left side under the rubberized plug is SIM card tray. Just do not open the tray, you need to first open the stub and only after that, if you succeed, you can pull out the tray for two SIM cards. There are two nano SIM cards, or 1 SIM card + micro SD card.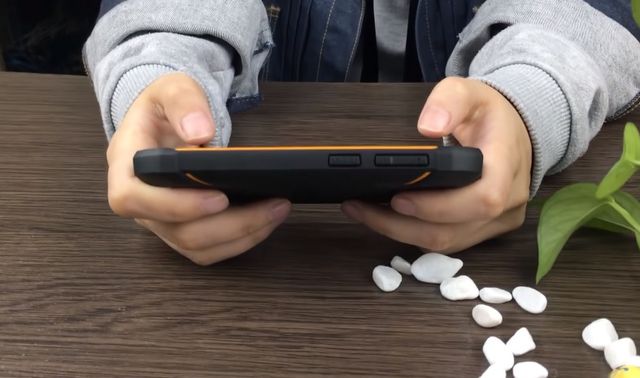 On the right side are two rubberized buttons to increase and decrease the volume. On the upper side, also under the plug, is a micro USB port, 3.5 mini jack for headphones or various headsets.
On the back there are single camera and a fingerprint reader, LED flash. The logo UHANS at the bottom of the cover.
The back side is textured, this prevents the phone from sliding in the hand.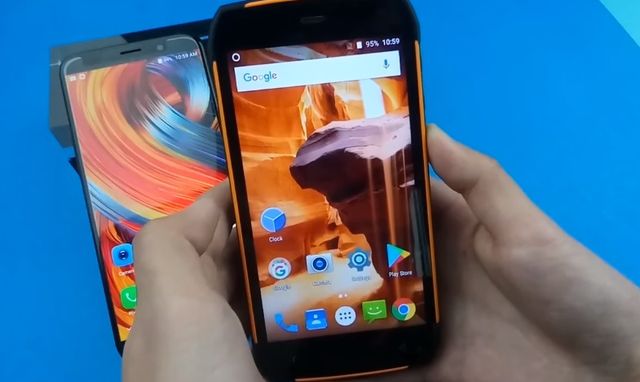 The smartphone is 210 grams, because of 5000mAh battery. It is pretty heavy smartphone. The size of the smartphone is 14.7 x 7.35 x 1.42 cm.
As you already understood, the main feature of UHANS K5000 is protection according to IP68 standard. The smartphone is protected from water, spray, moisture and dust and even from impacts.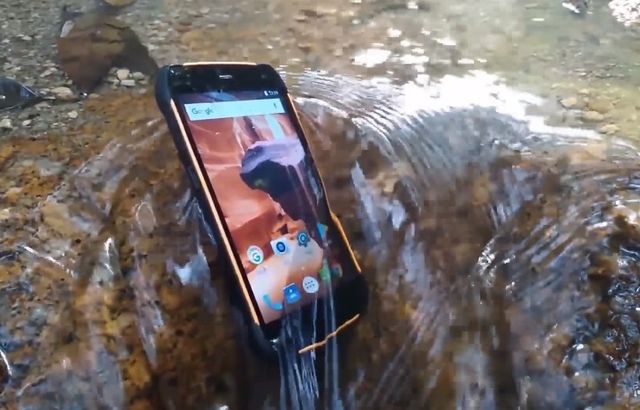 UHANS K5000: Performance
According to technical specifications, new UHANS phone has 3 gigabytes of RAM LPDDR III and 32GB of internal memory eMMC with microSD memory cards support up to 128 GB. As the processor used MTK6753 Octa Core with a clock speed of up to 1.3GHz.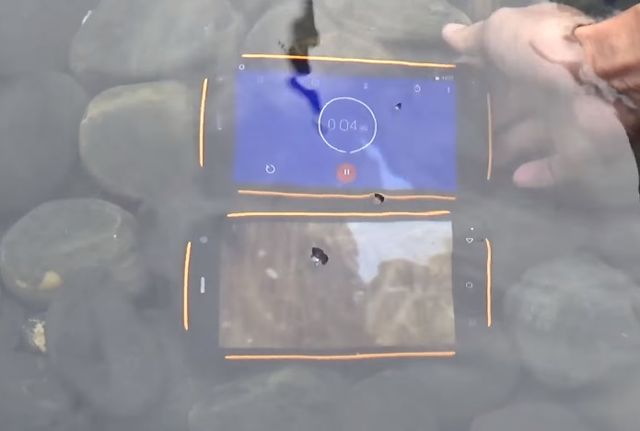 Navigation is carried out by GPS satellites, A-GPS, GLONAS. From the wireless modules there is Bluetooth 4.0.
Operating system
UHANS K5000 runs on Android 7.0. It comes with custom user interface, which doesn't differ much from stock Android. In particular, some icons were redrawn. In the settings you can immediately choose English, Spanish, Russian and other language.
Also there are Google services, so you do not need to install them for yourself.
UHANS K5000: Camera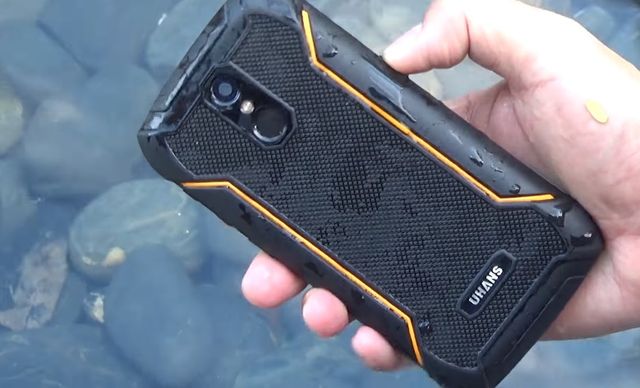 The smartphone features a dual 13-megapixel main camera and a 5-megapixel front camera. I was pleased wih both cameras UHANS K5000, as well as recording sound when shooting video.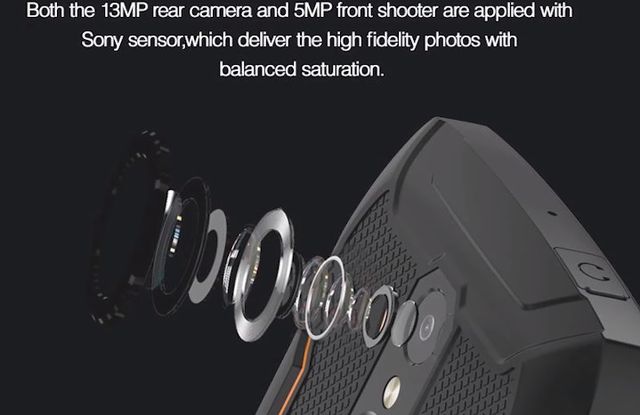 Conclusions
Personally, I like UHANS K5000. It has high-quality display – very bright and colorful. UHANS K5000 has good built aulity, and it looks solid relative to all its competitors, which are simply monstrous freaks.
With the processor MTK6753 Octa Core 1.3GHz and an impressive 3GB of RAM, the smartphone works very fast and smooth in daily operation. Thanks to big battery, you can charge the smartphone once every three days.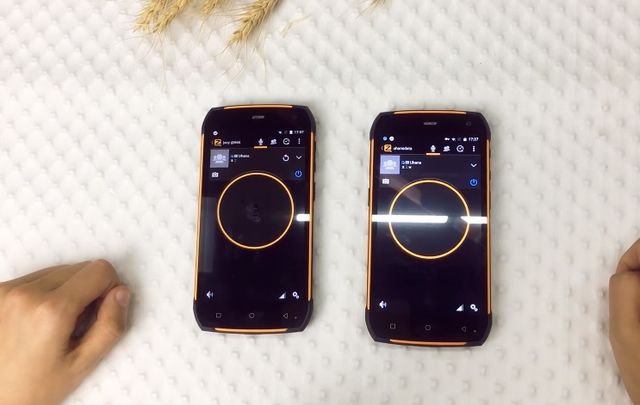 The price UHANS K5000 is about $150, but right now you can get it for only $89.99! As you can see, the smartphone has more advantages than disadvantages. For this price the smartphone is very good device for most users.
Also, you can visit our page with coupons to find out the best price on UHANS K5000 and other rugged phones.
[su_button url="https://www.gearbest.com/promotion-uhans-k5000-special-2173.html?lkid=13369292″ target="blank" style="flat" background="#e50e08″ size="8″ center="yes"]The chance to get UHANS K5000 for only $89.99[/su_button]