We live in a rather interesting time, when even small Chinese brands release interesting smartphones. Ulefone Power 3 offers a  huge full-screen display with 18:9 aspect ratio, fingerprint reader and even face recognation features. What else? 6GB of RAM and price tag of about $250. It is amazing, isn't it? I have 6GB of RAM in my laptop, and here is smartphone! Also this phone has 6080mAh battery with battery life up to 4 days.
As you understand, today we will talk about Ulefone Power 3. We have full review with tests. Also you can find links where to buy smartphone cheaper.
[su_button url="https://www.gearbest.com/cell-phones/pp_1434923.html?lkid=13400485″ target="blank" style="flat" background="#e50e08″ size="8″ center="yes"]Click here to find the best price to buy Ulefone Power 3[/su_button]
Ulefone Power 3: Specifications
OS: Android 7.1
Processor: 64-bit Mediatek P23 (MTK6763), 8 cores (8 x 2.0 GHz)
Graphics: Mali-G71 MP2
Memory: 6GB RAM, 64GB ROM
SIM cards: hybrid slot NanoSIM + NanoSIM / MicroSD
Screen: 6.0-inch 18:9 2.5D IPS with a resolution of Full HD+ (2160 x 1080), a multitouch of 10 touches, 90.8%
Screen Coating: Corning Gorilla Glass 4
Front cameras: 8MP aperture f/2.4 (SW 13 Mp) + 2MP (SW 5 Mp) (dual)
Main camera: 16MP aperture f/2.0 (SW 2MPp) + 2MP (SW 5 Mp) (dual)
Wi-Fi: 2.4GHz / 5GHz 802.11 a/b/g/n
Battery: 6080mAh
Bluetooth: 4.1
Mobile communication: 2G, 3G, 4G
Navigation: GPS, A-GPS, GLONASS, Gyro
Sound: amplifier AW8736
Dimensions: 159.0 x 75.9 x 9.9 mm, weight – 210 grams
Optional: FM radio, fingerprint reader.
Unboxing
Ulefone Power 3 comes in black cardboard box with the basic specs on the back side.
After we open it, we find the user manual, the warranty card in English, a film and a paper clip for opening the SIM card tray.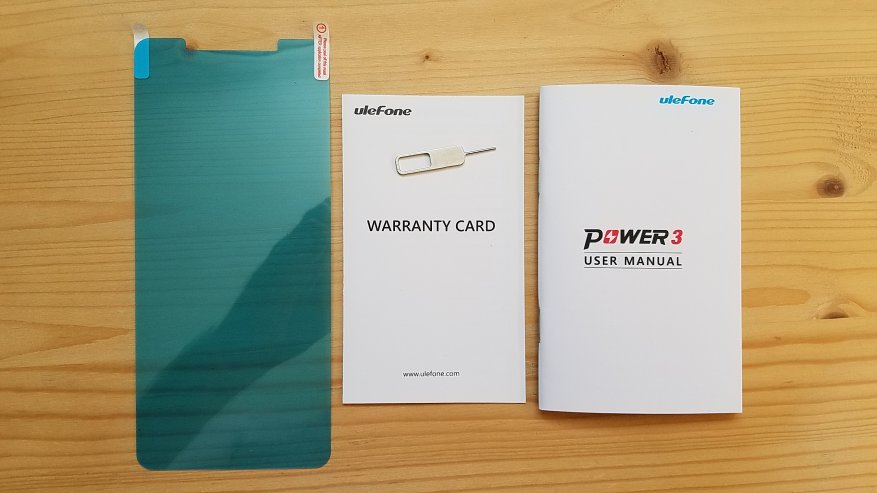 Initially, the screen already has factory film, but it duplicates the main specifications and it is practically impossible to use with it. Therefore, we have only 2 ways: to stick a film from the package or use the smartphone as it is. I recommend that you remove the film, because at the same time we lose significantly in tactile perception, and the manufacturer claims a very serious screen protection: Corning Gorilla Glass 4.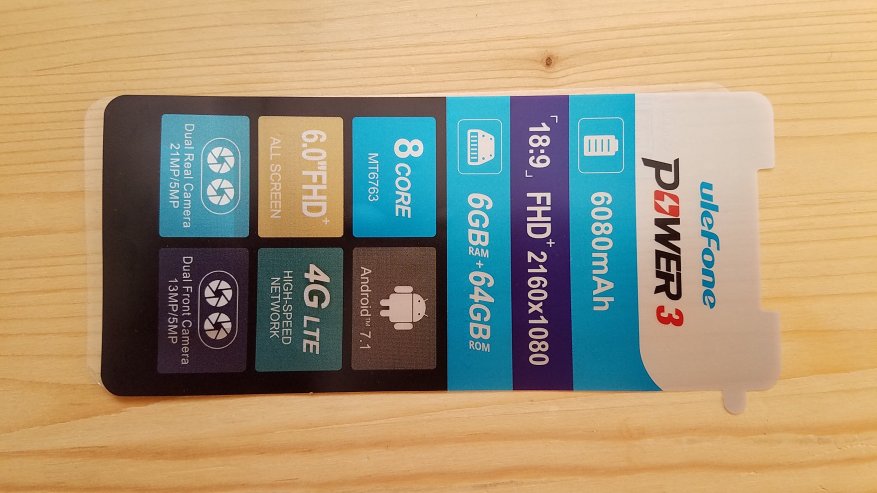 We look further. And besides the usual USB Type C cable and fast charging for 5 volts 3 amps, we find a bunch of useful things. For example, an adapter from MicroUSB to USB Type C will give a second life to your old cable and use it with a new smartphone, thereby saving your money.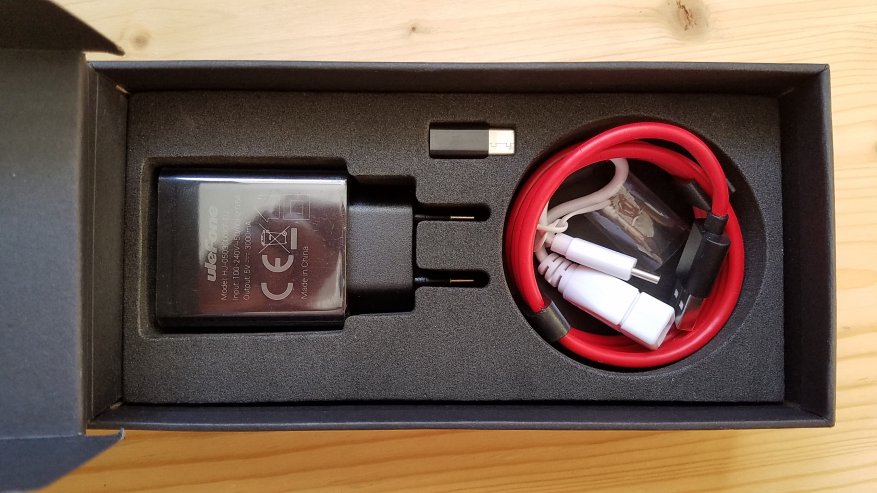 Using OTG adapter you can connect USB DAC and enjoy high-quality sound or external hard disk and transfer on it the archive of your photos and video, thereby freeing up space on the device. But most importantly, since Ulefone Power series come with a very impressive battery, it's a great idea to share the charge with the device of your girlfriend or best friend, especially if they have a phone from Apple whose batteries can only evoke a smile of sympathy.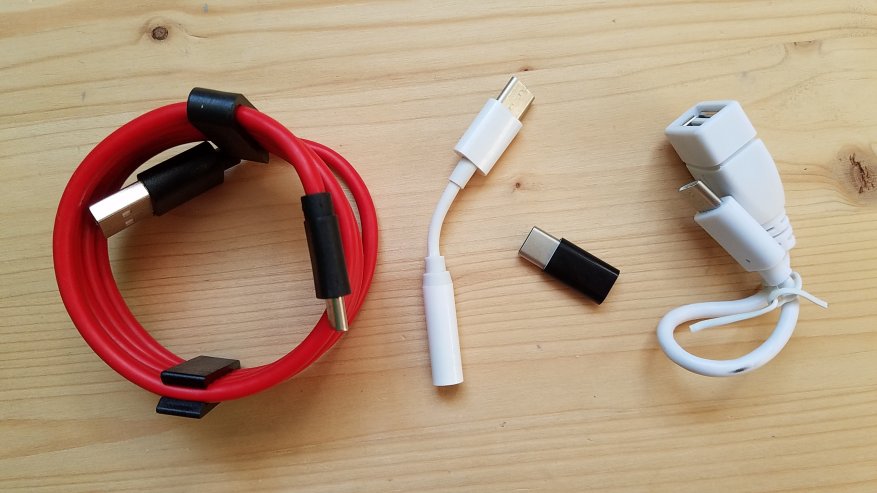 Well, once the OTG adapter is included, the interface is naturally supported. Moreover, unlike Xiaomi devices, Ulefone Power 3 can work with any external media without pre-formatting.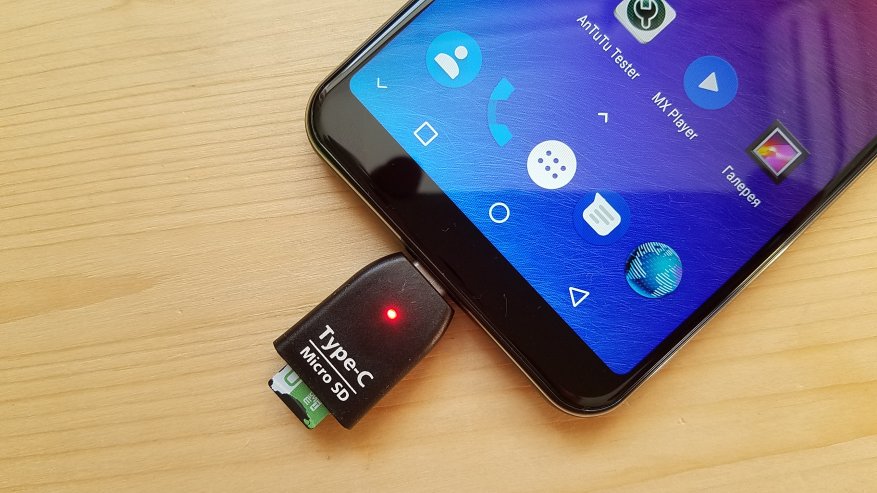 Finding the next adapter caused me rather disappointment. I think you already guessed, we are talking about an adapter to 3.5 mm., which indicates the absence of this connector on the smartphone itself.
But what's pleased is that the headphones connected to this jack work with the built-in radio as an antenna. Personally, this tells me that the adapter itself does not contain the audio codec, but the analog signal is transmitted directly to Type C.
Speaking of the sound in headphones, first of all I want to praise the manufacturer for the built-in amplifier AW8736, the volume margin is really excellent. However, according to the measurements, I received frankly poor indicators. And although on the podcasts or music from the VC to hear the noise is difficult, but for audio capabilities this device is more for those who are important as the device "yelling" and still how it "plays".
The last item from the package is a silicone case.
But the most important thing in the package is that you do not need to buy anything separately: unpack the box and immediately got everything that you need. And for this, of course, there is a huge respect for Ulefone.
Ulefone Power 3: Design
Thanks to full screen design, the smartphone lies in my hand like a native one. The built quality is perfect, the only thing that causes embarrassment is the materials of the back panel. I still wonder what it is, but thanks to the brilliant decorative antennas I tend to the fact that the body is plastic.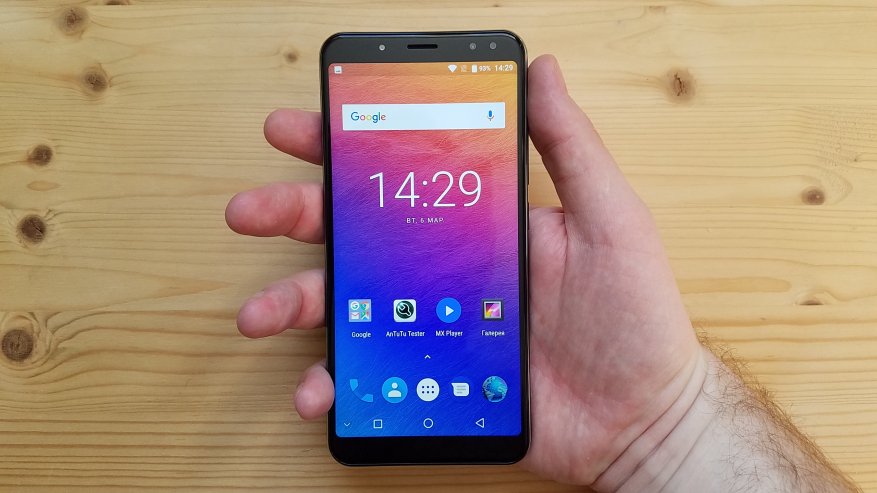 The top end of the device is completely empty.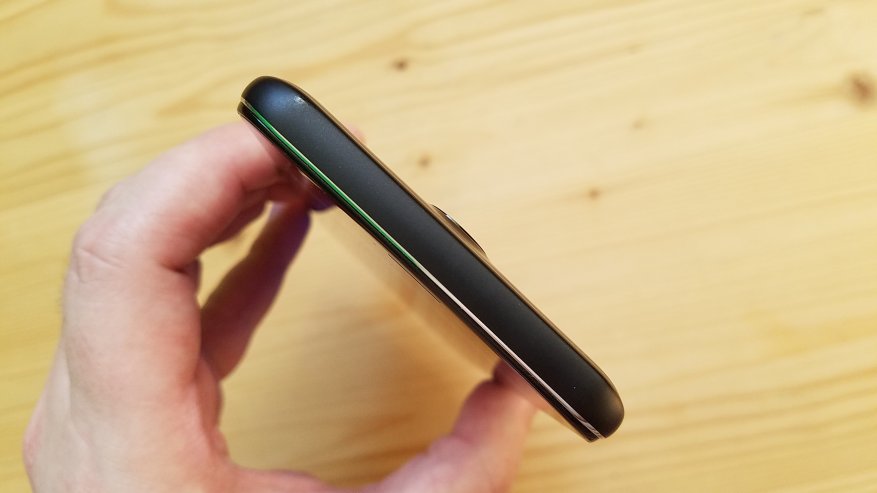 At the bottom, we find USB Type C port, the screws, the main speaker, the microphone and the same decorative perforation under the stereo. The speaker sounds very juicy, with a good lower part of the middle range and even rudiments of low frequencies. However, the volume could be higher, although it is easily solved from the engineering menu. Yes, Mediatek has its indisputable advantages.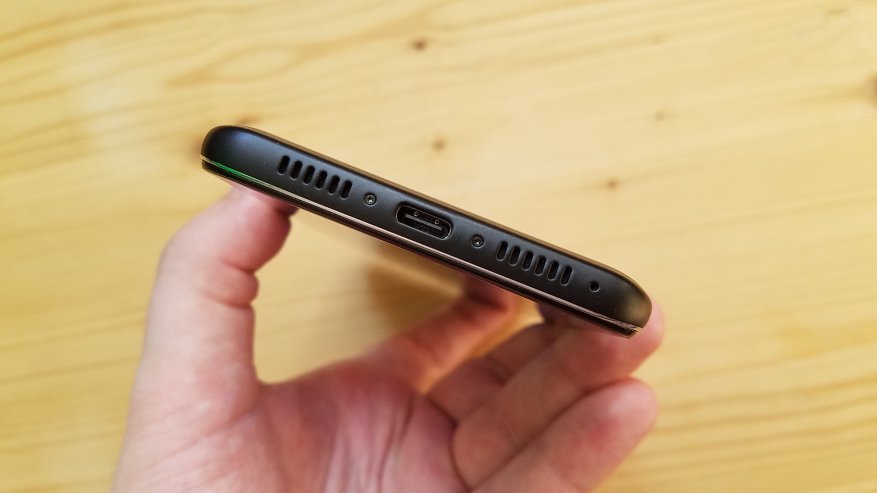 A hybrid SIM card slot is located on the left side of the device. The metal tray is made flush and allows you to install 2 nanoSIM or 1 nanoSIM and microSD card.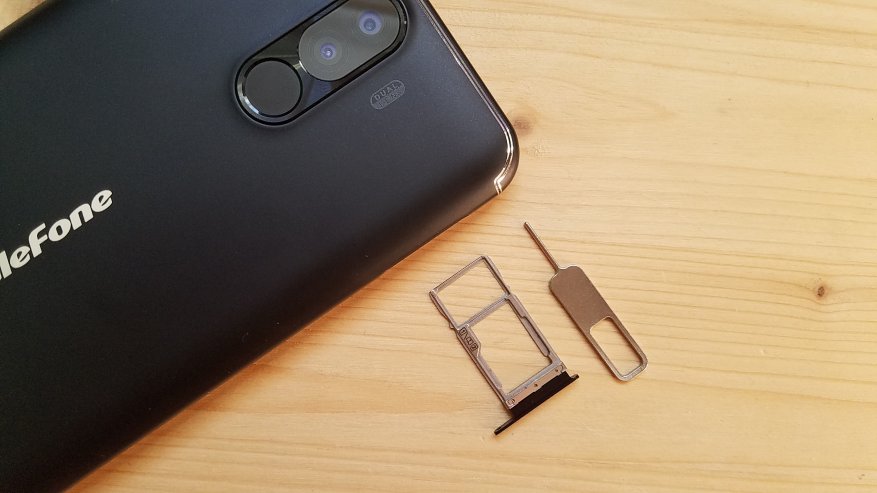 To the right, there is a volume rocker and power button.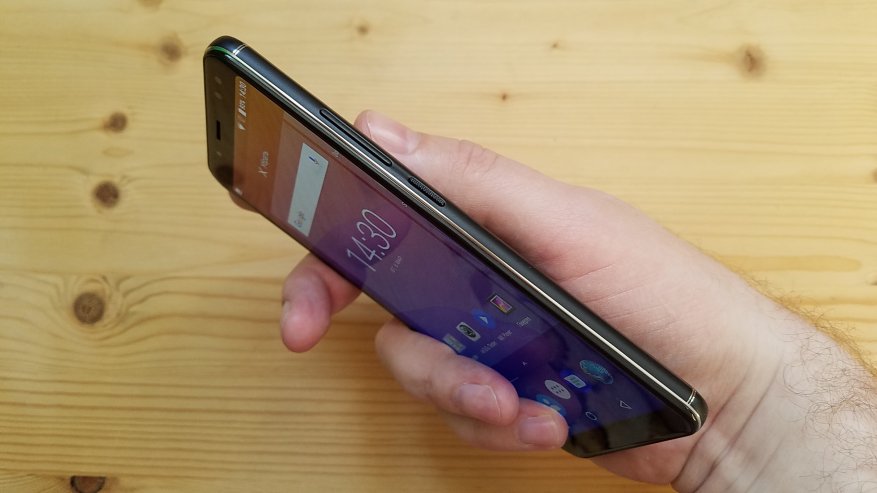 On the back there is a dual LED flash, and a little block with two cameras and a fingerprint reader.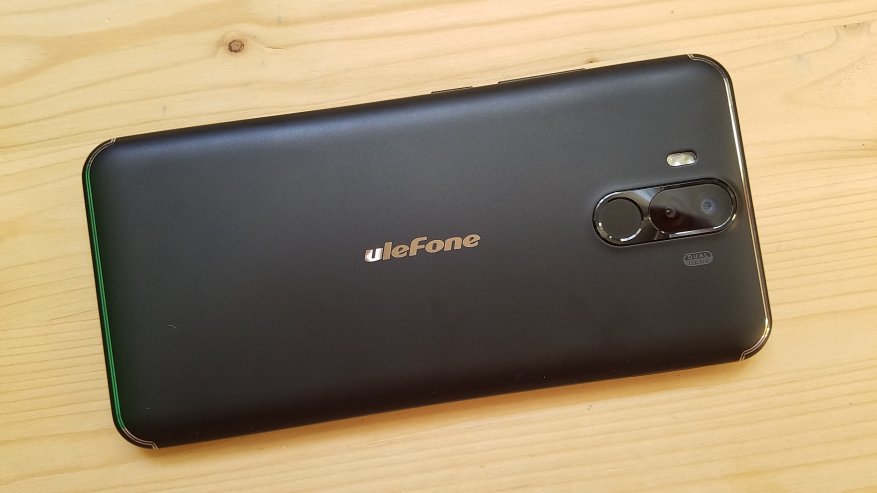 The scanner works with enviable accuracy, but it has a delay of about one second. Also there is a popular face unlocking function.
Surprisingly, Ulefone Power 3 recognizes me even in a hat, but it feels like it works with cameras. It means that unlocking can easily be fooled by photos. Also in poor lighting, the accuracy of the operations drops sharply. However, it is very pleased that Ulefone Power 3 allows to enable the unlock with fingerprint reader and face. If your face is not recognized, then you can easily use a fingerprint reader.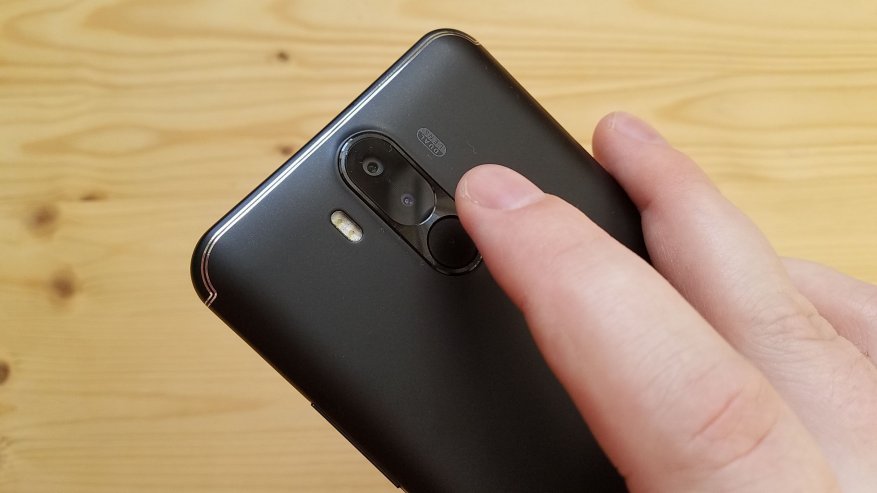 The front panel of smartphone has 6 inch display, which occupies almost 91% of its surface. The screen is good oleophobic, and the coating of the glass is Corning Gorilla Glass 4. The buttons are on-screen, but you can change or hide them in settings menu.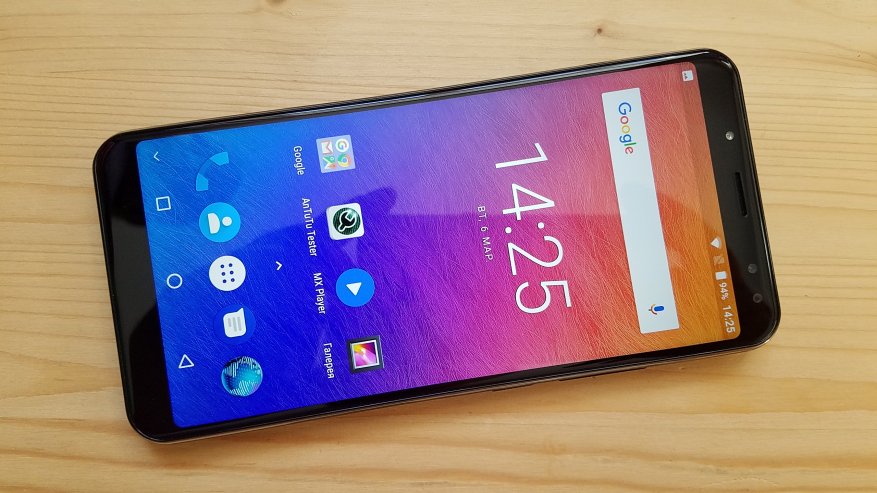 Personally, I am very pleased with the thin bezels on sides, and top/bottom.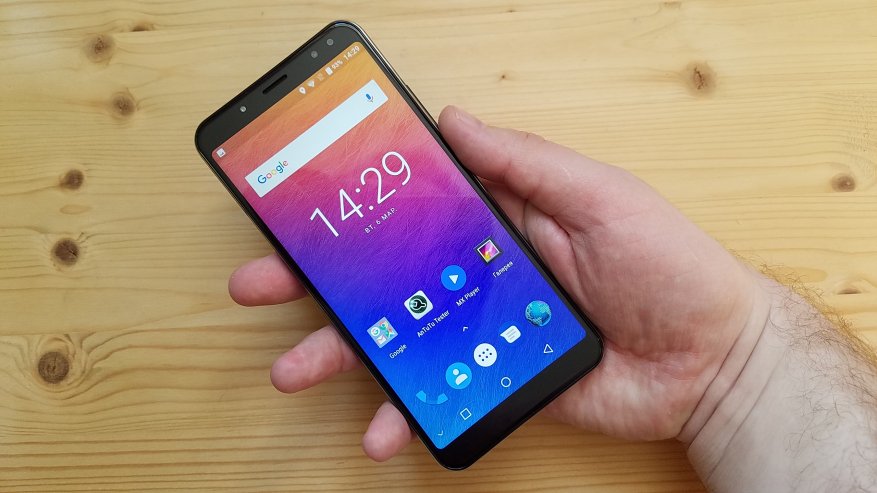 By the way, there is a tiny LED indicator at the top of smartphone.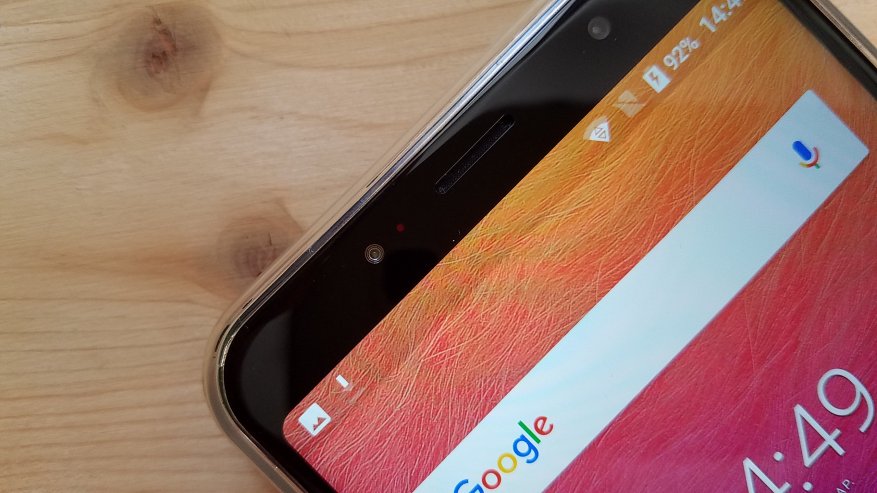 Ulefone Power 3: Battery
Ulefone Power 3 has a battery capacity of 6080mAh. I made 2 measurements with a USB tester and in both cases I got a result of about 6000mAh.
And in order not to spend a lot of time for charging, the device is equipped with a 5 volt 3 amp battery charger.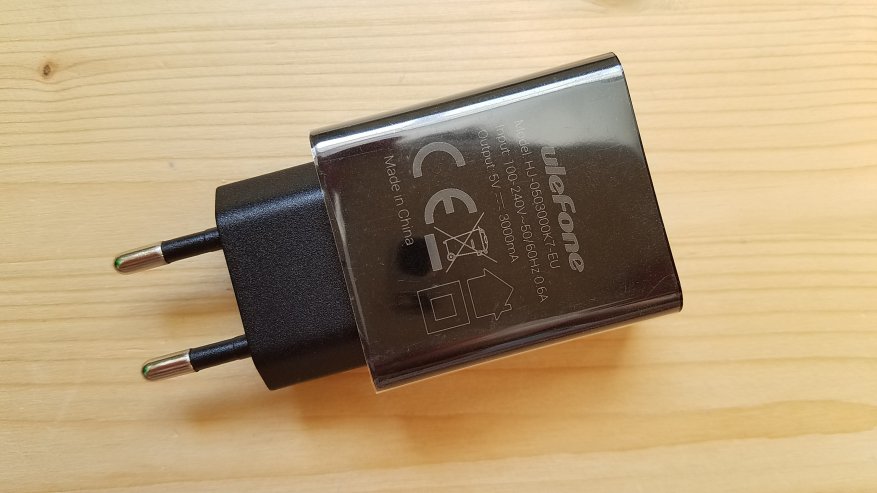 Many know that the battery capacity is not as important as the battery life itself, but everything is simply gorgeous: you'll need to charge the device once every 3-4 days with average usage. The smartphone works more than 24 hours while playing FullHD video at maximum brightness, and this is the absolute record among the smartphones that I have ever tested. You can play a little less than 9 hours, which is also very impressive.
Ulefone Power 3: Display
The advantages of the display have already been mentioned several times in the review, and it is no coincidence, because the screen is really worth a lot. The smartphone has 6 inch display with a resolution of FullHD + (2160 x 1080) and multitouch for 10 touches, as well as 18:9 aspect ratio and support of modern technologies such as 2.5D, IPS and OGS.
In addition, I want to pay attention to juicy contrasting colors, a good brightness, support for MiraVision and the maximum viewing angles.
OS
Considering the advertising, Ulefone Power 3 runs on Android 8.1, however my smartphone has almost stock Android 7.1.1. Perhaps, it will be updated in the future, but after a month of use I have not received a single update.
Among the important software features are: you can change the order of navigation buttons, screen sharing and to disable system applications.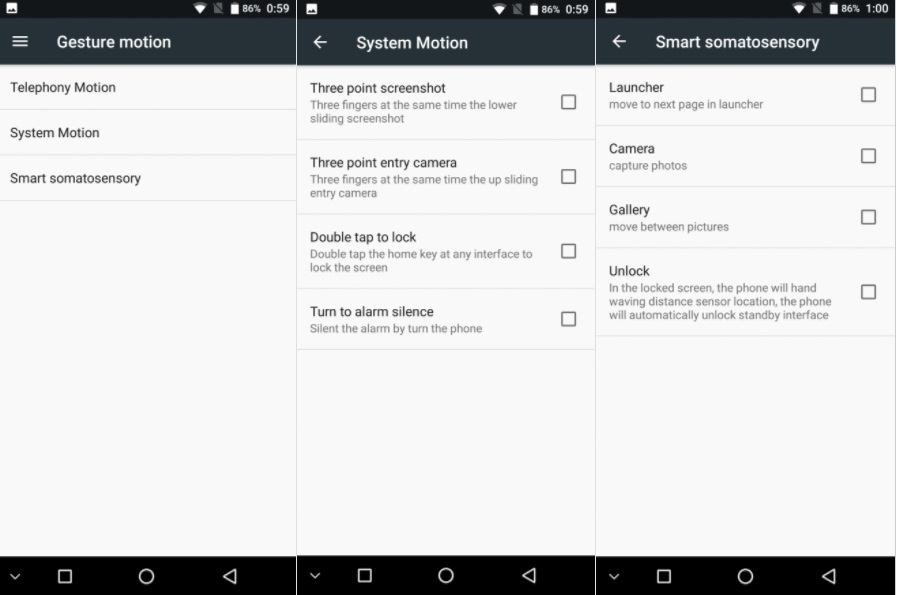 Also for someone it may be important to record radio air, to set LED indicator and built-in QR scanner.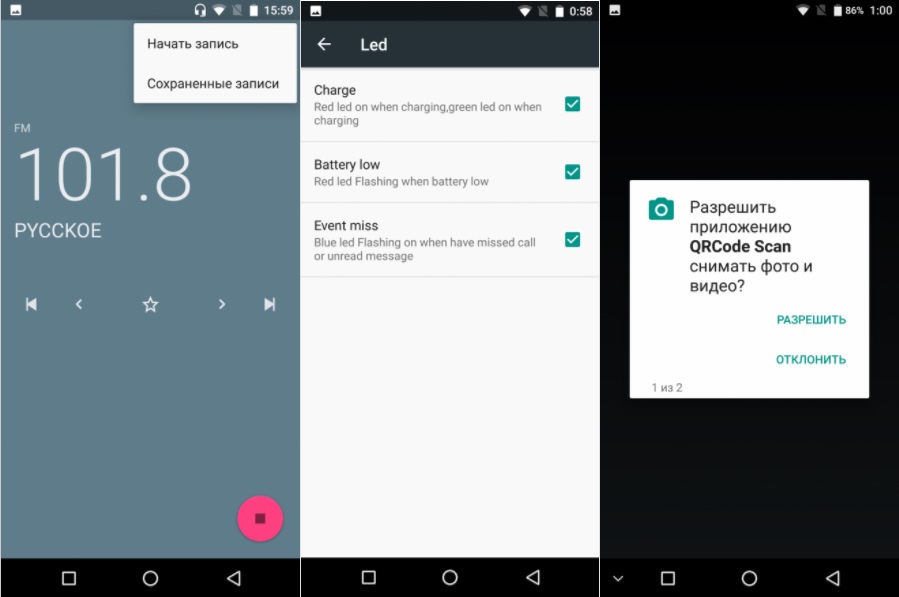 As for disadvantages, I can highlight the advanced function of the screenshots. Yes, for someone it can be advantage, but for me it is very uncomfortable to use. The screenshot is done slowly, requires additional confirmation, and the picture itself occurs only after confirmation, because of what the moment can be missed.
Ulefone Power 3: Connectivity
With the connection of Ulefone Power 3, everything is just fine: all the necessary 4G bands, dual-band Wi-Fi, electronic compass, gyroscope and, of course, navigation with GPS and GLONASS satellites.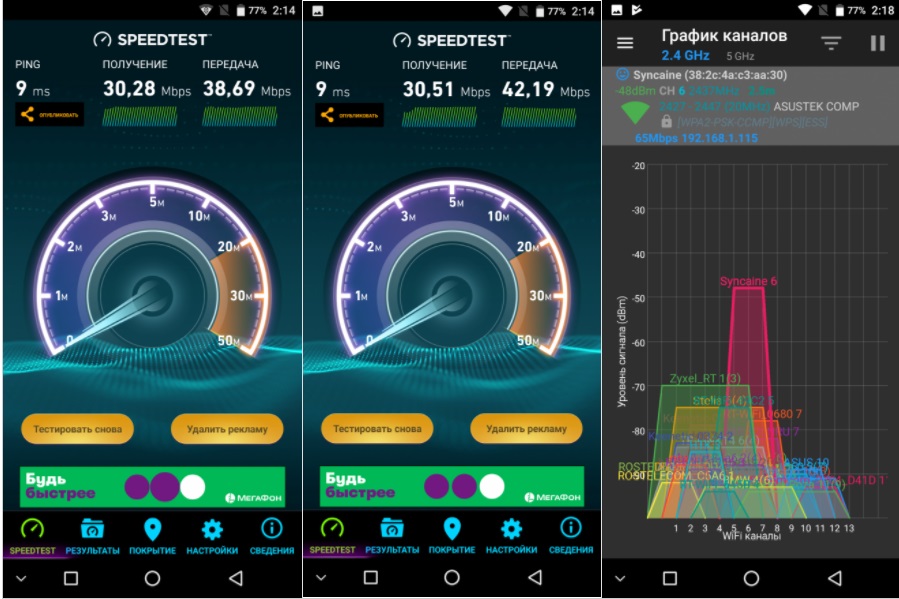 Wi-Fi works at maximum for my internet speed.
And GPS catches 16 satellites in a matter of seconds.
Ulefone Power 3: Hardware
Now I want to talk about controversial moments of Ulefone Power 3. The smartphone is powered by 64 bit octa core chipset Mediatek P23 (MTK6763), with a maximum frequency of up to 2.0 GHz. For the graphics is responsible dual-core Mali-G71 MP2. More details you can find from the screenshots below: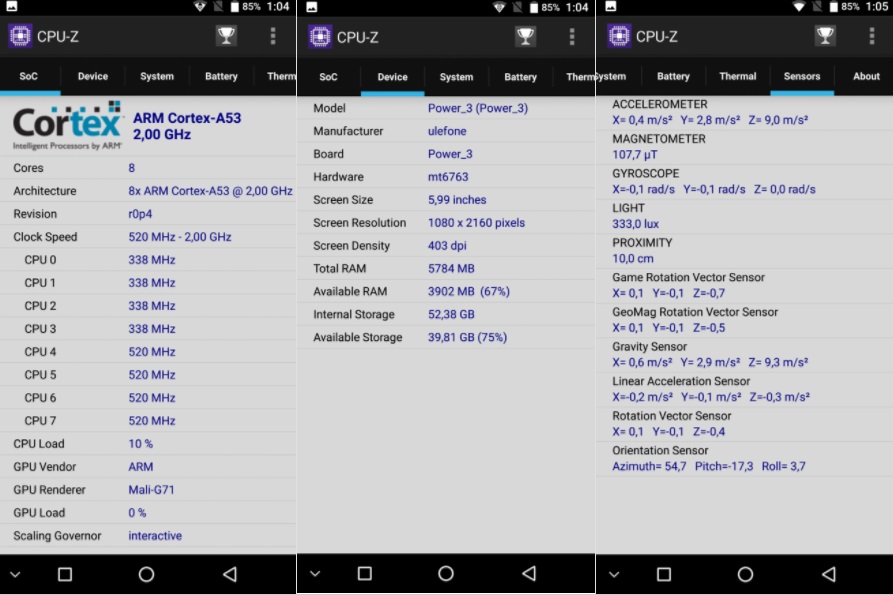 As I already said, there is 6GB of RAM.  The storage of 64GB has really good reading and writing speeds: 149 MB/s and 207 MB/s. If you don't need 6GB of RAM, then there Ulefone Power 3S model with 4GB of RAM.
Measurements at the maximum load of graphics and CPU showed a small throttling, but it is OK for this price category. At the same time, there was no significant heating.
AnTuTu on the latest version shows about 76000 points, GeekBench on the current firmware just does not work.
Despite the decent number of broken glasses, in real work the processor is much inferior to Snapdragon. You can see this at the maximum settings of the game World of Tanks Blitz, where the frame rate regularly drops to unplayable 18 FPS.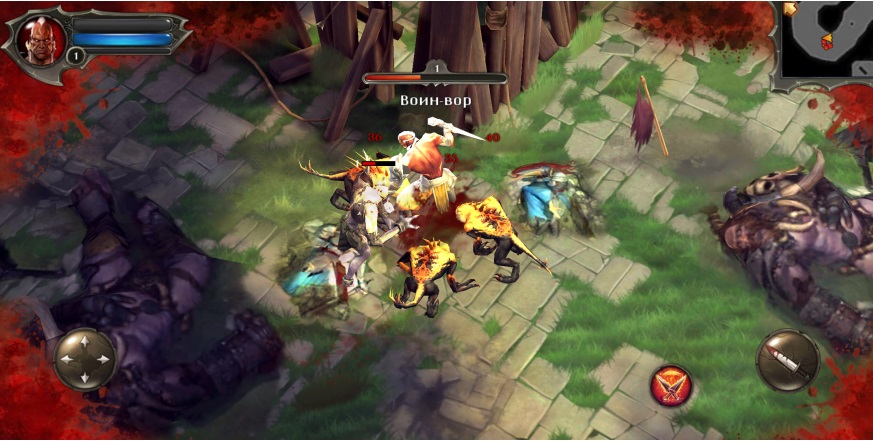 For the rest of the games, FPS subsidence is invisible, but for "heavy" it is still better to choose more powerful smartphone.
Ulefone Power 3: Camera
The camera interface of Ulefone Power 3 is highly redesigned, compared to what I have seen on Chinese phones. There is chaging exposure by Tap, HDR and PRO modes for photos, a monochrome image and beautify for selfies. The speed of shooting is good, but there is a small pause in HDR and blur mode.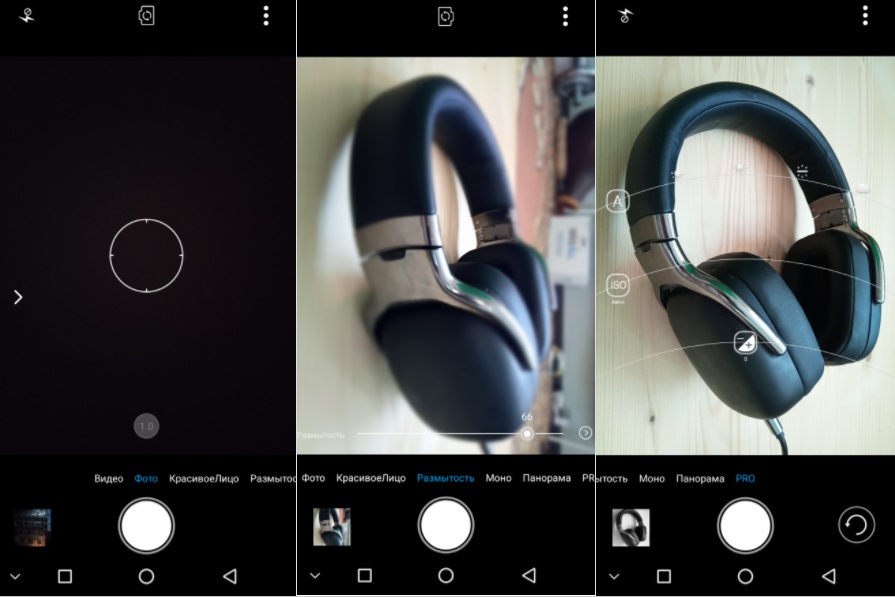 First of all, I want to break the myths about megapixels. On the box and official website we see the specifications of 21 + 5MP for the main camera and 13 + 5MP for the front camera. This is not entirely true. These values ​​are the result of interpolation, or digital zoom. In reality, we have 8 + 2MP front camera and 16 + 2 MP main one from SAMSUNG.
Interpolation is certainly not a very pleasant step, and I am really disappointed by the photos. Both on the front and on the main camera, the photos are blurred.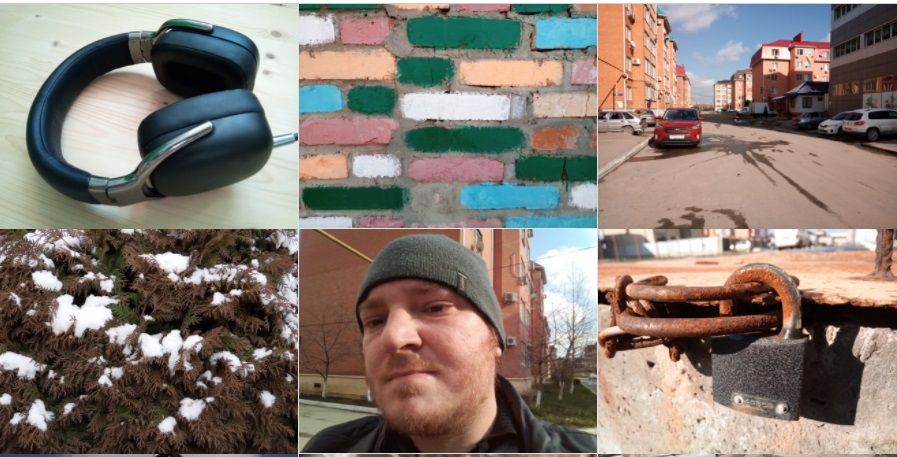 And, if you click on 2x button, which is essentially a digital zoom, then the picture is surprisingly much better. So I guess it's the software problem with focusing.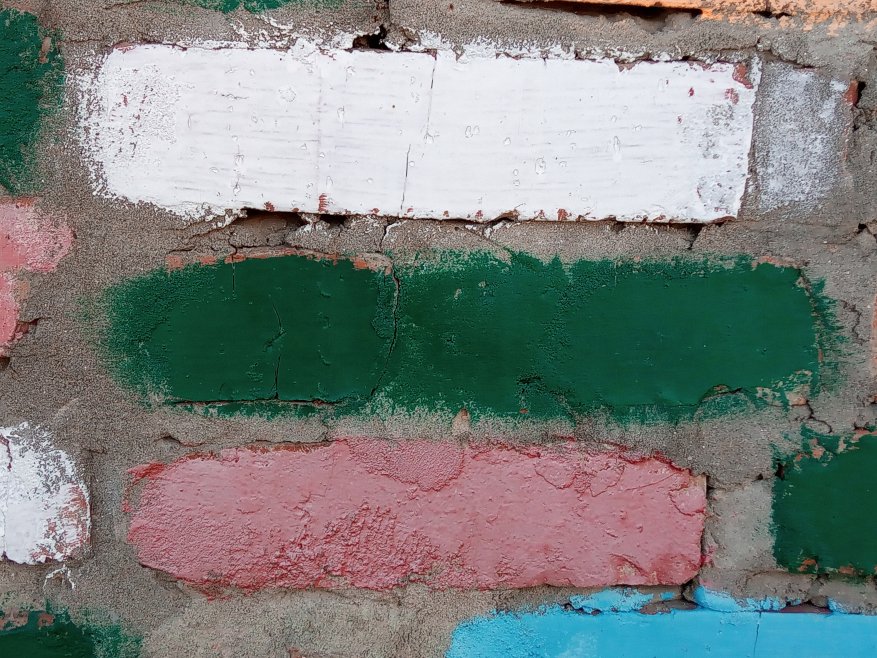 HDR has its own functionality, the difference is really visible.
Also I haven't questions for quality of shooting the text.
The photos indoors are also pretty good.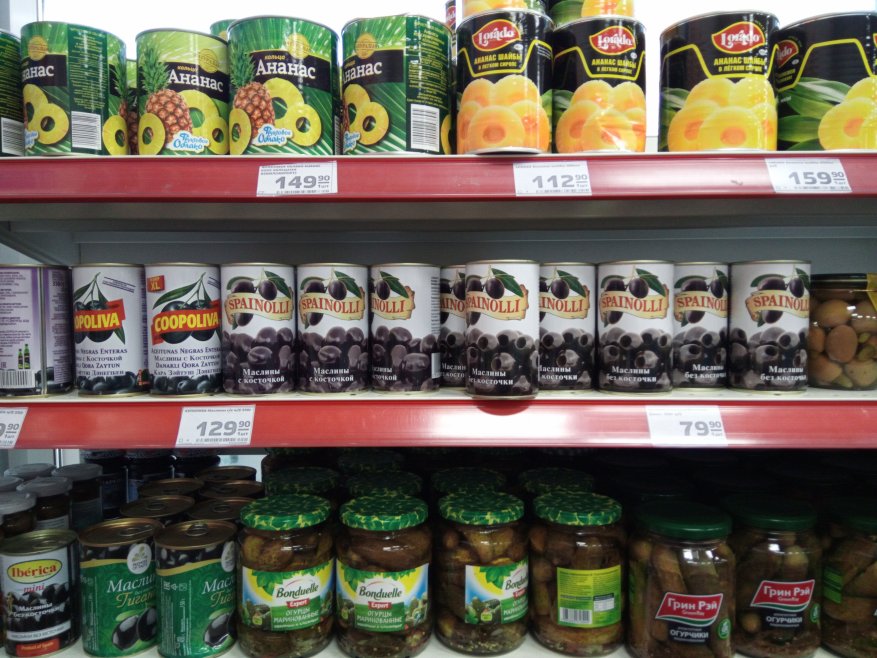 Bokeh effect works much better than on budget phones, but still worse than flagships. In my opinion it is useless.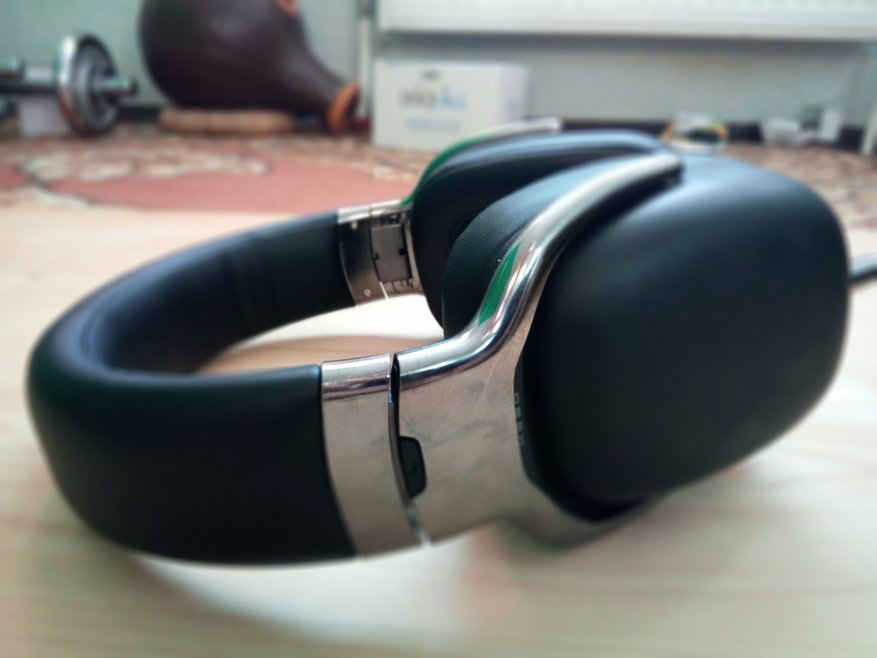 However, I can praise the camera for pictures in poor lighting conditions. The photo below was generally done in the dark and, in my opinion, it is really good.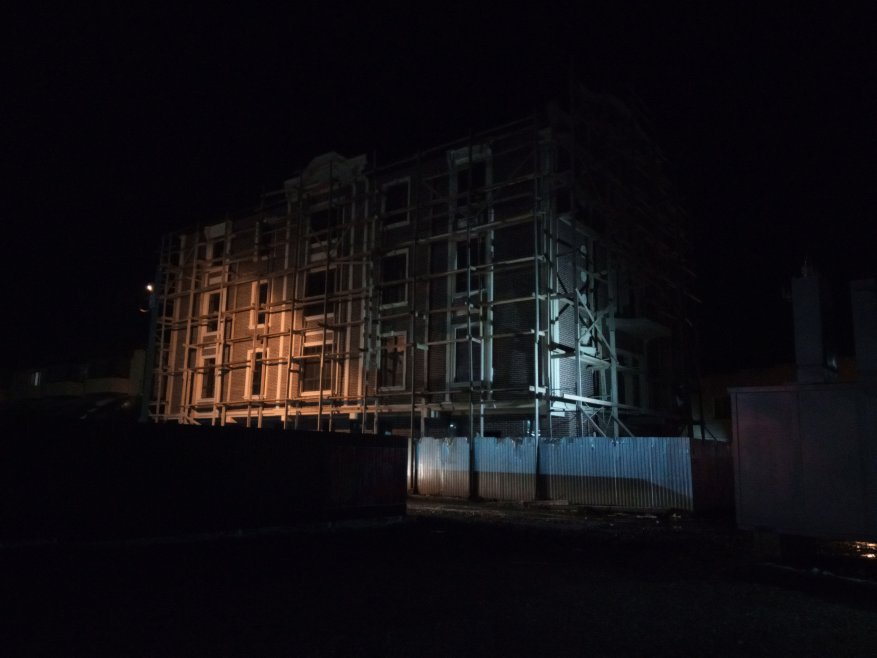 The video is recorded in 3GP format and FullHD resolution at 30 FPS. The quality is good.
Сonclusions
Summing up, let's look at the main advantages and disadvantages of Ulefone Power 3.
Pros Ulefone Power 3:
Fast memory: 6GB of RAM and 64GB of ROM
Face and fingerprint recognition
Loud sound in headphones
Excellent 6-inch display 18:9 2.5D IPS with FullHD+
Corning Gorilla Glass 4
Rich packaging
Dual-band Wi-Fi
Battery: 6080mAh
GPS, gyro, compass
Support for all necessary bands
Cons Ulefone Power 3:
Android 7.0
No 3.5 mm. connector
Cameras with interpolation
Weak graphical component
Blurred photos
As a result, we have a good modern smartphone with an excellent screen, flagship memory, big battery of 6080mAh and excellent battery life. I think that the main problem of Ulefone Power 3 is camera software. If you interested in a long working time and high-quality display, then Ulefone Power 3 will be a good choice.
[su_button url="https://www.gearbest.com/cell-phones/pp_1434923.html?lkid=13400485″ target="blank" style="flat" background="#e50e08″ size="8″ center="yes"]Click here to find the best price to buy Ulefone Power 3[/su_button]
Ulefone Power 3 Video Review