There are too many smartwatches on the market, and it is almost impossible to choose the good one without hands-on review. All of them look great on official images, and specifications are very nice. However, when you receive the watch in your hands, you understand that it is not as thin as on official pictures, while the screen is not so bright, and many other nuances. That is why you should read and watch hands-on reviews before buying smartwatches, fitness trackers or other wearable devices.
Last week we received a new smartwatch from Cafago online store. The smartwatch is called V11. There is no manufacturer name on the page of Cafago online store, and we didn't find any inscription about it on the box, user manual or mobile app. Anyway, we have found out that the manufacturer is COLMI.
Also, we want to note that this is not real smartwatch. As you know, the smartwatch has operating system, additional app support and many other features. V11 is correctly to call fitness tracker or smart band with round screen. Anyway, it is called V11 smart watch on Chinese online stores, so we will also call it the same way.
[affcoups template="list" id="37394″]
V11 smart watch has 1.3-inch IPS color display, sports modes, heart rate monitor, blood oxygen monitor, camera control and even music control.
Let's start the review of V11 smart watch with unboxing, and then talk about design, display, functions and mobile app.
V11 Smart Watch: Unboxing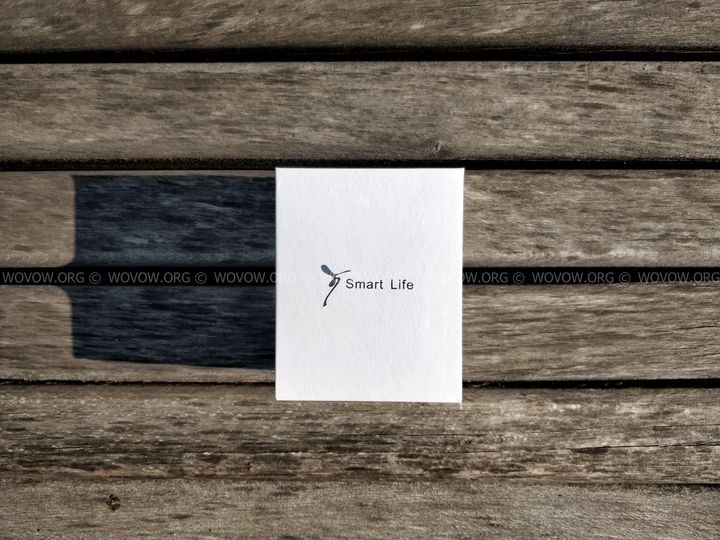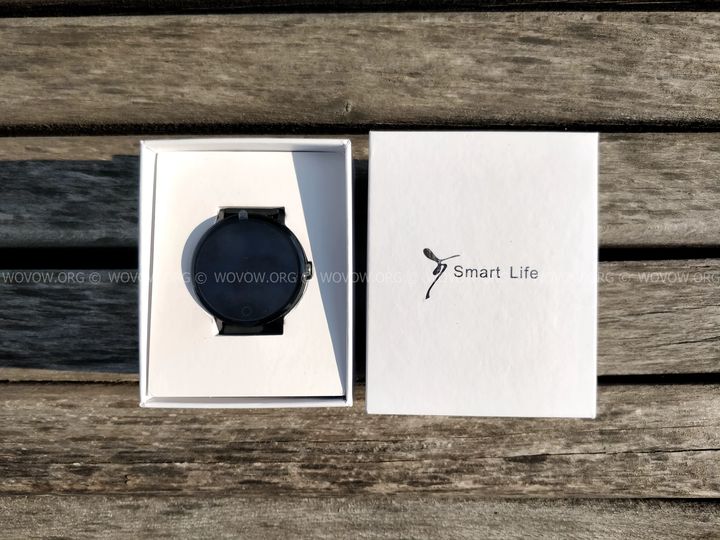 V11 smart watch comes in a simple white box. There is only Smart Life inscription on the front side. Inside the box you will find the smart watch, user manual in English and Chinese, and charging cable.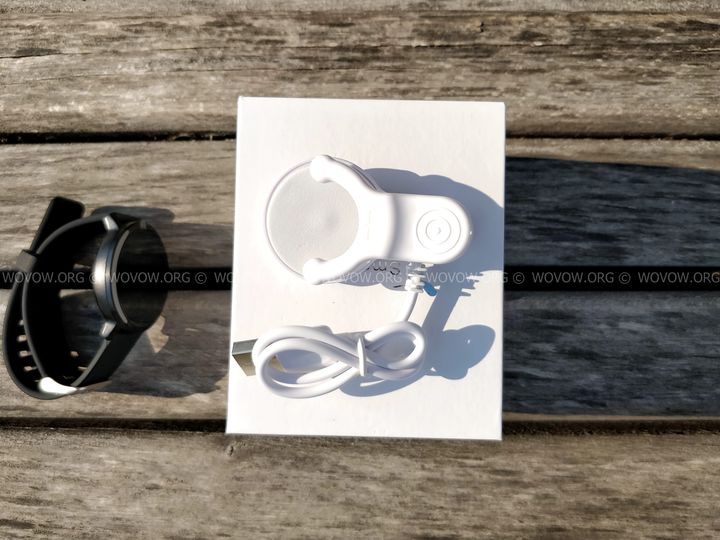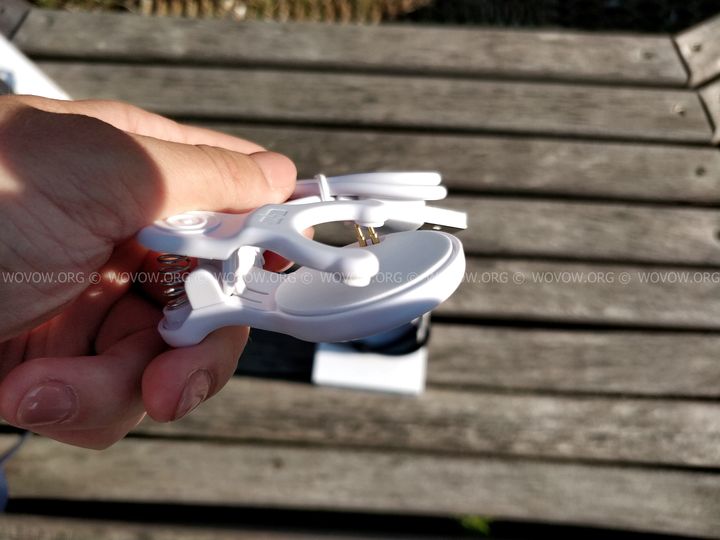 The charger looks very cumbersome. However, the smart watch is securely fastened during charging, so it will not fall off even if you accidentally pull the charging cable.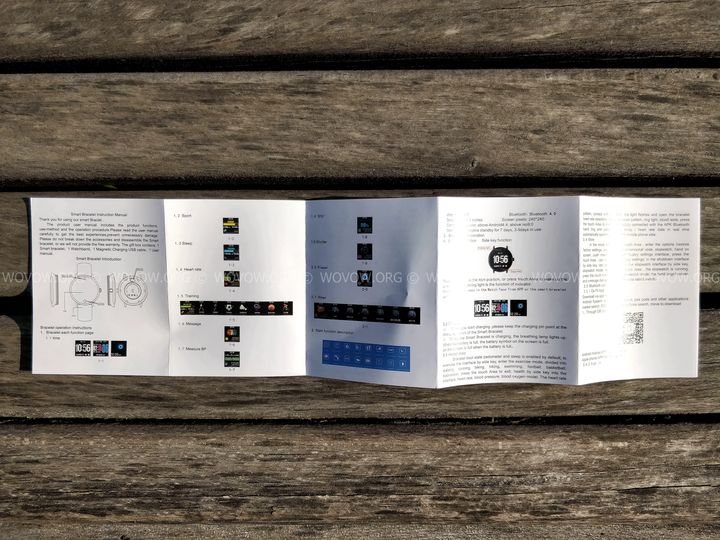 The user manual in English is great. You can read about main functions, and how to connect V11 smart watch to smartphone.
V11 Smart Watch: Design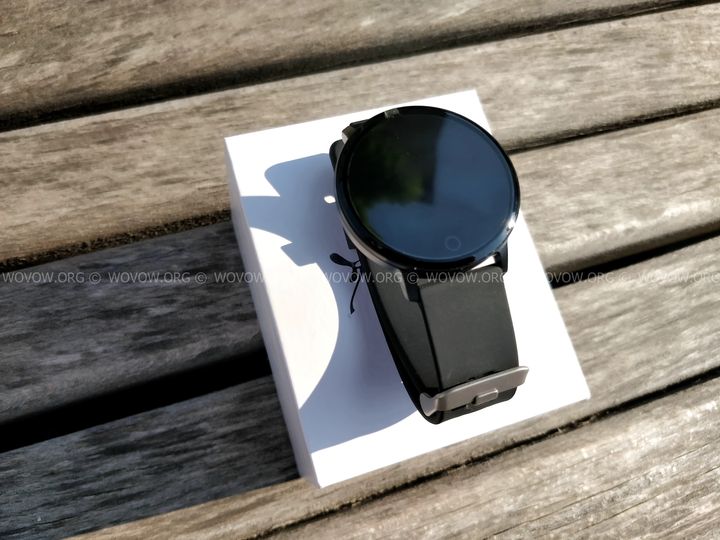 First, we want to mention that V11 smart watch is quite heavy – 165 grams. For comparison, Xiaomi Amazfit BIP weighs only 32 grams. This is because the dial of V11 smart watch is made of zinc alloy.  The strap is silicone.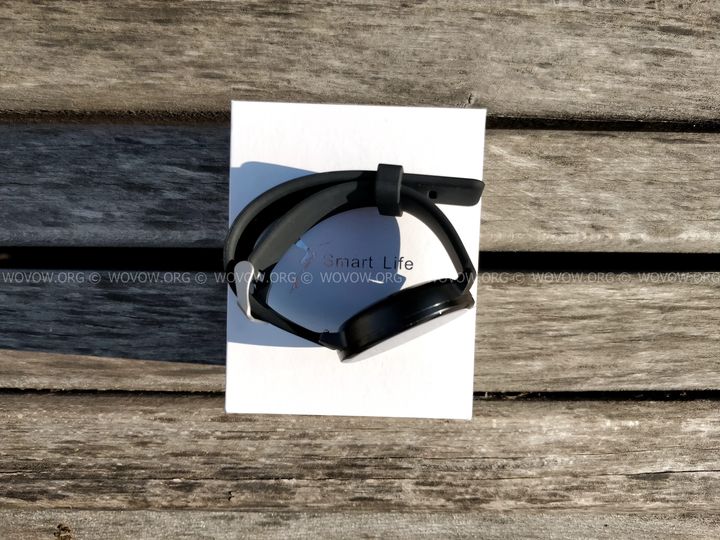 The fitness tracker is available in black, purple and grey colors. As you can see, we have a black version.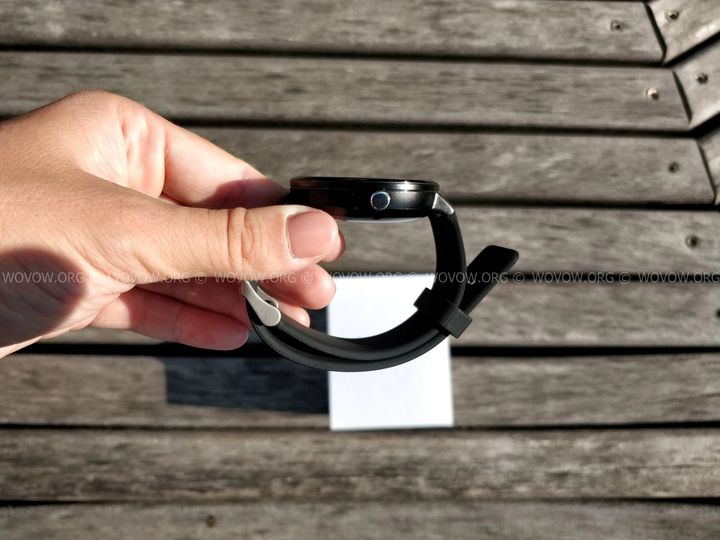 On the right side of the dial is control button. It is used only to return to the previous menu. In addition, there is LED light on the top on the screen. If you receive a new notification, the light will be breathing.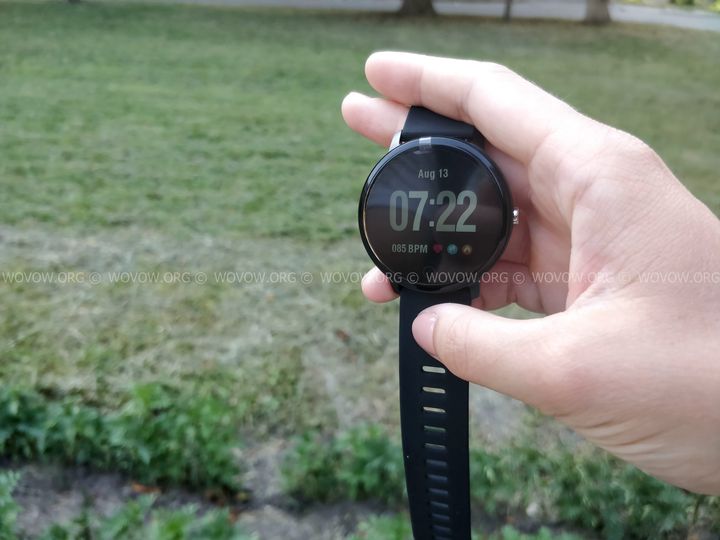 The back panel of V11 smart watch is made of plastic. Here you can see a charging connector and a heart rate monitor.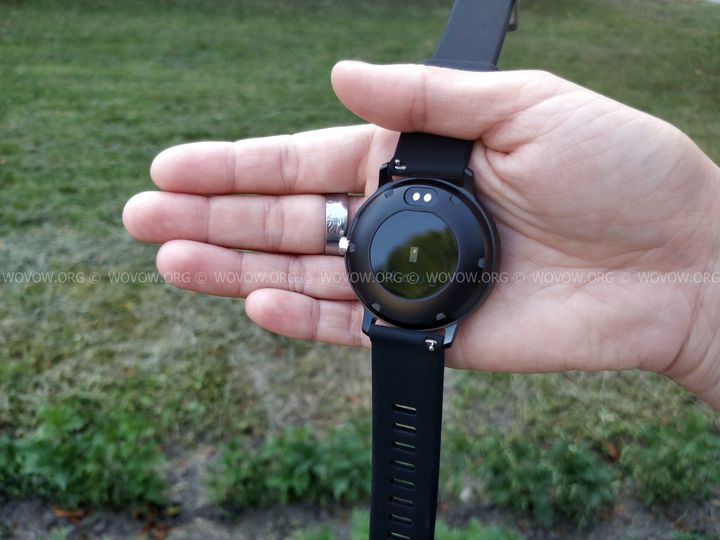 The strap has the width of 20 mm and the length of 268 mm. It is removable. We think that you can use any other strap of the same width.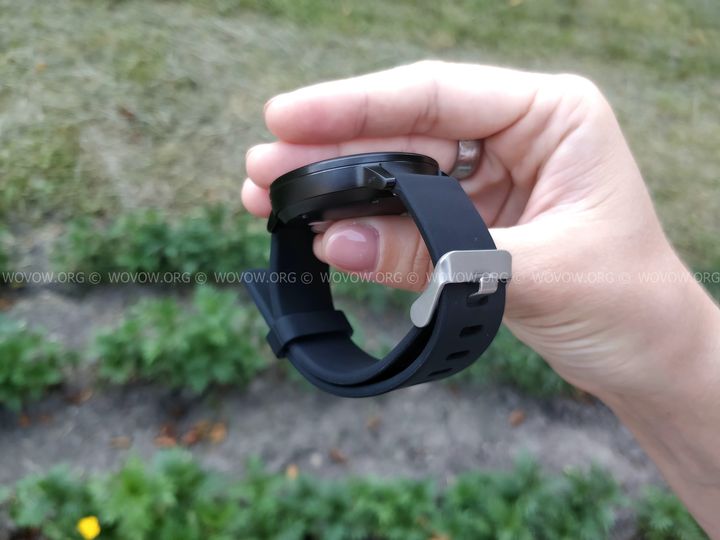 The dial diameter is 40 mm, while the thickness of dial is 0.9 cm.
In general, V11 smart watch looks very nice on the wrist, even on female. Although it is quite heavy, but compact for a thin female wrist.
V11 Smart Watch: Display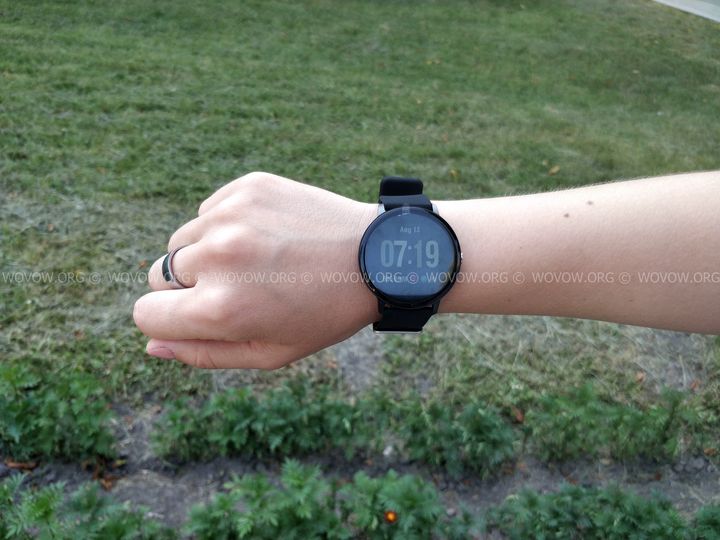 The fitness tracker has a round dial, but the screen itself is square. The screen diagonal is 1.3-inches and resolution – 240 x 240 pixels. This is IPS panel, so it is clearly visible in direct sunlight.
The display is not touchscreen. There is only touch control button under the screen.
There are three available watch faces, but you can customize one of them. You can change the location of time, steps, heart rate, as well as background image. We recommend using black image, because it will not drain the battery so much, and you will not see the square screen.
V11 Smart Watch: Specifications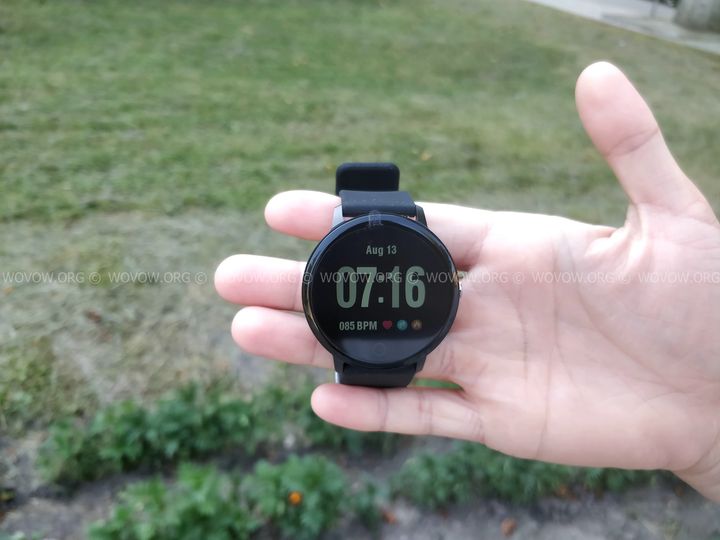 We don't think that technical specifications are very important for you, but we have to say about them. V11 smart watch is powered by NFRF52832(M0) processor. It has only 64 KB of RAM and 512 KB + 32 MB flash memory. As you understand, you cannot install apps on this watch.
Talking about battery, it has a capacity of 110mAh. The manufacture promises 7 days of battery life. We have used V11 smart watch for about 3 days, and the battery level is 60%.
V11 Smart Watch: Functions
As we already said, you can choose one of the three available watch faces on V11 smart watch. You can change the watch face on both the watch and mobile app.
Using the touch button under the screen, you can change the function. There are following functions on smartwatch: sport mode, sleep, hear rate monitor, training modes, weather, message, blood pressure monitor, camera, music and settings.
The training modes include walking, running, cycling, skipping, badminton, basketball and football.
The music control function has four buttons: play/pause, next song, previous song and back.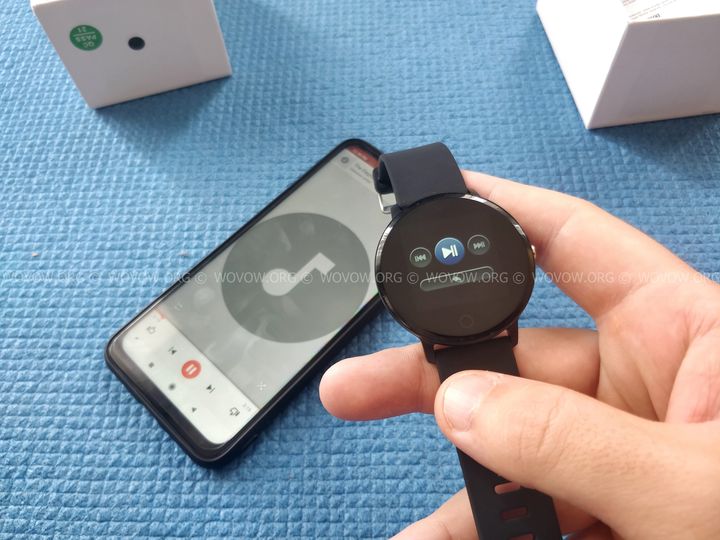 V11 Smart Watch: Mobile app
V11 smart watch has very nice and useful companion app on smartphones. It is called Da Fit App. You can find the app on Google Play Store and App Store. Also, you can scan QR code in user manual.
When you have installed the app, you can open it, and click on the first tab on the bottom.
Then choose the first option – Add bracelet to get more health information.
Wait a little until the smartphone will find the smart watch. Choose V11 smart watch on the screen.
That's all! Your daily steps, distance, sleep, heart rate and other information from smart watch will be synchronized with mobile app.
On the main screen of Da Fit App, you can see your daily activity information, such as steps, sleep, heart rate, blood pressure, blood oxygen and outdoor running. You can click on any of them, and find tips and detailed information.
The next tab at the bottom of the screen is smart watch settings. There is an image of your smart watch and battery level on this screen. Here you can change watch face, notifications, alarms, shutter and others settings.
The last tab is user profile. Here you can enter information about you, such as gender, birth year, height, weight and step length. This information is important   for accurate counting of steps, heart rate, sleep and other.
When you synchronize the smart watch with smartphone, you have access to camera remote control, music control and notifications. We show how these functions work in the video review. By the way, subscribe to our channel, there will be many useful videos.
V11 Smart Watch REVIEW VIDEO
V11 Smart Watch: Conclusion
To be honest, we are surprised by V11 smart watch. Its price is only $25, but fitness tracker has many useful features. First, the smart watch has premium metal design with round dial. Although the watch is quite heavy, but it feels and looks premium.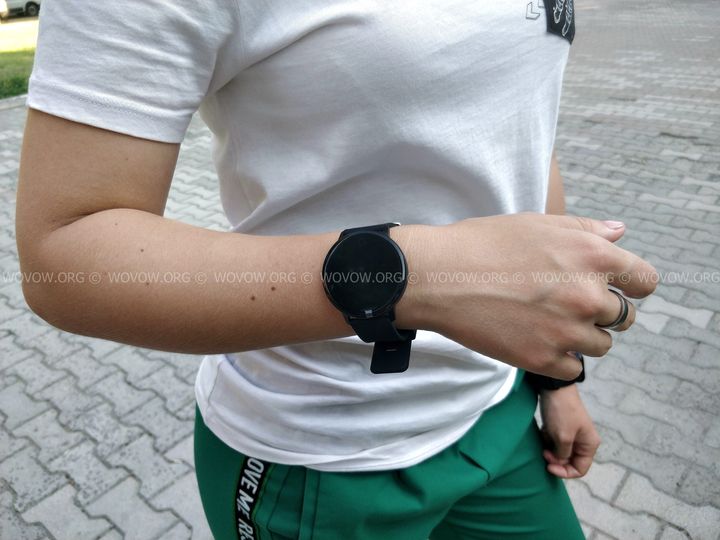 In fact, you don't need a mobile app to use V11 smart watch. All the functions are already in smart watch, such as heart rate and blood pressure monitor, steps, sleep, sport modes. Also, you can change the screen brightness and watch faces on fitness tracker without using smartphone.
However, if you need notifications, camera and music control, then V11 smart watch should be connected to smartphone. The companion Da Fit App has very nice interface. It provides the detailed information about daily activity, and even tips how to improve the sleep, heart rate, blood pressure, etc.
V11 is very good smart watch for its price. We recommend buying it.
[affcoups template="list" id="37394″]