That steal from army bases in NATO
A few days ago the British government admitted that the last few years of army property lost seven million pounds (about $ 11.6 million). In particular, the military lost their stocks of "Viagra" for a few thousand pounds, the aircraft fuselage and industrial washing machines. Army has missed parts and weapons that caused particular concern parliamentarians. However, British and NATO allies also can not boast of absolute safety of property. So, under the nose of the Bundeswehr soldiers stole BTR and stolen from the American military affairs in Kabul gathered together a "market Bush."
British Ministry of Defense has reported about the loss of their property in response to a request from Conservative MP Nick de Bois. At this time, the Office estimated what property, including weapons, the military lost since 2007. It turned out that over the last seven years the army has lost about a hundred bayonets and weapons parts, empty shops and thousands of blank and live ammunition. At the same time last year, BBC News found that since 2008 only training center in Limpstoune Marines lost more than eight thousands of weapons. Yet two years earlier on request newspaper The Daily Mirror government reported that since 2006 the British Army had lost more than 300 rifles, pistols and machine guns. Later, the authorities managed to get only about 40 "barrels."
In general, all these losses seem a trifle compared with the results of the parliamentary audit , published in 2010. Then the Ministry of Defence failed to report about this property to six billion pounds (nearly ten billion). In the army, "lost", for example, radio Bowman amounting 184 million pounds (306 million dollars). Parliament then threatened that will not increase the defense budget as long as the military did not begin to control their existing funds.
Despite these figures, the Ministry of Defence argues that there is no threat to society in connection with the identified facts not. As explained in the department, "lost" does not always mean "stolen." Something could be stored in the wrong place, something had to be written off prematurely, but something just forgot to count. However, no guarantee that the weapon did not get to the criminals, the authorities had not been granted. But in the press regularly reports that army weapons used by criminals, including Northern Irish terrorists. By bandits or it gets from the military itself or through third parties on the black market. So, 9mm pistol or an automatic rifle SA-80 can be bought for 300-400 pounds (500-660 dollars).
In some cases, buy stolen weapons or military equipment does not difficult – just look on eBay. However, then the sellers a great risk to impersonate, as happened to Sergeant Steven Barrett (Steven Barratt). Stealing from the military school in Brecon (Wales) 28 military night vision goggles, he tried to sell them on eBay for 2.3 thousand pounds (3.8 thousand dollars) apiece. Military estimated their total cost to 115,000 pounds (191,000 dollars). As a result, in January 2014 29-year-old sergeant was sentenced to a year and eight months in prison, and stepped up security at the school.
Sometimes becomes the cause of theft of military negligence, which successfully use common thieves. In the fall of 2012 several men stole 40 anti-tank mines from a freight train carrying in English region of Cumbria weapons intended for use in Afghanistan. Thieves managed to make mines, while the train was waiting for the green signal semaphore in Warrington, and in the army noticed missing until the next day. Meanwhile, criminals have learned that 'they stole, panicked – as a result of mines found hidden near the railway in the forest and in the garage, sell them thieves do not have time. A year later, in the dock in this case were five people, which eventually sentenced to prison for a term of five to seven and a half years.
TNT for neo-Nazis
German parliamentarians, as well as British, from time to time request the government report on how many weapons were lost by the military. In the Bundeswehr, as check-treat their armament closely. Since the early 2000s with the German military bases lost only 127 weapons, and half of this amount then found. In most cases, the crimes were involved outsiders and not the military, which if stolen , then on the little things and each other.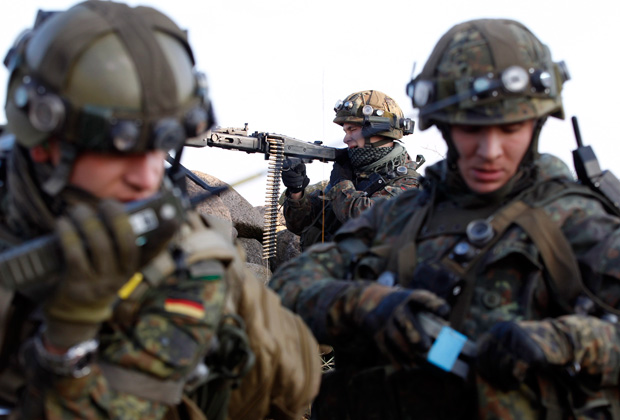 Did the Germans have learned from their past mistakes. The biggest theft of German military bases occurred in the early 1990s. So, in 1991 with a military depot near the town of Cala in Thuringia stole 40 kilograms of explosives. Seven years after this bomb stuffed with the same explosives were found in the garage of a neo-Nazi cell in Jena. Grouping itself "National Socialist Underground" opened only in 2011, after its members killed ten people (most victims were immigrants from Turkey). A gang of neo-Nazis also believe organized several bombings in the mid-2000s. It is possible that if they, too, used stolen from military TNT. However, even if this assumption is correct, then in the course went just a small part of the stolen, the remaining 38 kilograms is not found until now.
Another colossal failure German army experienced in 1993, when engineer Hans-Joachim Horn (Hans-Joachim Horn) climbed over the fence into a military base and stole Stadtallendorf APCs. On the military machine he went to jail Schwalmstadt where he was his friend Lothar Luft (Lothar Luft), convicted of a triple murder. As a result, Horn rammed the prison gates in the APC and brought out Luft stay in the yard. Police later found abandoned BTR and detained criminals, but the incident made the Bundeswehr to seriously reconsider their attitude towards the protection of military bases.
Look on the "market Bush"
U.S. authorities, unlike in Britain or Germany, do not report on the total losses and missing from their military bases. On such cases, you can only learn from journalistic reports of investigations or prosecutions. It should be recognized that the methods and extent of theft with U.S. military bases are quite comparable with the British "losses".
For example, in Texas was discovered group that established the scheme of theft and resale of military equipment at online auctions. The leader of the gang, which included both military and civilian, was a former employee of the Ministry of Defence 63-year-old Michael Bartch Sr. (Michael Bartch senior). During the search he found the army property to seven million dollars, including night vision goggles, scopes, body armor, uniforms and helmets. At the same time we must recognize that weapons and explosives he essentially traded. As a result, it was sentenced to two years in prison and a fine of just two thousand dollars.
The most enterprising U.S. military returning from trips abroad, taking something to remember. Just so did former pilot Apache attack helicopter Kurt A. Bennett (Kurt A. Bennett), while serving in Iraq and Afghanistan in 2008-2011. At the end of trips he folded assigned equipment in freight containers and sent to military bases in the United States. Returning home, he came to the base to collect their belongings and take home. Thus he was able to seamlessly assign military assets in the amount of $ 1.3 million. Moreover, among the stolen were, for example, two engines of armored MRAP, two SUVs, a few vans, televisions, computers, military equipment and even shells. Apparently, Bennett drove to the U.S. is not all: the loot he gave the other soldiers, and just threw something before leaving for home.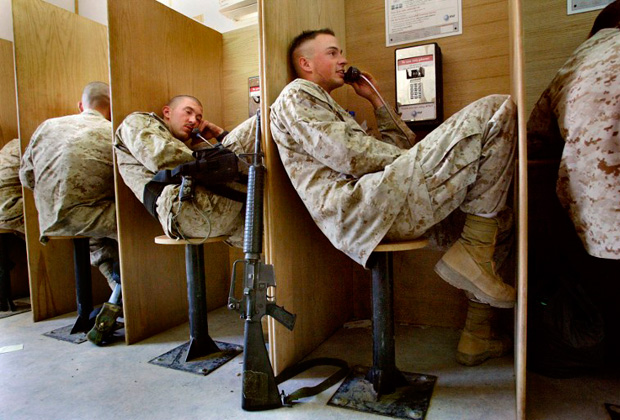 Most often, the media reported missing from U.S. military bases overseas, especially in Iraq and Afghanistan. And there soldiers often come true stolen from warehouses to local residents. For example, there were Captain George Elbert (Elbert George) and Sergeant Roy Green (Roy Greene), when served in Iraq. They sold a local businessman bus, eight trucks, five trailers and a lot of other equipment. For all this, they requested from 400,000 to a million dollars, and the businessman was paying them $ 100 bills.
Americans inattention to his property benefited and South Korea. In 2003 it became known about the two Koreans, who dug a tunnel to the U.S. military base in Seoul. Underground passage led to the containers in which the Americans kept alcohol. As a result, the Koreans were taken from the base of 58,000 crates of beer and four thousand boxes of wine. To cover they opened nearby grocery store, stock is stored stolen alcohol.
U.S. military bases abroad so often the major source of consumer goods for the locals. In the center of Kabul for a long time there was a so-called "Bush Market" , which sold household goods and food stolen from U.S. military bases in Afghanistan. It replaced the "Brezhnev market" where traded with Soviet weapons and other things stolen from the Soviet military. On the "market Bush" locals sell now American shampoos, lunch noodles and other products included in the ration of a soldier. Abundance in this market, however, threatens the future withdrawal of U.S. troops.