Chinese smartphone maker Lenovo officially announced the start of the deployment of the update Android 5.0 Lollipop for branded devices in February of this year. Stylish and fun smartphone Lenovo Vibe X2 has received its official Lollipop. Now the company has announced the release of Android Lollipop for the flagship model called the Vibe Z2 Pro. Sweet version update Android 5.0.2, and the delivery is carried out in the form of OTA-package, ie by air (Over-The-Air).
Flagship Smartphone Lenovo Vibe Z2 Pro codenamed Lenovo K920, so fresh OTA-Lollipop update for this device carries the next build number: K920_S226_150429_ROW. The size of the new firmware is significant 1.23 GB, so we recommend you come before installing Lollipop, find a stable wireless network Wi-Fi with high speed data transfer. After installation, the owners of Lenovo Vibe Z2 Pro will get elegant operating system with a user interface Material Design, as well as, most importantly, a new runtime ART, which ensures that each task is submitted by the user, will be performed much faster than before.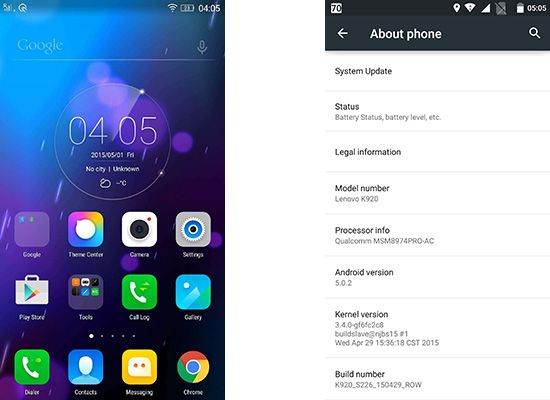 The first country where the company is Lenovo chose to release the official update to Android 5.0.2 Lollipop your smartphone Vibe Z2 Pro, became India. It is clear that other regions is on the way, so if you are the owner of this flagship Chinese, you need only wait until the team Lenovo Candy prepare for the country in which you reside.