In Japan, as a result of record snowfall killed 19 people. Nearly 1,600 Japanese were injured, said Monday the national fire department, which serves as a rescue service. People affected due to road accidents, collapse roofs, mountain landslides associated with snowfall. According to the TV NHK , snowstorm will continue in the next few hours in some parts of Japan.
In the seven prefectures of central Japan cut off from the outside world were 11 settlements, where nearly 7000 people. The road to try to clear them from snowdrifts using heavy equipment, including the involvement of army units, Itar-Tass.
In particular, in the village of Oyama in Shizuoka Prefecture in their homes were blocked by 3000.About 1,200 people in the township blocked Hayakawa, Yamanashi Prefecture, reports RIA "Novosti" .
According to the newspaper Sankei , in Gunma Prefecture in 1130 families in the mountain village Nammoku were cut off from life. The situation is complicated by the fact that Saturday in the village is not received electricity. In two towns, which are part of the Tokyo metropolis, about 1,300 people were locked in houses because snowdrifts. On Sunday, they turned for help to the Self-Defense Forces units.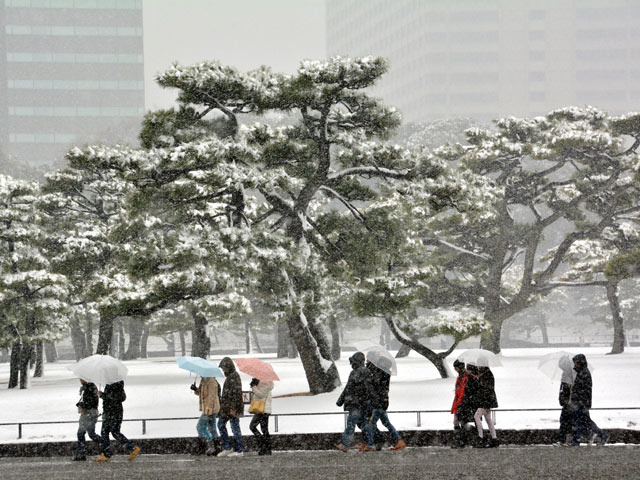 According to Japanese media reports, the city of Kofu in supermarkets – the main administrative center of the Yamanashi Prefecture – there is a shortage of food due to transport disruptions. Shops lack in supply of vegetables, fish and bread.
Broadcaster NHK reported disruptions in the supply of products, especially bread and vegetables in stores Saitama Prefecture. Snowfalls led to the fact that on the highways of Japan, in particular, in Nagano Prefecture accumulated 900 cars that from Friday night can not budge because of the snow.
Because wire breakage during snowfall remain without power more than 9 thousand families. At airports, Tokyo and other Japanese cities on Sunday was canceled more than 830 domestic flights. Long overdue move trains on the main railway lines in Japan, including the high-speed lines express "Shinkansen". In many parts of the country partially blocked roads.
On Friday and Saturday in many places, central Japan dropped the most snow on record. Forecasters warned that the bad weather this week may continue. A week ago in Central Japan also experienced heavy snowfall. Due to his injuries while killing 13 people.