Studio Telltale continues the story of the life of fairy tale characters in the real world. The second series of The Wolf Among Us, dubbed Smoke and Mirrors, allows you to rest after an eventful entry and plunge into the investigation of the murders, along with the sheriff – a terrible evil and the Grey Wolf.
After an unknown maniac beheaded second victim, a secret society received another blow. In books stories of princes and princesses have a clear beginning, middle and a happy ending, and now lives mercilessly grinds their grandiloquent past. In infighting wedged police. They are the first to arrive on the scene and took Wolf to the station for questioning, but was kept there for long.
Exploding unexpected revelation, the story settles down. Wolf becoming increasingly bogged down in the criminal society. Prostitution, black market for illicit spells – it seems that there is no one living honestly. Witnesses refuse to talk. Criminals are laughing in the face of Wolf. How sheriff will untie their tongues, have to decide for himself. You can make havoc room and resort to torture, and you can work carefully, relying on verbal threats.
At the same time, Wolf is forced to deal with vulnerable natures and seek them special treatment. In The Wolf Among Us, anyone can be a toy in the hands of a maniac.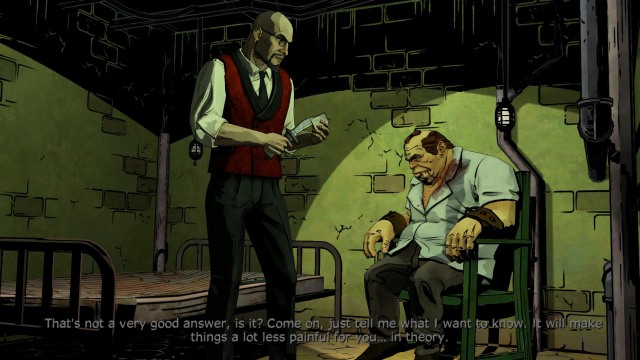 Anyway Wolf achieves its goal. Replica selection dialogs affects the perception of characters sheriff.Individual scenes develop differently, depending on the decisions made.
| | |
| --- | --- |
| Developer | Telltale Games |
| Publisher | Telltale Games |
| Official Site | http://www.telltalegames.com/fables |
| Platforms | PCXbox 360PS3 |
| Genres | Adventure game |
| Released Games | October 11, 2013 |
If the first series of surprising and unusual universe constantly presents new discoveries, the second is a leisurely noir detective. Wolf quietly on the trail of the villains, sniffing out clues and not in a hurry to arrange scuffle with pursuits.
Smoke and Mirrors leaves little room for maneuver. Hero communicating with someone, then studying mutilated corpse or a small little room, compares the facts and come to a logical conclusion. Player in this production can only activate interactive objects determined uttered phrases and collect simple puzzle. Deal with the episode turns for some half an hour.
But the series looks integral, complete without sagging and ends logically. The authors have done without the tricks with cliff in mid-sentence and left the reserve to continue.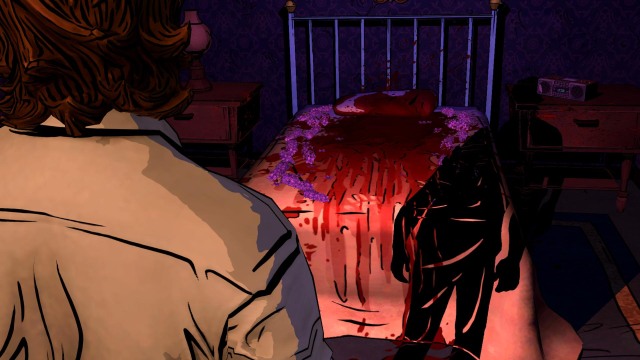 Designers continue to amaze the outskirts of the large cities and frightening crimes naturalistic results. Careful examination of decapitated bodies and walks through the underground brothels do not leave indifferent.
Diagnosis
Smoke and Mirrors not unleashes a flurry of revelations Wolf and knocks down a furious pace. This series allows you to fully experience the difficulties of working fabulous sheriff, whether attempts to split the witnesses or unravel the mysteries. Due to the aligned masterful narrative episode runs in one breath and leaves the player one on one with a sense of incompleteness.
Pro:
Excellent atmosphere of a noir-detective
Complex conversations with complicated characters
Excellent design locations
Great acting job
Contra:
Passed for half an hour
Given the focus of a series of detective puzzle would come in handy