Xiaomi Amazfit Smartwatch 2 or Amazfit Stratos is one of the best smartwatch on the market. However, it has one big disadvantage – only one day of battery life. Finally, Xiaomi released new smartwatch Xiaomi Codoon S1 with long battery life – 35 days, or 15 days with GPS-enabled. Yes, we did not forget about Xiaomi Amazfit BIP, but it is rather fitness tracker than smartwatch.
In fact, Codoon S1 smartwatch was introduced by Codoon company, which cooperates with Xiaomi. However, in all Chinese online stores you can find this smartwatch under the name Xiaomi Codoon S1. Xiaomi continues to cooperate with other Chinese innovative companies through Youpin Crowdfunding Platform. Codoon is one of them.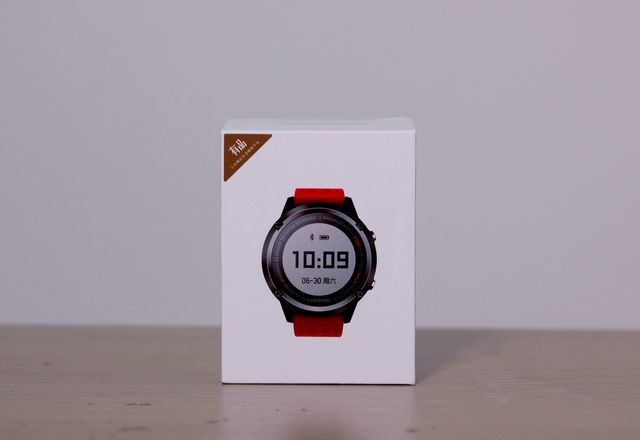 Since 2009, Codoon company has been producing and developing smart sports equipment. Their gadgets use the latest technologies, such as artificial intelligence, to improve training and sports results.
[affcoups template="list" id="33213″]
[affcoups template="list" id="33218″]
In this article, we will do the first review of Xiaomi Codoon S1. Is it really sports equipment or just a toy? Let's find out.
Xiaomi Codoon S1: Design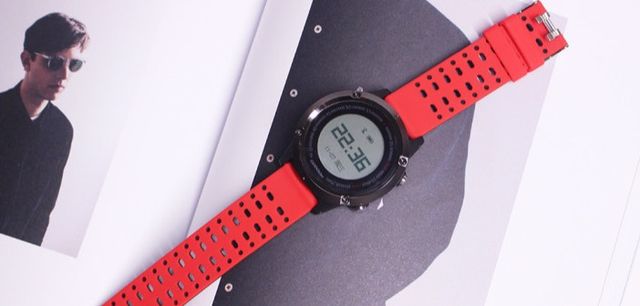 Codoon S1 has a large dial, covered and protected by a metal frame. The strap is made of soft rubber, and it is easily adjustable to the width of your hand. Currently the strap is available only in red color. Also, the strap has a lot of holes. They are mainly used to prevent sweat and water from entering the wrist. The only drawback is that the strap can not be replaced.
Codoon says about durability and reliability of the smartwatch. It is able to withstand temperatures up to 50 degrees Celsius.
As you can see from the photos, Xiaomi Codoon S1 has two physical buttons on the right side: Back and Menu. But we'll talk about them later.
On the back there is some information about the device, heart rate sensor and two magnetic charger connectors.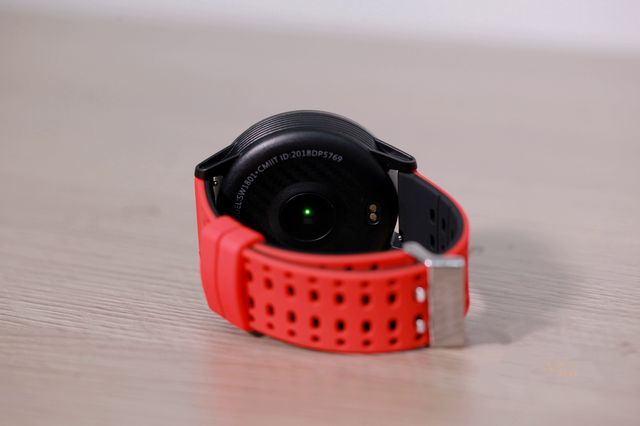 The dimensions of smartwatch are 47 x 22 x 13.66 mm. Xiaomi Codoon S1 weighs about 55 grams. It looks very stylish and bright, thanks to the red strap. The dial itself is made in black color. On the hand, the smartwatch looks more sporty than classically.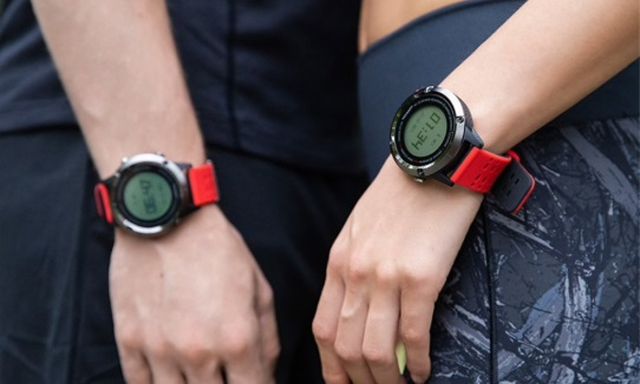 This smartwatch is waterproof to 5 ATM standard with IP68 level. It is equivalent to a pressure of 50 meters under water. You can not be afraid to use Xiaomi Codoon S1 in any weather, be it rain or snow. It is also suitable for swimming.
Xiaomi Codoon S1: Display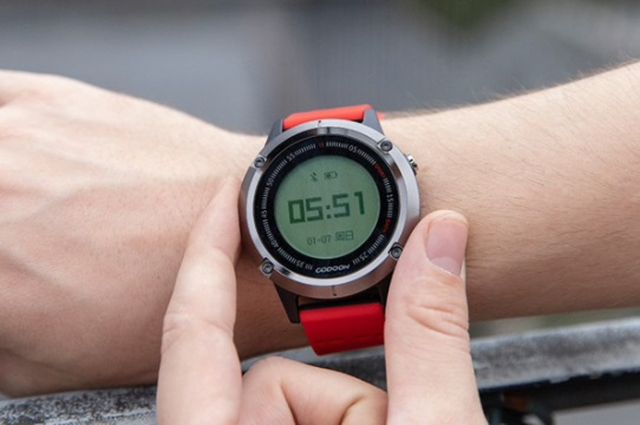 Xiaomi Codoon S1 is equipped with a 1.04-inch black and white TFT touch screen. The main screen displays information about  Bluetooth, battery level, time and date.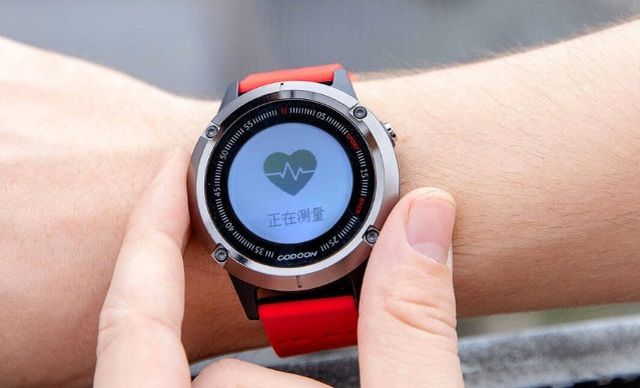 Probably the only drawback of the display is that it is monochrome, but not color, like most competitors. However, the display is large and allows you to conveniently view any information. You can read messages and notifications from a connected smartphone, or the phone number of the incoming call.
Xiaomi Codoon S1: Functions
Unlike most smartwatches, which are activated when the wrist is lifted, Xiaomi Codoon S1 can be turned on and off. As we have said, there are two buttons on the right side of the dial. Just press and hold the button to turn the smartwatch on and off. It can also be turned off if you do not use the smartwatch for a long time.
In settings menu you can choose from three different watch faces.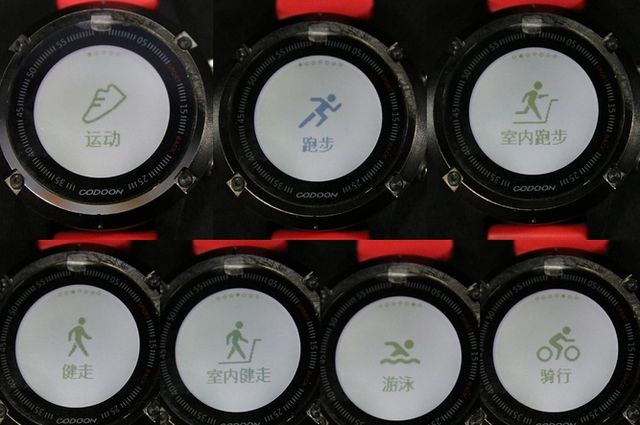 Since this is sports smartwatch, it has various sports modes, such as running, riding, walking, swimming and other six sport modes to meet the needs of different people who like to play sports.
In addition, the smartwatch measures heart rate, blood oxygen, blood pressure, etc. The collected data can be viewed on the watch screen. Just briefly press the top button to go from the main screen to  sport / heart rate / weather / other functions / settings.
The last screen provides information about steps, can see the data on the number of steps, heart rate and blood pressure. The sensors monitor heart rate 24 hours a day in real time. Built-in GPS allows you to track your daily activity with high accuracy.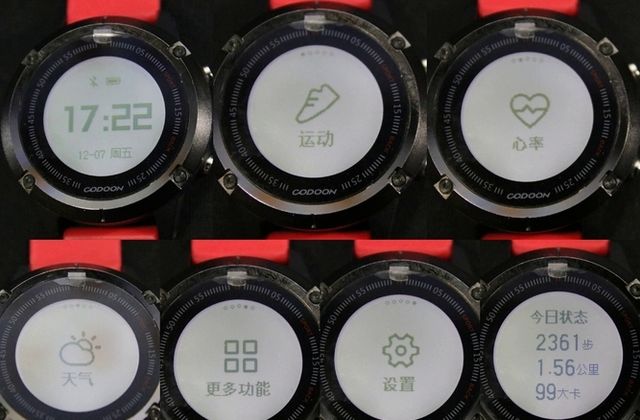 The screen of smartwatch is touch. You can change the screen using the swiped, instead of pressing the right top button.
Xiaomi Codoon S1 also has other additional functions: stopwatch, compass, blood pressure and blood oxygen.
Xiaomi Codoon S1: Application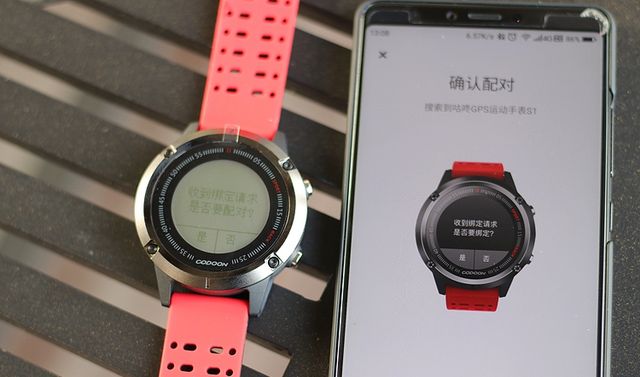 Codoon S1 is connected to a smartphone via Bluetooth. The smartwatch is compatible with both Android and iOS phones. You just need to download the application on your smartphone, and then you can synchronize data with it.
You will get access to statistics and many additional functions. After connecting via Bluetooth, Xiaomi Codoon S1 will receive incoming calls, SMS and notifications from social media.
Xiaomi Codoon S1: Battery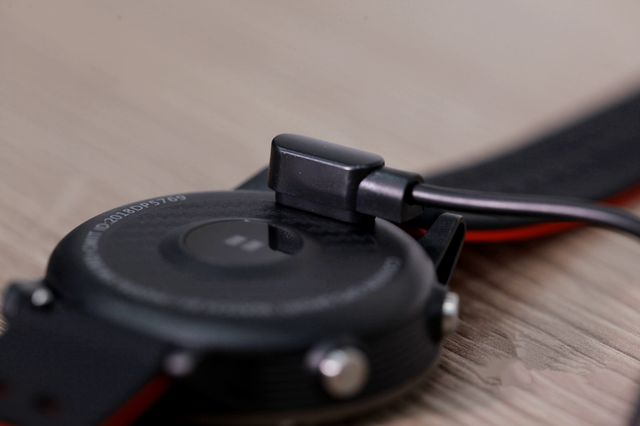 Codoon S1 smartwatch is equipped with 300mAh battery. Thanks to monochrome screen, the battery life is up to 35 days in standby time. If you regularly use GPS, then the smartwatch will work about 15 days. Can you imagine – Xiaomi Codoon S1 has longer battery life than Xiaomi Mi Band 3!
To minimize power consumption, the smartwatch received Bluetooth 5.0 version.
Xiaomi Codoon S1: Price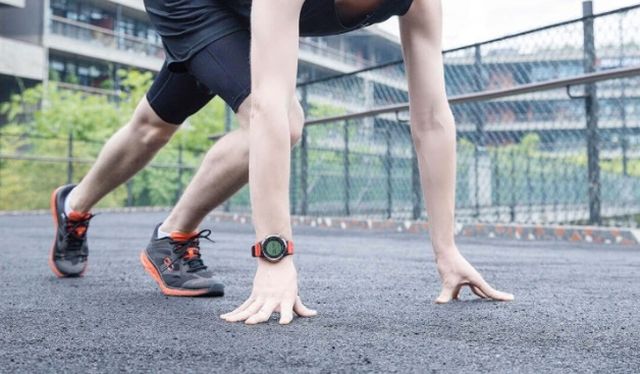 Today we made the first review of smartwatch called Xiaomi Codoon S1. It is equipped with a large screen, many useful features, IP68 water protection and a powerful battery with 35 days of battery life on a single charge.
The only disadvantage of this smartwatch is monochrome display. For some people it can be a significant drawback. The price of Xiaomi Codoon S1 is only $40. It is cheaper than Xiaomi Amazift BIP!
[affcoups template="list" id="33213″]
[affcoups template="list" id="33218″]
Source: smartwatchspecifications