The Chinese brand Xiaomi is mostly famous for smartphones and mobile accessories, but also it produces alternative types of transport. We are already familiar with scooters Xiaomi M365 and Ninebot ES2. In early June 2018 the manufacturer announced its new representative in the world of electric transport – Xiaomi HIMO V1.
[content-egg module=Offer template=list]
Xiaomi HIMO V1 is an electric bicycle of the middle class. It is a simple and practical transport option for traveling around the city. Its small size, strong metal construction and various riding modes are just some of the main features. So, today we have first review of Xiaomi HIMO V1.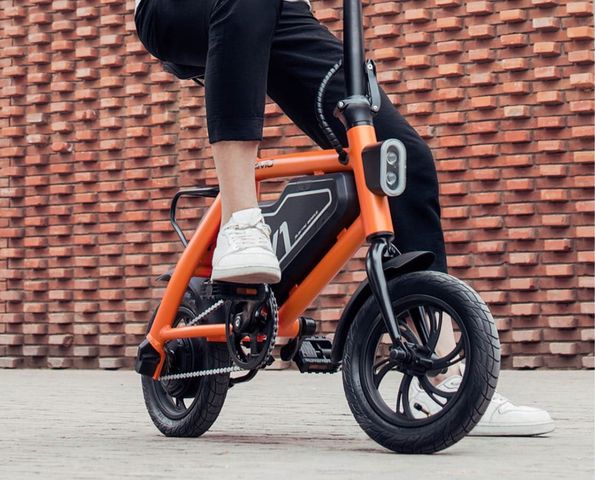 Xiaomi HIMO V1: Features
Dimensions: 1080 x 510 x 1020 mm
Weight: 16.7 kilograms
Colors: White, orange
Engine: Brushless 250W
Wheels: 12.5-inch
Speed: Up to 20 km/h
Battery life: 50 km
Light: Rear red light and dual LED in front
Maximum weight: up to 100 kg
Protection against water and dust: IP54 certification
Package contents: electric bicycle, charger, instruction manual
Xiaomi HIMO V1: Design
The new bicycle is produced only in two color options. There is a model in black and white and in orange and black colors. The second option for those who would like a little more bright colors in daily life.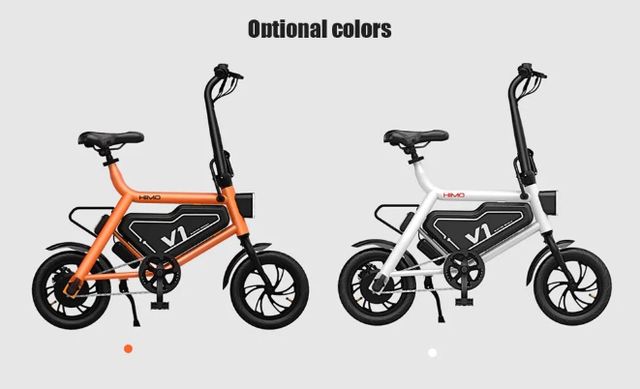 HIMO V1 has very compact dimensions. It is much smaller than most other bikes. It has a weight of 16.7 kg and dimensions of 108 x 51 x 102 cm. The new Xiaomi electric bike has smaller distance between the steering wheel and the rear wheel. According to the manufacturers, the electric bike has convenient ergonomics for the ordinary human body.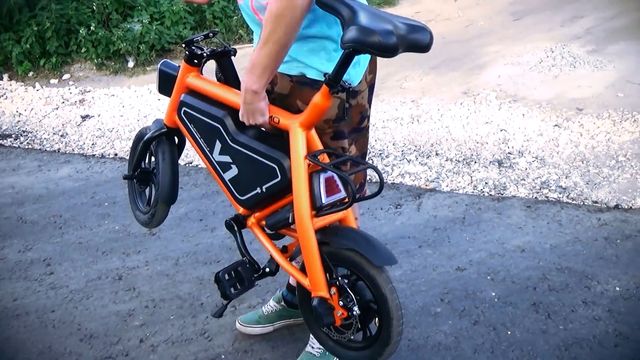 As for the details, the steering wheel is aluminum and can be folded. The steering wheel can be turned vertically and the electric bike will take much less storage space at home. The seat is made of synthetic leather.
Xiaomi HIMO V1: Light
There are many types of electric vehicles that use LED lamps in their design. They allow to use the electric transport at night, although many lamps have weak quality and not so useful in really dark conditions.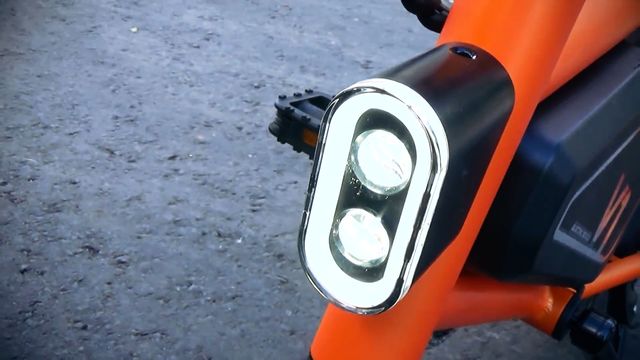 Fortunately, Xiaomi Himo V1 received one of the most powerful lights among its competitors.
Te user can see everything that happens in front, and detect any obstacles or deformations on the sidewalk thanks to dual LED system that looks excellent.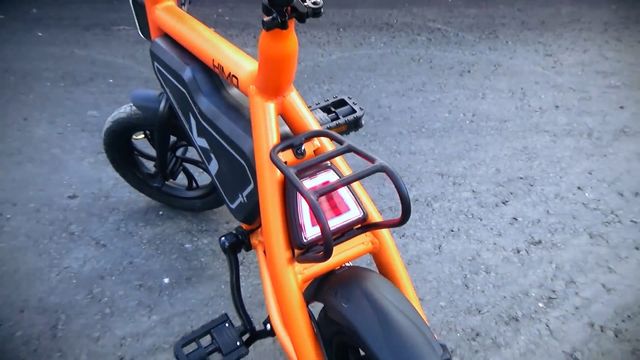 A bright red LED, which is located above the rear wheel, will report about you to those who are driving behind you.
Xiaomi HIMO V1: Functions
Another feature that you should pay attention is that absolutely all cables are hidden inside the case. It makes the bike waterproof. You can use it under the rain, or even wash with the hose.
250W motor and 12.5-inch tires provide good handling and high efficiency when changing speed or during strong winds when driving on a slope. In addition, the wheels not only have high resistance to shocks, but also avoid sliding on any surface.
If we talk about braking system, it works perfect both in normal conditions, and on a wet road during a rain. The brake disc allows you to completely stop at a distance of 4 m on dry and 6 meters on a wet road.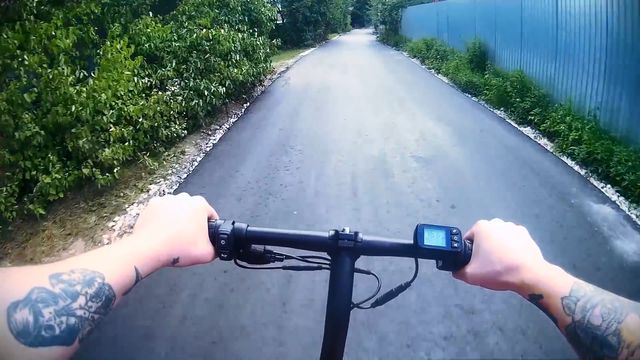 On the right side of steering wheel is located a display with useful information, such as speed and distance traveled, battery level, etc. There are three physical buttons: power on/off, switch modes and to return to the menu.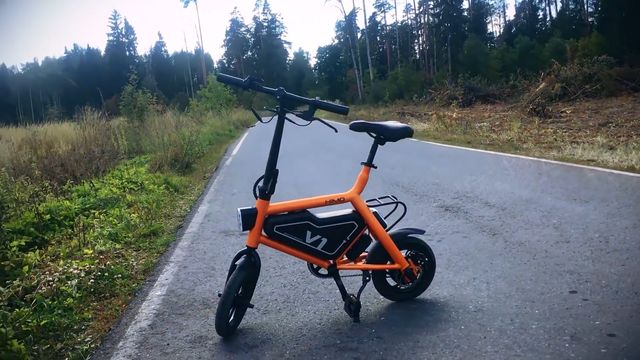 By the way, under the seat, next to the rear wheel, you can find a small waterproof cover. It allows you to store the necessary tools, for example, charging cable. So, you can quickly connect the bicycle to the outlet, and charge it.
Xiaomi HIMO V1: Battery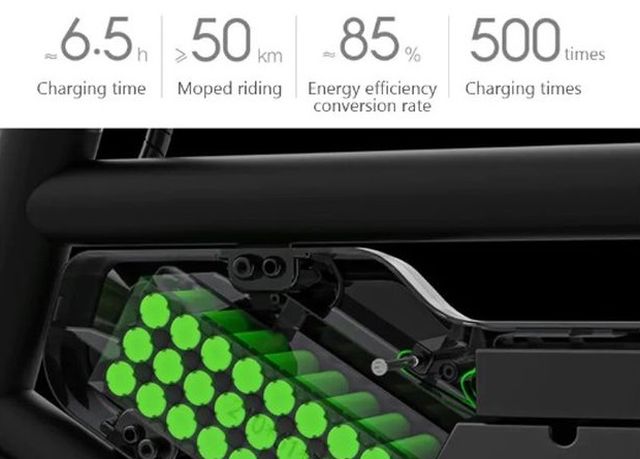 The built-in lithium-ion battery is located under the seat. It provides up to 50 kilometers of riding on a single charge. The full battery charge of Xiaomi HIMO V1 takes about 6.5 hours.
Xiaomi HIMO V1: Price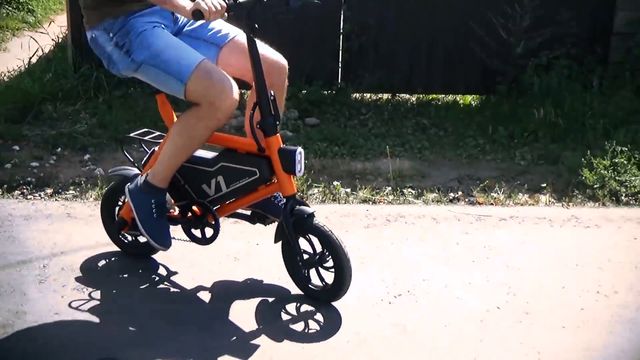 Xiaomi HIMO V1 is already available on sale, and you can buy it on Chinese online stores, such as GearBest, Bangood, etc. The price starts from $359.99. It is a great chance to change from car or public transport to electric bike. Do you agree?
[content-egg module=Offer template=list]