Xiaomi has made a great contribution to the development of wearable technologies. Its fitness bracelet Mi Band is the most popular wearable device in the world. Most likely, you or a friend of yours have a smart band from Xiaomi. The main factors of popularity of Xiaomi Mi Band bracelets are the long battery life, affordable price, good set of functions and excellent application on smartphone.
The Chinese manufacturer has been able to preserve all these features for all three generations of fitness bracelets, from the first Mi Band to Mi Band 3. The new fitness tracker of 2019 – Xiaomi Mi Band 4 – has these features, but also received many others, for example, color AMOLED screen, music control, NFC, etc.
As you can see, today we have unboxing and full review of Xiaomi Mi Band 4. Looking ahead, I'd like to say that you should buy Mi Band 4, even if you already have Mi Band 3.
Where To Buy?
Xiaomi Mi Band 4: Unboxing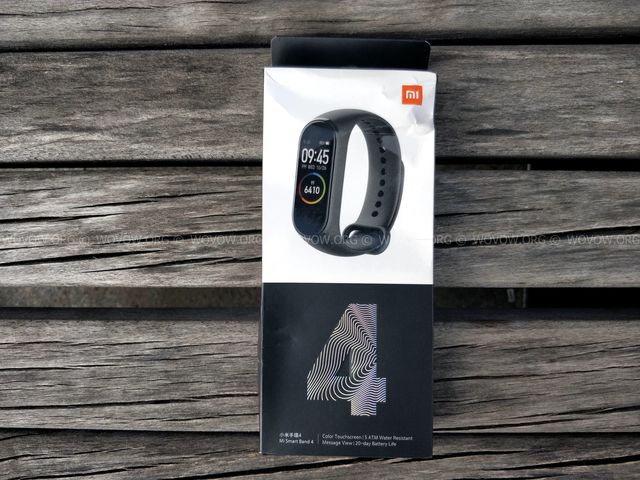 I want to note that we will often compare a new bracelet Xiaomi Mi Band 4 to the last year's Mi Band 3. We cannot talk about the new features of smart band without comparing it with the previous generation.
So, Mi Band 4 has a new box. Last year, I bought Mi Band 3, and it came in a regular white box, just like Mi Band 2. No doubt, the new box looks more interesting, and we can see that it is Mi Band 4, not some other device.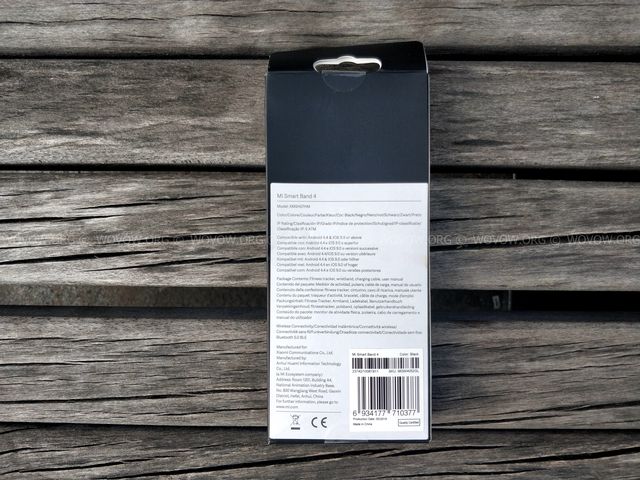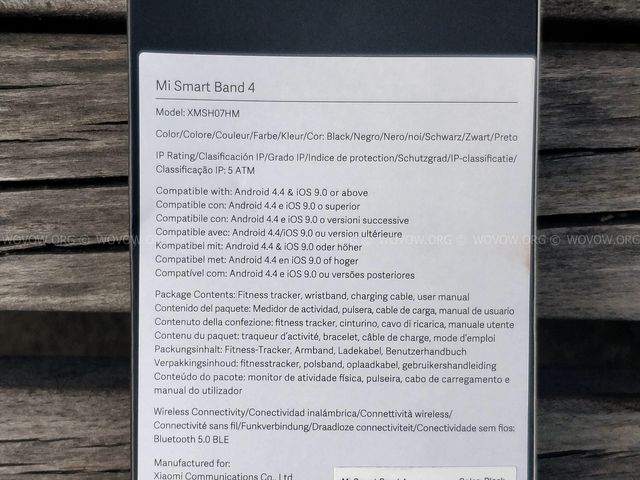 Too bad my box was a little damaged during delivery. Yes, it is made of ordinary cardboard, so it is not protected from shocks and damage. Anyway, the fitness bracelet inside wasn't damaged.
As you can see, I have a global version of Mi Band 4, because all the inscriptions on the box are in English.
On sides of the box, there are main functions of fitness bracelet, such as 5ATM water resistance, Heart rate monitor, color touchscreen, and others. We will about all the functions in this article.
The package consists of Mi Band 4 fitness tracker, charger and user manual. By the way, the user manual is in English, and it's a pretty thick book. You can read it, if you have any issues with smart band.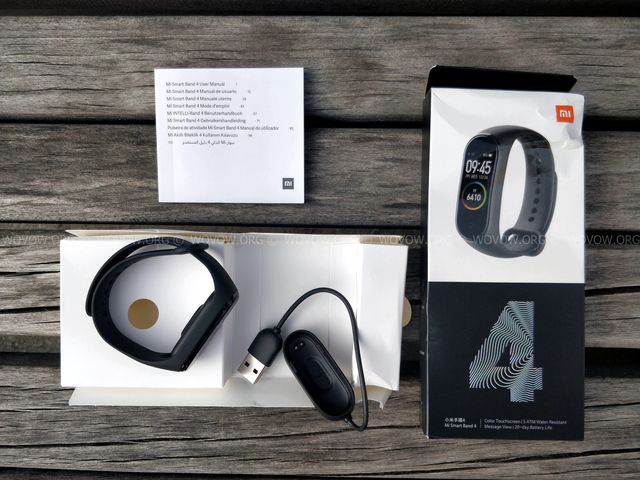 The charger of Mi Band 4 is changed from the previous version of fitness tracker. It means that you cannot use the charger from Mi Band 3 to charge Mi Band 4, and vice versa.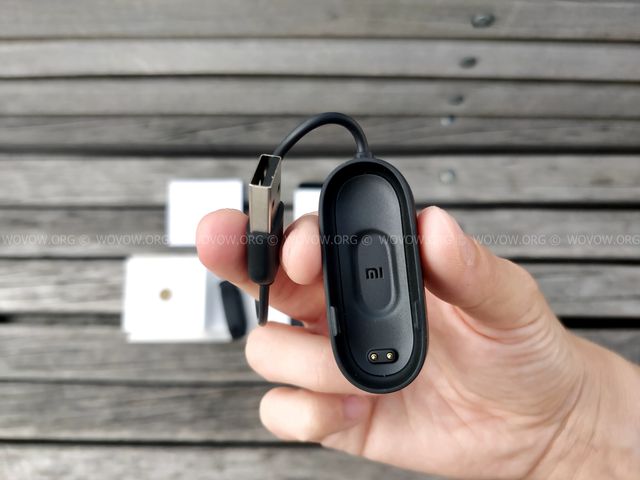 That's all! Now, let's talk about design.
Xiaomi Mi Band 4: Design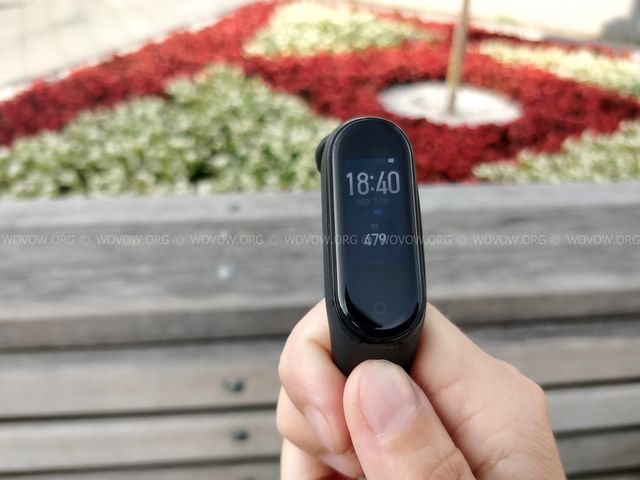 At first glance, Xiaomi Mi Band 4 doesn't differ much from Mi Band 3. However, they have many differences. The strap is still made of silicone, but it seems it's become more durable. At least the tracker in the strap is more securely fastened. It's very hard to get the tracker out of the strap now. I think it's a good thing.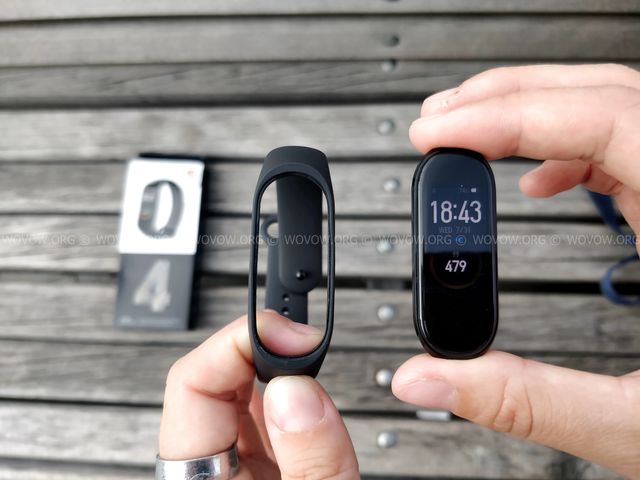 Also, the new tracker has become thicker. There are some inscriptions and barcodes on sides. Most likely, you can check the originality of fitness bracelet from these inscriptions.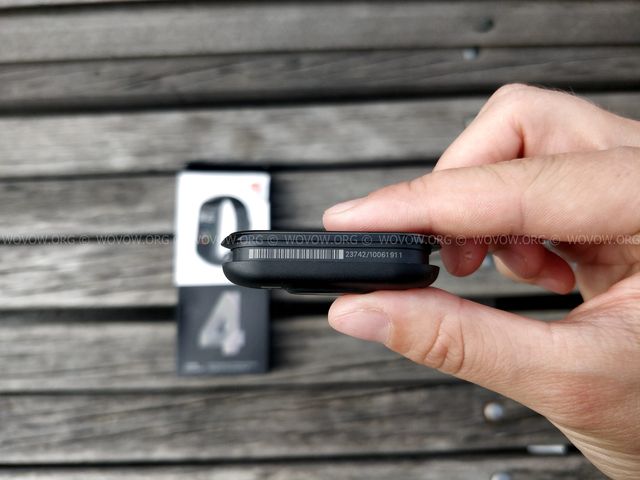 On the back of fitness tracker, you can see heart rate monitor and charging connector. There are also some warning signs here, but I do not think you're interested in them.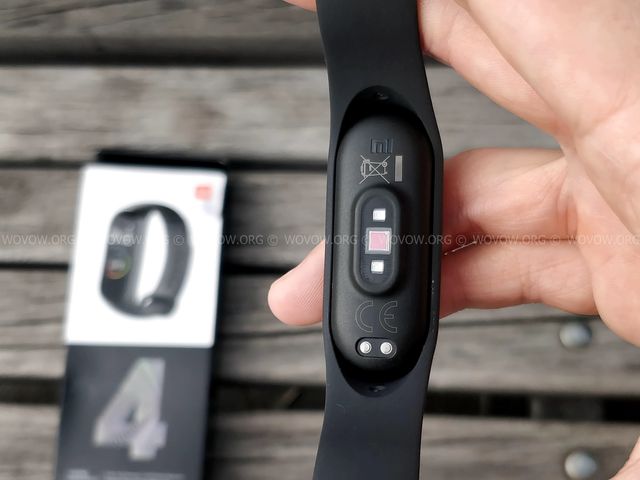 As you can see, there is a display on the front. We will talk about it in more detail later.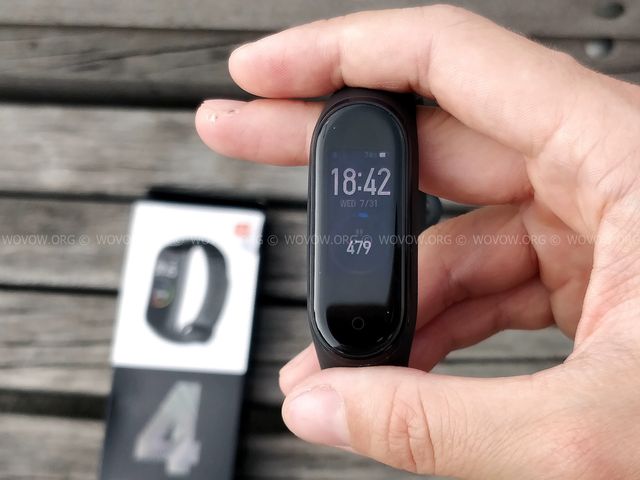 Also, I want to say about ATM 5 water resistance of Xiaomi Mi Band 4. If you don't know about ATM, it is a waterproof standard for all devices, not only fitness bracelets. 5 ATM means that gadget is water-resistance up to 50 meters. You can use Xiaomi Mi band 4 in the pool. It even has a sports swimming mode.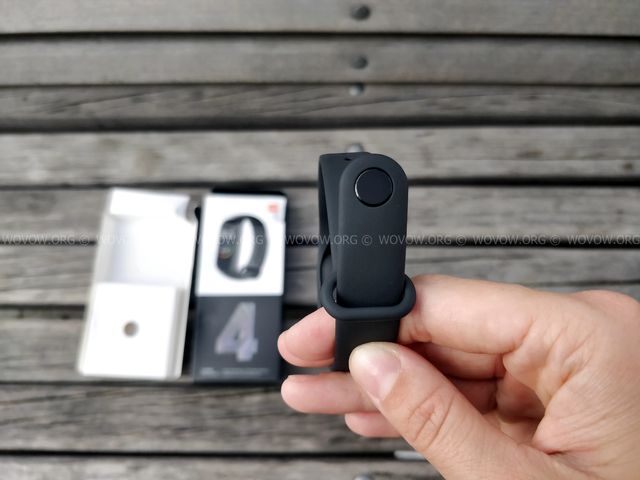 Xiaomi Mi Band 4: Display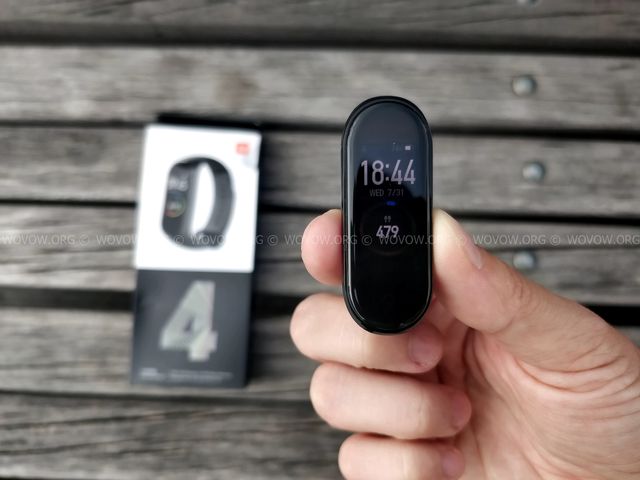 It's time to talk about the screen of Mi Band 4. It is changed a lot since the last generation of fitness bracelet. It becomes larger – 0.95 inch diagonal, clearer – 120 x 240 pixels resolution and finally color. We are waiting for the color display in Mi Band fitness tracker for a long time.
This is AMOLED panel, so it is much more visible in direct sunlight than the previous smart band. The next improvement is full touch screen. You can use swipes on the screen to change functions, not only control button at the bottom of the display.
Finally, the last feature of Mi Band 4 screen is 2.5D curved Gorilla Glass. This protective glass will protect the screen from scratches. As you can see, the screen has changed a lot, and it is very pleased!
However, you should note that the screen is rectangular, not oval like a tracker. I don't think that's a problem.
Xiaomi Mi Band 4: Functions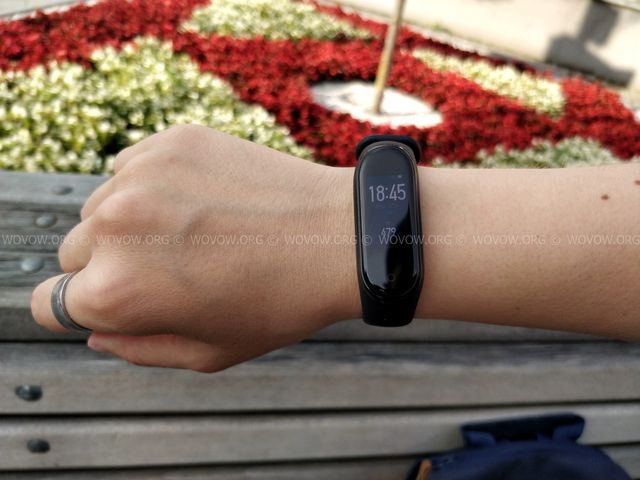 Of course, we need to talk about functions of Mi Band 4. The main watch face looks like the image above. In general, there are four watch faces on fitness tracker, but you can download 77 more watch faces from Mi Fit app. We will talk about Mi Fit app later.
Swipes to the left or right opens music control function. Xiaomi Mi Band 4 doesn't have built-in memory, so you cannot upload music on fitness tracker. However, you can play the music on smartphone, and pause/play it, or change the tracks, as well as change the volume using the fitness tracker. It is very convenient.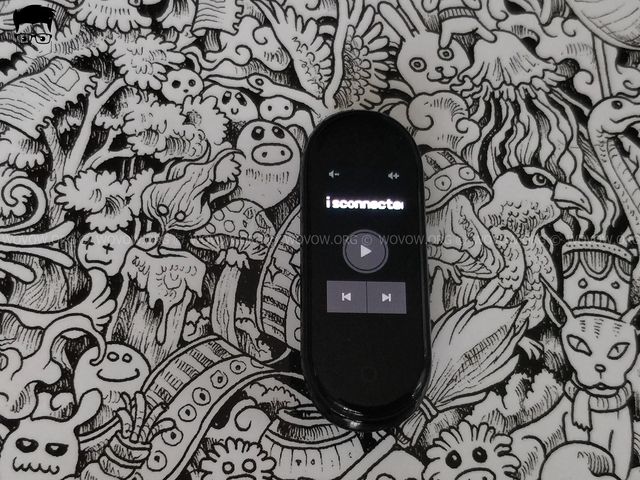 Also, there are following functions: Status, Heart Rate, Workout, Weather, Notifications and More.
Tap on More, and you will find DND mode, Alarm, Music, Stopwatch, Timer, Find device, Silent, Band Display and Settings.
The settings menu has Brightness, Lock screen, Reboot, Factory reset and Regulatory.
Among the sports modes or workout are outdoor running, treadmill, cycling, walking, exercise and pool swimming. Interestingly, you can even choose the size of the pool in swimming mode.
Xiaomi Mi Band 4: Battery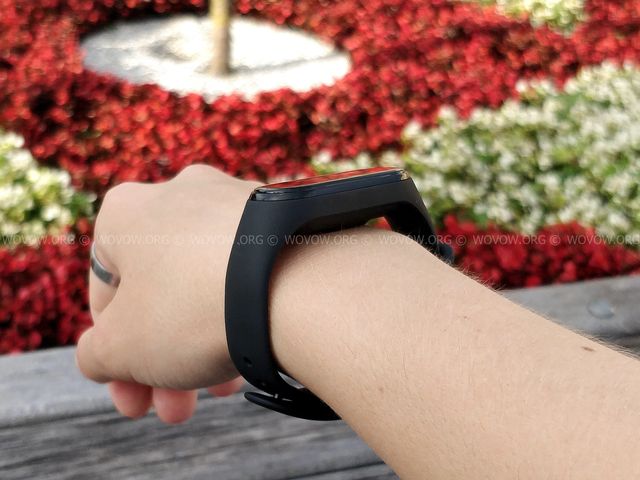 A few words about the battery, because I use Xiaomi Mi Band 4 for only four days. I actively tested the fitness bracelet, walked every day, played sports, and the battery of Mi Band 4 discharged from 90% to 70%. It's gonna be a little bit of math – 20% in 4 days, so 100% in 20 days.
This is a good battery life, especially considering the active use of fitness tracker. If you do not use sports modes, you can count on 25-30 days.
The full battery charge takes about 2 hours.
Mi Fit App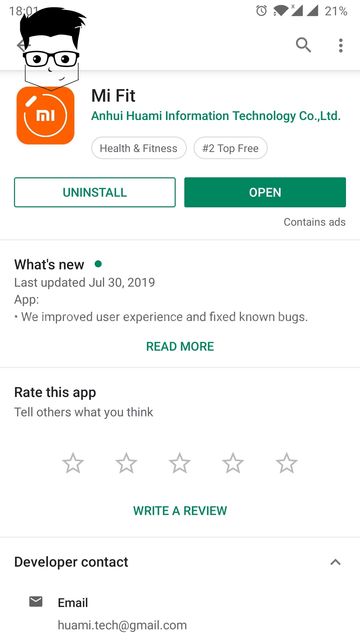 Finally, I want to show you and tell you about the options of Mi Fit app. Like previous generations of fitness bracelets and other smartwatches from Xiaomi, Mi Band 4 connects to your smartphone via Mi Fit App. This is a very useful application. I think that Mi Band has become the most popular fitness bracelet because of Mi Fit application on smartphone.
Recently, Mi Fit app was updated, and it received a completely new user interface. I think it looks amazing. There is the status tab on the main screen. Here you can see steps, heart rate, weight and sleep time. You can also choose walking, running and cycling.
At the bottom, you can choose Friends tab. If you have friends with Xiaomi wearable devices, then you can monitor their daily activity. Of course, you won't see their movement route, but you'll find out how many steps they've taken in a day.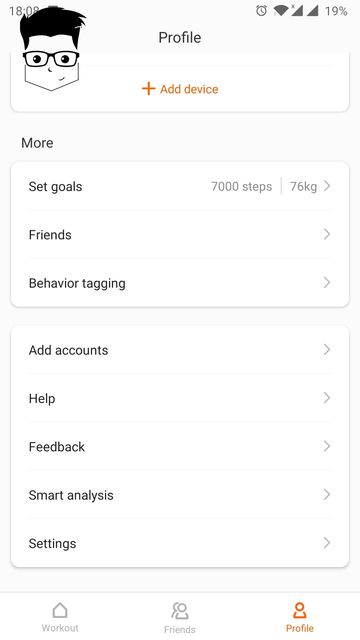 The last tab is called Profile. Here you can add new device, set goal, add accounts, etc. However, we are interested in Xiaomi Mi Band 4 functions. There are many options, such as Watch face settings, unlock screen, incoming call, event reminder, etc. However, many of them are the same as the previous generation of bracelets or other watches, for example, Amazfit BIP.
Perhaps, the only new function for Mi Band fitness tracker is watch face settings. As I already said, you can choose from 77 watch faces. I think that you can even download more or create your own watch face. I have not tried it yet.
Conclusion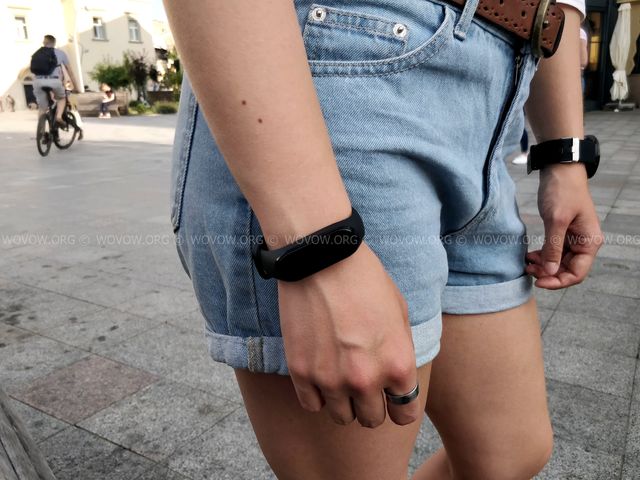 I have a conclusion about a new fitness bracelet Xiaomi Band 4. It's a must-have gadget. If you already have Xiaomi Mi Band, Mi Band 2 or Mi Band 3, then Mi Band 4 will be a good update.
If you have a fitness bracelet from another manufacturer, then Mi Band 4 will please you with its functions as well as Mi Fit app on smartphone.
If you don't have a smartwatch or fitness bracelet at all, then you should think about buying Xiaomi Band 4. It will allow you to monitor steps, sleep, heart rate, or just know the time without taking the smartphone out of your pocket. I'm not even talking about sports modes, music control, call and message notifications and other useful features.
Xiaomi Mi Band 4 is a must-have fitness tracker!
Where To Buy?
Source: mi