In 2018, Xiaomi released Mi Pad 4 tablet, which has still not been updated. The Chinese company didn't introduce the next generation Mi Pad 5 in 2019, but it also forgot to upgrade Mi Pad 4 to MIUI 11 operating system.
Many people thought that Xiaomi has stopped releasing and supporting tablets.
However, recently the reliable source confirmed that Xiaomi work on the new tablet. A couple of days ago, the renders of new Xiaomi tablet were published, but it will be a slightly different device. The tablet also has the new name – Xiaomi Mi Tab 5.
Let's see how the new tablet from Xiaomi may look like in 2020.
Xiaomi Mi Pad 5 / Mi Tab 5
In fact, Mi Pad 4 will be the last Xiaomi tablet, but in Mi Pad series. The Chinese manufacturer decided to rebrand the tablet series. Most likely, it is because Mi Pad series was not very successful. However, this is not a problem of only Mi Pad series, but the market of tablets itself.
In my opinion, Xiaomi tablets were beautiful, powerful and inexpensive. The problem was that Xiaomi was unable to modify MIUI OS, so many users complained about software.
The rebranding of the tablet series looks like a new lifeline. But if Xiaomi will not take into account its past mistakes, then there will be no sense.
Right now we can only look at renders of the new Xiaomi Mi Tab 5, and talk about its main features.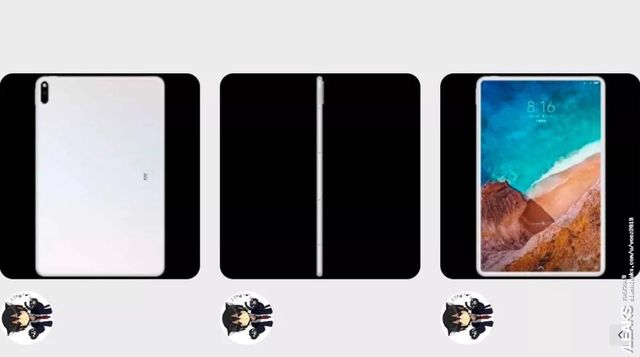 Xiaomi Mi Tab 5: Design
As you can see, the new Xiaomi tablet 2020 will have very thin bezels around the display, which is very important now.
You can also notice the missing of front camera on the front panel. Most likely, it is a mistake, because the front camera plays a very important role in tablets. Many people use tablet for video communication and even selfies.
On the back of Xiaomi Mi Tab 5 you can clearly see the dual main camera with flashlight. We think that the main sensor will have 48MP resolution.
Xiaomi Mi Tab 5: Specifications
As for technical specifications, we don't know anything about them. We can only assume that Xiaomi Mi Tab 5 will be equipped with mid-range processor, for example, Helio G90T or Snapdragon 730G.
The diagonal of display will be around 10-inches and resolution of Full HD+.
The tablet will also receive SIM support and battery capacity of more than 6000mAh.
Xiaomi Mi Tab 5: Release Date and Price
The date of announcement and the price of new Xiaomi tablet are still unknown. Perhaps the new Xiaomi Mi Tab 5 will be presented closer to summer, and its price will not exceed $300.
[content-egg module=Offer template=list]