Back in 2017, Xiaomi introduced Mijia Laser Projection TV 150 projector. It can project an image with a diagonal of up to 150-inches at a minimum distance from the wall. In early 2019, the Chinese company announced a 4K version of the projector called Xiaomi Mijia Laser Projector 4K MJJGTYDS01FM. It will go on sale in coming days, but we already know its specifications and features. In short, there are practically no competitors for new Xiaomi projector!
In this article we will make the first review of Xiaomi Mijia Laser Projector 4K MJJGTYDS01FM, look at specifications, design, features and price. As usual, let's start with design.
Xiaomi Mijia Laser Projector 4K MJJGTYDS01FM: Design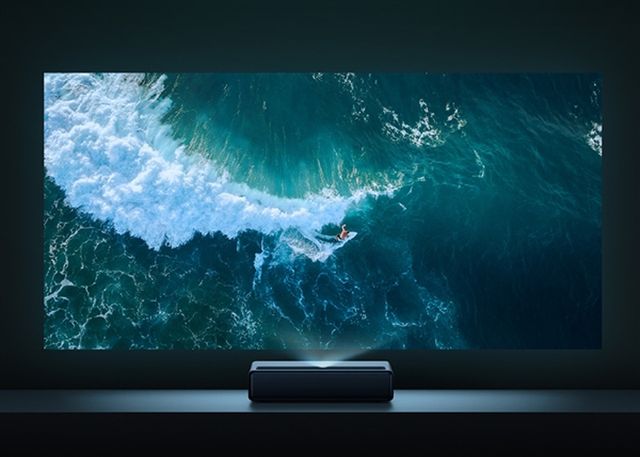 At first glance, new projector looks the same as previous version. However, there are some changes.
Xiaomi Mijia Laser Projector 4K MJJGTYDS01FM looks very stylish, but we cannot call it compact. Its dimensions are 41.00 x 29.10 x 8.80 cm and weight of 7.2 kg. The projector is more suitable for installation to the ceiling or another comfortable place than for transportation or carrying every time you want to watch a movie.
Xiaomi projector is made of high-quality ABC plastic of matte black color. By the way, the previous version of Xiaomi Mijia Projector 150 was available in black and white colors. Perhaps, Xiaomi Mijia Laser Projector 4K will be released in other color options.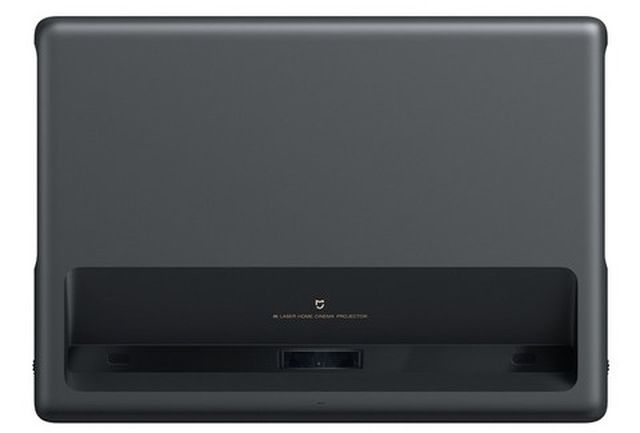 The top panel has only a small black bar with projection laser and a small Xiaomi Mijia logo. The entire front panel is occupied by a grid. There are two high-quality dual-frequency speakers.
Most of the side panels are reserved for the cooling system. These are holes for air intake and cooling of the projector. Also, on the right side we can see a circle for focus adjusting and USB 3.0 port.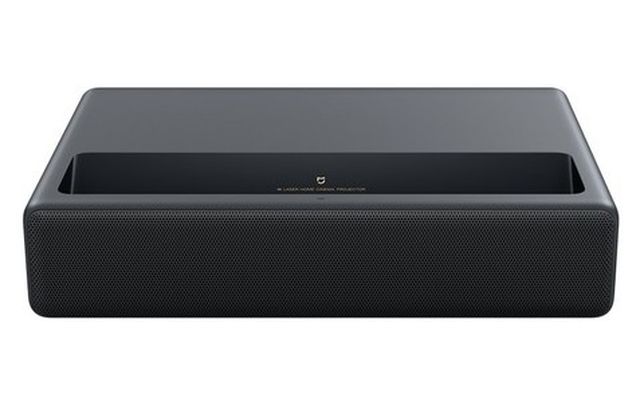 All the ports and connectors are places on the back: 3.5mm audio jack, AV, HDMI and USB 3.0. Yes, there are only few ports, but enough for all the necessary connections. The advantage is that all these interfaces are not placed around the body, but on one side.
Now let's see the package contents. Here it is standard: the projector Xiaomi Mijia Laser Projector 4K MJJGTYDS01FM, remote control, power adapter, cloth for wiping the laser and user manual.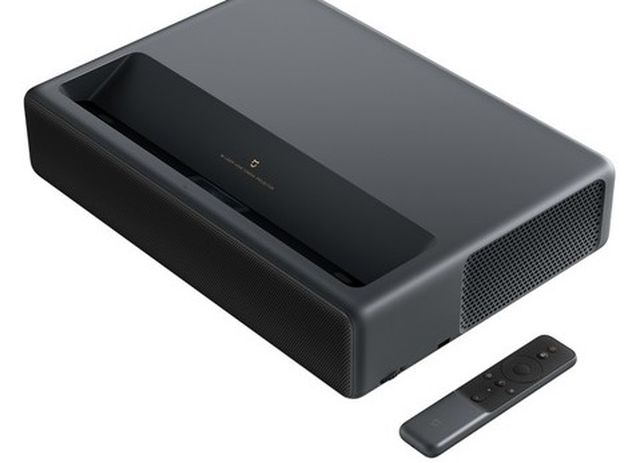 The control panel is very beautiful and minimalist. It is made of the same materials and colors as the projector. There is a circular button to move around the menu, and OK button is in the middle. There are also control buttons, such as Home, Back, Menu, Power, Mute and volume rocker. The remote control is powered by two AAA battery.
Xiaomi Mijia Laser Projector 4K MJJGTYDS01FM: Functions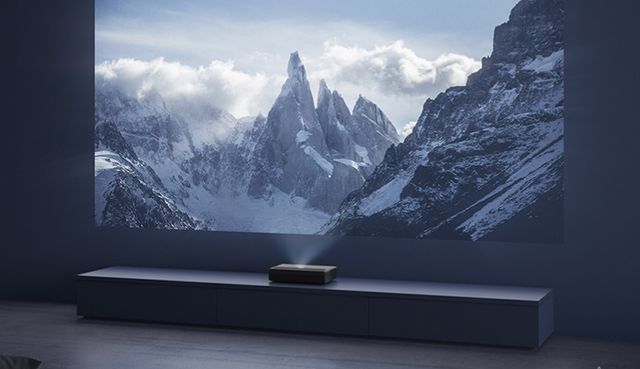 Now let's review the main features of Xiaomi Mijia Laser Projector 4K MJJGTYDS01FM. The projector uses a new generation of ALPD lamps. Its brightness is 1500 ANSI lumens and power less than 300 watts. The lamp life is as much as 25.000 hours. If you use the projector every day for about 4 hours, then the lamp will serve you for more than 17 years! As you understand, the projector will definitely pay off for this time.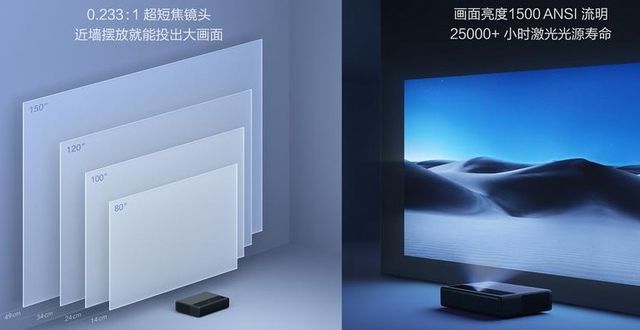 As the name says, Xiaomi Mijia Laser Projector 4K MJJGTYDS01FM has a support of 4K video playback and native resolution of 1920 x 1080 pixels. The contrast is 3000:1. It will provide an excellent image quality, and you will see everything to the smallest detail.
The diagonal projection is from 80 to 150-inches. Thanks to the ultra-short focus, you need to put the projector only 24 cm from the wall for the image up to 100-inches. The image scale is 16:9 or 4:3. Also, the manufacturer says about HDR10 support.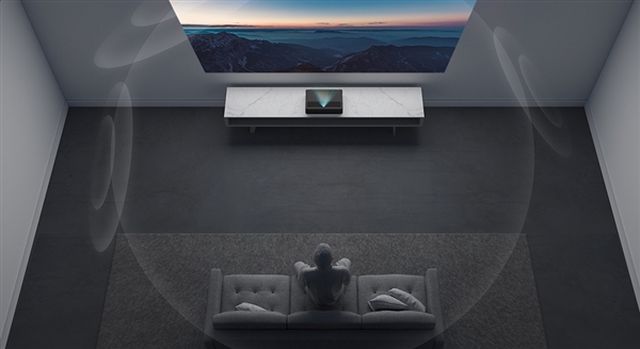 As for the sound, there are stereo speakers Dolby Digital and DTS-HD. They provide both deep bass and pleasant high tones. If you want even better sound quality, then you can connect a separate sound system. In addition, there is support for Bluetooth and Wi-Fi, as well as Chinese voice assistant Xiao Ai.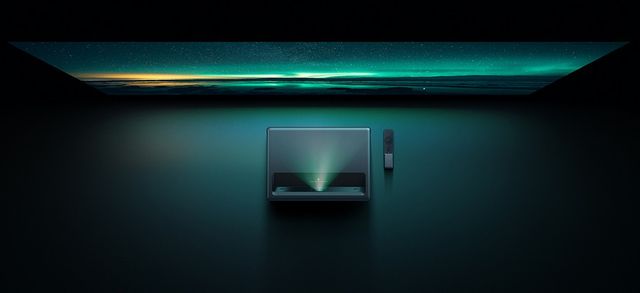 Xiaomi Mijia Laser Projector 4K MJJGTYDS01FM runs on its own user interface MIUI TV, which is based on Android. There are already pre-installed apps, such as Netflix and YouTube. However, we would like to see global version with stock Android TV system.
Another advantage of new projector is its low noise level – less than 32 dB. Of course, in complete silence you will hear the projector, but if you turn on the music or video even at low volume, then you will not hear the work of Xiaomi Mijia Laser Projector 4K MJJGTYDS01FM.
Xiaomi Mijia Laser Projector 4K MJJGTYDS01FM: Price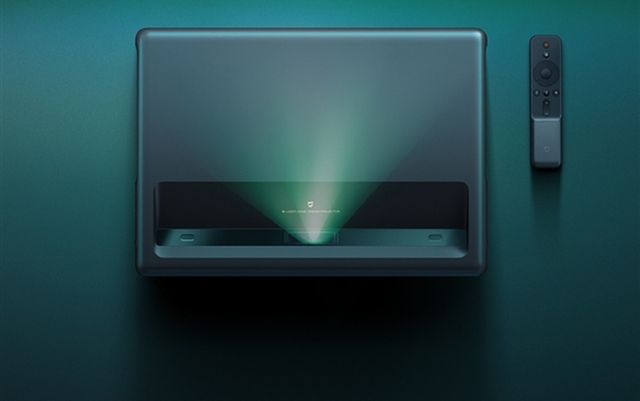 Xiaomi Mijia Laser Projector 4K MJJGTYDS01FM is a high quality projector. It received 4K video support, a powerful lamp, beautiful design, ultra-short focus and high-quality sound.
The price of new Xiaomi projector is not budget, but you should understand that this is premium gadget. It costs the same as other high-quality projectors, or maybe even cheaper.
You can order Xiaomi Mijia Laser Projector 4K MJJGTYDS01FM from January 18. The pre-order price will be $1480, but the retail price will rise to $2200. Yes, there are many more compact and affordable projectors on the market, but hardly any of them will be able to compete in performance with Xiaomi Mijia Laser Projector 4K.
Source: mi