Chinese Xiaomi has announced a new 60-inch smart TV Mi TV 3, the design of which is markedly different from competing solutions. The fact is that if the filling of traditional smart TVs concentrated in their body, the Xiaomi went the other way and put it in the speaker unit, effectively turning itself Mi TV 3 in a conventional monitor.
This decision allowed the TV to reduce the thickness of 11.6 mm at its thinnest, and 36.7 mm at its widest point and significantly simplify the work of service centers which to repair the TV will be enough to remove the block of its speakers. And, of course, the novelty looks much neater due to the smaller number of cables coming out of the TV cabinet.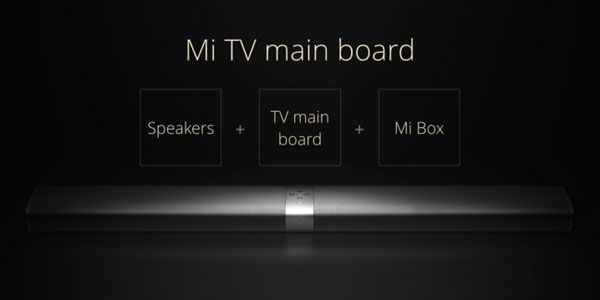 Apart from the two 2.5 "woofers and tweeter dome housing speakers Xiaomi Mi TV 3 installed motherboard, three ports HDMI, ports USB 3.0 + USB 2.0, VGA- and Ethernet-inputs, AV in and RF in, and the subwoofer output . TV runs on Android 5.1 with a proprietary interface instead Xiaomi Android TV.
LCD TV has a 4K-resolution. It can display 85% NTSC and a color palette supports MEMC, boosting quality and realistic display of dynamic scenes. TV enclosed in a casing with an aluminum frame. It is made of metal and power dynamics.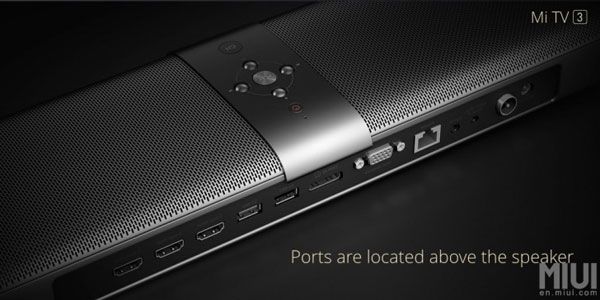 Xiaomi Mi TV 3 will cost users $ 787. It is interesting also that the manufacturer offers to buy the speaker unit separate from the TV. It costs only $ 157 and will transform into any smart TV monitor or TV. And, of course, this decision significantly simplify the process of repair of the Xiaomi Mi TV 3. good sound connoisseurs will be able to purchase an additional subwoofer worth $ 94 and for $ 16 you can buy a remote control with Bluetooth, voice search and 6 osnym motion sensor.