ZTE Company continues to work on flagship smartphones ZTE Axon 2. Benchmark GFXBench already managed to lay out the basic specs. Recently she was spotted in AnTuTu under the familiar index ZTE A2017. And this time, we not only were able to once again see the smartphone characteristics, but also received some insight into its performance.
And ZTE Axon 2 (A2017) was surprisingly high performance. And he was able to dial 140 086 points in the AnTuTu benchmark, was faster as the Xiaomi Mi 5 and Samsung Galaxy S7 flagship smartphone. And, knowing the pricing policy of the Chinese manufacturer, we can expect that it will be much cheaper than top-end smartphone Koreans.
The ZTE Axon 2 is based on the hardware platform Snapdragon 820 with 4 GB of RAM. Display smartphone has a resolution 2560h1440 pixels. And his likely diagonal, is at 5.5 ". The users are invited ZTE Axon 2 Duo of 20 megapixel and 8 megapixel camera, 64GB of flash memory and a modern Android 6.0.1 Marshmallow platform.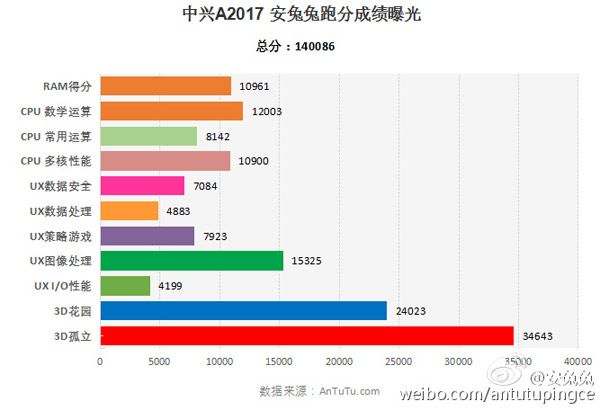 In other words, ZTE Axon 2 can be called a powerful flagship with top performance. And the novelty will almost certainly get a lot of modern features such as a fingerprint scanner.