ZUK China is preparing to release a new flagship smartphone ZUK Z2 Pro. And today, the head of Chan Cheng Company (Chang Cheng) confirmed that already 21 April ZUK introduce a new smartphone, which, by all accounts, it will be a top ZUK Z2 Pro.
Features ZUK Z2 Pro became known through the AnTuTu benchmark, in which he appeared under the code ZUK Z2121. According to him, the new "out of the box," running the Android 6.0 Marshmallow, as it is based on a powerful hardware platform Snapdragon 820.
The smartphone will be available in versions with 3 GB and 4 GB of RAM, which in both cases is complemented by 32 GB of flash memory. In ZUK Z2 Pro Duo set of 13 megapixel and 8 megapixel cameras, and its display is modest by modern standards Full HD resolution of 1920×1080 pixels.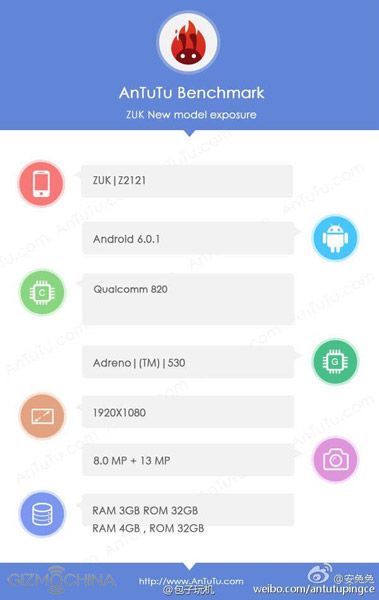 Previous flagship Chinese company, ZUK Z1, is equipped with a fingerprint sensor and 64GB of internal memory. And we doubt that the manufacturer will give up these features in ZUK Z2 Pro. Therefore, the new product will almost certainly get a fingerprint reader and will be available in options with both 32 GB and 64 GB of flash memory.
As for the price of the smartphone, it is rumored, it will be somewhere around $ 278 – $ 309.