SENBONO K1 is the new fitness tracker from the Chinese manufacturer with round dial, IP68 water resistance, sports modes, heart rate and blood pressure monitor.
The fitness tracker was provided by Cafago online store. This is the second smartwatch from the Chinese store. Earlier we already made unboxing and full review of V11 smart watch. It also has round dial and the same price category – under $25. You can compare these smartwatches to find out which one is better for you.
We want to mention that SENBONO K1 is not real smartwatch. According to functions and specifications, this is a fitness tracker. However, it has round dial with color display, so many people call it the smartwatch. This is not right, but since Cafago online store name it a smart watch, we will also call SENBONO K1 a smart watch. Just keep this in mind!
[affcoups template="list" id="37472″]
SENBONO K1: Unboxing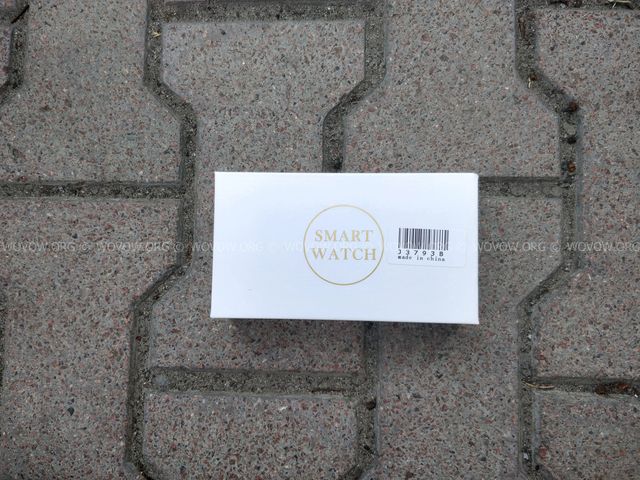 SENBONO K1 smart watch comes in a rectangle white box. It has only round logo with Smart Watch inscription on the front side.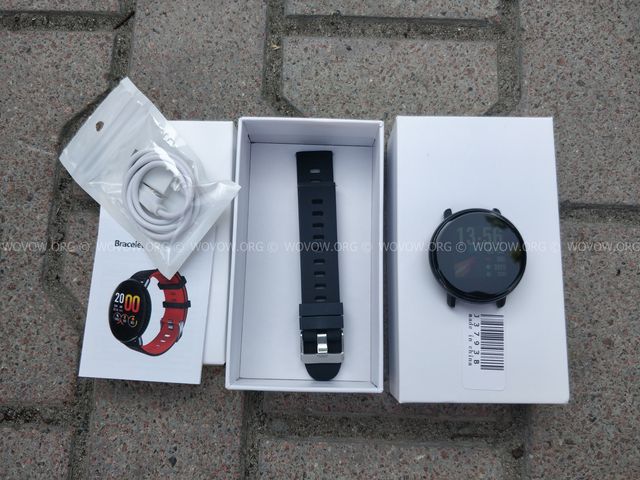 Inside the box, you will find the fitness tracker without straps, magnetic charging cable, user manual in English and silicone strap. As you understand, you need to attach the strap to the watch manually. It is not difficult.
SENBONO K1: Design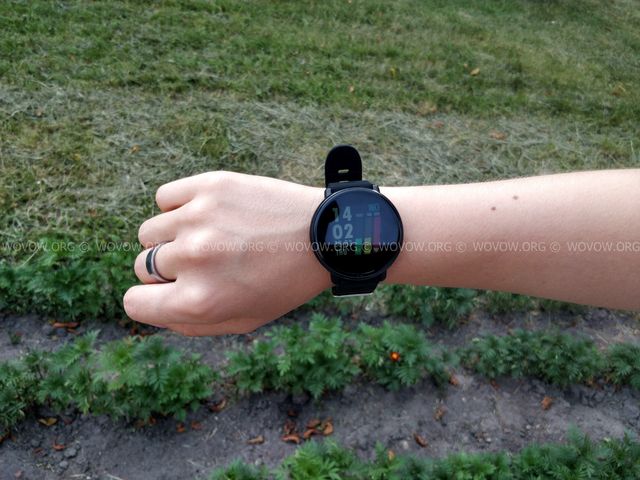 The first thing we noticed when we picked up SENBONO K1 smart watch was that it was much lighter than V11 smart watch. This is because the body of SENBONO K1 is made of plastic, while V11 has metal case. For comparison, SENBONO K1 weighs only 40 grams, while V11 – 165 grams. The difference is very big, do you agree?
The smart watch doesn't have physical buttons. You can change the functions only using the touch screen.
From other side of the screen it has heart rate sensor and two-pin magnetic charging connector.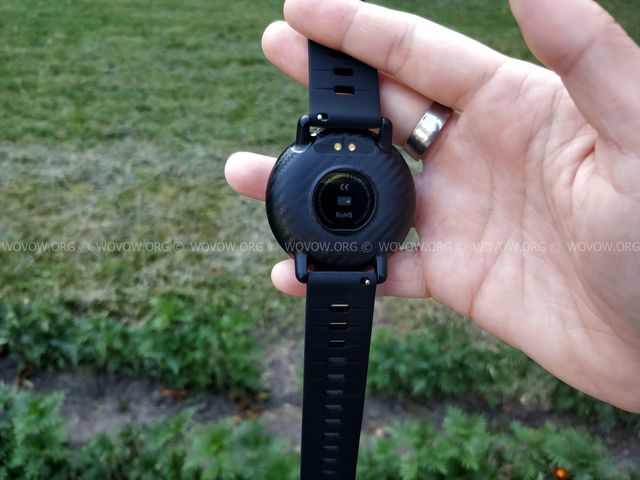 Although SENBONO K1 has the same screen diagonal, it is a little bigger than V11 smart watch. It has larger dial diameter – 44 mm, and dial thickness – 125 mm.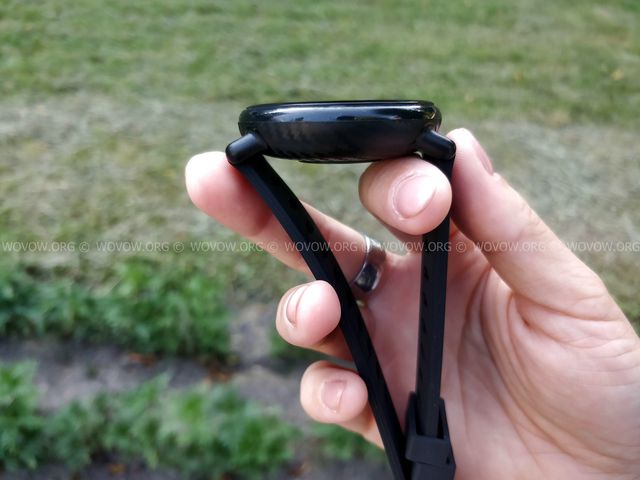 Anyway, the smart watch still looks nice even on female wrist.
SENBONO K1: Screen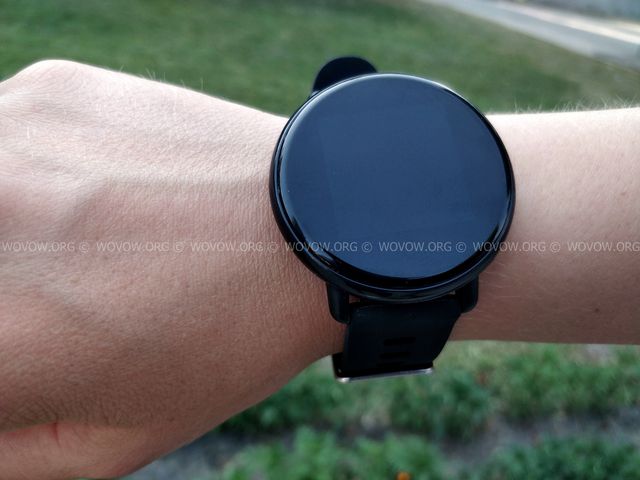 The screen of SENBONO K1 has a diagonal of 1.3-inches. The resolution is 240×240 pixels. If you thought that the display of this smartwatch is round, you were wrong. In fact, the screen is square, but the dial is round. This is the popular trick of all cheap smartwatches. Making a round screen is very expensive, so only flagship smartwatches more than $200 have round displays. The budget fitness trackers use square screens.
From other side, this is IPS panel, so you can see the screen even in direct sunlight. It is much better than monochrome display of Xiaomi Mi Band 3, and other fitness trackers.
In addition, the screen of SENBONO K1 is covered by 2.5D glass. In the others, the edges of the screen are rounded.
Unlike V11 smart watch, which has only touch control button under the screen, SENBONO K1 has full touchscreen display.
SENBONO K1: Specifications
The smart watch has Nordic52832 processor, 512KM of RAM and 64MB of internal memory. These specifications are not very interesting.
The more important thing is the battery. SENBONO K1 is equipped with 230mAh battery, and manufacturer says about 15 days of battery life in standby time. However, if you use heart rate monitor regularly, then the battery life will be about one week.
SENBONO K1 is synchronized with mobile devices via Bluetooth 4.0. You can use Android and iOS phones to connect to smart watch.
SENBONO K1: Functions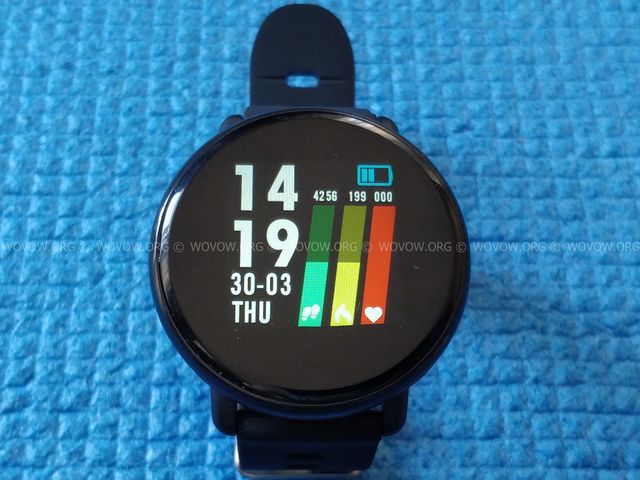 The watch face of SENBONO K1 provides all necessary information, such as time, date, steps, calories, heart rate and battery level. It seems that this is the only watch face available for this smart watch. We didn't find the way how to change the watch face.
The next screen says about firmware and system update. Then there is find phone function, timer, sleep tracking, new messages, sport modes, blood pressure monitor, heart rate monitor and sport data.
That's all! As you can see, SENBONO K1 doesn't have music control, unlike V11 smart watch.
SENBONO K1: WearHealth App
The companion app on smartphone is called WearHealth. You can download it in Google Play Store and Apple App Store.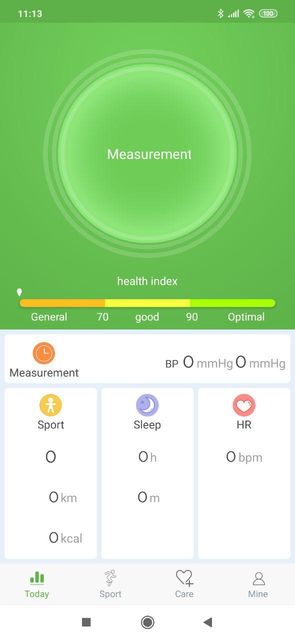 The synchronization is very simple. You just need to turn on Bluetooth on your phone, then open WearHealth App, create account and click on – Connect new device. It takes only few minutes to connect.
As usual, there are several tabs at the bottom.
The first one is your daily activity – steps, calories, sleep and heart rate.
The next one is called Sport. It tracks your running or walking.
The third tab is Care. Here you can add your friends, and follow them.
The last one is Mine. This is the main tab with watch settings. Here you can set the sleep and steps targets, call and SMS reminder, continuous HR, and many other options.
By the way, we said that SENBONO K1 has only one watch face, but we were wrong. There is an option in app settings called Screen Saver Settings. You can change the location of time, date, as well as set any picture on the screen. In other words, you can customize the main watch face of smart watch.
Conclusion
From the beginning of this article, we've been comparing SENBONO K1 with V11 smart watch. So, let's finish the review with comparison. Both smartwatches have round dials, but SENBONO K1 is made of plastic, so it is much lighter than V11. From other side, V11 has more compact dimensions.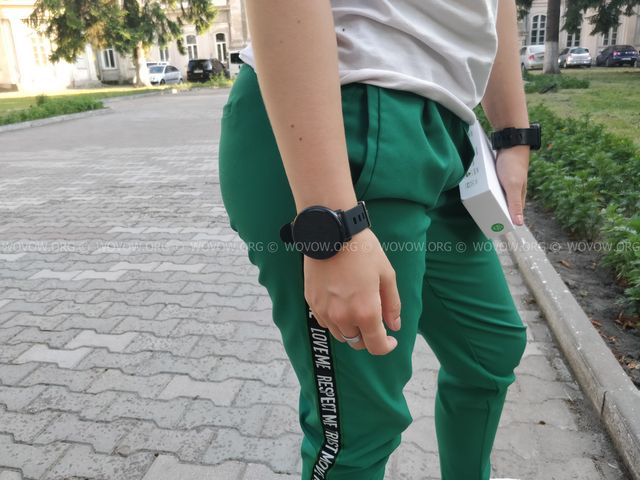 The screens are identical on these watches.
From other side, V11 smart watch provides more functions, such as different watch faces, blood oxygen, screen brightness, camera and music control. SENBONO K1 doesn't have all of these functions.
The battery life of V11 smart watch and SENBONO K1 is the same – about 7 days of active use and 15 days of standby time.
We would recommend buying V11 smart watch, because it has the same price tag, but offers metal body and music control. The last function is really useful, especially when running. You can switch tracks without taking the smartphone out of your pocket.
SENBONO K1 REVIEW Video
[affcoups template="list" id="37472″]
[affcoups template="list" id="37394″]
Source: senbono