The Chinese manufacturer Teclast has a lot of laptops in its range. It offers 11.6-inch laptop (Teclast F5), 13.6-inch laptop (Teclast F6 Pro), 14-inch laptop (Teclast F7 Plus) and finally it releases 15.6-inch laptop called Teclast F15. Now it offers laptops of different sizes – from 11.6 to 15.6-inches, so the user can choose the most comfortable size for yourself.
Also, Teclast F15 received a large touchpad, a NumPad keyboard and an ultra-slim body.
Today we will make the first review of new Teclast F15 laptop, and talk about its specifications, design, features and price.
[content-egg module=Offer template=list]
Teclast F15: Design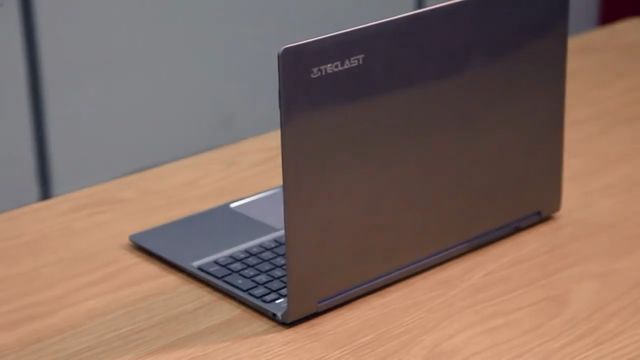 The laptop received a very nice and attractive design. Teclast F15 looks stylish and expensive, but it is still budget device. This "cheat" is definitely a good one.
The laptop comes in only platinum color. The case is made of aluminum, and its dimensions are 36 x 25 x 1.5 cm. Although the large screen size, the laptop weighs only 1.8 kg.
Another nice design feature of Teclast F15 is the body thickness – only 13 mm. This is a really slim body for 15.6-inch laptop.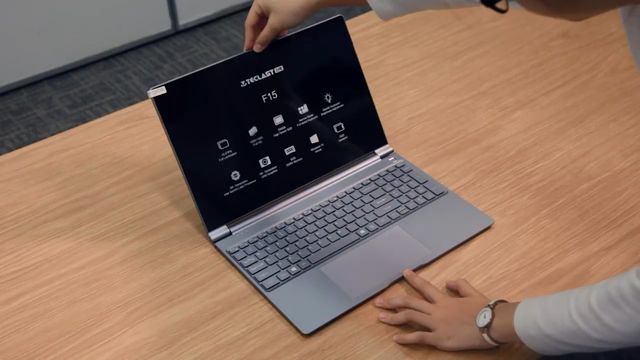 If we talk about display, the new laptop has 15.6-inch screen with a resolution of Full HD, 1920 x 1080 pixels. We believe that 15.6-inch display is the most comfortable for work, watching movies and even games. As practice shows, Full HD resolution is optimal for this screen size. We haven't seen any pixels.
The display offers high contrast, good detail and wide viewing angles. The bezels around the screen are not too thick. The top bezel has a built-in web camera. It is great that front panel of the laptop does not have any logos or inscriptions.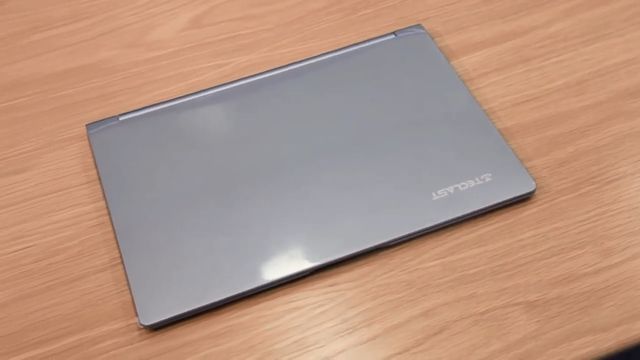 The touchpad of Teclast F15 has dimensions of 150 x 80 mm. It is even a little bigger than touchpad of Xiaomi Mi Notebook 15.6. Although we prefer to use a computer mouse, but the touchpad is still an important factor when choosing a laptop.
Surprisingly, the new Teclast laptop has not only the standard QWERTY keyboard layout, but also NumPad panel. To be honest, we don't remember Chinese laptops with NumPad keyboard, because even the same Xiaomi Mi Notebook 15.6 doesn't have it.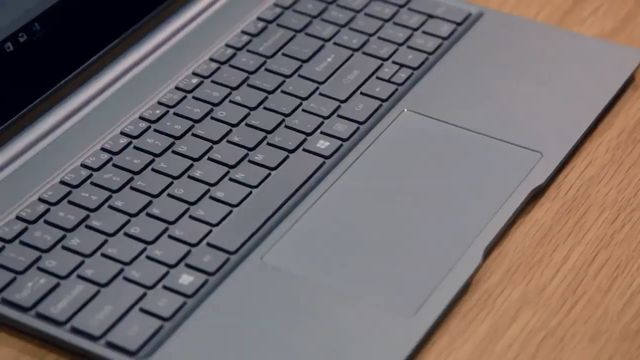 If you are not shocked by Teclast F15 laptop yet, then how about the keyboard backlit? Yes, it is here too! Now you can comfortably type text in the dark. Moreover, you can adjust the backlit brightness using special settings.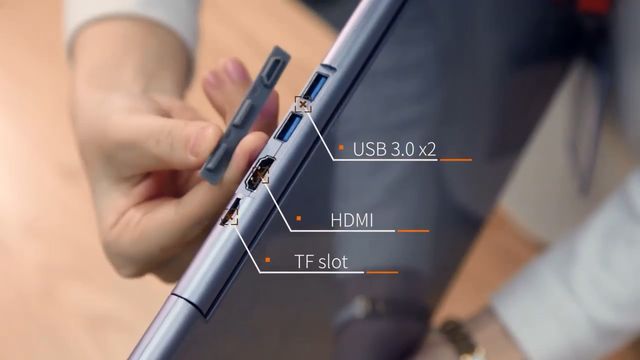 If we talk about available connectors, you don't find them on side panels. This is because Teclast F15 has ports and connections on the back. It is very strange, and we think it is not very comfortable. But the laptop has very thin body, so there is no other choice.
Anyway, Teclast laptop offers two USB 3.0 ports, HDMI port and microSD card slot. The ports are hidden under a special cap not to spoil the appearance of laptop.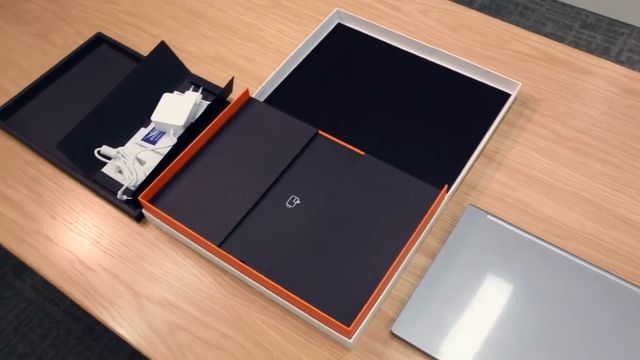 There are also connectors on side panels, such as 3.5 mm audio jack for connecting headphones, a microphone and charging port.
As for the package contents, it includes Teclast F15 laptop, user manual in English, power adapter and charging cable. That's all!
Teclast F15: Specifications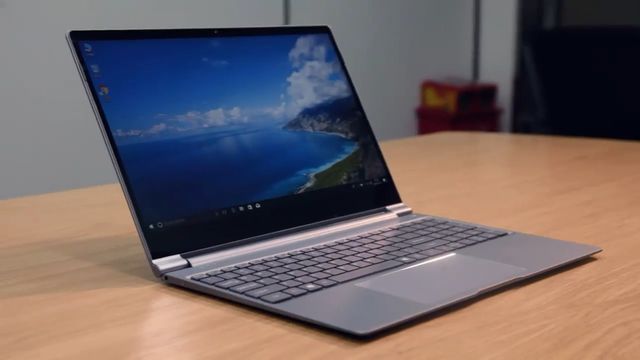 As for the hardware, Teclast F15 laptop has the similar performance to most other Chinese laptops. Moreover, it is powered by the same processor as Teclast F5 or Teclast F7 Plus. We are talking about quad-core Intel Celeron N4100 processor.
The laptop comes in a single memory version with 8GB of DDR4 RAM and 256GB of internal SSD memory. The RAM is enough for good multitasking and a lot of opened tabs in Google Chrome, while SSD storage provides fast booting.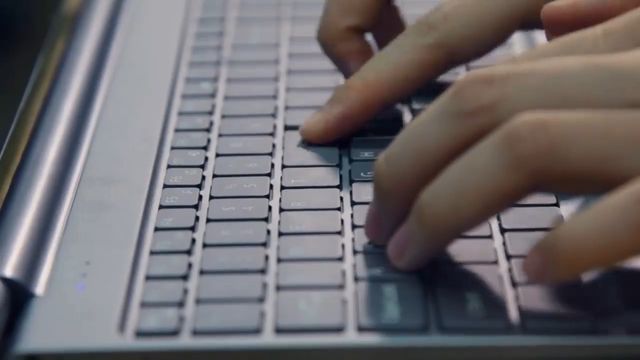 As for the graphics processor, Intel UHD Graphics 600 is used here. This is an entry-level GPU, so most likely you will not able to play modern games on this laptop.
Teclast F15 runs on Windows 10 operating system. No suprises there.
If you are interested in battery life, Teclast F15 laptop has received 6000mAh battery. It provides about 5-7 hours of battery life on a single charge.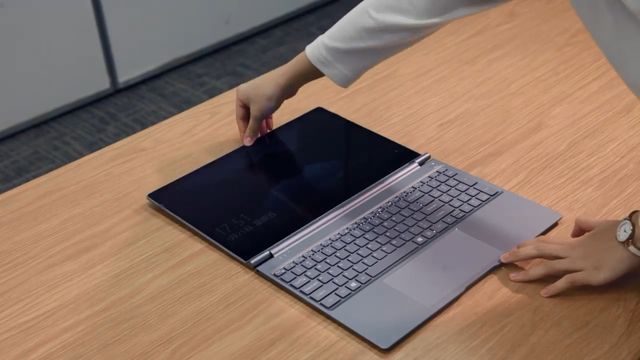 As we wrote earlier, the laptop is equipped with 1 megapixel web camera. Today, all laptops have 1MP or 2MP webcams. Why more? In any case, they are used only for video calls.
In general, Teclast F15 is a budget laptop for everyday tasks, such as surfing internet, office apps and other undemanding tasks. If you are looking laptop for photo and video editing, then F15 is not for you.
Teclast F15: Price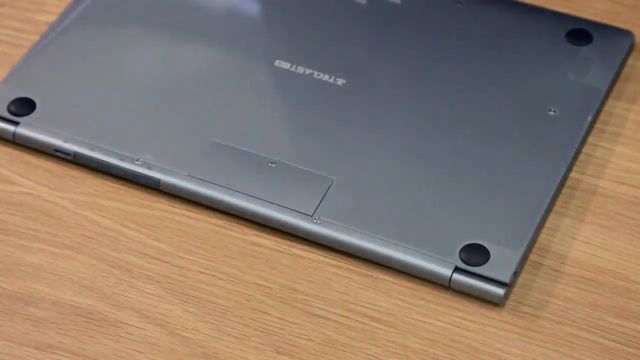 Now we can make a conclusion about Teclast F15. This is quite interesting Chinese laptop, because of its stylish design, high-quality display and unusual location of ports and connectors. There is even illuminated keyboard with NumPad panel. Can you imagine this on budget laptop?
On the other hand, the technical specifications of F15 do not differ from previous models of Teclast laptops, such as F5, F7 Plus and others.
Teclast F15 is designed for basic tasks such as surfing Internet, watching movies, office apps, etc. Perhaps, this is a perfect laptop for students. What is most important for young people? Of course, design. Teclast laptop has aluminum thin case, and it looks much more expensive than it actually is.
If you like Teclast F15 laptop, then you can buy it in Chinese online stores at a price from $399.
[content-egg module=Offer template=list]
Source: teclast