A couple of days ago, Zeblaze introduced its new smartwatch called Zeblaze HYBRID. This is a very interesting watch because it has a classic mechanical design with hands, but also supports smart functionsm, such as step count, heart rate monitor and others. It is amazing, isn't it?
Zeblaze HYBRID smartwatch also has a metal case, protection against water and dust according to 5ATM standard, heart rate and pressure sensors, and many other useful functions.
We have prepared the first review of Zeblaze HYBRID smartwatch. Do you want to know details about the new $30 smartwatch? Read more.
UPDATE: Zeblaze announced the second generation of its hybrid smartwatch. It has a square dial and the same 3 years of battery life. Read about Zeblaze HYBRID 2 in our article.
[affcoups template="list" id="38958″]
Zeblaze HYBRID: Design
In my opinion, the new Zeblaze HYBRID watch looks very stylish and elegant. It has a round stainless steel dial. The frame around the dial is made of zinc alloy.
Also, the body of new smartwatch is covered by DLC, which makes it more resistant to scratches and other damage.
The strap is made of silicone. Its length is 205 mm and its width is 20 mm. The strap comes in two colors: black or blue.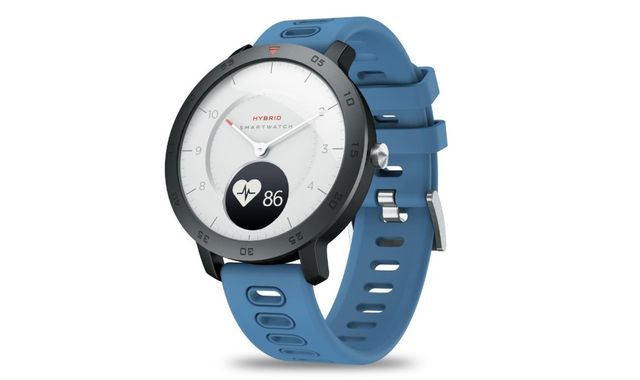 The watch with a black strap has a black dial, and the frame around it is also black.
The version of the watch with a blue strap has a white dial and a black frame.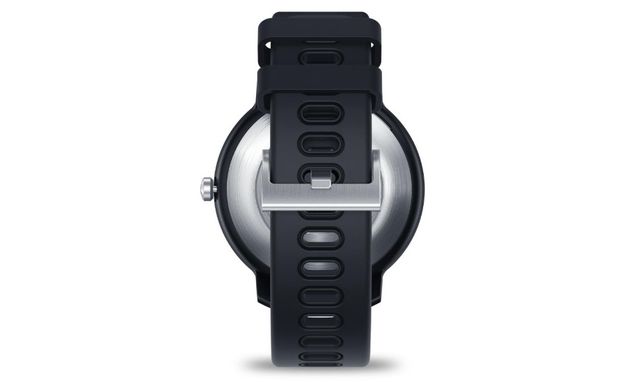 The strap is removable, so you can replace it with any other, for example, metal or leather.
Unlike other modern smartwatches, Zeblaze HYBRID has a large dial with numbers and two hands: hours and minutes. You can use them as a classic mechanical watch.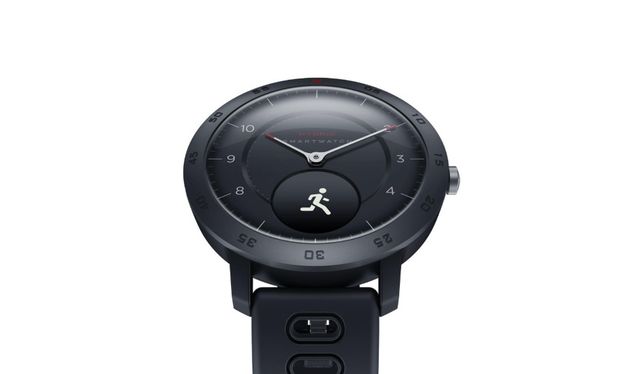 If you are interested in smart functions, then there is a small OLED screen. Its diagonal is 0.49 inches. This is a monochrome touchscreen display, and it is designed for smart functions, which we will talk about later.
Zeblaze HYBRID screen is covered by spherical mineral glass to protect against damage.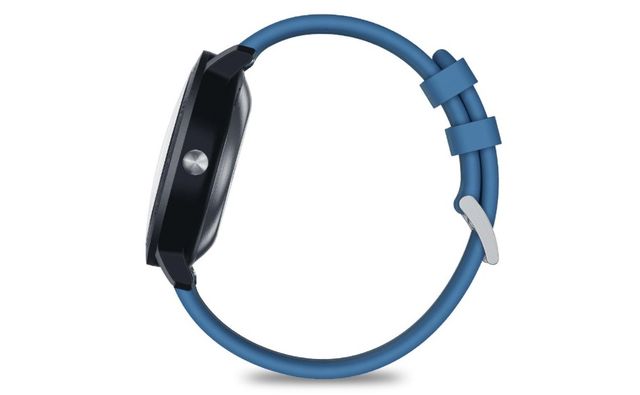 On the right side of the watch is one physical control button. Most likely, it is intended for a watch factory. If you have or had a mechanical watch, then you know what it is.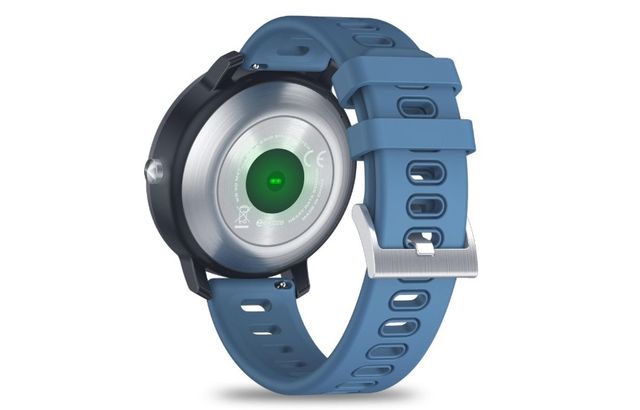 On the rear panel there is heart rate and pressure sensors.
As for the size, Zeblaze HYBRID is not compact. Its dimensions are 45 x 45 x 15.7 mm and the weight is 85 grams. If to compare with other modern smartwatches, then this is a fairly large and heavy watch. Nevertheless, do not forget about the metal case of Zeblaze HYBRID and its mechanical mechanism.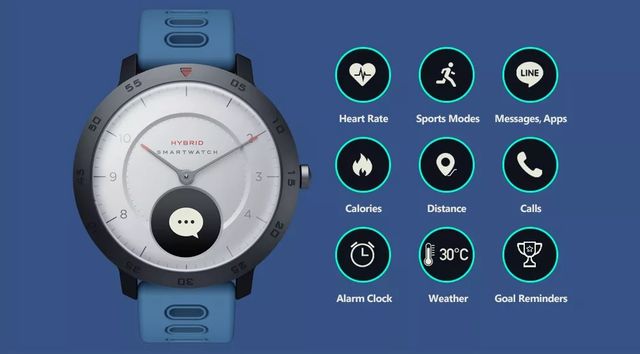 Zeblaze HYBRID design should appeal to those users who prefer a watch with a classic mechanical design but still want smart functions.
Zeblaze HYBRID: Specifications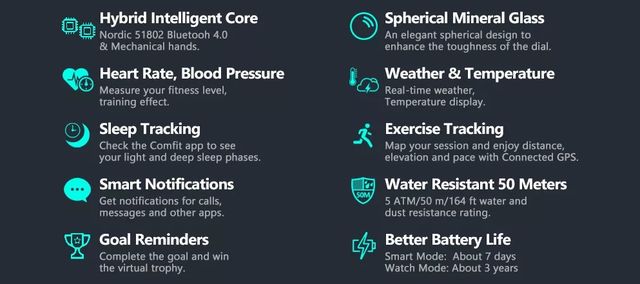 Now let's talk a little about specifications. Zeblaze HYBRID is powered by Nordic 51802 processor. There is a support for Bluetooth 4.0 for synchronization with smartphone.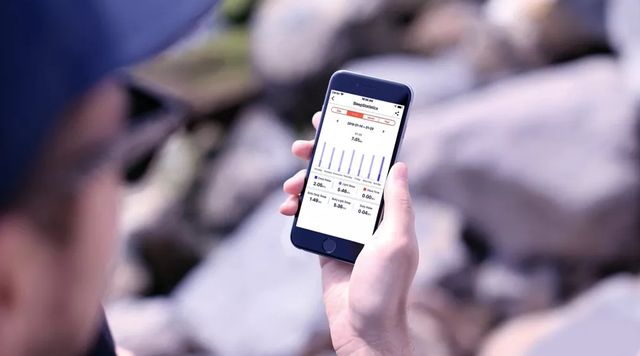 To connect the watch with smartphone, it should run on Android 4.4 or iOS 8.0 or higher. Training results can be tracked on the smartphone's display, but first you need to download Comfit Apps app. The application also allows you to track heart rate, sleep quality and more.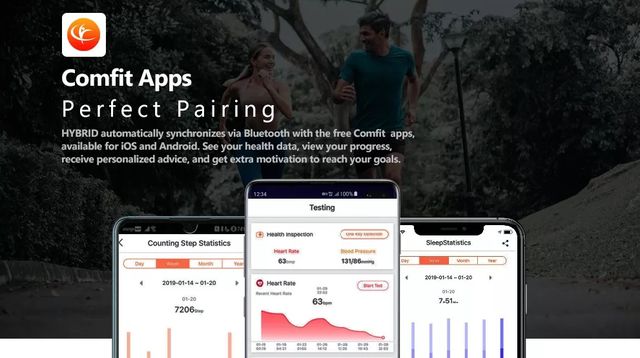 By the way, Zeblaze HYBRID is protected against water and dust according to 5ATM standard. It withstands immersion in water up to 50 meters. You can walk, run or dance in the pouring rain, and don't worry about Zeblaze HYBRID.
As for smart functions, Zeblaze HYBRID is no worse than its competitors. If we talk about sensors, the watch monitors the heart rate, pressure and state of your body during sleep.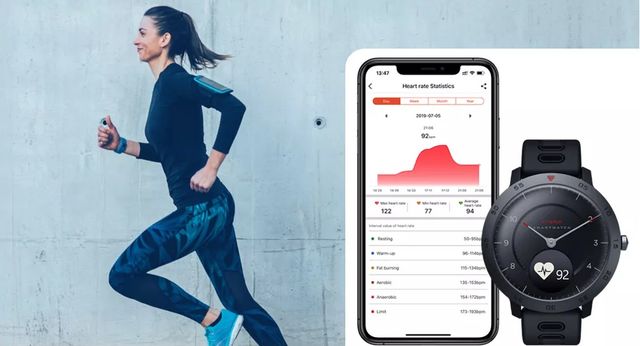 Also, the watch shows the distance, steps, calories, weather, notifies the user of an incoming call or message, shows notifications from social media and reminds of goals.
An alarm clock, sports modes, a stopwatch, a reminder of activity and remote camera control on a smartphone are available.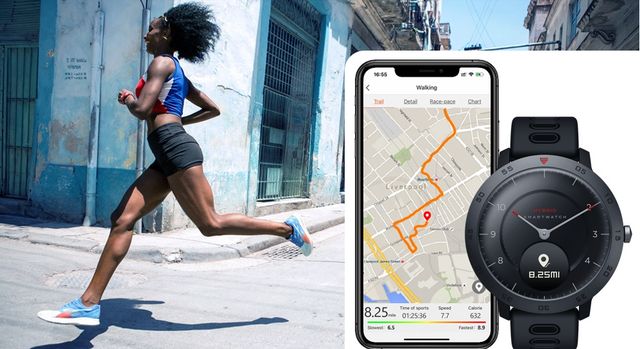 We should note that Zeblaze HYBRID watch doesn't have a built-in GPS. The distance traveled is calculated using GPS on connected smartphone.
Zeblaze HYBRID allows you to lead an active lifestyle, monitor the results of training and health. It displays statistics, help to stay motivated and clearly go to your goals.
Zeblaze HYBRID: Battery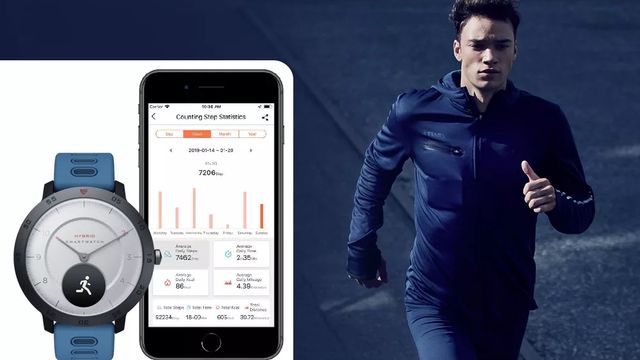 The new Zeblaze watch is equipped with 95mAh battery. The manufacturer promises up to 7 days of battery life using smart functions or 3 years in mechanical mode.
To be honest, it's not entirely clear how it works. Even if I don't use the touch screen and synchronize the watch with my smartphone to receive notifications from social media, it will still count steps and calories.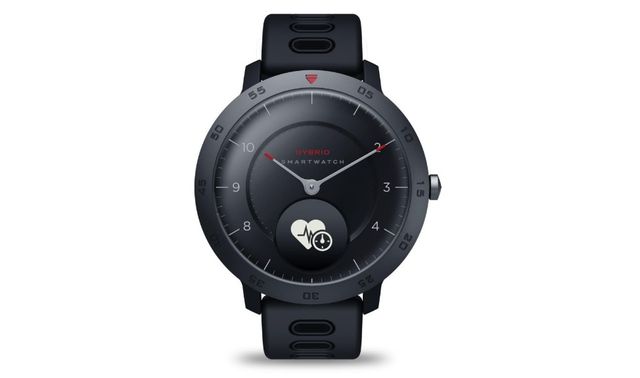 I think that a single charge of a new watch is enough for about 30 days. This is still a great result.
It takes about 2 hours to fully charge Zeblaze HYBRID.
Zeblaze HYBRID: Price and buy

Zeblaze HYBRID smartwatch is available for pre-order. You can buy it for just $29.
In my opinion, this is a very good price for an interesting watch. This is a universal gadget  for both fans of classic mechanical watches and people who need smart functions.
[affcoups template="list" id="38958″]
Source: zeblaze