Today we have the first review of the new rugged smartphone from Oukitel. It is called Oukitel WP5. Earlier we wrote many articles about smartphones from Oukitel brand. On our website you can read about Oukitel K12 and Oukitel K13 Pro with huge batteries, as well as Oukitel Y4800 with good cameras.
The new Oukitel WP5 smartphone was very interesting to us because it has a rugged body, a compact 5.5-inch display, a triple camera and a large 8000mAh battery.
However, the main advantage is the price – only $99. We think you're interested in this smartphone now. Really?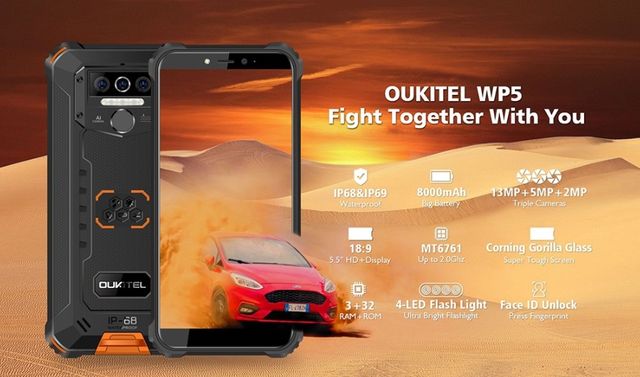 Let's take a first look at Oukitel WP5 and talk about its design, performance, cameras, battery and price.
Where To Buy?
Oukitel WP5: Design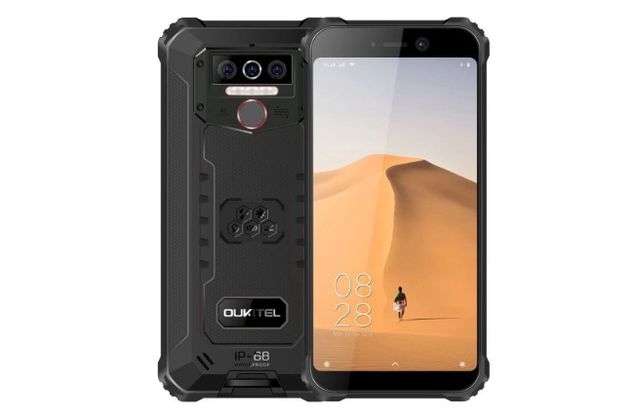 We would say that Oukitel WP5 looks very simple, especially for 2019. There isn't any kind of notches above the display. We can see a fairly large top bezel, as in smartphones from 2016.
The top bezels hides the front camera, LED sensor and earpiece.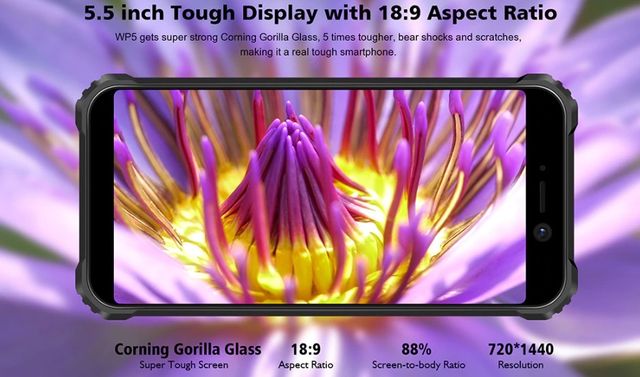 As for display, it is IPS panel with resolution of 720 x 1440 pixels. The screen size is quite small – only 5.5-inches. The aspect ratio is 18:9. The display occupies 88% of the front panel.
Yes, the display is not very impressive, especially HD+ resolution, but for watching videos, surfing the internet or reading books, the screen is good. Also, you should always keep in mind the price of Oukitel WP5 – only $99.
By the way, the screen is protected by Corning Gorilla Glass. The glass protects the display from damage during impacts and falls.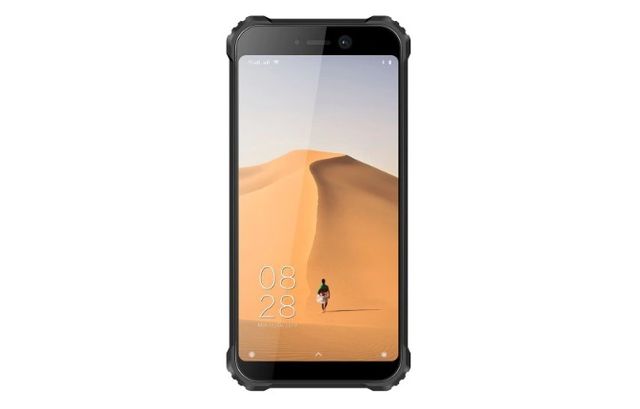 The back panel also looks pretty simple as for rugged smartphone.
On the top, there is a metal horizontal panel with three sensors of the main camera.
Under the camera, there is flashlight, which consists of four LED lights. It is a good feature for rugged smartphone because you can use the mobile device as a flashlight for fishing, hunting or just camping.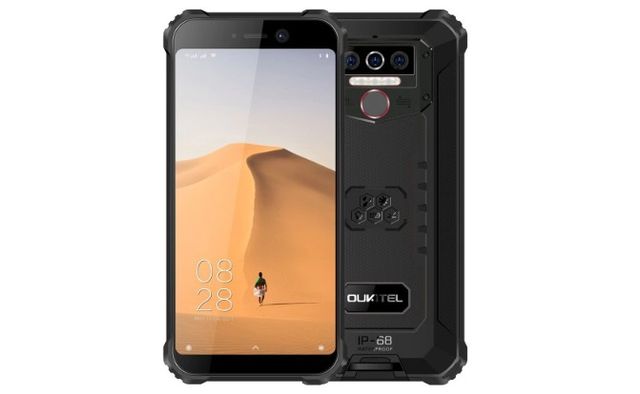 You can also see a round fingerprint reader on the back panel. By the way, a fingerprint scanner is not the only way to protect your personal data on smartphone. Oukitel WP5 also supports face unlock.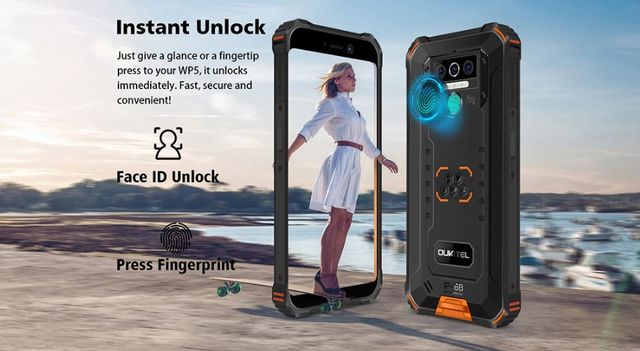 At the bottom of the back panel, you can see Oukitel logo and a few icons, which says about phone protection and its main features.
On the side face, there is dual slot for SIM and microSD. Oukitel WP5 has USB Type-C charging port.
As you can see, there is no 3.5 audio jack, but this is not surprising. Many 2019 smartphones are abandoning 3.5mm audio jack because wireless Bluetooth earbuds have become very affordable.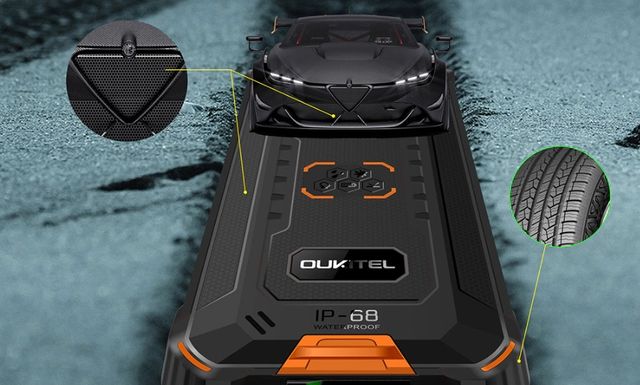 Oukitel WP5 is not a big smartphone. Its dimensions are 5.50 x 7.60 x 1.80 cm. The weight is 285 grams.
The smartphone is available in two colors: completely black body and black case with orange details.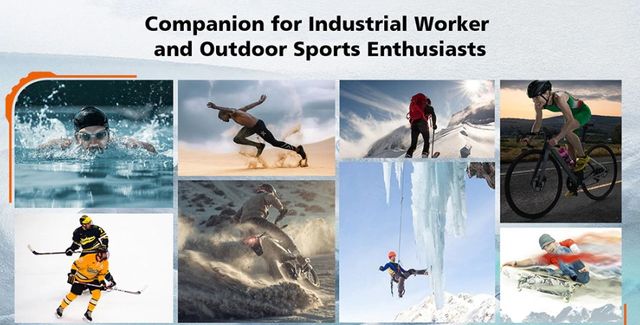 Of course, the main feature of Oukitel WP5 is its durable and protected case. The back and side panels are rubberized, and the smartphone is protected not only from impacts and falls, but also from extreme temperatures.
The phone operates at temperatures ranging from -55℃ to +70℃.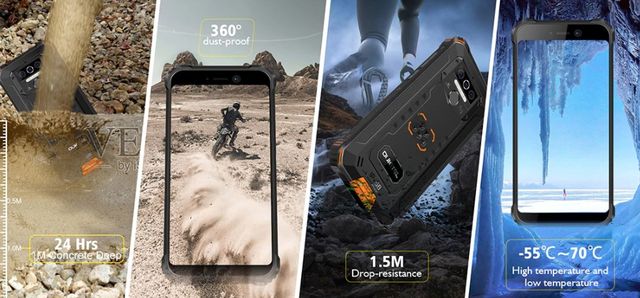 The smartphone body is protected from water and dust by IP68 and IP69 standards. It can be submerged to a depth of 1.5 meters, but not more than 30 minutes. You can swim and take underwater photos with this smartphone.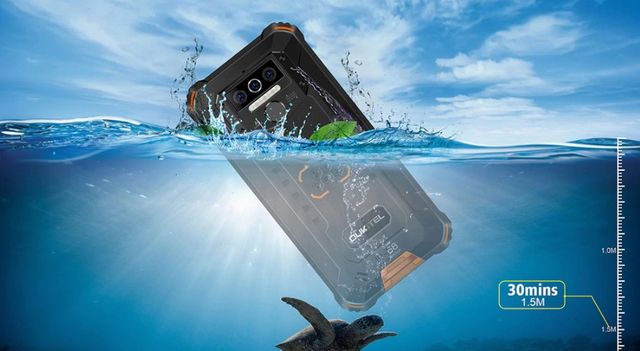 Oukitel WP5 is not afraid of dirt, dust, shocks or pressure. A great option for people who prefer extreme sports or active recreation.
Oukitel WP5: Performance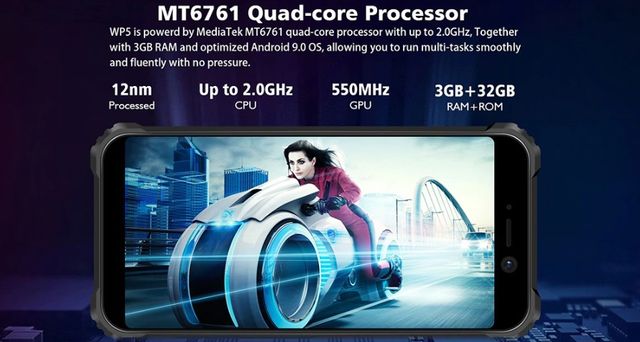 Now let's talk about performance. The smartphone has MediaTek Helio A22 processor. It is a quad-core chipset for low cost smartphones. By the way, the processor was introduced in the summer of 2018.
It uses artificial intelligence, and also supports Face ID. As we wrote earlier, you can unlock your smartphone with fingerprint scanner or Face ID.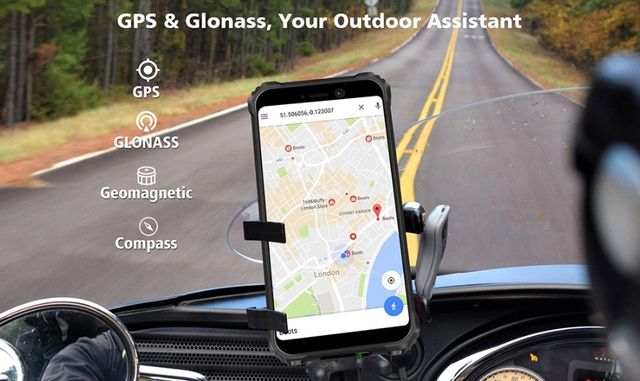 Oukitel WP5 is only available in version with 3 GB of RAM and 32 GB of internal memory.
If you like to play games and take photos, it's likely that 32GB will not be enough for you. Fortunately, you can use a memory card up to 128GB.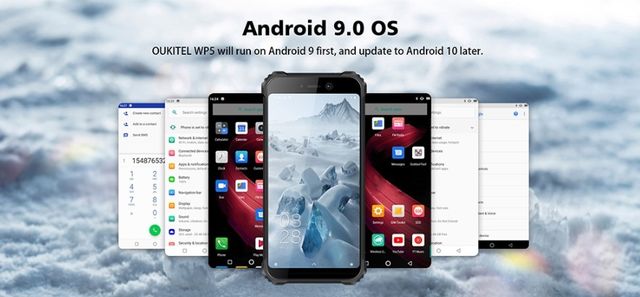 The new phone runs on Android 9.0 operating system with support for updates to Android 10. GPS, GLONASS, Geomagnetic and compass are also available.
Oukitel WP5: Camera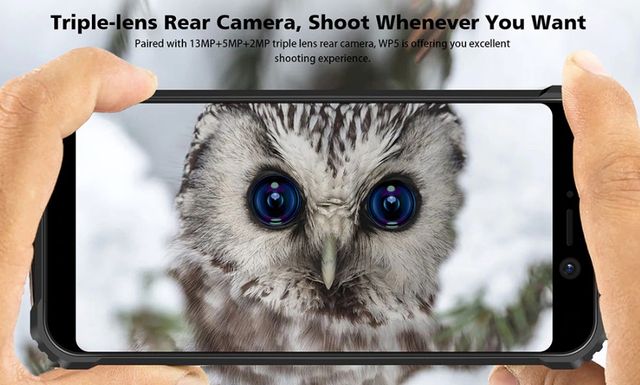 Another interesting feature of Oukitel WP5 is triple camera on the rear panel. The main sensor has resolution of 13 megapixels and aperture of F/2.0, the second sensor – 5 MP and the third sensor – 2 MP.
We think that one of these sensors, and maybe even both of them, is fake. But we don't have real photos, so we can't talk about it with confidence.
To be honest, it's hard to believe that $99 smartphone can be equipped with real triple camera.
On the front panel there is a front camera with 5 MP sensor.
Oukitel WP5: Battery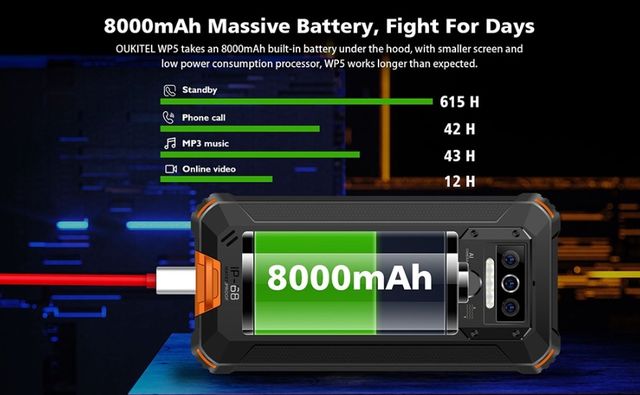 Like most other Oukitel smartphones, WP5 has a large battery. The battery has a capacity of 8000mAh.
Thanks to energy-efficient processor, the smartphone lasts for about 25 days on a single charge in standby mode.
However, most likely, you will use the smartphone actively, so you should know real battery life. You can listen to music for 43 hours, talk for 42 hours and watch videos for 12 hours.
Oukitel WP5: Price and buy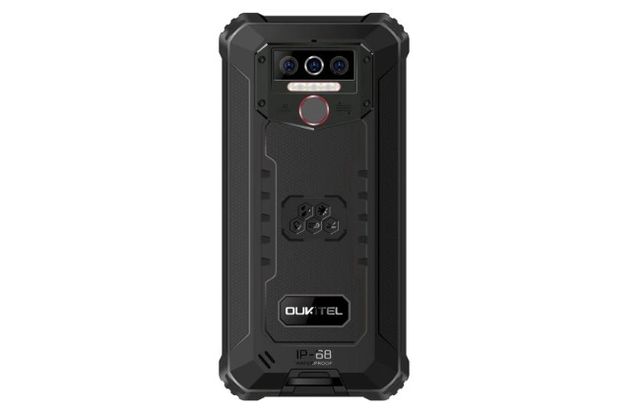 Oukitel WP5 smartphone is available for pre-order at GearBest for $99. The first deliveries will start on December 25.
We think $99 is a great price to pay for rugged smartphone with 5.5-inch display, powerful flashlight, energy-efficient MediaTek Helio A22 processor, triple camera and 8000mAh battery.
If you like extreme sports or hiking a lot, Oukitel WP5 is the perfect companion for you.
Where To Buy?
Source: oukitel